About Lily-Rose Depp; Actress as well as the Daughter of Johnny Depp and Vanessa Paradis
A renowned actress, as well as a model who was hailed from France, is named for Lily-Rose Depp. She was born to the famous celebrity; Johnny Depp and Vanessa Paradis. Initially, she began her career with the film "Tusk" in 2014 with the small role and since then, she has starred in the period dramas "The Dancer" (2016), in which she played Isadora Duncan, "Planetarium" (2016), and "The King" (2019). Additionally, she is an award-winning actress and has won the Best Actress award at the 4th Los Angeles Film Awards for her performance in My Last Lullaby (2019). Moreover, she has also been nominated for two Cesar Awards for Most Promising Actress, for her performances in The Dancer and A Faithful Man (2018). As per her upcoming projects, she is set to reprise her Tusk and Yoga Hosers role in "Moose Jaws". She has also contributed three singles (I'm the Man, Babe, and O Canada) to the music album of her movie, Yoga Hosers. Her co-star Harley Quinn Smith performed with her in all three singles. Recently, she has come under fire after racist accusations about her surfaced on the internet. However, Twitter users are not convinced about the allegations. Over the last few weeks, the cancellation movement has taken a dominant role in social media. A lot of celebrities and content creators have been called out for their past behavior and remark, leading to a whole new 'cancel culture trend. Now, Johnny Depp's daughter Lily-Rose Depp is the latest star to be canceled following allegations on social media. With the birth name/real name of Lily-Rose Melody Depp, she was born on 27th March 1999 which makes her age 21 as of 2020. He recently celebrated her birthday as of 27th May 2020. She took birth in Neuilly-sur-Seine, France. Her nationality is French and she belongs to Mixed ethnicity. She has English, Irish, Scottish, Welsh, French, Belgian, German, and Dutch ancestry. On her mother's side, she is of French descent. Her race is White. She was born to her parents; Johnny Depp (father) and Vanessa Paradis (mother). Her father is a famous American actor, producer, and musician whereas her mother is a French singer, actress, and model. Her father, Johnny Depp has got her name tattooed on his chest. Her parents actively tried to shield her from the public spotlight. She didn't have a public social media profile until she got fed up with fake accounts made in her name. Additionally, she also has a younger brother, John "Jack" Christopher Depp III. The French actress Alysson Paradis is her aunt. She is also a descendant of colonial freedom fighter Elizabeth Key Grinstead. In the year 2012, after 14 years together, her parents separated and arranged joint custody of Depp, who divides her time between Los Angeles and Paris. Her zodiac sign is Gemini and her religion is Christian. As for her education, she dropped out of high school to pursue a modeling and acting career. She believed it was impossible to become an actress while attending school and completing her homework. She has struggled with anorexia in the past and has recovered. She has dual US and French citizenship. Although she was too young to vote in the 2016 US Presidential election, she still backed Democrat candidate Bernie Sanders in her social media activity. In August 2015, Lily caused quite a stir about her sexuality after she posed in the Self-Evident Truths Project and claimed that she falls in the LGBTQA spectrum. She later clarified that she wasn't outright gay and was sexually fluid. Scroll more to know about her full biography which consists of her career start, net worth, personal life, boyfriend, split, family details, movies, age, wiki, birthday, facts, and more.
In 2021, Lily-Rose Depp starred in the opioid crisis thriller "Crisis" alongside Gary Oldman, Armie Hammer, Evangeline Lilly, and also in Neil Burger's sci-fi thriller "Voyagers". Moreover, she will be seen in upcoming movies like "Wolf" alongside George Mackay, "Silent Night" with Keira Knightley and Roman Griffin Davis, & she is set to reprise her "Tusk and Yoga Hosers" role in Moose Jams.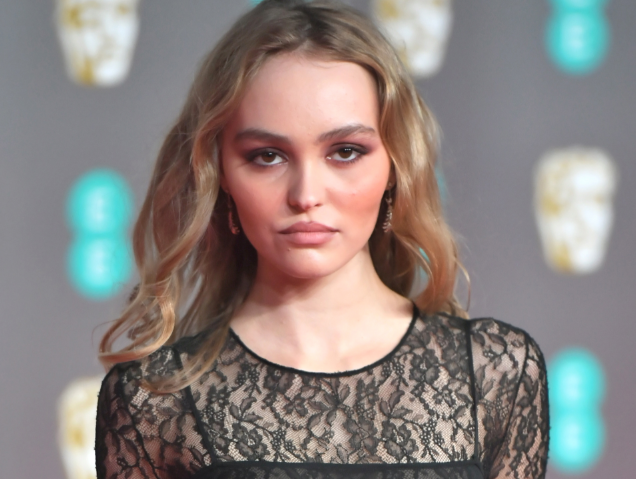 Source: @businessinsider.com.au
Lily-Rose Depp's Acting Career
Beginning her career with a role in "Tusk", she has reached a great height in her career.
After that, she acted alongside her friend Harley Quinn Smith, her father, and the film's director Kevin Smith.
She then appeared with the Irish rapper Rejjie Snow in his music video for "All Around the World", which was released in October 2015.
She then comes to the sight on the cover of various fashion magazines and has been the "Chanel" brand ambassador since 2015.
In the year 2016, she was announced by Lagerfeld as the face of Chanel's iconic fragrance, Chanel No. 5 "L'Eau".
She also reprised her Tusk role in "Yoga Hosers", which is a spin-off that focuses on her and Harley Quinn Smith's characters.
In May 2016, she appeared in the film "The Dancer", in which she plays Isadora Duncan, premiered at the Cannes Film Festival in the Un Certain Regard category.
She also appeared with Natalie Portman co-starred in Rebecca Zlotowski's Planetarium as two spiritualist sisters in 1930s France.
In the year 2018, she starred opposite Laurent Lafitte in semi-horror-flick "Les Fauves (Savage)", a French film directed by Vincent Mariette.
She also starred in the romantic comedy "A Faithful Man" in the same year.
Moreover, she next appeared in the Netflix short documentary "Period. End of Sentence" with Priyanka Chopra explaining how The Pad Project helped the women in Delhi start their own business making sanitary pads.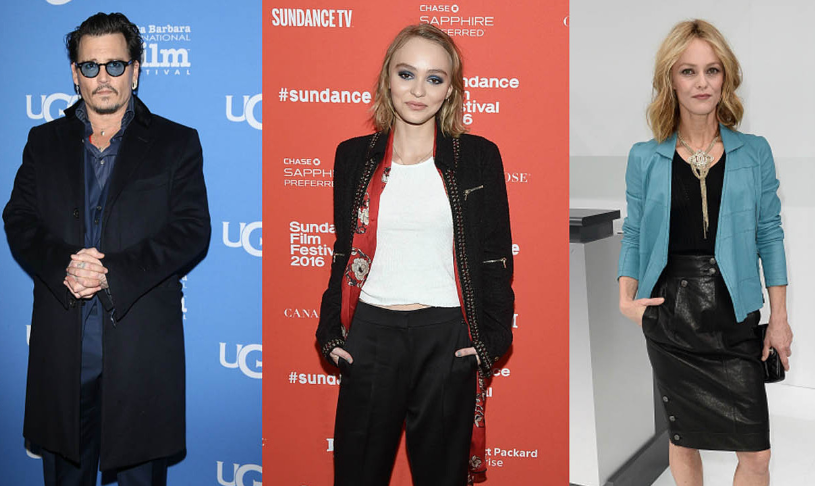 Source: @us.hola.com
She also starred alongside her aunt Alysson Paradis in the French independent short film "Quel Joli Temps Pour Jouer Ses Vingt-ans (My Last Lullaby)", in which she played Paloma, a girl who experiences a great loss of a grandfather.
She next starred opposite Timothee Chalamet and Robert Pattinson in "The King" in which she plays Catherine of Valois, directed by David Michod.
Owen Gleiberman of Variety wrote, "Lily Rose-Depp makes her presence felt, for perhaps the first time ever, as Catherine of Valois, whose delicate worldliness matches Henry's", and Rory O'Connor for The Film Stage called it "an excellent cameo".
Talking about her upcoming projects; she will join Gary Oldman, Armie Hammer, and Evangeline Lilly in the opioid crisis thriller "Dreamland" that will premiere in the year 2020.
She will also star in Neil Burger's sci-fi thriller "Voyagers" alongside Colin Farrell, Tye Sheridan, Isaac Hempstead Wright, and Fionn Whitehead.
She will next star alongside George MacKay in Nathalie Biancheri's "Wolf", and in a Christmas comedy Silent Night with Keira Knightley and Roman Griffin Davis among the cast.
She is set to reprise her Tusk and Yoga Hosers role in "Moose Jaws".
Lily-Rose Depp and Timothee Chalamet Split in 2020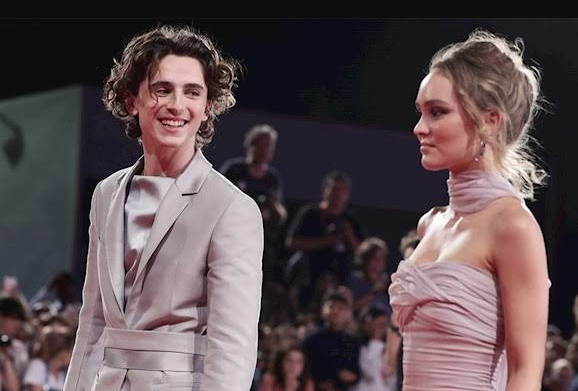 Source: @somagnews.com
Talking about the marital status of Depp, she is not married yet and she is still to get married. At present, she is not single but she is currently in a relationship. Since 2018, American actor Timothee Chalamet and Lily started dating. Their relationship was confirmed when they publicly kissed each other during an outing in New York City in October 2018. Recently, in 2020, the couple broke up and it was reported by British Vogue. Her sexual orientation is straight and she is not gay.
In the past, she began going out with Ash Stymest in 2015 and their rumors started swirling around in October 2015 after they were spotted making out in Paris. But the duo didn't confirm their relationship and tried to maintain their distance from the paparazzi. But the increased number of public appearances by the start of 2016 left little doubt about their relationship status. In early 2018, the couple separated after dating for more than 2 years.
On 9 August 2021, Lily-Rose Depp was rumored to be dating actor Austin Butler after they were spotted kissing and hugging on the sidewalk in London, which has to lead many to believe the two are a new romantic couple.


Lily-Rose Depp's Net Worth 2020
The famous actress, Lily-Rose Depp's net worth will be surely in millions as she is one of the very well-known and famous actresses worldwide. As of 2020, the net worth of Lily-Rose Depp is believed to have $1 Million whereas her exact salary is unknown at present. Her major source of wealth comes from an acting career and at present, she is satisfied with her earnings. Moreover, she is living a luxurious lifestyle from her income. Additionally, in the year 2015, she was made the brand ambassador for the fashion giant, "Chanel". She was even featured in the print advert for the eyewear range from the brand. In 2016, she was made the face of the No°5 L'Eau fragrance from Chanel.
Body Measurement
Lily-Rose Depp stands at the height of 5 feet 3 inches (160 cm) and her body weight is 43 Kg (94 Ibs). She has slim body builds. Furthermore, her body measurement is 31-23-32 inches, and wears 32-34 EU dress size, 30 A bra size, 7.5 US shoe size. She has beautiful light brown eyes color and her hair color is blonde. Before she has struggled with anorexia and she was hospitalized for a serious e.coli infection in 2007 which led to acute kidney failure. Later, she donated around $2 million to Great Ormond Street Hospital to show his gratitude.

Filmography
Film
2014- "Tusk"
2016- "Yoga Hosers", "The Dancer", "Planetarium"
2018- "Savage", "A Faithful Man"
2019- "My Last Lullaby", "The King"
2021- "Crisis", "Voyagers", "Silent Night", "Wolf"

Music Video
2015- "All Around the World"

Documentary
2019- "Period. End of Sentence"

Discography
2016- "I'm the Man" with Harley Quinn Smith
2016- "Babe" with Harley Quinn Smith
2016- "O Canada" with Harley Quinn Smith

Awards and Nominations
2017- 42nd Cesar Awards for "The Dancer"
2017- 22nd Lumieres Awards for "The Dancer"
2019- 44th Cesar Awards for "A Faithful Man"
2019- Prix Romy Schneider