Marjorie Taylor Greene Biography
Marjorie Taylor Greene is an American politician and conspiracy theorist. She is serving as a US Representative for Georgia's 14th congressional district. Greene is the second Republican woman to represent Georgia in the House and the first to be elected to a full term from a Georgia district. She is a strong supporter of Donald Trump. She is a conspiracy theorist and supports several conspiracy theories, which will be discussed below.
US Rep Marjorie Taylor Greene was born on 27 May 1974. Her birth name is Marjorie Taylor. Her birth place is in Milledgeville, Georgia in the United States. She holds an American nationality. She belongs to white ethnicity and her religion is Christianity.
Regarding her educational background, she attended South Forsyth High School in Cumming, Georgia. After graduating from high school, she attended the University of Georgia. She graduated with a Bachelor of Business Administration.
US Rep Marjorie Taylor Greene has a tall height. She has an average weight an average body build. Her body measurements will be updated soon. Her eye color is hazel and her hair color is blonde. Her sexual orientation is straight.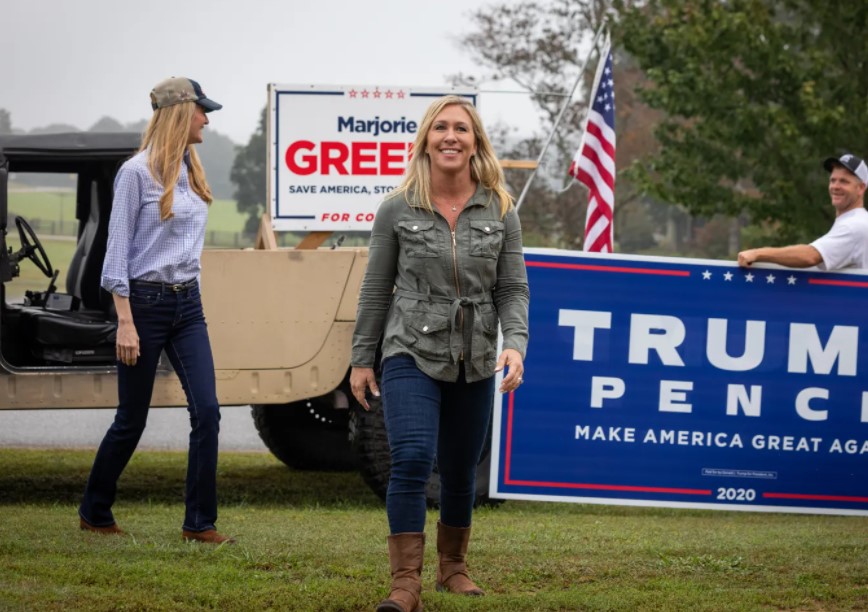 Source: @glamour
GOP Marjorie Taylor Greene US Rep
Prior to her political career, Greene was a gym owner. She founded CrossFit gym, which she later sold.
She announced her candidacy for Georgia's 14th congressional district. She initially began her candidacy in Georgia's 6th congressional district.
After incumbent Tom Graves announced not to run for reelection, Greene shifted her campaign to the 14th district.
Her campaign slogan was "Save America, Stop Socialism".
Greene's video was deleted by Facebook for violating its terms of service. In the video, she held an AR-15 style rifle and warned "Antifa terrorists" to "stay the hell out of Northwest Georgia".
She faced John Cowan in the runoff election after finishing first in the primary election.
She defeated Cowan to win the Republican nomination.
She was favorited to win the general election as it is the 10th most Republican district in the nation.
Donald Trump described Greene as "future Republican Star" in his tweet.
Greene was expected to face Democratic IT specialist Kevin Van Ausdal in the general election. But he withdrew from the race in September 2020.
Greene won unopposed in the general election with 74 percent of the vote.
With the win, Greene became the second Republican woman to represent Georgia in the House.
She became the first Republican woman elected to a full term from a Georgia district. Karen Handel had lost the 2017 special election for a full term.
Greene assumed office on 3 January 2021.
In the wake of the storming of the Capitol on 6 January 2021, she called for an end to violence and support for President Trump.
She refused to wear a face mask while sheltering in place during the riot.
She also refused to wear a face mask during the debate to remove the President from office.
She was one of the representatives who challenged the results of the 2020 US presidential election in Congress on 7 January 2021.
She stated on 13 January 2021 that she would file articles of impeachment against Joe Biden alleging abuse of power on 21 January 2021, the day after Biden's inauguration.
She stated in an interview that Biden is "willing to abuse the power of the office of the presidency and be easily bought off by foreign governments, foreign Chinese energy companies, [and] Ukrainian energy companies."
She is a member of the Freedom Caucus.
She opposed abortion and supported defunding Planned Parenthood.
She participated in a pro-Second Amendment rally in Ringgold, Georgia in September 2020.
She opposed any form of mandatory mask-wearing, compulsory vaccination, lockdowns in response to the COVID-19 pandemic.
She opposed the Black Lives Matter movement and described it as a "radical Marxist" group.
She stated that the 2018 midterm elections win of Ilham Omar and Rashida Tlaib was part of "an Islamic invasion of our government".
She said in a Facebook post in 2017 that House Speaker Nancy Pelosi was guilty of treason. She objected to Pelosi's sympathy for undocumented immigrants and her opposition to President Trump's border wall.
She supports several conspiracy theories. She linked Hillary Clinton to pedophilia and human sacrifice. She claimed Clinton murdered her political enemies in a revival of the "Clinton Kill List" conspiracy theory.
She speculated the Pizzagate conspiracy theory was real in 2017.
She supported the far-right QAnon conspiracy theory.
She expressed doubt that the perpetrator of the 2017 Las Vegas shooting acted alone. She believed that the shooting is a large-scale incident intended as an attack on the right to bear arms.
She believes the Christchurch mosque shootings in New Zealand were a "false flag" for the same end.
She called George Soros, a Jewish businessman and Holocaust survivor, a Nazi.
She expressed support for a conspiracy theory in 2018 that a plane did not hit the Pentagon during the September 11 attacks.
Twitter temporarily suspended Greene's Twitter account on 17 2021 for violating civic integrity policy multiple times.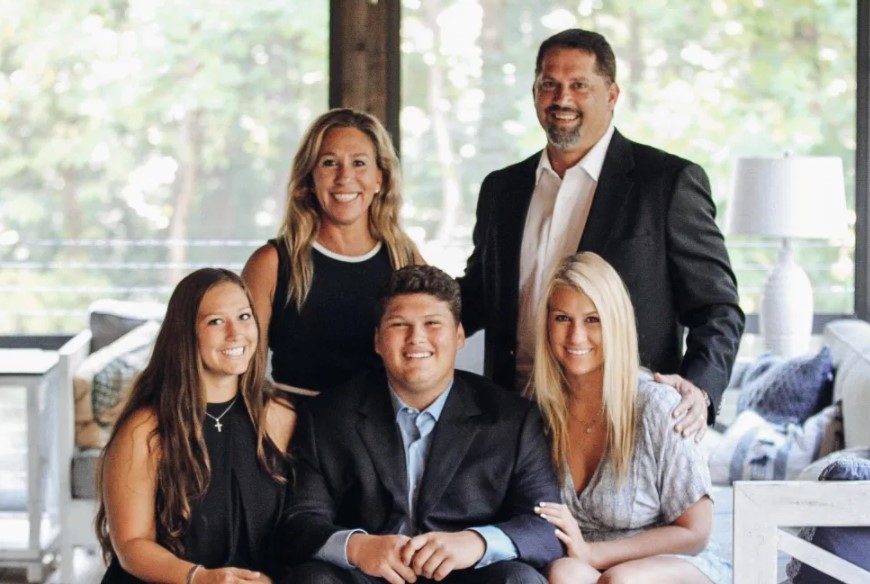 Source: @marjorietaylorgreene
Marjorie Taylor Greene Husband
GOP Marjorie Taylor is a married woman. She is married to Perry Greene. Her husband is the president of a construction company, Taylor Commercial, based in Alpharetta, Georgia. She is the vice president of the company. She lived in Georgia's 6th district, Alpharetta until she considered running for the 14th district. She lives in Rome, Floyd County in the 14th district in Georgia. She has three children with her husband, Perry. They are daughters, Lauren and Taylor, and a son, Derek.
Marjorie Taylor Greene
GOP Besides politics, Marjorie Taylor is a businesswoman. She is the Vice President of Alpharetta-based construction company, Taylor Commercial. Her husband is the president of the company. The company was founded by her father, Robert Taylor who sold it to the couple in 2002. Marjorie previously founded a gym, CrossFit, which she later sold. She makes quite a fortune from her business. Her net worth is not available at present. It will be updated soon.