Lisa Monaco Biography
Lisa Oudens Monaco, popularly known as Lisa Monaco is an American attorney. She has been nominated for the United States Deputy Attorney General under the Joe Biden Administration. She previously served as the Homeland Security and Chief Counterterrorism Adviser to then-President Barack Obama. She also held other positions such as Assistant Attorney General for National Security and Principal Deputy Assistant Attorney General in the Justice Department. She has already served in the Department of Justice for over 15 years. She is also the senior national security analyst for CNN since 2017.
Lisa Monaco was born on 25 February 1968. His birthname is Lisa Oudens Monaco. Her birthplace is Boston, Massachusetts in the United States. She holds an American nationality. Her parents are Anthony Monaco (father) and Mary Lou Monaco (mother). Her hometown is Newton, Massachusetts. Her ethnicity is white and her religion is Christianity.
Regarding her educational background, she attended The Winson School. She graduated from high school in 1986. After graduating from high school, she attended Harvard University. She graduated with a Bachelor of Arts cum laude in the field of American history and literature in 1990. She then attended the University of Chicago Law School, where she earned her Juris Doctor in 1997. She was editor-in-chief of the University of Chicago Law School Roundtable.
Lisa Monaco stands at an average American height and she has an average weight. Her eye color is hazel and her hair color is dark brown. Her sexual orientation is straight.
She has over 5k followers on Twitter.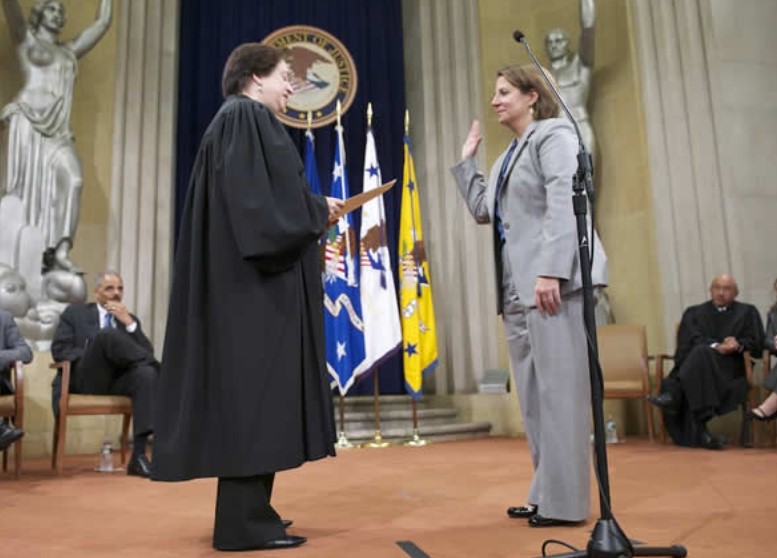 Source: @wikipedia
Lisa Monaco Career
Lisa Monaco worked as a research associate for The Wilson Quarterly at the Woodrow Wilson International Center for Scholars from 1990 to 1991, after graduating from Harvard.
She then worked as a senior associate for a healthcare advisory group, the Health Care Advisory Board from 1991 to 1992.
From 1992 to 1994, she worked as a research coordinator for the US Senate Committee on the Judiciary. Joe Biden was the chairman of the committee.
During her time at the University of Chicago Law School, she spent summers working as an intern on the D.C. Superior Court, as well as an intern for the United States Department of Justice in Washington, D.C.
She worked as an intern for the White House Counsel in 1996. She also worked as a summer associate for the law firm Hogan and Hartson, LLP.
She worked as a law clerk for the Honorable Jane Richards Roth on the US Court of Appeals for the Third Circuit from 1997 to 1998.
She was admitted to the New York State Bar Association in 1998.
She worked as the counsel to then-Attorney General Janet Reno from 1998 to 2001.
From 2001 to 2007, she worked as an Assistant US Attorney in the US Attorney's office for the District of Columbia.
She was later appointed a member of the Justice Department's Enron Task Force. She co-led the trial team in the prosecution of five former Enron executives from 2004 to 2006.
She was awarded the Attorney General's Award for Exceptional service for her work on the Enron Task Force. It is the department's highest award.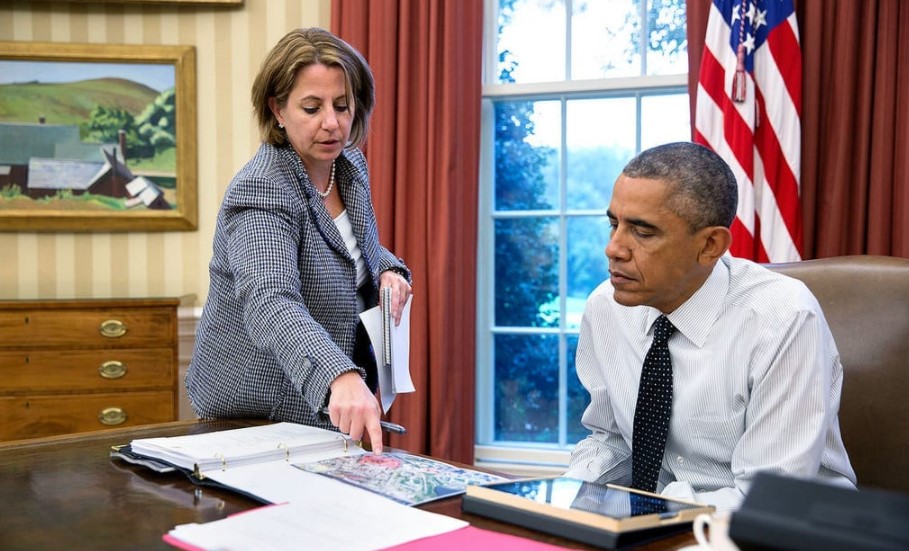 Source: @hstoday

She was honored with the Department of Justice Awards for Special Achievement in 2002, 2003, and 2005.
She worked as a special counselor to FBI Director Robert Mueller.
Mueller later appointed Monaco his Deputy Chief of Staff. She was eventually chosen as his Chief of Staff.
She held Mueller's position as Chief of Staff until January 2009.
US Deputy Attorney General David W. Odgen appointed Monaco as Associate Deputy Attorney General in 2009.
She then served as the Principal Associate Deputy Attorney General.
Then-President Barack Obama appointed Monaco to the Assistant Attorney General for National Security in 2011.
Obama appointed Monaco to be his Assistant to the President for Homeland Security and Counterterrorism, the chief counterterrorism advisor to the President in January 2013.
President-elect Joe Biden reportedly nominated Monaco to be the US Deputy Attorney General under his administration in January 2021.
Lisa Monaco Husband
Lisa Monaco has maintained a private life regarding her personal life. It is not clear whether she is married or not. She has managed to keep her personal life away from the limelight to date. As she is nominated by Joe Biden to serve as Deputy Attorney General, more details about her family might surface. Any updates on family details will be updated here.
Lisa Monaco Net Worth and Salary
Lisa Monaco has been serving in the Department of Justice for over 15 years. She held several positions under the Obama administration. For her service to the Justice Department over the years, she is paid a handsome salary. As she is likely to become the US Deputy Attorney General, her salary is projected to rise even more. She also receives a good salary serving as a senior national security analyst for CNN. Her net worth and salary details are not available at present.