Lou Dobbs Biography
Louis Carl Dobbs, an American political commentator, author, and former television host is professionally known as Lou Dobbs who presented Lou Dobbs Tonight from 2003 to 2009 and 2011 to 2021. He began working with CNN at its inception in 1980, serving as a reporter and network vice president. He previously worked for federal anti-poverty programs in Boston and Washington, D.C, as well he got a job as a police and fire reporter for KBLU. Mr. Dobbs rose to fame as a CNN anchor, becoming a mainstay of television business news. He began hosting his Fox program in 2011. Lou was an early promoter of conspiracy theories that former U.S. President Barack Obama is not a natural-born US citizen. He is known for anti-immigration views, as well as for various deep state outings and opposition to NAFTA and other trade deals. He was one of three Fox Corporation program hosts named in a $2.7 billion defamation suit relating to false conspiracy theories used in attempts to overturn the 2020 United States presidential election. Recently Lou Dobbs's Show is canceled by Fox Business. Scroll down to read Lou's Full Biography, Personal Life, Family, Interesting Facts, Wiki, Age, Net Worth, & more.
Famous For

Being an American political commentator, author, and former television host.
For being as a CNN anchor.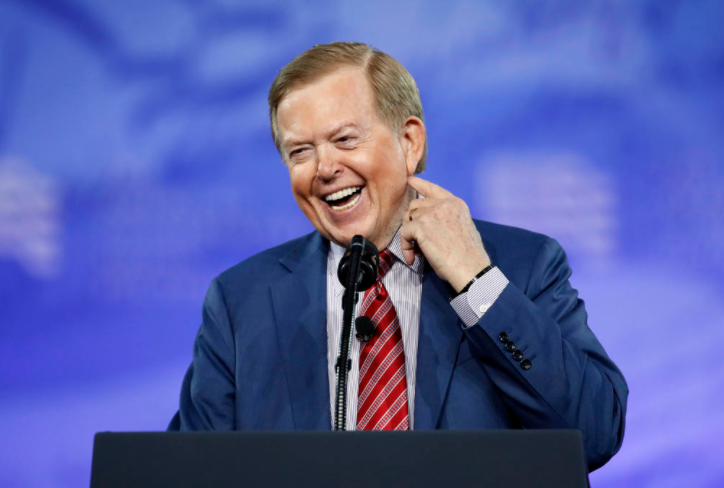 Source: @deadline
Lou Dobbs Early Life

Lou Dobbs was born on 24th September 1945 with the real name or full name of Louis Carl Dobbs in Childress County, Texas, U.S. He is of American nationality and he belongs to American-white ethnicity. Likewise, his religion is Christian and his race is white. Lou celebrates his every birthday on 24th September and he has celebrated his 75th birthday as of 2020. As per his birthdate, his horoscope is Libra. Dobbs is the son of Frank Dobbs (father), a co-owner of a propane business, and Lydia Mae (mother), a bookkeeper. His father's propane business failed and the family moved to Rupert, Idaho when he was twelve. Although accepted at the University of Idaho and Idaho State University, he was persuaded by the staff at Minico High School to apply to Harvard University, where he was accepted and graduated in 1967 with a Bachelor of Arts degree in economics. He briefly attended the University of Idaho College of Law in Moscow and then worked as a cash-management specialist for Union Bank of California in Los Angeles.
Lou Dobbs Career

CNN
Lou Dobbs began his career serving as a chief economics correspondent and as host of the business news program "Moneyline" on CNN in 1980 and also served as a corporate executive for CNN.
He then founded CNN fn (CNN financial news), serving as its president and anchoring the program "Business Unusual", which examined business creativity and leadership.
Space.com

Dobbs announced in July 1999 that he was leaving CNN to start up the site Space.com, but he later returned to CNN in 2001, becoming host and managing editor of the new and initially more general news program "Lou Dobbs Reporting". He also regained the helm of the newly renamed "Lou Dobbs Moneyline".
Later, the controversy around Dobbs began when he was the only mainstream news anchor to give airtime to the birther theory in July 2009, however, Dobbs announced his immediate departure from CNN on 11th November 2009. He was reportedly paid $8 million in severance pay when he left CNN.
Radio

Lou hosted "Lou Dobbs Radio" on United Stations Radio Networks from 2009 to 2012 which aired from 2 to 5 pm Eastern, directly competing with "The Sean Hannity Show", "The Tom Sullivan Show" and "The Dave Ramsey Show".
As well, he hosts the financially themed "Lou Dobbs Minute" on the same network and reached an agreement with Business Talk Radio Network to carry a rebroadcast of the show from 7 to 10 pm Eastern in June 2008.
Dobbs also is a regular columnist in "Money" magazine "U.S. News & World Report", and the "New York Daily News".
Fox Business Network

Fox Business Network announced on 10th November 2010 that Lou would host a show on the channel, whereas the program debuted on 14th March 2011 entitled "Lou Dobbs Tonight".
Voting machine company Smartmatic filed a $2.7 billion defamation suit against multiple parties on 4th February 2021, including Dobbs and two other Fox Corporation program hosts, asserting they had promoted conspiracy theories alleging the company and its competitor Dominion Voting Systems had participated in an international conspiracy to rig the 2020 presidential election against Donald Trump.
The three programs had each run a video retraction weeks earlier, after receiving a demand letter from Smartmatic, though neither Dobbs nor the other hosts personally issued retractions.
The show was canceled by Fox News on 5th February 2021. The Los Angeles Times reported the decision had been under consideration before the Smartmatic legal issues arose. CNN claimed that, despite being the highest-rated Fox Business Network program, it was a loss leader because many advertisers didn't want to be associated with the content.
"Lou Dobbs is and was great," Mr. Trump said. "Nobody loves America more than Lou. He had a large and loyal following that will be watching closely for his next move, and that following includes me."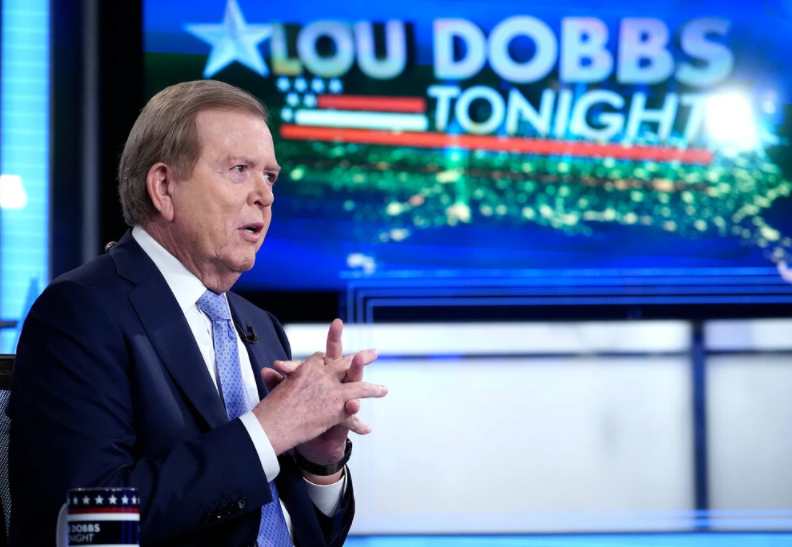 Source: @nytimes
Political views and controversies
Lou Dobbs suggested in December 2018 that the United States should start a war with China because of hacking by Chinese state actors. He compared hacking by the People's Liberation Army of China to the attack by the Japanese military on Pearl Harbor in 1941.
After President Donald Trump stated in March 2019 that he supported legal immigration "in the largest numbers ever," Lou lamented that Trump was advancing "the interests of the global elite ahead of our citizens," adding, "the White House has simply lost its way".
As Trump, Lou's surrogates, and supporters made baseless claims of voting fraud in the aftermath of his 2020 election defeat, Dobbs chastised Republicans for not helping the president to claim "what is rightfully his.
Speaking to Republican consultant Ed Rollins during his 4th January 2021 broadcast, Dobbs said:
"We're eight weeks from the election, and we still don't have verifiable, tangible support for the crimes that everyone knows were committed that is, defrauding other citizens who voted with fraudulent votes. We know that's the case in Nevada, we know it's the case in Pennsylvania and a number of other states, but we have had a devil of a time finding actual proof. Why?"
Following the storming of the United States Capitol by Trump supporters in January 2021, Dobbs was among those who advanced the conspiracy theory that people associated with Antifa were responsible for the attack.
Books

"Independents Day: Awakening The American Spirit", Viking, (2007)
"Exporting America: Why Corporate Greed Is Shipping American Jobs Overseas", Warner Books, (2004).
"The Next Business Frontier with HP Newquist", Pocket Books, (2001).
"War on the Middle Class: How the Government, Big Business, and Special Interest Groups Are Waging War on the American Dream and How to Fight Back", Viking, (2006).
"Upheaval", Threshold Editions, (2014)
"Putin's Gambit": A Novel, (2017)
Lou Dobbs Awards and Achievements

Awards Lou Dobbs has received include the George Foster Peabody Award (1987), the Horatio Alger Association Award for Distinguished Americans (1999), and the National Space Club Media Award (2000).
Lou Dobbs Personal Life

Lou Dobbs is a married guy. He was married to his first wife/spouse Kathy Wheeler in 1967 with whom he divorced in 1981. He then married Debi Lee Segura in 1982, a former CNN sports anchor, and the pair have raised four children together. His children are Hillary Dobbs, Chance Dobbs, Buffie Dobbs, Michelle Dobbs, Heather Dobbs, Jason Dobbs. They both seem extremely happy in their domestic life. She's supportive of him and the profession that he is in. He resides with his wife or family on a 300-acre (120 ha) horse farm in Wantage Township, New Jersey. Lou's sexual orientation is straight and he is not gay.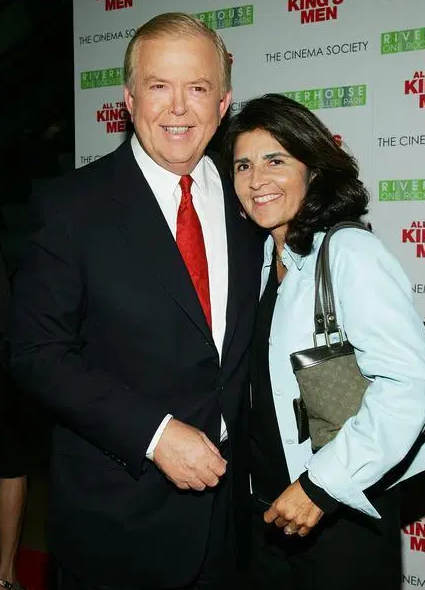 Source: @denverpost
Lou Dobbs Net Worth & Salary

Moving to Lou Dobbs's net worth, Dobbs earns a considerable amount of worth which is around $20 million as of 2020 and his salary is around $5 million per year. Dobbs comes out strongly against the Bush tax cuts, which he argues favor the wealthy, and argued for raising the U.S. minimum wage from what was then $5.15 an hour. He was reportedly paid $8 million in severance pay when he left CNN. His main source of income is from his political, author, TV Shows, and host career.
Lou Dobbs Body Measurements

Lou Dobbs is a handsome political commentator, author as well as host who stands at an ideal height of around 1.88 m with a balanced body weight. He has blonde hair and lights brown eyes color. Lou has kept his body maintained at this age too which has attracted many people towards him. Dobbs's body build type is average however his body measurement has not been revealed yet.