About Mateo Kovačić
Mateo Kovačić, the talented Croatian footballer, currently showcases his skills as a central midfielder for both Premier League club Chelsea and the Croatia national team. His professional journey commenced at the age of 16 with Dinamo Zagreb, where he secured two consecutive Prva HNL titles. In 2013, he made a move to Inter Milan, before joining Real Madrid after the 2014-15 season. At Real Madrid, he achieved immense success, winning the UEFA Champions League in the 2015-16, 2016-17, and 2017-18 seasons. In 2018, he joined Chelsea on loan, and his impressive performances earned him a permanent contract at the end of the 2018-19 season. With Chelsea, he has added more silverware to his collection, including the UEFA Europa League in 2018-19 and the Champions League in 2020-21. He was also named the Chelsea Player of the Year for the 2019-20 season. On the international stage, he represented Croatia at various youth levels before making his senior national team debut in 2013. He has participated in multiple FIFA World Cups, including 2014, 2018, and 2022, reaching the final in 2018. Additionally, he has been part of the Croatian squad in the UEFA European Championships of 2016 and 2020. His shirt number is #8 for his current team, Chelsea.
Mateo Kovačić Early Life & Family
Mateo Kovačić, born on May 6, 1994, is currently 29 years old as of 2023. He was born in Linz, Austria, to Bosnian Croat parents named Stipo and Ružica, who had relocated there from Zabrđe before the Yugoslav Wars. Mateo is their first son. He has two wonderful sisters named Katarina and Jelena Kovačić. As a Catholic, he regularly attends church on Sundays. He holds Austrian nationality and belongs to the Bosnian-Croatian ethnicity. According to his birth date, his zodiac sign is Taurus.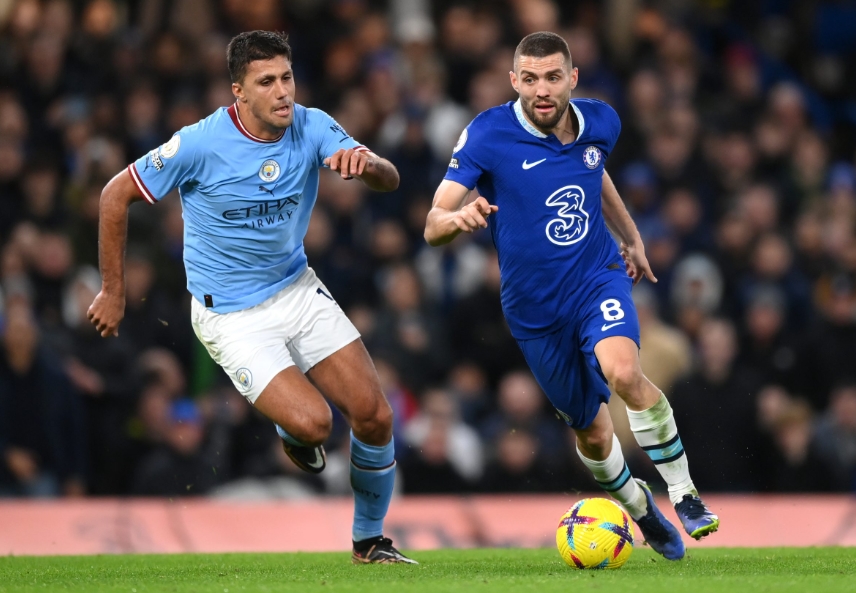 Mateo Kovačić Football Career
Early Career
Mateo Kovačić's football journey began at a young age when he joined the local academy of LASK.
Recognizing his talent, scouts from top European clubs, including Ajax, Inter Milan, Juventus, and Bayern Munich, took notice of him when he was just 13 years old. However, Kovačić's family decided to relocate to Zagreb, where he joined the academy of the renowned Croatian club, Dinamo Zagreb. Unfortunately, Kovačić faced a major setback in 2009 when he suffered a serious leg injury.
Despite the challenging recovery process, he made a triumphant return to the pitch on 31 May 2010, playing in the final match of the Croatian under-17 academy league and contributing to a resounding 5-0 victory against RNK Split under-17s.
Dinamo Zagreb
Kovačić began training with Dinamo Zagreb's senior squad under manager Vahid Halilhodžić in October 2010.
Despite still playing academy league matches, his performances caught the attention of Arsenal's chief scout, Steve Rowley.
On 20 November 2010, he made his professional league debut in the 2010–11 Prva HNL match against Hrvatski Dragovoljac. He found the back of the net, scoring Dinamo's fourth goal in their commanding 6–0 victory. This outstanding achievement established him as the youngest goalscorer in the league's history, at the remarkable age of 16 years and 198 days. Notably, he surpassed the record set just a week earlier by Dino Špehar, who had scored for NK Osijek at the age of 16 years and 278 days on 13 November 2010.
In the following season, he established himself as a regular starter and helped Dinamo reach the UEFA Champions League group stage.
At only 17 years old, he featured in the starting lineup against Real Madrid and scored a goal against Lyon, becoming the second-youngest scorer in Champions League history.
He also captained Dinamo in a league match, becoming the youngest player to do so. Kovačić had another successful season, appearing in 32 domestic league and cup matches and winning the league title.
He suffered an injury at the start of the 2012-13 season but returned in time to play in the Champions League.
He impressed with his performances and was nominated for the Golden Boy Award.
Dinamo Zagreb's board expressed their commitment to building a team around Kovačić and another young talent, Alen Halilović.
Inter Milan

On 31 January 2013, he completed a transfer to Inter Milan in Serie A. The deal amounted to €15 million, with €11 million paid immediately and an additional €4 million contingent on Inter qualifying for the Champions League.
Just three days later, he made his debut for Inter Milan as a substitute in a Serie A match against Siena.
He then made his European debut in front of the home crowd at San Siro on 14 February, impressing fans with a winning assist in a UEFA Europa League match against CFR Cluj. He received standing ovations when he was substituted in the 89th minute.
He went on to make his first domestic league start for Inter in a 1-4 loss against Fiorentina and showcased his skills in the Europa League round of 16 match against Tottenham Hotspur, helping Inter secure a 4-1 victory after extra time. Inter's manager, Andrea Stramaccioni, praised Kovačić's performances and hailed him as a "star for the future."
He continued to make notable contributions, including starting in the Derby d'Italia against Juventus, where he played a part in Rodrigo Palacio's equalizing goal.
He received the "Gentleman Revelation of the Year" award from Inter fans in recognition of his impressive performances throughout the season, despite Inter finishing in a disappointing ninth place in Serie A.
He faced several small injuries, causing him to miss a significant portion of pre-season training with the squad. However, he made his comeback just a few days before Inter Milan's first official match of the new season, a Coppa Italia game against Cittadella.
In pre-season interviews, the newly appointed manager, Walter Mazzarri, hinted at assigning Kovačić a new role on the pitch, similar to Marek Hamšík's role at Napoli.
Throughout the first half of the season, he featured regularly but struggled to adapt to his tactical responsibilities. He provided his first assist of the season in a match against Livorno, setting up Yuto Nagatomo.
Unlike the previous season, he wasn't a consistent starter during the 2013-14 season, only starting in 14 of the 32 Serie A matches played, with eight of those being full 90-minute appearances.
Towards the end of the season, he regained the manager's trust and was given the opportunity to restore his confidence, starting in Inter's last six matches in midfield.
In September 2014, amid persistent transfer rumors, Kovačić was offered a contract extension until 2019.
He began the season strongly, scoring a hat-trick in the Europa League play-off round against Stjarnan.
He also scored his first league goal for Inter in a 7-0 victory over Sassuolo, providing two assists in the same game.
He continued to make an impact, scoring crucial goals, including one against Palermo and another against ChievoVerona, as well as delivering an exceptional goal in a draw against Lazio. However, he received a red card in a draw against Juventus in January 2015.
Just three days later, he extended his contract with Inter Milan until June 2019.
Real Madrid
On 16 August 2015, Inter Milan manager Roberto Mancini confirmed that the club had to sell Kovačić to Real Madrid in compliance with UEFA Financial Fair Play Regulations.
Real Madrid officially announced the transfer two days later, revealing that Kovačić had signed a six-year contract with the Spanish club. The transfer fee was reported to be €29 million according to Inter's financial filings.
He was unveiled as a new player at Real Madrid's Santiago Bernabéu Stadium on 19 August, becoming the fifth Croatian player to join the prestigious club.
Shortly after his presentation, he made his debut as a substitute in a 0-0 draw against Sporting Gijón.
He scored his first goal for Real Madrid in an 8-0 victory over Malmö FF in December 2015. In his first season, he made 34 appearances for the club.
Under Rafael Benítez, he was utilized in various midfield positions but saw his playing time reduced after Zinedine Zidane took over.
He made eight appearances and scored one goal as Real Madrid clinched the 2015-16 Champions League title.
He continued to contribute, scoring his first goal in La Liga in a win over Real Sociedad in January 2017.
He played a part in Real Madrid's victories in the 2016-17 La Liga and the 2016-17 Champions League.
In the 2017-18 Champions League campaign, he made six appearances as Real Madrid secured their third consecutive title and 13th overall.
Chelsea
On 8 August 2018, Kovačić joined Chelsea on a loan deal for the 2018-19 season. He made his debut as a substitute in a 3-2 victory against Arsenal on 18 August.
He played a significant role in Chelsea's success in the 2019 Europa League final, starting the match and being substituted in the 78th minute as Chelsea defeated Arsenal 4-1.
On 1 July 2019, he completed a permanent transfer to Chelsea, signing a five-year contract.
Under the management of Frank Lampard, he became one of the key players for Chelsea, following an initially disappointing season under Maurizio Sarri.
He scored his first goal for Chelsea in a 2-2 draw against Valencia in the Champions League and later scored his first Premier League goal in a 3-1 loss to Everton. Kovačić was named the Chelsea Player of the Year on 25 August.
He marked his 100th appearance for the club in a 6-0 victory against Barnsley in the EFL Cup.
Despite suffering a tendon injury ahead of the Champions League quarter-finals, he played a crucial role as Chelsea defeated Real Madrid in the semi-finals and went on to win the Champions League final against Manchester City, earning Kovačić his first Champions League title.
On 11 September 2021, he played a crucial role in Chelsea's 3-0 victory over Aston Villa, providing an assist to Romelu Lukaku and scoring a goal himself. However, his season was disrupted by an injury in late October and a positive COVID-19 test in early December.
He returned to the team on 19 December in a 0-0 draw against Wolverhampton Wanderers. Kovačić showcased his resilience on 2 January 2022, initiating a comeback for Chelsea in a thrilling 2-2 draw against Liverpool by scoring the team's first goal when they were trailing by two goals. This goal earned him the Premier League Goal of the Month and Chelsea Goal of the Year awards.
On 8 January, he had the honor of captaining Chelsea for the first time in their 5-1 victory over Chesterfield in the FA Cup. Kovačić continued to lead the team on 7 March 2023, captaining Chelsea to a 2-0 victory over Borussia Dortmund in the Champions League round of 16, securing their spot in the quarter-finals.
Four days later, he once again captained Chelsea and scored the third goal in a 3-1 triumph over Leicester City in the Premier League.
Mateo Kovačić International career
Kovačić represented the Croatia national team across different youth levels, making his debut in May 2008 during an under-14 friendly match against Slovakia. From 2011 onwards, he became a consistent presence in the under-19 and under-21 squads.
In August 2012, he earned his first competitive call-up to the Croatian senior team for a match against Switzerland but was unable to play due to injury.
He later received another call-up in March 2013 for the 2014 FIFA World Cup qualification matches.
He made his senior debut in a qualification match against Serbia on 22 March, playing as a central midfielder alongside Luka Modrić. He then came on as a substitute in a 1–2 win against Wales. In June, he played against Scotland but couldn't help Croatia secure a victory.
During the World Cup play-offs, Kovačić played a key role in the second leg against Iceland, providing an assist as Croatia won 2–0 on aggregate to qualify for the 2014 FIFA World Cup.
He was named in Croatia's World Cup squad and started in their opening match against Brazil before playing in all of their group stage games, although Croatia was eliminated. He scored his first international goal on 7 June 2015 in a 4–0 victory over Gibraltar.
In 2018, he was selected for the Croatian squad in the 2018 FIFA World Cup, where he provided an assist in a 3–0 win over Argentina. Croatia ultimately finished as runners-up, losing 4–2 to France in the final.
Kovačić represented Croatia in the 2018–19 UEFA Nations League A matches against Spain and England, which ended in a 6–0 defeat and a goalless draw, respectively.
He played a significant role in Croatia's successful Euro 2020 qualifying campaign, helping them top their group.
In a 2–1 win over Wales, he scored a goal that was disallowed due to an offside position.
In the return leg against Wales, he was controversially injured by Ben Davies, contributing to a 1–1 draw.
During the 2020–21 Nations League A campaign, he faced criticism for his performance, particularly after an error that led to a goal in a crucial match against Sweden. However, he redeemed himself by scoring two goals in a 3–2 defeat to Portugal, securing Croatia's place in Nations League A.
He was selected for Croatia's squad in UEFA Euro 2020, starting all three group-stage matches and earning praise for his performances.
He captained Croatia for the first time in a 3–0 defeat to Austria in the 2022–23 Nations League A.
At the 2022 FIFA World Cup, he received further acclaim for his contributions as Croatia finished in third place.
Mateo Kovačić Awards and Achievements
Dinamo Zagreb
Prva HNL: 2010–11, 2011–12
Croatian Cup: 2010–11, 2011–12
Real Madrid
La Liga: 2016–17
Supercopa de España: 2017
UEFA Champions League: 2015–16, 2016–17, 2017–18
UEFA Super Cup: 2016, 2017
FIFA Club World Cup: 2016, 2017
Chelsea
UEFA Champions League: 2020–21
UEFA Europa League: 2018–19
UEFA Super Cup: 2021
FIFA Club World Cup: 2021
FA Cup runner-up: 2019–20, 2021–22
EFL Cup runner-up: 2018–19, 2021–22
Croatia
FIFA World Cup runner-up: 2018; third place: 2022
Individual
Croatian Football Hope of the Year: 2011
Chelsea Player of the Year: 2019–20
Chelsea Goal of the Year: 2021–22
Premier League Goal of the Month: January 2022
Orders
Order of Duke Branimir: 2018
Mateo Kovačić Transfer News
Mateo Kovačić transferred to Chelsea on July 1, 2019, for a fee of 45 million euros.
He had been on loan at Real Madrid before the transfer, and the loan ended on June 30, 2019.
Kovačić initially joined Chelsea on August 8, 2018, on a free transfer.
Before his time at Chelsea, he was transferred from Real Madrid to Inter on August 18, 2015, for a fee of 38 million euros.
Kovačić's professional career began at GNK Dinamo Zagreb, where he played for the U17 team before joining the senior team on October 1, 2010, from Din. Zagreb U17.
Additionally, on January 31, 2013, he was transferred from Inter to Real Madrid for a fee of 11 million euros.
Mateo Kovačić Net Worth
Mateo Kovačić, a highly successful footballer, currently showcases his skills as a member of the Premier League club Chelsea. With a net worth estimated at $22 million as of 2023, Kovačić has predominantly accumulated his wealth through his performances for clubs and international matches. Football remains his primary source of income, as evidenced by his lucrative 5-year contract with Chelsea, worth £39,000,000, including an average annual salary of £7,800,000. Moreover, Kovačić has secured various sponsorship and endorsement deals with renowned companies such as Nike, further bolstering his earnings. With properties in Zagreb, Croatia, and London, he enjoys the rewards of his success. Additionally, he owns an Audi Q7, which was gifted to him during his time at Real Madrid. As of June 20, 2023, Kovačić's market value is assessed at €38 million. He is satisfied with her earnings and he is living a lavish lifestyle from his career earnings.
Mateo Kovačić Married & Wife
Mateo Kovačić, the talented footballer, is happily married to his longtime girlfriend, Izabel Andrijanić. The couple tied the knot in June 2017, returning to the same church where they initially met, as reported by the Sun. Notable guests at their wedding included Kovacic's Real Madrid and Croatian teammates, such as Ivan Perisic and Marcelo. It is rumored that the lavish ceremony cost over £250,000. Throughout Kovačić's time playing for Real Madrid, Izabel stood by his side. Their love story began during their teenage years at St Anthony's Church in Padfua. In October 2020, Izabel gave birth to their first child, a son named Ivan. The child was christened in July 2021, with Luka Modrić having the honor of being his godfather.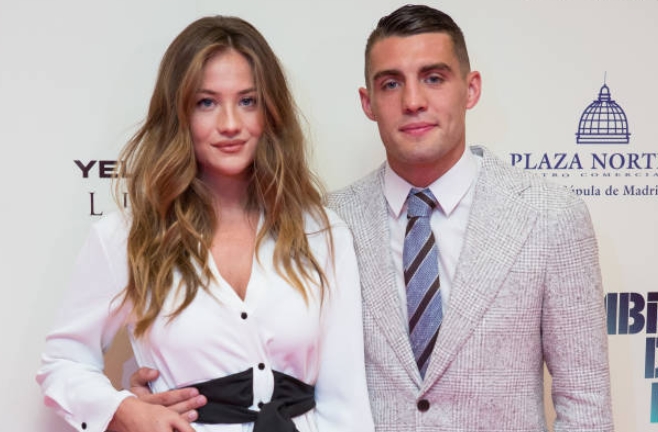 Izabel Andrijanić, besides being the wife of Mateo Kovačić, is also a successful entrepreneur. She is the founder and owner of Lunilou, a thriving company that specializes in organic and eco-friendly baby products. Since 2015, she has been running the business together with her sister, Ivana Lucic, offering a range of items like baby moccasins, pillows, and accessories. Izabel's long, blonde, curly hair has drawn comparisons to Shakira.
How tall is Mateo Kovačić?
Mateo Kovačić, a dashing footballer, stands at a height of 1.77 m (5 ft 10 in) and weighs 78 kg. With captivating dark brown eyes and matching dark brown hair, he exudes a charismatic aura. His body measurements are 38-30-38 inches, showcasing a well-proportioned physique. Kovačić is committed to maintaining his body's health and fitness, engaging in regular exercise to stay in optimal shape.