About Megan Thee Stallion; American Rapper and Singer
Megan Thee Stallion is a famous rapper, singer, and songwriter from the USA. She began writing raps at age 16. When she told her mother that she wanted to rap, Holly required that Pete wait until she was 21 to pursue rapping as a career. She rose to fame after a video of hers went viral on the internet. She is the first female rapper that is under the label, 300 Entertainment. Her first mixtape was released in 2016 called "Rich Ratchet" which went on to be a hit. She released her first EP titled "Make It Hot" in September 2017. In the year 2018, she released her EP based on her alter ego Tina Snow and was received very well by the critics. She also originated the viral catchphrase "hot girl summer" on social media. She made her first TV show appearance as "Herself" on Jimmy Kimmel Live! in 2019. She released her first full-length project Fever on 17th May 2019 which received great reviews and was selected as an NYT Critic's Pick. In the year 2020, her single "Savage" went viral on the social media app TikTok and reached number one on the US Billboard Hot 100 chart following the release of a remix with Beyonce. She has also won two BET Awards, two BET Hip Hop Awards, an MTV Video Music Award, and a Billboard Women in Music Award. She has said she's "grateful to be alive" after being shot. She said she "suffered gunshot wounds" on Sunday and is expected to make a full recovery. A video apparently showed her bleeding from her foot after police stopped a car also containing rapper Tory Lanez. He was later charged with carrying a concealed weapon. Police said one person had suffered "a foot injury. On 15th February 1995, Megan Thee Stallion was born with the birth name/real name of Megan Jovaon Ruth Pete. She was born in Bexar Country, Texas, the USA; her birthplace/hometown. Her nationality is American and she belongs to Afro-American ethnicity. Her birth sign is Aquarius and her religion is Christian. She was born to her parents; mother, Holly Thomas, and father. Her mother was a former rapper with the name Holly Wood. Her source of inspiration was from her mom. She and her mother moved to Pearland, Texas, a suburb of Houston when she was 14 and lived there until she was 18. Her mom died from a cancerous brain tumor on 21st March 2019. As of her education, she graduated from Pearland High School in 2013. She then started studying at Prairie View A&M University. After taking time off school, she resumed her studies at Texas Southern University in health administration, where she is a third-year student as of 2019. As of 2020, she celebrated her 25th birthday. Scroll more to know about her full biography including her career start, dad, college, personal life, dating, boyfriend, height, net worth, age, facts, family details, wiki, birthday, and more.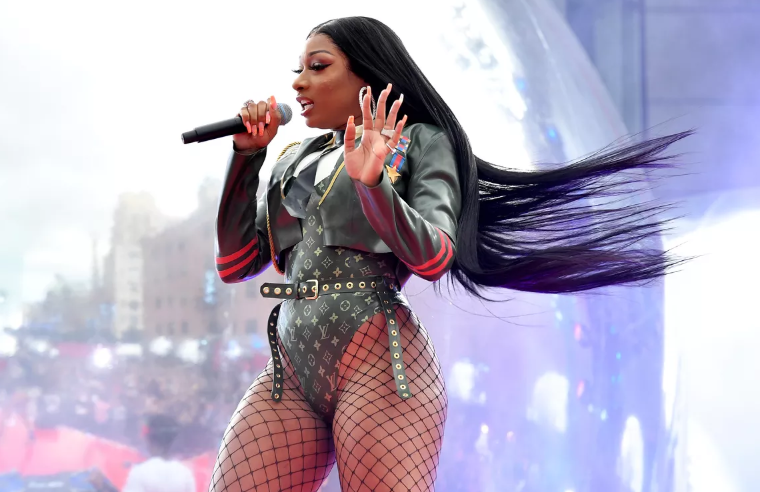 Source: @revolt.tv
Megan Thee Stallion's Career
Since an early age, she was interested in writing raps.
She firstly released her first mixtape, "Rich Ratchet" in the year 2016.
After that, her first single, "Like a Stallion", was produced by TA.
In 2017, she released her first EP, "Make It Hot". In the same year, she released a song, "Stalli (Freestyle)", that is a rework of XXXTentacion's "Look At Me!".
She then signed with 1501 Certified Certified Entertainment in 2018 becoming the first female rapper signed to the label.
In March 2018, she performed at SXSW.
Also, she released a 10-song EP under the label titled "Tina Snow" in June.
Later, in November 2018, she announced that she had signed with 300 Entertainment; making her the first female rapper to be signed by the label.
She then released "Big Ole Freak" as a single from her EP, Tina Snow, and also filmed a music video for the track on 22nd January 2019. The single, "Is It Love This Time", is sampled throughout the single.
On 17th May 2019, she released her second mixtape, "Fever".
The album was selected as an NYT Critic's Pick, and reviewer Jon Caramanica wrote, "Before this album, Megan Thee Stallion's standout moments have come via radio-appearance freestyles-a familiar proving ground for rappers of an earlier generation, and one where she has thrived... Fever, however, is more cohesive, polished, and forceful than her previous releases. The production-especially the songs by Lil Ju ("Ratchet", "Cash", "Realer")-is ominous and spacious, a foundation that's sturdy and not distracting."
Sh then released the music video for the opening album track, "Realer", which is inspired by the blaxploitation film style on 21st May 2019.
Subsequently, she was announced to be one of eleven artists included in the 12th edition of XXL's "Freshman Class" on 20th June 2019.
In July 2019, Chance The Rapper released his debut studio album, "The Big Day", where she was featured on the track "Handsome".
On 2nd August 2019, "A Black Lady Sketch Show" premiered on HBO; the show uses her song "Hot Girl" in the opening title.
She also released the single "Hot Girl Summer", featuring fellow American rapper Nicki Minaj and singer Ty Dolla Sign on 9th August 2019.
She was even featured on the Quality Control compilation album, Quality Control: Control the Streets, Volume 2, on the track "Pastor", alongside Quavo and City Girls.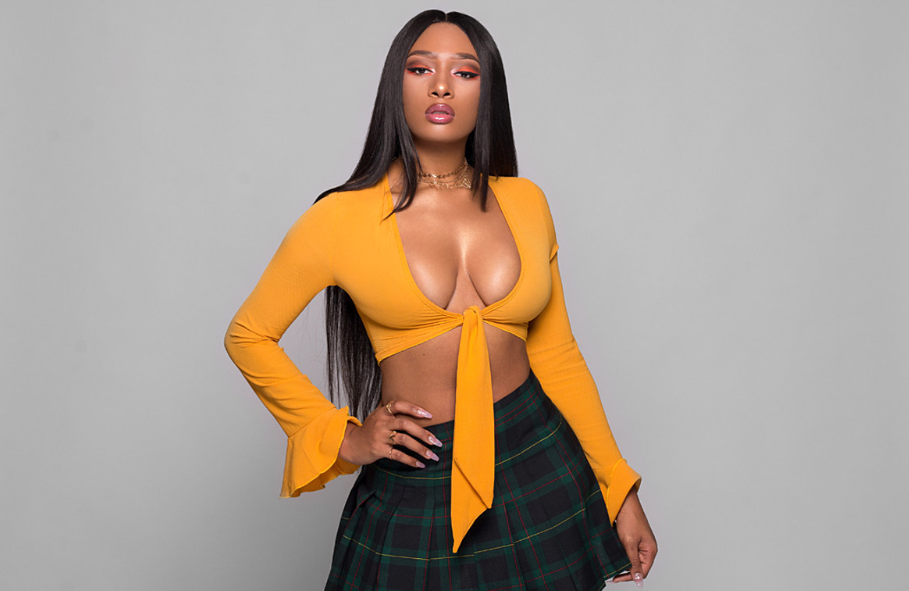 Source: @xxlmag.com
She signed a management deal with Roc Nation in September 2019.
Additionally, she also created and starred in a horror series, "Hottieween".
In November 2019, Time placed her on their inaugural "Time 100 Next" list.
She released the single "Diamonds" with singer Normani, for the soundtrack of the superhero film Birds of Prey (2020) in early 2020.
She released the single "B.I.T.C.H" in January 2020.
In March, she announced that her debut album, Suga, was delayed as a result of her attempting to renegotiate her contract with 1501 Certified.
She then released the EP, "Suga", against the wishes of 1501, after a judge granted a temporary restraining order against the label.
The song "Savage" from the EP went viral on TikTok when popular user Keara Wilson used it for a dance challenge video, which racked up 15.7 million views and 2.4 million likes as of 20th March 2020. The song was later released on April 29, 2020.
The song became her first top 10 hits in the United States shortly after the remix's release, becoming her first chart-topper in the United States.
Proceeds from the song went to a Houston nonprofit, Bread of Life, which provides disaster relief for residents affected by COVID-19.
On 26th June 2020, she released the song "Girls in the Hood".
Megan Thee Stallion's Personal Life
Megan Thee Stallion is not married yet and she is still to get married. Recently, on social media, she's squashed rumors that she's dating anyone, but she did confirm plans to release her debut album in 2020. Fans can expect to hear and see more of Meghan Thee Stallion's alter ego Tina Snow and according to her interview with NPR, a new character named "Suga". There's no word if there will be a feature from Moneybagg Yo on her project, but there's definitely no beef or ill will. As of now, she is living her best life without any disturbances. Her sexual orientation is straight. She stated in an interview with Mic.com, that she is not afraid to talk about sexuality, nor does she feel boxed into either the "intelligent" or "freak" dichotomy. She presents her sexuality throughout her lyrics, videos, and live performances. In an interview with Pitchfork, she stated, "It's not just about being sexy, it's about being confident and me being confident in my sexuality."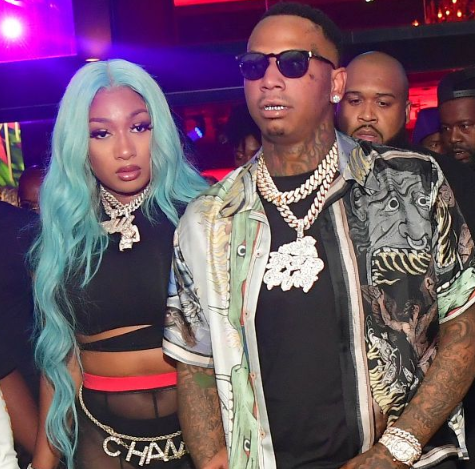 Source: @bet.com
Previously, she was in a relationship and dated Moneybagg Yo. Moneybagg Yo is an American rapper and songwriter as per his profession. She confirmed their relationship via her Instagram post in July 2019. According to reports, they were seen hanging out in clubs and spending time when they were not performing. It was confirmed months ago (December 2018) that the two called it quits, but Moneybagg Yo took some time to briefly address the breakup and has since moved on. At present, Moneybagg Yo is dating Adriana Fletcher.
Besides this, Megan and manager Carl Crawford were rumored to be dating when they were spotted spending time together in 2018. Later, they separated.
Recently on 15th July 2020, she posted an Instagram message that stated "I suffered gunshot wounds as a result of a crime that was committed against me and done with the intention to physically harm me." In the message, she further stated that she underwent surgery to remove the bullets and is expected to make a full recovery. Earlier, her account countered that she had injured her foot on broken glass the prior Sunday when she was in a car with recording artist Tory Lanez and an unidentified woman; the car was pulled over by police, and Lanez was arrested on gun charges after the police executed a vehicle search. Neither she nor her representatives released information about the culprit of the shooting.
Megan Thee Stallion's Net Worth 2020
Megan Thee Stallion is a famous rapper, singer as well as a songwriter. With her multi-career, she has accumulated a huge amount of money from her profession in the field of the music industry since the year 2016. Within the four years of the span, she has reached a great height in her career. As per sources, the net worth of Megan Thee Stallion is estimated to have $2.7 million as of 2020. There is no doubt in the mind of her followers that she is earning a considerable amount of money/salary from her work. Her major source of earning is from singing career and he is satisfied with her earnings. She has earned a cool amount of money from her songs, albums, tour, concert, and more. She is living a luxurious lifestyle.