About Meghan Trainor
Meghan Trainor is an American singer-songwriter who rose to fame after her debut hit single, "All About That Bass" in the year 2014. She has released three studio albums with the label and has received various awards and nominations, including the 2016 Grammy Award for Best New Artist. She wrote, recorded, and produced three independently-released acoustic albums, Meghan Trainor (2009), I'll Sing with You, and Only 17 (2010). She released her pop and hip hop major-label debut studio album, "Title" in the year 2015, which included the top-10 singles "Lips Are Movin" and "Like I'm Gonna Lose You", and debuted at number one on the US Billboard 200. Besides this, she has had voice roles in the animated films Smurfs: The Lost Village (2017) and Playmobil: The Movie (2019). She served as a judge on the television talent show "The Four: Battle for Stardom" (2018). She is currently the judge of "The Voice UK" (2020).
Meghan Trainor says pregnancy has hit a 'bump in the road' with gestational diabetes. The star singer says her diagnosis is "manageable" and that she and her baby boy are healthy. Meghan Trainor's pregnancy has hit "a tiny bump in the road" with a diagnosis of gestational diabetes. She spoke with Joe Fryer about her reaction to the diagnosis as she and husband Daryl Sabara await the birth of their son, who is due in February. The Centers for Disease Control and Prevention estimates that 2% to 10% of pregnant women develop gestational diabetes, which is caused by the body not being able to produce enough insulin during pregnancy.

Meghan Trainor is famous for being an American singer and songwriter. She is best known for her hit debut single, "All About That Bass", which reached number one on the US Billboard Hot 100 chart and sold 11 million copies worldwide, and drew criticism for its lyrical content.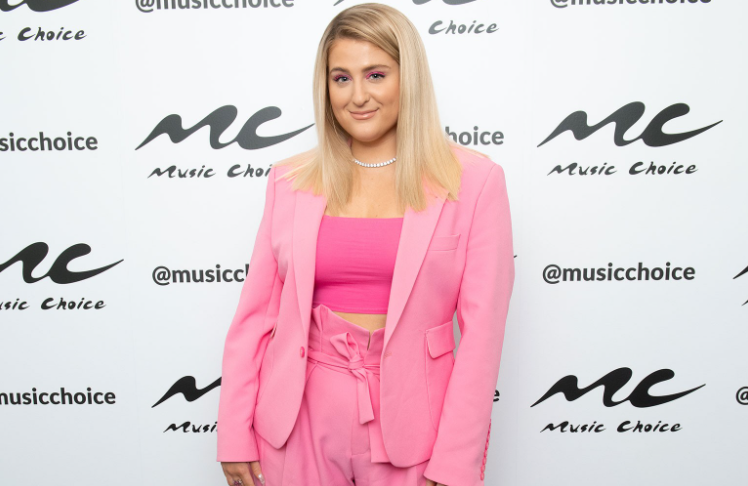 Source: @billboard
Meghan Trainor was born on 22nd December 1993, in Nantucket, Massachusetts, the United States. Her birth name/full name is Meghan Elizabeth Trainor. She holds an American nationality and her ethnicity is multiracial of Irish, Polish, French-Canadian, English. Saggitarius is her zodiac sign and she is Christian by religion. As of 2019, she celebrated her 26th birthday. She was born to her parents; Kelly "Kelli" Anne (mother) and Gary Trainor (father). Both of her parents were jewelers. Her father was also a music teacher and organist. She grew up along with her siblings; an older brother named Ryan and a younger brother named Justin. At the age of six, she began singing at Methodist church along with her father due to which her parents and family encouraged her to pursue a career in music. She then began writing songs and recording them using the digital audio workstation software GarageBand. She started with her own arrangement of the song "Heart and Soul" (1938). When she was 12 years old, she began performing as part of the cover band, "Island Fusion". She remained in the group for four years, singing and playing piano, guitar, and bongo drums. By the age of thirteen, she wrote her first song, "Give Me a Chance". Her family then moved to North Eastham where she attended Nauset Regional High School, during which she studied guitar, played trumpet, and sang in a jazz band for three years. She graduated from Nauset Regional High School in 2012. During her time in high school, Meghan also went to Boston's Berklee College of Music to attend their summer programs. At the age of 15, she took guitar lessons from former NRBQ member Johnny Spampinato.
Beautiful singer, Meghan Trainor stands at the average height of 5 ft 4 in or 1.64 m. She maintained her body a lot by doing frequent exercises and workouts due to which she has a balanced bodyweight of 68 Kg or 150 Pounds. She has a perfect body measurement of 39-29-39 in. She wears a bra size of 36C and her dress size is 12 US. She has a fair complexion with blonde hair color. She has a pair of green eyes which makes her even more beautiful. On 11th August 2015, she announced the cancellation of the remainder of her North American tour and said she would undergo surgery "to finally fix this once and for all". On 1st September 2015, she confirmed that she had successfully gone through the surgery and would need a six-week recovery period before performing again. As of now, she has got a healthy body.
Meghan Trainor's Singing Career
Meghan Trainor firstly released three albums of material which she had written, recorded, performed, and produced between her age of 15 and 17.
She then released her debut album titled "Meghan Trainor" on 25th December 2009. After that, she released the song "Take Care of Our Soldiers" on 16th April 2010.
Additionally, she released the acoustic albums "I'll Sing with You", and "Only 17" in the year 2010.
After then, she signed with Big Yellow Dog Music in 2012. After that, she released her song "Who I Wanna Be" for digital download on 24th April 2012.
She co-wrote the song "In the Sun", which was released as a single by Danish artist Aya Katrine in May 2013.
Along with Kadish, she co-wrote the song, "All About That Bass" in November 2013 and was released on 30th June 2014. The song was an instant diamond-certified hit which reached no. 1 spot in 58 countries and became one of the best-selling singles of all time.
This was followed by the release of her debut extended play(EP), "Title", which was released on 9th September 2014. The EP peaked at number 15 on the US Billboard 200 and at number 17 on the Canadian Albums Chart.
Her second single, titled "Lips Are Movin" was released on October 15, 2014, which peaked at no. 4 on the Billboard Hot 100.
On 9th January 2015, her fourth studio album titled "Title" was released by Epic Records which debuted at number one on the US Billboard 200, earning a triple-platinum certification from the RIAA. The album's later singles "Dear Future Husband" and "Like I'm Gonna Lose You" reached the Hot 100's top 20.
She also performed a duet with Charlie Puth on his debut single "Marvin Gaye", which was released in February 2015.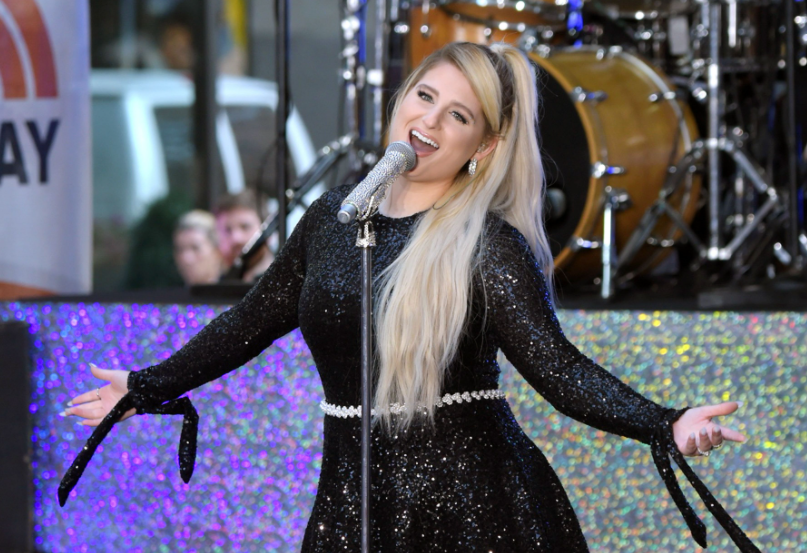 Source: @rollingstone
She then began her first headlining concert tour, That Bass Tour, on February 11, 2015, with Australian band Sheppard as the opening act.
She also appeared as a musical guest on the third season of the American television sitcom "Undateable".
In August 2015, she co-wrote Rascal Flatts' single, "I Like the Sound of That".
Her fifth album, "Thank You"'s first single, "NO" was released on 4th March 2016, which peaked at number three on the Billboard Hot 100.
This was followed up with four promotional singles including "Watch Me Do", "I Love Me", "Better (featuring Yo Gotti)" and "Mom".
The platinum-certified album was released on 6th May 2016, that debuted at number three on the US Billboard 200.
She then appeared on three other artists' songs in 2016, DJ Khaled's "Forgive Me Father", Michael Bublé's "Someday" and Brett Eldredge's "Baby, It's Cold Outside".
She also co-wrote Jennifer Lopez's hit song, "Ain't Your Mama" and Little Mix's "You Gotta Not".
On 24th February 2017, she released the single "I'm a Lady", recorded for the film, "Smurfs: The Lost Village". She also voice-roled as Smurfmelody in the movie.
She then appeared as a judge on the show, "The Four: Battle for Stardom" in 2018.
Her third major-label and sixth studio album, "Treat Myself" was released on 31st January 2020, while it was scheduled to be released on 31st August 2018. The album's lead single "No Excuses" was released in March 2018. Followed by the release of "Let You Be Right", "Can't Dance" and "All the Ways".
She also collaborated with Sigala and Ella Eyre and released the single "Just Got Paid" which reached number 11 on the UK Singles Chart, number 7 in Scotland, and number 12 in Ireland.
Her second EP titled "The Love Train" was released on 8th February 2019.
She then recorded "Badass Woman" and "Run Like the River" for the 2019 film, "The Hustle" and "Playmobil: The Movie".
For the movie "Playmobil: The Movie", she voiced a fairy godmother.
On 27th September 2019, she released "Wave" as the second single from Treat Myself. The album "Treat Myself" was released on 31st January 2020 along with its third single "Nice to Meet Ya which debuted at number 25 on the US Billboard 200 and "Nice to Meet Ya" debuted at number 89 on the Billboard Hot 100.
She released a deluxe version of the album in July 2020, preceded by the single "Make You Dance" (2020).
On 30th October 2020, she released a holiday album, "A Very Trainor Christmas" which was promoted with two singles, "Last Christmas" and "My Kind of Present", both released on 6th October 2020.
Awards, Achievements, and Honors of Meghan Trainor
Meghan Trainor is an award-winning singer who has won four ASCAP Pop Music Awards, two Billboard Music Awards, a People's Choice Award, and a Grammy Award. She was awarded Best Female Artist at the 2009 International Acoustic Music Awards and the Grand Prize at the 2010 New Orleans Songwriter's Festival; she has also won the 2011 Tennessee Concerts Song Contest and the John Lennon Love Song Songwriting Contest. She was named the "Breakthrough Artist of the Year" by the Music Business Association in 2014.
Meghan Trainor's Husband, Daryl Sabara
Meghan Trainor is a married woman. She married her handsome husband, Daryl Sabara. by profession, her husband, Daryl Sabara is an American actor who got recognition for his role as Juni Cortez in the Spy Kid's movie series. The couple met for the first time while they attended a House Party in Los Angels back in 2014 and then they started dating in October 2016 and got engaged in December 2017 after Daryl proposed to her on her 24th birthday. After a year, on Meghan's 25th birthday (22nd December 2018), the duo got married. They got married in a grand wedding ceremony held at her Los Angeles home. She wore Norman Silverman jewels with her beautiful white Berta dress and for her reception, Trainor changed into a lace suit by Rita Vinieris and Aldo sneakers. At present, Meghan is pregnant with her first child with her husband, Daryl. She later Instagrammed a picture of her sonogram and shared that she's due in 2021. "You all know how long I've wanted this!!!!" she wrote. "@darylsabara and I are so beyond happy and excited to meet this little cutie early next year! WE'RE PREGNANTTTTT!!!" Sabara Instagrammed the same picture, writing, "I love you @meghan_trainor and I can't wait to start a family with you. As of now, the couple is enjoying their present life happily without any disturbances. Her sexual orientation is straight.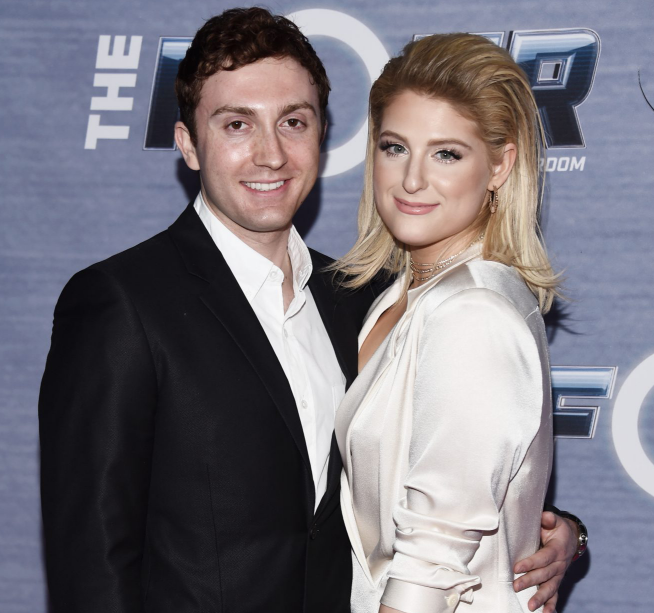 Source: @marthastewart
Talking about Meghan's previous relationship, she has dated Charlie Puth.
Meghan Trainor's Net Worth
Grammy award winner, Meghan Trainor is a very talented and successful singer who has made a huge amount of money throughout her career. Starting the career from the age of 16, she is still active in the singing field. Her main source of income comes from her songs, albums, and tours. As of 2020, the net worth of Meghan Trainor is estimated to have $8 million. With her impeccable talent, she has the skill of creating new songs in an extraordinary way. At present, her exact salary figure has not been disclosed yet but there is no doubt in the mind of her followers that she is making a considerable amount of money from her career work. Currently, she is living a luxurious lifestyle from her earnings.