About Mel Brooks
Mel Brooks is an American director, writer, actor, comedian, producer as well as a composer who is famous for being the creator of broad film farces and comedic parodies who began his career as a comic and a writer for Sid Caesar's variety show "Your Show of Shows" (1950-1954) alongside Woody Allen, Neil Simon, and Larry Gelbart. He created the comic character "The 2000 Year Old Man" with Carl Reiner. Not only this but also he wrote the hit television comedy series "Get Smart", which ran from 1965 to 1970 with Buck Henry. He is better known for his films which include "The Producers" (1967), "The Twelve Chairs" (1970), "Blazing Saddles" (1974), "Young Frankenstein" (1974), "Silent Movie" (1976), "High Anxiety" (1977), "History of the World, Part I" (1981), "Spaceballs" (1987), "Robin Hood: Men in Tights" (1993) among others. He is also an award-winning director and actor who won an Emmy, a Grammy, and an Oscar in 2001. He received a Kennedy Center Honor in 2009, a Hollywood Walk of Fame star in 2010, the 41st AFI Life Achievement Award in June 2013, a British Film Institute Fellowship in March 2015, a National Medal of Arts in September 2016, and a BAFTA Fellowship in February 2017.
Mel Brooks is famous for being an American comedian, director, producer, screenwriter, actor, composer, and lyricist. He is best known for his comic skills due to which he was hired to write for the comedy series "Your Show of Shows". He is also famous for his movies like "The Producers", "Young Frankenstein", "The Twelve Chairs", and more.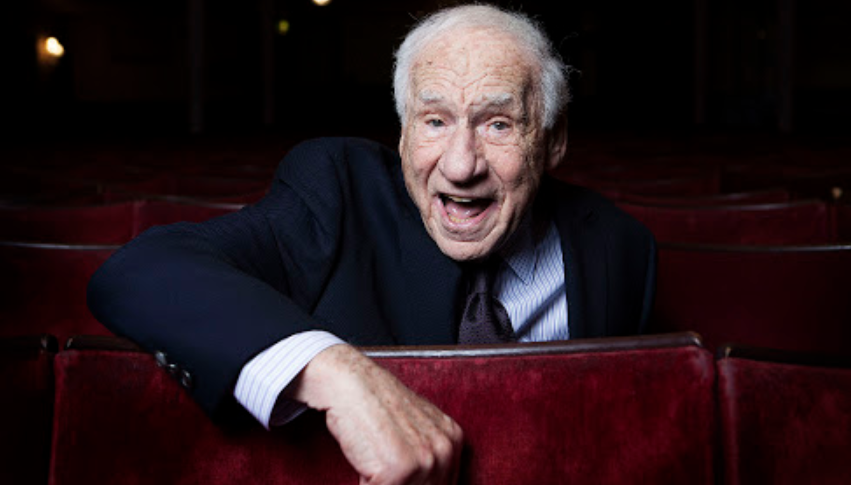 Source: @ft.com
Mel Brooks was born on 28th June 1926, in New York, the USA. His birth name/real name is Melvin Kaminsky. He holds an American nationality and his ethnic background is American-White. His race is White. He grew up in Williamsburg (hometown). As of 2020, he celebrated his 94th birthday. He was born to his parents; James (father) and Kate Kaminsky (mother). His father's family were German Jews from Danzig (present-day Gdańsk, Poland); his mother's family were Jews from Kiev, in the Pale of Settlement of the Russian Empire (present-day Ukraine). He was born into a Jewish household and had three older brothers (siblings), namely Irving, Lenny, and Bernie. His father died of kidney disease when Brooks was two years old. He has said of his father's death, "There's an outrage there. I may be angry at God, or at the world, for that. And I'm sure a lot of my comedy is based on anger and hostility. Growing up in Williamsburg, I learned to clothe it in comedy to spare myself problems-like a punch in the face." He was often bullied by other boys of his age. Concerning his education, he went to Abraham Lincoln High School. He then attended Eastern District High School and Brooklyn College. He learned to play the drums from Buddy Rich at school. He was drafted into the United States Army in 1944. Cancer is his Zodiac sign and Judaism is his religion.
At the age of 94, Mel Brooks still looks young like the age of 26. He has a very glowing face with a charming wide smile attracting a lot of people towards him. He stands tall at the height of 5 ft 5 in or 1.65 m. His balanced weight consists of 57 Kg or 126 lbs. His hair color is grey and his eye color is light brown. He is very conscious regarding his food intake. He also do some slight exercises to keep himself active.
Mel Brooks's Career
As a drummer and pianist in various resorts and nightclubs, Mel Brooks began his career.
After that, he started working as a stand-up comic, telling jokes and doing movie-star impressions.
He also began acting in summer stock in Red Bank, New Jersey and did some radio work as well.
In the year 1949, one of his friends Sid Caesar hired him to write jokes for the DuMont/NBC series "The Admiral Broadway Revue", paying him $50 a week.
After a year, Caesar created the revolutionary variety comedy series "Your Show of Shows" and hired him as a writer along with Carl Reiner, Neil Simon, Danny Simon, and head writer Mel Tolkin.
The film "My Favorite Year" (1982) is loosely based on his experiences as a writer on the show including an encounter with the actor Errol Flynn.
Caesar then created "Caesar's Hour" with most of the same cast and writers (including Brooks and adding Woody Allen and Larry Gelbart) which ran from 1954 until 1957.
He moved from New York to Hollywood in the year 1960 and then he along with Reiner started performing the "2000 Year Old Man" act on "The Steve Allen Show" which led to the release of the comedy album "2000 Years with Carl Reiner and Mel Brooks" that sold over a million copies in 1961.
He was also involved in the creation of the Broadway musical "All American" which debuted on Broadway in the year 1962.
The animated short film "The Critic" (1963), a satire of arty, esoteric cinema, was written by him whereas it was directed by Ernest Pintoff.
He created a comedic TV show titled "Get Smart" with Buck Henry. The show stars Don Adams as Maxwell Smart, Agent 86. The series ran from 1965 until 1970, although Brooks had little involvement after the first season.
He then made his very first feature film "The Producers" in 1967.
With the moderate financial success of the film The Producers, Glazier financed his next film, "The Twelve Chairs" (1970).
He then wrote an adaptation of Oliver Goldsmith's "She Stoops to Conquer" but it was unable to sell.
He was hired as director for what became "Blazing Saddles" (1974), his third film which references older films such as Destry Rides Again (1939), High Noon (1952), Once Upon a Time in the West (1968), and The Treasure of the Sierra Madre (1948), as well as a surreal scene towards the end of the film referencing the extravagant musicals of Busby Berkeley.
The film had music by Brooks and John Morris and had a modest budget of $2.6 million.
His third film became the second-highest US grossing film of 1974, earning $119.5 million worldwide.
After the filming of Blazing Saddles was completed, Wilder and Brooks began writing the script for Young Frankenstein and shot the film in the spring of 1974. This film was the third-highest-grossing film domestically of 1974, just behind Blazing Saddles. It earned $86 million worldwide.
He then returned to TV again in the year 1975 with "When Things Were Rotten", a Robin Hood parody that lasted only 13 episodes.
After twenty years, he mounted another Robin Hood parody with "Robin Hood: Men in Tights" (1993) after the 1991 hit film "Robin Hood: Prince of Thieves".
He followed up his two hit films; "Silent Movie" (1976) and "High Anxiety" (1977).
In 1980, he produced another dramatic film "The Elephant Man".
He has since produced a number of non-comedy films, including "Frances" (1982), "The Fly" (1986), and "84 Charing Cross Road" (1987).
He also produced the comedy Fatso (1980) that Bancroft directed.
He produced and starred in a remake of Ernst Lubitsch's 1942 film "To Be or Not to Be".
The second movie, he directed in the 1980s came in the form of "Spaceballs" (1987).
He made another attempt at television success with the sitcom "The Nutt House" in 1989.
During the next decade, he directed "Life Stinks" (1991), "Robin Hood: Men in Tights" (1993), and "Dracula: Dead and Loving It" (1995).
In the 2000s, he worked on an animated series sequel to "Spaceballs" called "Spaceballs: The Animated Series".
He voiced Bigweld, the master inventor, in the animated film "Robots" (2005), and in the later animated film "Mr. Peabody & Sherman" (2014).
He returned, to voice Dracula's father, Vlad, in "Hotel Transylvania 2" (2015) and "Hotel Transylvania 3: Summer Vacation" (2018).
In early April 2006, he began composing the score to a Broadway musical adaptation of "Young Frankenstein".
"Blazing Samurai" is an upcoming American computer-animated action-adventure comedy film inspired by Mel Brooks' seminal 1974 Western comedy film Blazing Saddles, directed by Chris Bailey and written by Ed Stone and Nate Hopper.
Awards and Achievements of Mel Brooks
Mel Brooks has received many awards and achievements along with recognition during his career span. He received three Grammys for "The 2000 Year Old Man", "The Producers", and "Recording the Producers". He received his first four "Emmys" for "Your Show of Shows". He received three "Emmys" for the sitcom "Mad About You". He also received three Tony Awards for "The Producers". He won a Hugo Award and Nebula Award for "Young Frankenstein". He received a star on "Hollywood Walk of Fame" in 2010. After a few years, he received the "AFI Life Achievement Award". He also received the prestigious National Medal of Arts in 2016. In 2017, he was honored with a 'BAFTA'. He has given a great contribution to the comedy genre of the entertainment industry.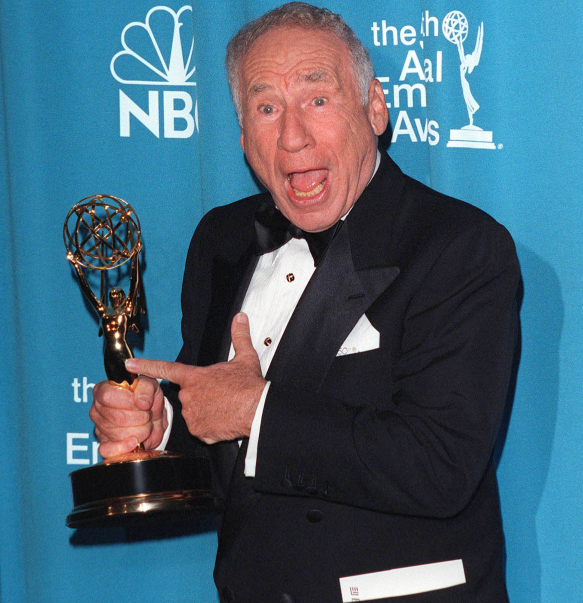 Source: @britannica.com
Mel Brooks's Personal Life
Mel Brooks was a married man. In the year 1953, he married Florence Baum (1926-2008). The couple was also blessed with three children, namely Stephanie, Nicky, and Eddie. Their marriage ended in the year 1962 through a divorce. After that, he married actress Anne Bancroft in the year 1964 and remained married to her until her death in the year 2005. They met at a rehearsal for the Perry Como Variety Show in 1961 and were married three years later on August 5, 1964, at the Manhattan Marriage Bureau. They had a son named Max Brooks born in the year 1972. Their grandson, Henry Michael Brooks, was born in 2005. As of today, he is living a single life as there is no rumors, affairs, and relationship with anyone. His sexual orientation is straight and he is not gay.
Source: @pinterest
Mel Brooks's Net Worth 2020
Mel Brooks is a director, writer, actor, comedian, producer, and composer who has made a huge amount of money in his entire career. His net worth is estimated to have $100 Million as of 2020 which he made thrоugh hіѕ wоrk іn thе соmеdу fіеld оf thе еntеrtаіnmеnt іnduѕtrу аnd thrоugh brаnd еndоrѕеmеntѕ. Не hаѕ bееn іnvоlvеd іn аlmоѕt аll thе fіеldѕ, whеthеr thаt bе рrоduсtіоn, dіrесtіоn, асtіng, оr wrіtіng. Ніѕ hаrd wоrk hаѕ раіd hіm wеll. As of now, he is living a luxurious lifestyle and he is living in a $10 Million house. Whereas the exact details about his salary, income, career earnings are still to get unfold yet. His major source of wealth comes from the entertainment industry and he is satisfied with his earnings as of today.