Michael Olise is a British-French footballer. He is best known for his skills as an attacking midfielder or right winger in the Premier League, specifically with Crystal Palace where he wears the number 7 jersey. Born in England, he represents France in youth international competitions. He began his football journey with youth teams like Arsenal, Chelsea, and Manchester City before joining the Reading Academy from 2016 to 2019. Notably, he signed a five-year contract with Crystal Palace on July 8, 2021, after they used his £8.37 million release clause, and more recently, on August 17, 2023, he extended his association with Crystal Palace by signing a new four-year deal, despite rumors of a potential return to Chelsea.
Michael Olise Family and Nationality
Michael Olise was born on December 12, 2001, in Hammersmith, London, England. His full name is Michael Akpovie Olise. His dad's name is Vincent Olise. He's British-French by nationality, and his family has different backgrounds - his dad is from Nigeria, and his mom is from France and Algeria. In 2022, he celebrated his 21st birthday. He has a younger brother named Richard Olise who is a soccer player and started playing for Chelsea's Under-9 team, representing England in youth games.
Michael Olise Football Career
Reading
Michael Olise played soccer when he was young at Arsenal, Chelsea, and Manchester City.
He was at Chelsea for seven years, but he left when he was 14 years old.
In July 2018, he joined Reading's Academy scholarship program.
He started playing for Reading's main team on March 12, 2019, in a game against Leeds United, but his team lost 3-0.
Then, on July 15, he signed a contract to play professionally for Reading for three years.
He scored his first goal in a league game on September 19, 2020, when Reading played against Barnsley at their home stadium, the Madejski Stadium.
Crystal Palace
Olise joined the Crystal Palace soccer team on July 8, 2021. The team gave him a contract for five years because they liked his skills. They paid a special amount of money, £8.37 million, to get him.
On September 11, 2021, he got to play in a really important league called the Premier League. His team, Crystal Palace, won 3–0 against Tottenham.
He got to play in his first full game for Crystal Palace on October 23, 2021. The game ended in a tie, 1–1, when they played against Newcastle United.
On April 9, 2023, Olise did something amazing. He helped his teammates score three goals in a single game. This helped his team win 5–1 against Leeds United. No one as young as him had done this before in the Premier League.
On 17 August 2023, it was announced Olise had signed a new four-year deal with Crystal Palace, amidst reports that he was on the verge of re-joining Chelsea.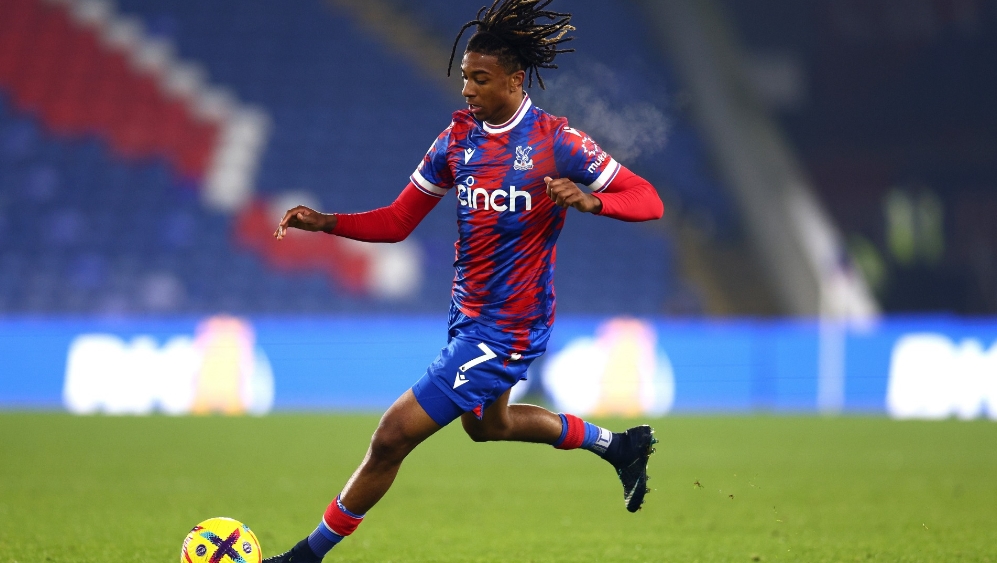 International Career
Olise was born in England to a dad from Nigeria and a mom from France and Algeria. This means he can play soccer for France, Algeria, England, or Nigeria in international games.
In May 2019, he got invited to join the France U18 soccer team for a tournament called the Toulon Tournament. He played his first game on June 2, 2019, against Qatar U23.
In March 2021, Olise was chosen as a backup for the Nigeria team for their games in the Africa Cup of Nations qualifiers against Benin and Lesotho.
Then, in March 2022, he got the chance to be on the France under-21 soccer team for the first time. He played his first game on March 24, 2022, and his team won 2–0 against the Faroe Islands under-21 team.
Michael Olise Transfer News
Joined Crystal Palace on 8 Jul 2021 for the fee of 9.3M €
Joined Reading on 1 Jan 2020 From Reading U18
Michael Olise Awards, Honors, & Achievements
Individual
EFL Championship Young Player of the Season: 2020–21
EFL Championship Team of the Season: 2020–21
Premier League Goal of the Month: January 2023
PFA Team of the Year: 2020–21 Championship
Reading Scholar of the Season: 2018−19
Crystal Palace Players' Player of the Season: 2022–23
Crystal Palace Goal of the Season: 2022–23
Is Michael Olise Dating Someone?
Michael Olise is not married and he doesn't have a girlfriend right now. If you look at his social media, he hasn't shared any pictures that suggest he has a girlfriend. He's really concentrating on his job and isn't in a romantic relationship at the moment. So, he's currently not dating anyone and doesn't have a girlfriend. He is straight when it comes to his sexual orientation.
Michael Olise Source of Wealth: Net Worth & Salary
Michael Olise is a really good soccer player who has done really well in his career. His net worth is estimated to have between $1 million to $5 million dollars as of 2023. He is making his annual salary of about £2.5 million each year from playing soccer. His current market value is €38 million as of June 20, 2023. His major source of wealth comes from his football career and he's enjoying a decent lifestyle right now.
Michael Olise Hair, Height & Weight
Michael Olise is a good-looking football player who stands tall at the height of around 5 feet 9 inches. He weighs about 73 kilograms and takes care of his body. He has curly black hair, dark brown eyes, with a fit & athletic body type. He even has inked some tattoos on his body. Michael stays healthy and attractive by going to the gym often to exercise and keep in shape.