Mitch Trubisky is an American professional NFL player. He is currently playing for the Chicago Bears as their quarterback. He played college football at North Carolina and was drafted by the Bears with the second overall pick in the 2017 NFL Draft. Overall, he is a very talented footballer.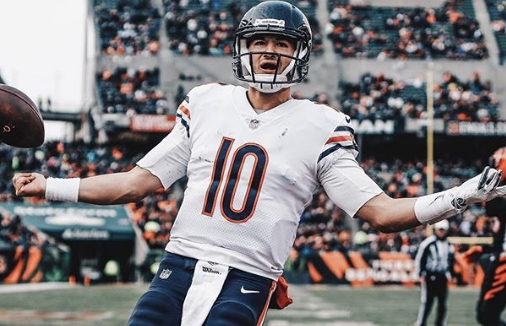 Source: @mtrubisky10
Famous For
Playing for Chicago Bears.
Being as the second-best quarterback by ESPN and Pro Football.
What is the birthplace of Mitchell Trubisky?
Mitch Trubisky was born on 20th August 1994, in Mentor, Ohio to his parents Dave Turbisky and Jeanne. He is American by nationality and he belongs to the White ethnic group. He also has two siblings named Manning and Mason. He is Christian by religion. About his education, he joined the Mentor High School in Mentor, Ohio where he played for his high school football team. Soon after completing high school, he attended North Carolina University and played for the University team.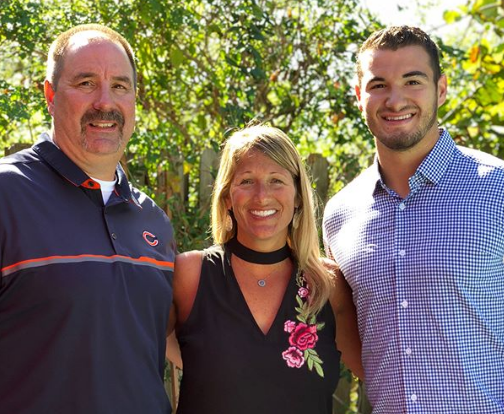 Source: @mtrubisky10
How was the Professional Career of Mitchell Trubisky?
He started his professional career with Chicago Bears after the 2017 NFL Draft.
He was named back up to Mike Glennon in the 2017 regular season.
As of now, he is playing for the Chicago Bears alongside Bears linebacker Khalil Mack.
He was projected to be a first-round selection by most scouts and analysts from college.
Besides Mitch, Chase Daniel is also a famous Bears quarterback.
Moreover, ESPN and Pro Football Focus ranked him as the second-best quarterback, NFLDraftScout.com ranked him as the top quarterback in the draft, and Sports Illustrated ranked him as the fourth-best available quarterback.
He ended his rookie season with a 4-8 record in 12 starts, seven touchdown passes, and seven interceptions.
He threw a touchdown and two interceptions for 165 yards but he suffered a shoulder injury delivered by Vikings' safety Harrison Smith on a late hit, which caused him to miss the Bears' next two games in the 2018 season.
On 21st January 2019, he has officially declared a Pro Bowl participant in place of the Super Bowl-bound Jared Goff.
In Week 9 of 2019 season against the Philadelphia Eagles, he threw for 125 yards in the 22-14 loss.
He played his first Thanksgiving career game in Week 13 against the Detroit Lions; in the game, he threw for 338 yards, three touchdowns including the game-winning score, and an interception in the 24-20 win.
He was subsequently named FedEx Air Player of the Week.
He recorded 3,138 passing yards, 17 passing touchdowns, and ten interceptions to go along with 48 carries for 193 rushing yards and two rushing touchdowns in 2019.
What is the Net Worth of Mitch Trubisky?
As of 2020, the net worth of Mitchell Trubisky is believed to have more than $15 million. He reportedly signed a four-year contract worth $29,032,424 with Chicago Bears in 2017. He has an average salary of $7,258,106 annually. The signing bonus of his contract is around $19,254,490 with a guaranteed sum of $29,032,424. The calculated market value of the famous NFL player is around $137,698,578. Moreover, he has made earnings of $21,504,146 from his entire NFL career. His personal assets include home and cars. He also earns a good amount of money from various sponsorships like Bose, Gillette, FedEx and Hyundai and many other brands.
Who is the Girlfriend of Mitchell Trubisky?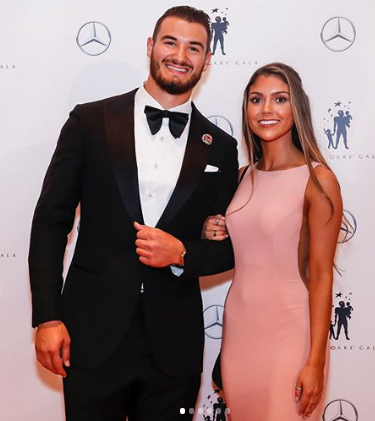 Source: @mtrubisky10
Mitchell is not married yet and he is still to get revealed yet. At present, he is dating his girlfriend Hillary Gallagher as of November 2019. In February 2019, the couple made the public about their relationship. Firstly, they were spotted together for the first time at the Bears Gala in May 2019. His girlfriend Hillary is originally from Ohio and studies at Florida State University. As of today, the duo is living a happy life. There were also rumors that he had an affair with Miss Illinois 2017, Abby Foster previously.
How tall is Mitchell Trubisky?
Mitchell is a very handsome person with a height of 6 feet 3 inches and weighs around 101 kg. He is not only a world-class athlete but also has a very attractive individual. His other body measurements have not been revealed yet but will be added soon. His body build is athletic. Overall, he has got a very healthy body with a charming personality.