Hussein Abdi Kahin, widely known as Mo Farah, born on March 23, 1983, is a retired long-distance runner from Somalia. He is best known for having an impressive collection of ten global championship gold medals, including four Olympic and six World titles. Notably, he claimed the 2018 Chicago Marathon with a European record time of 2:05:11. He's a three-time European Athlete of the Year awardee and six-time recipient of the British Athletics Writers Association British Athlete of the Year award.
Mo Farah Family Details
Born in Mogadishu, Somalia, on March 23, 1983, Mo Farah's full name is Mohamed Muktar Jama Farah, although his birth name is Hussein Abdi Kahin. He holds Somalian-British nationality and belongs to the Somali-Black ethnic background, growing up in an Islamic family and practicing the faith.
About his family details, he is one of six children, with his father Muktar working as an IT consultant and his mother named Amran Farah. Among his siblings are Hassan Farah (Twin Brother, a Telecommunications Engineer), Ahmed Farah (Younger Brother), Wahib Farah (Younger Brother), Mahad Farah (Younger Brother), and Omar Farah (Brother).
Tragically, his father passed away during the Isaaq Genocide when Mo was just four years old, leading to his separation from his mother. He spent some years in Mogadishu as a child. At the age of nine, he was illegally trafficked to the United Kingdom via Djibouti, given the name Mohammed Farah, and forced to work as a domestic servant. A woman he had never met flew him out of the country, where he was made to look after another family's children.
He obtained British citizenship in July 2000 under the name Mohamed Farah. His athletic talent was initially recognized by his physical education teacher, Alan Watkinson, while he attended Isleworth & Syon School and later Feltham Community College for his education.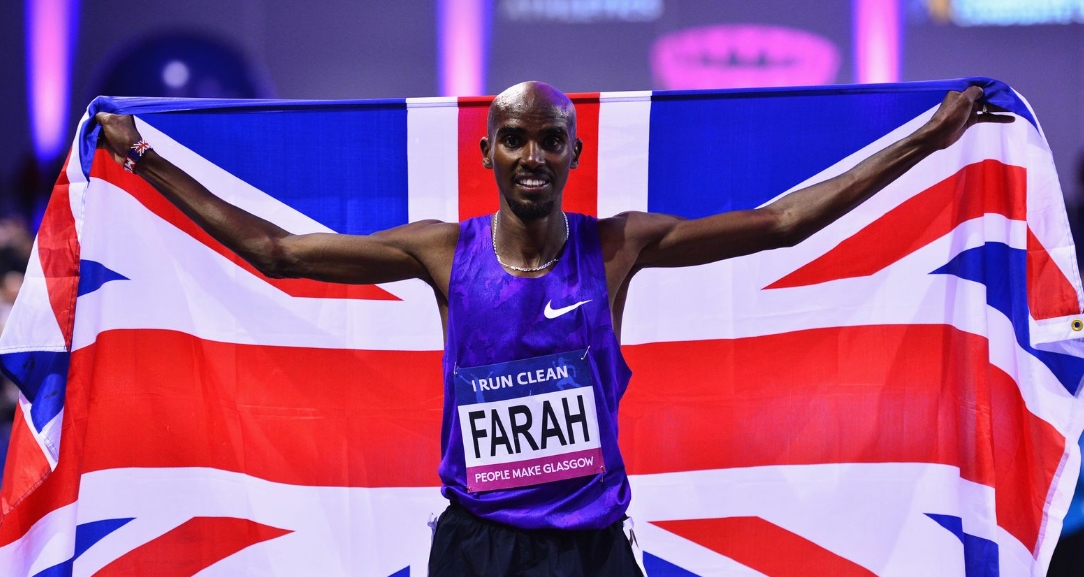 Mo Farah Career
Mo Farah's athletic journey began when he joined the Borough of Hounslow Athletics Club in west London, representing Hounslow in cross-country events as an under-13.
Recognizing his talent, Eddie Kulukundis helped him become a British citizen to ease his travel for competitions.
Farah's career milestones include his first major title at the 2001 European Athletics Junior Championships, training at St Mary's University, and various championships.
From 2005 to 2008, he made significant progress, breaking records and winning medals.
In 2009 and 2010, he set British records and won European titles.
Farah's greatest success came in 2012 when he won double Olympic gold in the 10,000m and 5,000m events.
He continued to dominate the track in 2013 and 2015, breaking records and earning world titles.
In 2016, he achieved double-double Olympic gold in Rio.
Farah announced his switch to marathon running after the 2017 World Championships but made a temporary return to the track in 2019, aiming to defend his 10,000m title at the Tokyo Olympics.
In 2020, he won the inaugural Antrim Coast Half Marathon with a time of 1 hr 00 min 27 sec and set a new men's all-time record for the one-hour run at the 2020 Diamond League meeting in Brussels, covering 21,330 meters. However, in 2021, Farah faced challenges.
After training in Ethiopia and the United States, he returned to the UK and competed in the European 10,000m Cup, finishing eighth with a time of 27:50.64, breaking his undefeated streak in the 10,000m since 2011.
In June 2021, he failed to qualify for the Tokyo Olympics in the 10,000m, falling short of the cut-off time by 19 seconds, prompting questions about the future of his illustrious career.
Farah's television appearances have been notable. In 2012, he became the only person to win the top prize on the UK version of "The Cube" during a celebrity series.
In 2020, he participated in the twentieth series of "I'm a Celebrity...Get Me Out of Here," and he was the eighth celebrity to be eliminated.
In 2022, the BBC documentary "The Real Mo Farah" explored his childhood, receiving critical acclaim as it delved into his past, his Somali family, and the woman who raised him after he escaped domestic servitude.
Additionally, in 2022, he took part in "Taskmaster 'New Year Treat III'" and emerged as the winner of the episode.
Mo Farah Awards and Achievements
2006 British Athletics Writers' Association Award
2010 British Athletics Writers' Association Award
2010 Best Senior Athlete of 2010 (UK Aviva Athletics Awards)
2010 London Youth Games Hall of Fame
2011 British Athletics Writers' Association Award
2011 European Athlete of the Year
2011 BBC Sports Personality of the Year Award, 3rd place
2011 Athletics Weekly International Male Athlete
2012 British Athletics Writers' Association Award
2012 European Athlete of the Year
2012 Laureus World Sports Award for Breakthrough of the Year, nominee
2012 Athletics Weekly International Male Athlete
2013 IAAF World Athlete of the Year, finalist
2013 British Athletics Writers' Association Award
2013 Athletics Weekly International Male Athlete
2013 Laureus World Sports Award for Sportsman of the Year, nominee
2013 British Olympic Association Olympic athlete of the year
2013 AIPS Europe Sportsmen of the Year – Frank Taylor Trophy
2013 Rodale, Inc., Running Times – Runner of the Year
2014 Jesse Owens International Athlete Trophy, nominee
2014 Laureus World Sports Award for Sportsman of the Year, nominee
2014 sack race world record
2015 World Record, 2-mile run, Birmingham
Runners World top 50 influential individuals in running
LetsRun.com number 1 in 2015 year-end world ranking for long-distance runners
2015 fastest men's 10,000-metre runner
2016 BAWA Athlete of the Year
2016 British Athletics Supporters Club athlete of the year
2016 Athletics Weekly International Male Athlete of the Year, ahead of Usain Bolt
2016 Athletics Weekly British Male Athlete of the Year
2017 Sportsman of the Year at the Lycamobile British Ethnic Diversity Sports Awards (BEDSAs)
2017 BBC Sports Personality of the Year Award, 1st place
2012: Winner of the British game show The Cube. Farah is the only person who won the top prize on the UK version of the show.
2013: Commander of the Most Excellent Order of the British Empire (CBE)
2013: Premier Inn Celebrity Dad of The Year
2013: Best at Sport award at the British Muslim Awards
6th place, Freuds Heroes Index
2014: World's 100 Most Powerful Arabs, Arabian Business
2015: Clothing firm Rohan's eighth greatest Briton of all time
2015: Evening Standard's top 25 most influential Londoners
2016: Sports Relief highest polled sporting London hero with 27% of the vote
2016: Nickelodeon Kids' Choice Award for Inspirational Athlete.
2016: Fifth most powerful Black Briton, on tenth anniversary of Powerlist, African and Caribbean heritage listing
2017: created a Knight Bachelor for services to Athletics.
Awarded OLY post nominal title from World Olympians Association
2023: Winner of The Taskmaster 'New Year Treat III'
Mo Farah Wife
Mo Farah has been married to his long-time girlfriend turned-wife, Tania Nell, since their wedding in April 2010, which took place in Richmond, London. Their wedding was attended by fellow athletes, including Paula Radcliffe, Steve Cram, Hayley Yelling, Jo Pavey, Mustafa Mohamed, and Scott Overall, who served as an usher.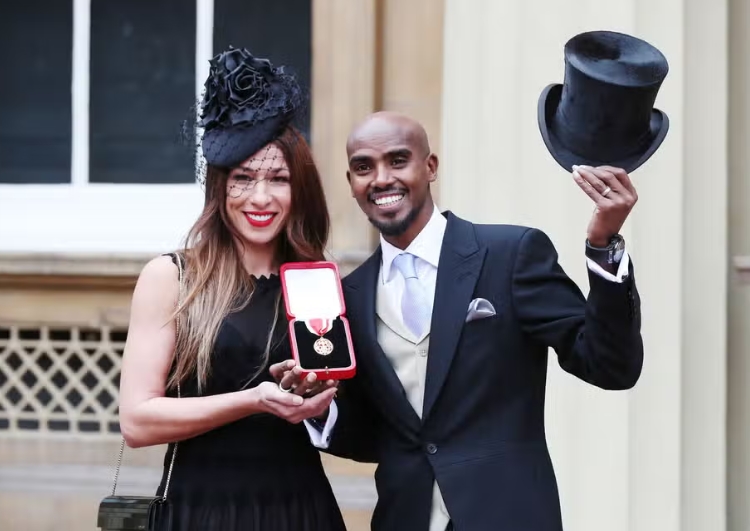 Mo and Tania began dating in 2008 and have since welcomed three children into their family: twin daughters named Aisha Farah and Amani Farah (born in August 2012) and a son named Hussein Mo Farah (born in 2015). Additionally, Tania has a daughter from a previous relationship named Rhianna Farah.
From 2011 to 2017, Mo Farah and his family lived in Portland, Oregon, USA, to facilitate his full-time training with the Nike Oregon Project. However, in 2017, he decided to cut ties with his coach Alberto Salazar, and return to London, citing the desire to spend more time with family and friends and provide a UK upbringing for their children as the primary reasons for the move.
Mo Farah Net Worth
Mo Farah, the retired long-distance running legend considered one of the greatest in the sport, has an estimated net worth of $5 million as of 2023, largely derived from his lucrative sports career and endorsement deals. With an annual salary in the millions, he secures an additional $2 million through sponsorships.
Mo serves as the brand ambassador for companies such as Nike, Lucozade, Quorn, Bupa, and Virgin Media, and he's sponsored by the likes of Zwift, Maurten AB, B&M, Oral-B UK & Ireland, Huawei Technologies, and Therabody.
Beyond his athletic feats, Mo Farah is an automobile enthusiast, with a car collection that includes a Bentley Continental GT, Porsche Macan S, Audi SQ5, and BMW 5 Series. He resides in a luxurious home in southwest London, valued at $1.59 million, featuring spacious living areas, a beautiful kitchen, a massive garden, and an outdoor pool. Additionally, he owns a residence in Portland, Oregon, where he dedicates much of his time to training and preserving his earnings after taxes, affording him a lavish lifestyle.
Mo Farah Height
Mo Farah possesses an athletic physique with a height of 5 feet 9 inches and a body weight of approximately 58 kilograms. He has distinctive brown eyes and a bald head. Mo is dedicated to maintaining his body and regularly frequents the gym. His notable features include a toned physique, a goatee beard, and a cheerful smile. His exercise routine is rigorous, with stats indicating he covers 126-135 miles per week in training, and participates in 15 training sessions in total, including 2 gym workouts and 2 massage sessions.