About Nigel Farage
A British politician, activist, political commentator, Nigel Farage is a broadcaster serving as leader of the Brexit Party since 2019. He is a former UKIP leader and a top-rated right-winger in a poll by "The Daily Telegraph" who began leading the UK Independence Party in 2010. He was known for his impassioned speeches in European Parliament which often became very contentious. In 2016, he was very instrumental in getting the UK to announce it would be withdrawing from the European Union. He helped found the United Kingdom Independence Party. He was accused of racism while attending Dulwich College in 1981 and he has refused to stand during an ovation for Prince Charles. In recent news, Nigel Farage announces his Brexit Party will be rebranded 'Reform UK' in a bid to take on the government's 'woeful' Covid response, 'bloated quangoes' and the House of Lords. Furthermore, he was also honored with the Lifetime Achievement in November 2016.
Famous For

Being a British politician, activist, political commentator.
For his impassioned speeches in European Parliament which often became very contentious.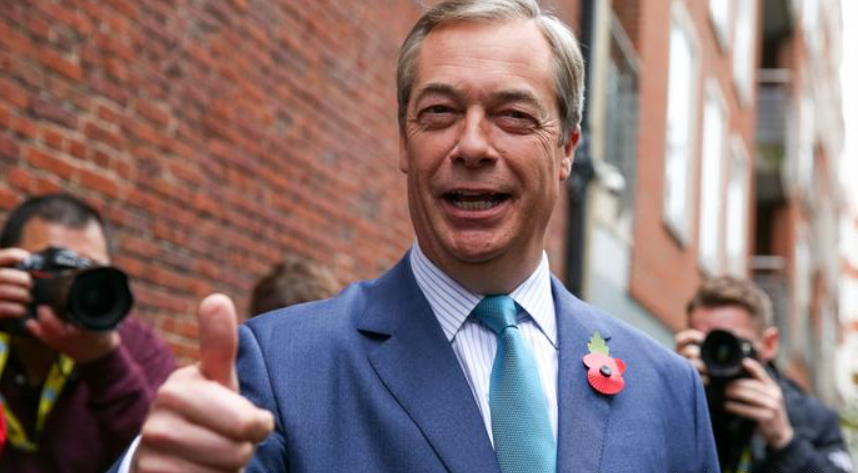 Source: @dw.com
Early Life of Nigel Farage

On 3rd April 1964, Nigel Farage took birth with the real name or full name of Nigel Paul Farage in Farnborough, Kent, England. He holds British nationality and British-white ethnicity. Analogously, he is from Christianity religion. Aries is his star sign and white is his race. He happily celebrates his birthday on 3rd April of every year and he had celebrated his 56th birthday as of 2020. He is the son of Barbara (nee Stevens) and Guy Justus Oscar Farage. His father was a stockbroker who worked in the City of London. Farage's grandfather, Harry Farage, was a private who fought and was wounded in the First World War. Both parents of one of Farage's great-grandfathers were German, migrating to London from the Frankfurt area shortly after 1861. His German ancestor Nicholas Schrod was mentioned in the papers in 1870 in connection with a dispute with two men over the Franco-Prussian War. Additionally, he was educated at Dulwich College from 1975 to 1982 whereas after leaving school in 1982, Farage decided to seek employment in the City of London, trading commodities at the London Metal Exchange.
Career of Nigel Farage

Nigel Farage kicks off his political career by joining the American commodity operation of brokerage firm Drexel Burnham Lambert, transferring to Credit Lyonnais Rouse in 1986 and later joining Refco in 1994, and Natixis Metals in 2003.
As well in 1978, he joined the Conservative Party but voted for the Green Party in 1989 because of what he saw as their then "sensible" and Eurosceptic policies so he eft the Conservatives in 1992 in protest at Prime Minister John Major's government's signing of the Treaty on European Union at Maastricht.
He was also a member of the European Parliament where he was elected in 1999 and re-elected in 2004, 2009, and 2014, though he was ranked the fifth-most influential MEP by Politico in 2016.
He announced in the European Parliament on 18th November 2014 that Jacques Barrot, then French Commissioner-designate, had been barred from elected office in France for two years, after being convicted in 2000 of embezzling 2 million pounds from government funds and diverting it into the coffers of his party.
Farage persuaded around 75 MEPs from across the political divide to back a motion of no confidence in Barroso whereas, Farage - to protests from other MEPs - addressed the former Prime Minister of Belgium and first long-term President of the European Council after the speech of Herman Van Rompuy on 24th February 2010 to the European Parliament.
He was the only MEP to remain seated, and he went on to describe the Prince's advisers as "naive and foolish at best" though he led UKIP to win the highest share of the vote in the European Parliament elections in 2014.
In 1993, he was a founder member of UKIP and was elected leader of UKIP with 45 percent of the vote, 20 percentage points ahead of his nearest rival on 12th September 2006.
Farage stood again for the UKIP leadership in 2010 after his successor Lord Pearson had stood down, and it was also announced he had won the leadership contest on 5th November 2010.
Then, he led UKIP to win the European Parliament election with 4,376,635 votes in May 2014 whereas he resigned as leader of UKIP after he failed to win the seat of Thanet South in the general election held the previous day on 8th May 2015.
It was announced on 11th May 2015 that, he would continue to serve as the party's leader, with the BBC reporting: "Party chairman Steve Crowther said the national executive committee believed the election campaign had been a 'great success' and members had 'unanimously' rejected Mr. Farage's letter of resignation". But, he again resigned as UKIP leader on 4th July 2016.
Farage resigned as the UKIP's leader on 4th September 2009 to focus on his campaign to become Member of Parliament for Buckingham at Westminster in the 2010 general election whereas he came third with 8,401 votes.
After then, he announced on the BBC's "The Andrew Marr Show" that he would stand for election as an MP at the 2015 United Kingdom general election in October 2013 though he was selected as the UKIP candidate for South Thanet following local hustings in August 2014.
As well, he declared in his book "The Purple Revolution" in March 2015, as he was unsuccessful in his bid to become MP for South Thanet although he came second (beating Labour by over 4,000 votes), reduced the Conservative majority to less than 3,000, and gained over 32% of the vote.
He welcomed the "average 13% vote" and was voted politician of the year by the online service MSN.
He said in 2013 that he had hired a tax advisor to set up the Farage Family Educational Trust 1654 while he has continued to have fees paid to him via a limited company, Thorn in the Side Ltd.
On 4th July 2016, he resigned as leader of the United Kingdom Independence Party, saying that: "It's right that I should now stand aside as leader. What I said during the referendum campaign is I want my country back. What I'm saying today is I want my life back. And it begins right now" and "I have never been, and I have never wanted to be, a career politician."
He also announced he would lead a 100,000 strong march to the Supreme Court, timed for when it started hearing the Government appeal on 7th November 2016 though he announced that he would not contest the 2017 general election on 20th April 2017 as he joined Leave Means Leave as vice-chairman in 2018.
Besides, he was officially announced as the new leader of the Brexit Party after founder and former Leader Catherine Blaiklock resigned on 22nd March.
He unveiled the names of 635 general election candidates for the Brexit Party, including himself following Boris Johnson's election as Prime Minister while the Brexit Party gained 642,303 votes in the election but no seats.
After gaining no seats in the 2019 general election under the Brexit Party banner, he said he would leave the country to work as a warm-up speaker for Trump's 2020 campaign rallies.
He was exempted by the US officials from the country's travel ban under a "national interest" clause in June 2020, while Donald Trump prepared for his first major election campaign rally since the COVID-19 pandemic. He posted a picture from the US and was later spotted at the Trump rally, taking part in a "Team Trump on Tour" panel discussion on 20th June.
Broadcasting career

Nigel Farage also hosted The Nigel Farage Show on the UK talk radio station LBC from January 2017 to 2020 which was broadcast live on Monday to Thursday evenings.
As well, he hosted a podcast under the LBC banner entitled "Farage Against The Machine" from March 2018 to July 2018, where he discussed the latest political developments and political news with political figures who Farage both agrees, and disagrees with. New episodes of the podcast were released every Friday, but the podcast was canceled after the American rock music band Rage Against the Machine sent a cease and desist letter to Farage, demanding that Farage change the name of the podcast, which he was unwilling to do, prompting LBC to reluctantly trigger its cancellation.
After then, LBC announced on 11th June 2020 that he would be leaving the station "with immediate effect", noting that his contract had been up for renewal.
Furthermore, as a piece of fresh news, Nigel Farage announces his Brexit Party will be rebranded 'Reform UK' in a bid to take on the government's 'woeful' Covid response, 'bloated quangoes' and the House of Lords. Farage is seeking to relaunch his political career by rebranding the Brexit Party as an anti-lockdown party. The party has formally applied to the Electoral Commission to change its name to Reform UK and will campaign against coronavirus measures. Announcing the party's new aims, Mr. Farage - who has led UKIP several times - and Richard Tice, the Brexit Party chairman, said it will tackle several 'powerful vested interests'.
Farage said; 'We feel there is a massive political hole at the moment. The crisis has shown how badly governed we are. Brexit is the beginning of what we need. Brexit gives us self-governance – we now need to have good self-governance.'
Additionally, Farage has published a memoir in 2010, entitled "Fighting Bull" (Flying Free in paperback), outlining the founding of UKIP and his personal and political life so far. A second book, "The Purple Revolution: The Year That Changed Everything", which was released by Biteback Publishing in 2015.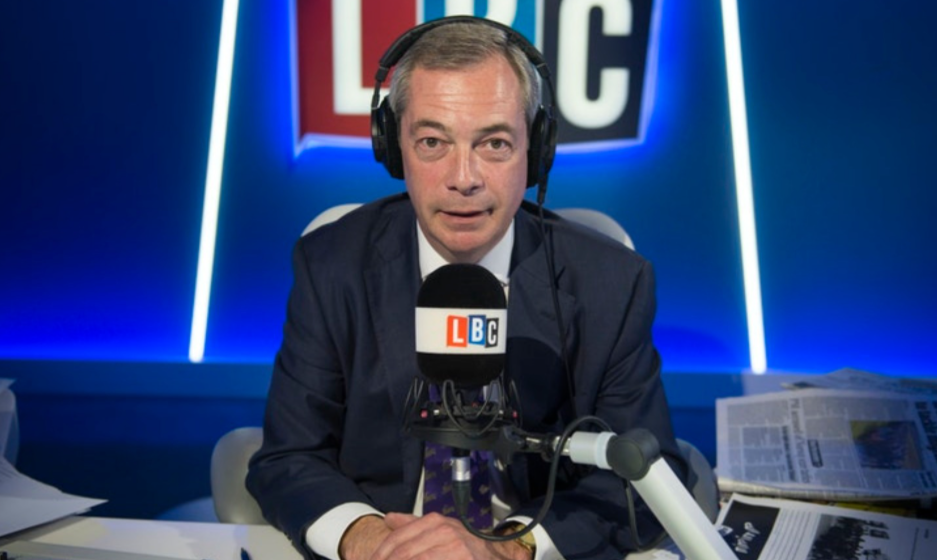 Source: @itv.com
Awards and Achievements of Nigel Farage

Nigel Farage is a British famous politician, activist, political commentator who was honored with the Lifetime Achievement Award for his role in the 2016 Brexit referendum at the 33rd Parliamentarian of the Year awards run by the political magazine "The Spectator" in November 2016. As well, he was shortlisted for "Time" magazine's Person of the Year award in December 2016. In February 2020, an honorary doctorate of laws degree was presented to Farage by Jerry Falwell Jr. during Liberty University's weekly convocation for his role in Brexit and 'support of freedom' in Europe and the United States.
Personal Life of Nigel Farage

Reflecting on Nigel Farage's personal life, he is a married guy. He was married to Irish nurse Grainne Hayes in 1988, with whom he has two children: Samuel (born 1989) and Thomas (born 1991). But the couple's relationship doesn't long last, they divorced in 1997. After the divorce, he married Kirsten Mehr in 1999, a German national; the couple has two children. And he has employed his wife Kirsten as his parliamentary secretary. The politician has remained loyal to his wife and we are unaware of his previous divorce as well as his ex relationships. They both seem extremely happy in their domestic life. Her wife is supportive of him and the profession that he is in. There's much love between the two. Furthermore, regarding his sexual orientation, he is straight.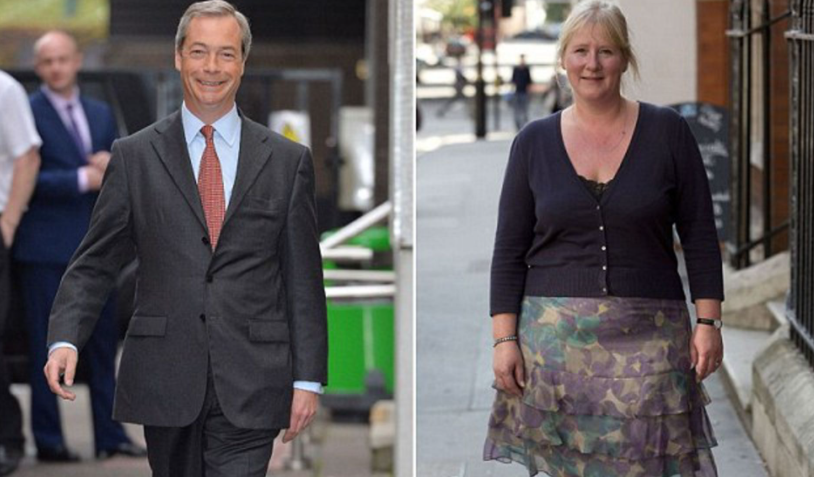 Source: @dailymail.co.uk
Moreover, he was hit by a car after a night out, and suffered an injury to his head and left leg, the latter nearly requiring amputation on 25th November 1985. On 6 May 2010, while he was traveling in a two-seater PZL-104 Wilga aircraft with a pro-UKIP banner attached, he faced a plane crash which gives him injuries that were described as non-life-threatening. Although his injuries were originally described as minor, his sternum and ribs were broken and his lung punctured.
Net Worth of Nigel Farage

Moving towards his net worth, his worth is around $4 million as of 2020 though he earns around 33 thousand pounds per month. Nigel Farage has earned a handsome amount of money from his political career and he is happy and satisfied with it. He has the access to all the world's luxury and comfort. He couldn't have been more thankful to God for what he's blessed with. Besides living in a mansion, he also wears expensive watches, drives the sleekest and posh cars. In addition, his main source of income is from a political career. He is sincere in his work. But, he is doing all the hard works in order to build a secure financial status for himself and his family.
Body Measurement of Nigel Farage

A British politician Nigel Farage stands at a perfect height of 1.73 m though his body weight is unknown. He has unarguably accomplished a decent height career-wise. Nigel is a handsome guy with brown hair and dark brown eyes color whereas his body build type is average. His sensible thoughts with a good sense of humor greatly attract his spectators towards him. His usual exercise schedule has guided him to be in a marvelous body posture with appropriate body measurements. His ethnic background is probably one of the reasons for his bold and extremely attractive personality.