Noen Eubanks Biography
Neon Eubanks is a well-known American Internet sensation and Social Media Influencer from Loganville, Georgia. He garnered fame for posting videos with a definitive comedic undertone on his self-titled TikTok account. He previously worked at a pizza shop in Georgia before earning his following on TikTok. He has earned a fan base of more than 2.7m on Instagram where he is known by the handle @notnoen. His self-titled account of Tiktok has more than 10.9 million fans whereas he has gained more than 455.6K followers on Twitter. He became the face of the fashion brand Celine in late 2019. He also has a YouTube channel where he earned over 527K subscribers. He has signed a deal with Facebook Gaming in June 2020. Scroll more to know more about Noen's Full Biography, Career Timeline, Personal Life, Early Life Background, Family, Net Worth, Age, Interesting Facts, Wiki, and Salary.
Famous For
Being an American Internet sensation and Social Media Influencer.
For posting videos with a definitive comedic undertone on his self-titled TikTok account.
Source: @youtube
Noen Eubanks Early Life
On 2nd May 2001, Noen Eubanks was born in Loganville, Georgia, the USA however, his current residence is in Los Angeles. Since he was born in the United States, it makes him an American nationality by birth. He belongs to the White-Caucasian ethnicity. Analogously, Christian is his religion and Taurus is his horoscope. Noen's race is white. He happily celebrates his every birthday on the 2nd May of every year and he has celebrated his 19th birthday as of 2020. He is the son of Tabitha Eubanks (mother) and Bryan Eubanks (father). His mom filed for divorce from his dad when Eubanks was four (around that age, Eubank's memory is hazy). He has two siblings a brother named Damon Eubanks and a sister younger sister. He graduated from Loganville High School in the year 2019.
Noen Eubanks Career
Noen Eubanks kicks off his career working as a delivery boy at a pizza restaurant whereas he became popular on the video-sharing platform TikTok when he joined in 2018. He had also previously tried out YouTube, but he hit it big with TikTok and it just clicked.
He then joined TikTok the following year to make a joke for his brother and later uploaded the video onto the app.
After that, he signed with "Kyra TV" in October 2019 as the French fashion house Celine cast 18-year-old Noen in their campaign in December 2019.
Eubanks has also signed with Facebook Gaming for an exclusive live-streaming deal in June 2020.
Noen Eubanks Personal Life
Noen Eubanks is not a married guy as he is very young. Despite his young age, he has a huge fan following and many people love him. However, he was dating the TikToker Abby Roberts. But the content creators went their separate ways in September of 2020, after months of speculation about their relationship status. The pair was candid about struggling through a long-distance romance during the pandemic lockdown. Noen has been based in Los Angeles, while Abby lives in London. Following their breakup, Abby took to Instagram Live to discuss what happened. She shared the reasoning for the split: "It was because of the distance and corona," she said during the live stream. "That's all you guys need to know." "I didn't break up with Noen. He didn't break up with me," she continued. "It was a mutual decision between the both of us, and it was from a place of love." During this stream, Abby added that she didn't want fans to take sides and that the two still had a love for one another. So as of now, we can assume that Eubanks is living a single life. Noen's sexual orientation is straight and he is not gay, bisexual, or any other gender people have been rumoring about. From his Tik Tok video, many people speculate him to be not straight.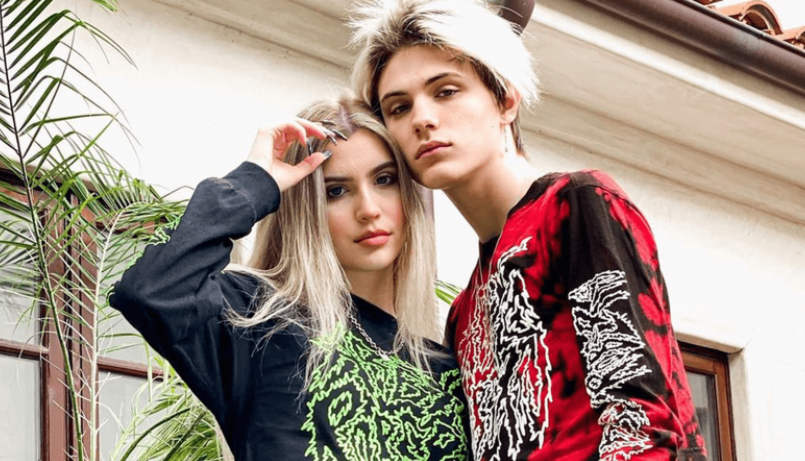 Source: @dexerto
Noen Eubanks Net Worth
Noen Eubanks is an American Internet sensation and Social Media Influencer who has a worth of around the US $700 thousand as of 2021 whereas his worth was around $500,000 as of 2019. His exact amount of salary has not been disclosed yet. Noen has established himself an identity already in his short professional life. Like many young adults of today's, he's also superbly ambitious and continues to work even harder to reach his set objectives. His main source of income is from his Internet sensation and Social Media Influencer career.
Noen Eubanks Body Measurement
Noen Eubanks stands at a height of 5 feet 11 inches tall with a balanced body weight of around 68 kg or 149 lbs. He looks pretty cool with his green eyes and blonde hair. Noen has a body measurement of 42-28-35 inches with a slim body build. His heart-warming smile, his entire demeanor, and his gradual escalating popularity in social media make him the perfect catch.