About Raul Jimenez
Raul Alonso Jimenez Rodriguez shortly named as Raul Jimenez is a Mexican professional footballer who is playing for the current team, Wolverhampton Wanderers as a forward and also for the Mexico national team. He began his career in Club America's youth system before debuting in the first division in October 2011. In August 2014, he joined Spanish side Atlético Madrid. After one season, he signed for Benfica. In June 2018, he joined Wolverhampton Wanderers on loan and was the team's top-scorer with 17 goals across all competitions. He joined Wolves on a permanent basis the following year. He has represented his country at several international games including the 2014 and 2018 FIFA World Cup, the 2013 and 2019 CONCACAF Gold Cup. He also manages to become the Wolves player ever with the most goals scored in a single Premier League season.
Wolves' Raul Jimenez is recovering in hospital after fracturing his skull in the 2-1 win over Arsenal on Sunday. In the opening minutes of the game, the 29-year-old and Gunners defender David Luiz was involved in a sickening clash of heads. Medics rushed onto the field and Jimenez was immediately taken to hospital. Luiz, despite suffering a nasty head wound, was controversially allowed to continue playing but was eventually taken off at half-time. "Thanks for your support messages," Jimenez posted on Twitter late last night after undergoing emergency surgery on Sunday evening. However, one Mexican journalist has shamefully labeled the Arsenal man a 'criminal' for his part in the accidental clash of heads on Twitter. Guillermo Schutz's tweet translated reads: "David Luiz is a criminal in a soccer jersey. You only have to see the image to know the intention of this hitter for hire. Wishing a speedy recovery to Raúl Jiménez."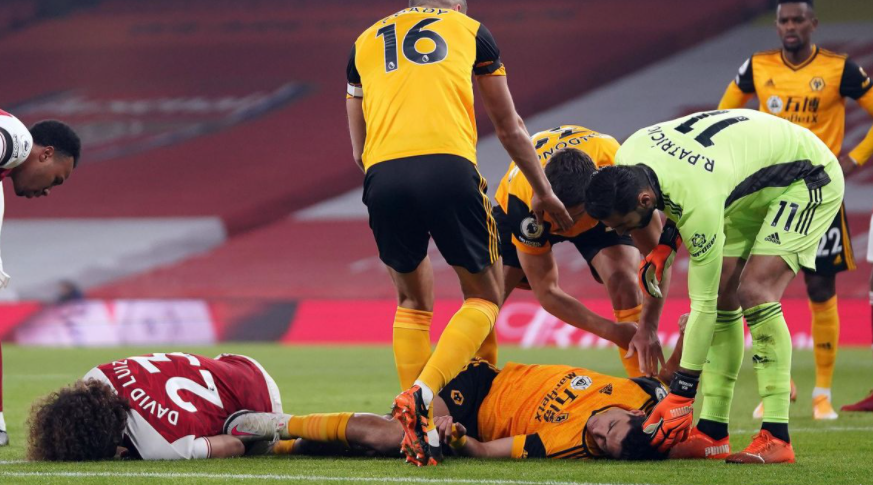 Source: @eurosport
Raul Jimenez is famous for being the Mexican footballer for Premier League club "Wolverhampton Wanderers" and the Mexico national team. He is best known for his physical presence in the penalty area, as well as his ability to hold-up play and his ability in the air, which allows him to headlong passes on or bring the ball down and bring others into play. He is also known for his high penalty conversion rate.
Raul Jimenez was born on 5th May 1991 in Taipei, Hidalgo, Mexico (Birthplace/Hometown). His birth name/real name is Raul Alonso Jimenez Rodriguez. He holds Mexican nationality and he belongs to Mexican-White ethnicity. Taurus is his zodiac sign and Christian is his religion. He was born to his parents; Raul Jimenez Vega (father) and Martha Rodriguez (mother). He also has three siblings: a sister, Miranda Jimenez, and two brothers, Raul Andre and Raul Tonito. He and his brother, Raul Andre had a deep interest in sports since their childhood time. He began his career playing for Club America's youth system, being considered a promising young striker. As of 2020, he celebrated his 29th birthday.
Raul Jimenez is a handsome man with an athletic body build. He maintained his body a lot by doing frequent exercises. He stands tall at a height of 6 ft 3 in or 1.90 m. His balanced bodyweight consists of 76 kg. He has a fair complexion with black hair and a pair of brown eyes color. Despite facing a lot of injuries and surgeries during his football career span, he has got a healthy body.
Raul Jimenez's Football Career
Raul Jimenez made his professional debut against Monarcas Morelia with a 1-1 draw on 9th October 2011 playing for Club America's youth system as a striker. He made his very first goal on 30th October against Puebla scoring in the 2nd minute of the match.
Later, he won a spot in América's starting eleven for the Apertura 2012 tournament where he played as a second-striker. He ended the tournament with sixteen appearances and scoring four goals.
He began the Clausura 2013 tournament as a starter in the first two league matches and scored his first brace against Atlante and second brace against Queretaro.
Club America won the finals at the Clausura 2013 tournament and was crowned the League Champions 2013.
He made his debut for the senior national team in a drawn match against Denmark on 30th January 2013.
In the Clausura 2014 tournament, he made 17 appearances and scored 8 goals. On 30th April 2014, he scored a hat-trick in the 5-3 win against Santos Laguna.
He lastly played for Club America in the Apertura 2014 tournament scoring 4 goals in the first three games.
On 13th August 2014, Atletico Madrid made an agreement with Club America for Jimenez for a fee reported to be in the region of €11 million. He then signed a six-year deal with the club and then made his debut in Madrid with a 2-0 win against Sampdoria on 16th August 2014.
He made his La Liga debut in a draw match against Rayo Vallecano on 25th August 2014.
On 13th August 2015, he joined the Portuguese champions Benfica, signing a five-year deal. Benfica spent €9.836 million to bring Jiménez to the club, although this included unspecified amounts on agent's fees and signing-on fees in addition to the transfer fee itself. The €9.836 million may have included a €1 million transfer fee, and €3 million to acquire 50% of the player's economic rights.
He scored his first two goals in the UEFA Champions League against Astana on 26th November 2015. He made a final goal for Benfica in a 3-1 Super Cup win over Vitoria de Guimaraes.
On June 12th, 2018, Benfica loaned out Jimenez to newly-promoted Premier League side Wolverhampton Wanderers on a season-long loan.
On 11th August 2018, he made his competitive debut for Wolves with a drawn match against Everton. He scored a goal in Wolves 2-0 win over Bournemouth on 15th December 2018. Wanderers won three consecutive Premier League games for the first time in the 2018 season.
On 29th June, it was reported that he had extended his contract with Benfica until June 2021 before being loaned out.
He scored 17 goals across all competitions and capped off his season by being voted the Wolves Players' Player of the Season on 15 May.
On 1st August, he scored his 50th and 51st goals in Europe after netting a brace against Crusaders in the second qualifying round of the 2019-2020 UEFA Europa League.
He ended the season with 27 goals in total and was part of the team as they reached the quarter-finals of the UEFA Europa League, but missed a penalty in their elimination to eventual winners Sevilla.
He made his 100th appearance for Wolves in their first league game of the 2020-2021 season on 14th September. On 3rd October, it was announced that he had signed a four-year contract extension with Wolves.
Against Arsenal on 29th November, he was knocked unconscious after a clash of heads with David Luiz.
Luiz continued to play on for the rest of the first half with minor injuries, he had to be stretchered off and was immediately taken to a hospital for severe trauma, where he was eventually deemed conscious. It was confirmed the following morning that he had fractured his skull in the clash with Luiz and had required surgery soon after hospitalization.
Source: @premierleague
Raul Jimenez's International Career
Moving towards his international career, he was selected by coach Luis Fernando Tena to participate in that year's Toulon Tournament with the under-23 side in the year 2012.
He made the final cut in the squad participating in the 2012 Summer Olympics in London.
He made his debut for the senior national team in a 1-1 draw against Denmark on 30th January 2013, coming on as a second-half substitute.
He was named in the 23-man squad participating in the 2013 FIFA Confederations Cup held in Brazil on 20th May 2013.
It was announced that he was included in Mexico's 23-man squad for the 2013 CONCACAF Gold Cup on 26th June 2013.
He was included in the 2017 FIFA Confederations Cup roster.
He was named in Mexico's 23-man final squad for the 2018 FIFA World Cup in Russia.
On 5th June 2019, he was included in the Mexico squad for the CONCACAF Gold Cup.
On 15th November 2019, he scored a brace and contributed an assist in El Tri's 3-0 victory over Panama.
Awards, Achievements, and Honours
Club
America
Atletico Madrid

Supercopa de Espana: 2014
Benfica

Primeira Liga: 2015-16, 2016-17
Taca de Portugal: 2016-17
Taca da Liga: 2015-16
Supertaca Candido de Oliveira: 2016, 2017
International
Mexico U23
Toulon Tournament: 2012
Summer Olympics: 2012
Mexico

Individual
CONCACAF Goal of the Year: 2013
Taca da Liga top scorer: 2015-16
Wolverhampton Wanderers Players' Player of the Season: 2018-19, 2019-20
CONCACAF Gold Cup Golden Ball: 2019
CONCACAF Gold Cup Best XI: 2019
PFA Player of the Month: November 2019
Wolverhampton Wanderers Player of the Season: 2019-20
Raul Jimenez's Girlfriend, Daniela Basso
Raul Jimenez is not married yet and he is still to get married. At present, he is not single but he is deeply in a relationship with his beautiful girlfriend, Daniela Basso, a model and actress from Mexico. The couple began dating in the year 2017. Their bond is going with the passage of time and they are enjoying their present life happily without any disturbances. The couple is also blessed with a kid (daughter) named Arya. His sexual orientation is straight and he is not gay.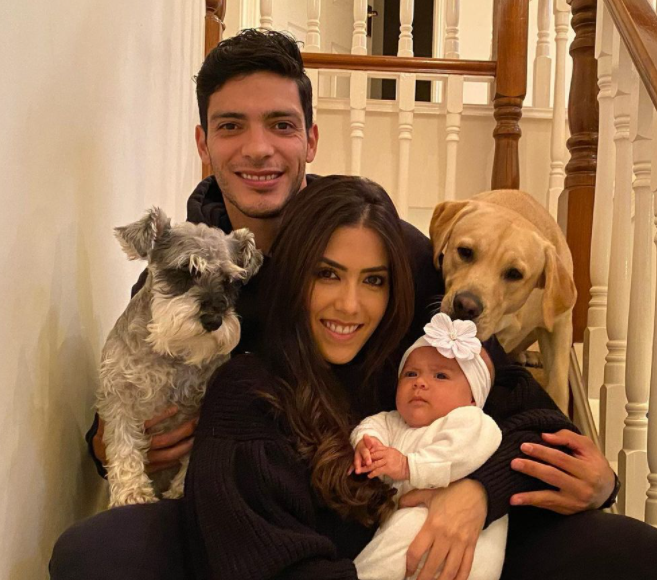 Source: @instagram.com/danielabassom
Raul Jimenez's Net Worth 2020
Raul Jiminez is a professional footballer who has made a huge amount of money throughout his career which includes contract deals, salaries, and endorsement deals. As of 2020, the net worth of Raul is estimated to have 14 million euros. Whereas his current market worth is €40 million or 35 Million Pound. In the year 2019, Wolves signed a four-year contract worth €38 million with him. Back then, he was named to be the most expensive player in Portuguese football history and the most expensive Mexican player in the year 2016. He is living a luxurious lifestyle as of now.