Richard Stephen Dreyfuss shortly named as Richard Dreyfuss is a famous American actor. He is well-known for his role in movies such as American Graffiti, Jaws, Stand by Me, Close Encounters of the Third Kind, Down and Out in Beverly Hills, The Goodbye Girl, Tin Men, Stakeout, Always, What About Bob? and Mr. Holland's Opus. Moreover, he is also an award-winning actor. He won the Academy Award for Best Actor in 1978 for The Goodbye Girl and was nominated in 1995 for Mr. Holland's Opus. He has also won a Golden Globe Award, a BAFTA Award, and was nominated in 2002 for Screen Actors Guild Awards. Overall, he is a very talented actor.
Richard Dreyfuss' chocolate volcano showstopper on Celebrity Bake Off leaves viewers in hysterics
Richard Dreyfuss appeared in last night's episode of The Bake Off for SU2C. The Hollywood actor left GBBO viewers laughing last night over his showstopper. Crafted a volcano cake which some said should be 'flushed down the toilet'. Viewers were left giggling, with one dubbing the actor: 'Richard The Turd'.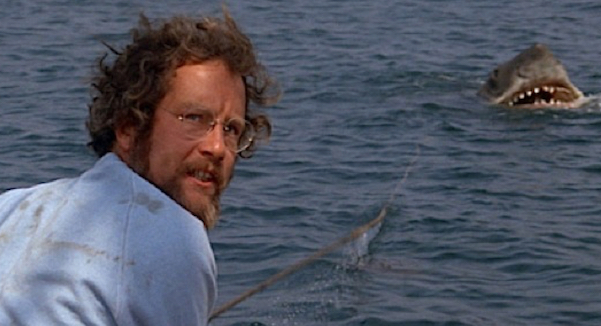 Source: @tvovermind.com
Early Life of Richard Dreyfuss
Richard Dreyfuss was born on 29th October 1947 in Brooklyn, New York City, the USA as Richard Stephen Dreyfus. AS of 2019, he celebrated his 72nd birthday. He was born to his father Norman Dreyfuss (attorney and restaurateur) and his mother Geraldine Dreyfuss (peace activist). His great grandfathers were Austro-Hungarian Jewish immigrants whereas his mother's family were Russian Jewish. He has a sibling named Lorin Dreyfuss. He holds American citizenship and he is of Ashkenazi Jewish ethnicity. His birth sign is Scorpio and his religion is agnostic.
Richard Dreyfuss attended Beverly Hills High School. Then, he attended California State University, Northridge.
Career of Richard Dreyfuss
Richard started acting career from his youth and debuted in TV production "In Mama's House" when he was only 15.
After that, he appeared in small TV roles such as Peyton Place, Gidget, That Girl, Gunsmoke, Bewitched, The Ghost & Mrs. Muir, The Big Valley.
He appeared in the play The Time of Your Life and his first film role was in "The Graduate".
In Valley of the Dolls which was released in 1967, he was seen briefly and then he appeared in CBS pilot Catch-22 in 1973.
He made his role in Dillinger and then American Graffiti.
He then played his first role in the Canadian movie The Apprenticeship of Duddy Kravitz in 1974.
In 1975, he appeared in Jaws and Close Encounters of the Third Kind.
In 1977, he appeared in the Goodbye Girl.
In 1986, he appeared in Stand by Me and The Body.
He then reunited with director Paul Mazursky to star in the political farce Moon Over Parador and then he reunited with Spielberg on Always in 1989.
He then starred in What About Bob? in 1991.
He starred in HBO movie Prisoner of Honor.
In 1994, he participated in historic Papal Concert to Commemorate the Shoah at the Vatican in the presence of Pope John Paul II, Rav Elio Toaff, chief rabbi of Rome, and Oscar Luigi Scalfaro, President of the Italian Republic.
He was nominated for an Oscar and a Golden Globe for his performance as Glenn Holland in Mr. Holland's Opus (1995).
He played Max Bickford in the television drama The Education of Max Bickford in 2001/2002.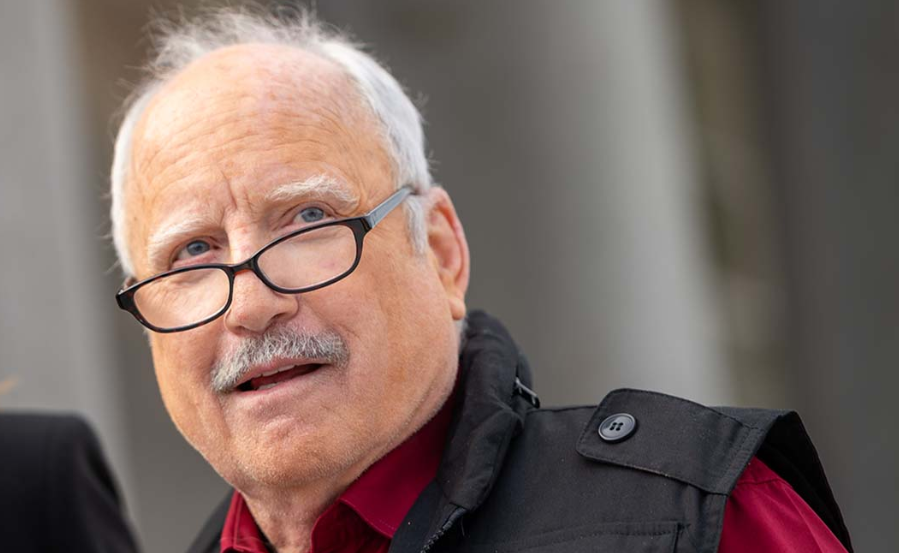 Source: @hollywoodreporter.com
He also appeared in the revival of Sly Fox in April 2004.
In 2009, he made his West End debut at The Old Vic.
In 2006, he appeared in Poseidon as a gay architect.
He guests voiced in Family Guy in 2009.
In 2010, he played Matt Hooper in Piranha 3D.
On 10th October 1996, he was inducted as a star on the Hollywood Walk of Fame.
It was announced that The Last Laugh will be headlined by Richard Dreyfuss, Chevy Chase, and Andie Macdowell which was released on 11th January 2019 on Netflix.
Personal Life of Richard Dreyfuss
Richard Dreyfuss is a married person. He married his wife Jeramie Rain in the 1980s who is a writer and producer. the duo is also blessed with three kids named Emily, Benjamin, Harry. His elder son, Benjamin, was born with Peters Anomaly, a rare genetic eye disorder which, after many operations, left him blind in his left eye. Later, the duo divorced in and he married Janelle Lacey in the year 1999 but the duo also split in 2005. After Janelle, he married Svetlana Erokhin in 2006 and the duo is living a happy life as of now. The duo is living in San Diego, California. In February 2008, they bought a $1.5 million house in Encinitas, California, and plan to renovate the 1970s structure with green technologies.
Net Worth of Richard Dreyfuss
The net worth of this famous actor is estimated to have $6 Million as of 2020 whereas his exact salary is unknown yet as it has not been disclosed by media as well by himself. His source of earning is from his acting career. He is satisfied with his earnings as of now. And he is living a luxurious lifestyle from his earnings.
Body Measurements of Richard Dreyfuss
The 72-year-old, Richard Dreyfuss still looks handsome and young as he has managed his body a lot. He has a height of 5 feet 5 inches. His weight consists of 73 Kg. His hair color is grey and his eyes color is blue. His other body measurements such as waist size, biceps size and more have not been revealed yet but it will be added once we get information about it.