About Margaret Nolan
An English visual artist, actress, and glamour model, Margaret Nolan was probably best remembered for her role as 'Dink' in "Goldfinger" (1964) and her "Carry On..." film roles. She was also well known for her appearance in the musical comedy film, "A Hard Day's Night". Often cast mainly for her fabulous buxom figure and good looks, Margaret was perfectly cast in "Carry on Girls" (1973), made six "Carry On..." performances in all, and was very successful in all of her roles, displaying good comedy acting skills. She starred in "Playboy" 1965 after playing Dink in "Goldfinger". She was also 'The golden girl' in the title credits sequence. She filmed a scene for Alfred Hitchcock's Frenzy (1972) which was subsequently deleted. She has starred in several films and series such as Carry On Matron (1972), Toomorrow (1970), Crooks and Coronets (1969), Crossroads (1964), 199 Park Lane (1965), The Bed-Sit Girl (1966), and many others. But sadly, we lost her on 5th October 2020 at the age of 76.
Death of Margaret Nolan

Margaret Nola, who was a famous visual artist, actress, and glamour model passed away on 5th October 2020 at the age of 76. Most recently Edgar Wright cast her in his upcoming film "Last Night in Soho" which was will be released by Focus Features on 23rd April 2021. Wright took to Twitter to pay tribute to the actress and model. "It's my sad duty to report that actress and artist, the magnificent Margaret Nolan has passed away," he wrote. "She was the middle of Venn diagram of everything cool in the '60s; having appeared with the Beatles, been beyond iconic in Bond and been part of the Carry On cast too." He added, "I worked with her last year as she plays a small role in "Last Night In Soho". She was so funny, sharp, and, as you might imagine, full of the most amazing stories. I'm so glad I got to know her. My heart goes out to her family and all that loved her. She will be much missed."
Famous For

Being an English visual artist, actress, and glamour model.
For her appearance in the musical comedy film, "A Hard Day's Night".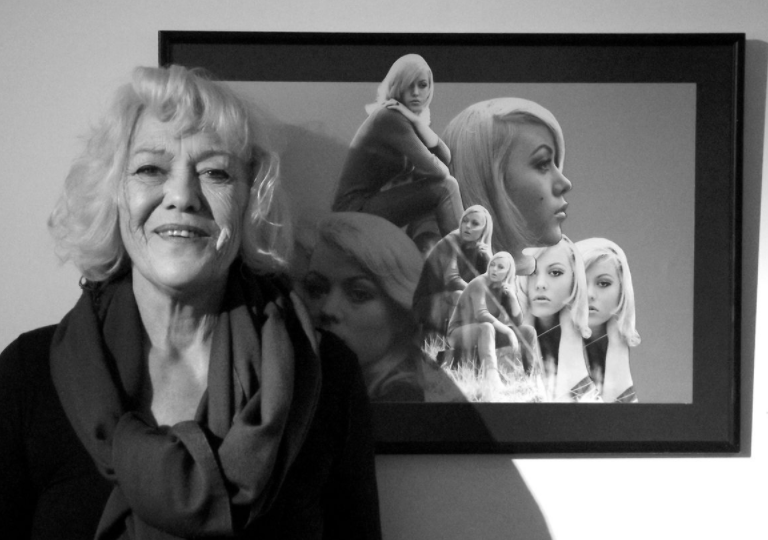 Source: @en.wikipedia.org
Early Life of Margaret Nolan

On 29th October 1943, Margaret Nolan took birth with the real name or full name of Margaret A. Nolan in Norton Radstock, Somerset. Her nationality was British whereas she was from a mixed ethnicity. She was the daughter of an English mother and Irish father and grew up in Hampstead, London. Scorpio was her star sign nad white was her race. She used to celebrate her birthday on the 29th of October of every year and she had celebrated her 76th birthday as of now. She has also a sister, Geraldine Nolan. As a popular actress, she has not shared much about her parents as well as about her education qualifications too. Additionally, she reverted to her birth name as soon as acting roles beckoned; appearing in numerous television shows, theatre productions, and films.
Career of Margaret Nolan

Margaret Nolan commenced her career as a model though she was well known as Vicky Kennedy in the early 1960s.
She was seen in the James Bond film "Goldfinger" as the role of Dink, Bond's masseuse in 1964 which led to photographs in "Playboy" magazine's James Bond's Girls edition of November 1965.
She has also starred on the front cover of both the US and UK versions of the 2005 book "Robert Brownjohn: Sex and Typography" and gave her first interview concerning her experiences as the model.
In addition, she was known for five BBC series with Spike Milligan and was given bigger roles in several 1970s Carry On films - and most sizably "Carry On Girls".
Similarly, she has also starred in one of the first episodes of the television police drama "The Sweeney".
As well, her work as a comedy actress was recognized with her name included on Gordon Young's "Comedy Carpet" installation in front of Blackpool Tower in 2011.
Later in the following year, she returned to the screen after a gap of nearly three decades appeared in Yvonne Deutschman's "The Power of Three" which was set in Hampstead, and well-received on the independent circuit with a 7.2 rating on IMDb.
Furthermore, her work in photo-montage was also selected for the front cover of "Playerist" poetry magazine (No. 2, 2012) as well as her artworks featured in the group show "equals: exploring feminism through art and conversation" in 2013.
Moreover, she was going to star in an upcoming psychological horror film "Last Night in Soho" in 2021.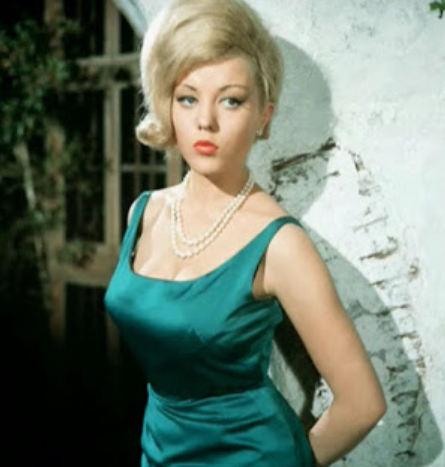 Source: @carryonfan.blogspot.com
Personal Life of Margaret Nolan

Reflecting on Margaret Nolan's personal life, she was a married woman. She tied a knot with an English playwright Tom Kempinski in 1967. But their relationship was not long-lasting. The couple divorced in 1972. Margaret was not only an actress or model, but she was also a mother too. She has two sons, Oscar Deeks, a cinematographer, and Luke O'Sullivan. She had everything going alright for her with a blockbuster career and a loving family. She was as beautiful in her real life as she appears in her pictures. Furthermore, talking about her sexual orientation, she was straight. She also strictly kept her personal and professional life separate.
Net Worth of Margaret Nolan

Moving towards Margaret's net worth, her worth was around $3 million as of 2020 though she was also earning a fine amount of salary too which was also around millions of dollars per year. She was among those few individuals that have such a wide range of experience and remains true to whatever she embarks on to. She has a long road ahead of her and she definitely held all the potential to make it big in the industry. She was sincere in her work. But, she was doing all the hard works in order to build a secure financial status for herself and her family. In addition, her main source of income was from an acting and singing career which included her role in movies and TV shows.
Body Measurement of Margaret Nolan

Margaret Nolan was a beautiful woman who stood at a perfect height of 5 feet and 10 inches or 1.78 m whereas her body weight was around 61 kg or 135 pounds. She had the perfect body combined with good looks. She could carry off any look with great simplicity. Her sensible thoughts with a good sense of humor greatly attract her spectators to their TV screen. She definitely has a pretty face and a magnetic personality which has cast a spell over her viewers over the years. Graceful Nolan has brown hair and dark brown eyes color whereas her body build type was average and body measurement was 38-25-37 inches (97-64-94 cm).