Robert James Gronkowski simply named as Rob Gronkowski is an American football player who played in the tight end position with the shirt number of 87. He is playing for the Tampa Bay Buccaneers of the National Football League (NFL). He previously played nine seasons for the New England Patriots and also he is a three-time Super Bowl champion (XLIX, LI, LIII), a five-time Pro Bowl selection, four-time First-Team All-Pro selection, and was selected in the NFL 2010s All-Decade Team and NFL 100th Anniversary All-Time Team. He played college football at the University of Arizona. After his college career, the New England Patriots selected him in the 2nd round with 42nd overall pick in the 2010 NFL draft. Rob has around 1.5 million followers on Facebook and 3 million followers on Twitter. Similarly, he has 3.6 million followers on Instagram. Read on to know more information regarding his biography, facts, family, birthday, wiki, girlfriend, career stats, net worth and many more.
Famous For
Being one of football's most popular players, with a larger-than-life personality on and off the field.
Being considered as one of the finest footballers in NFL History.
Being Considered the greatest tight end ever in NFL History.
Being 3 times Super Bowl Champion.
Being 5 times Pro Bowl Champion.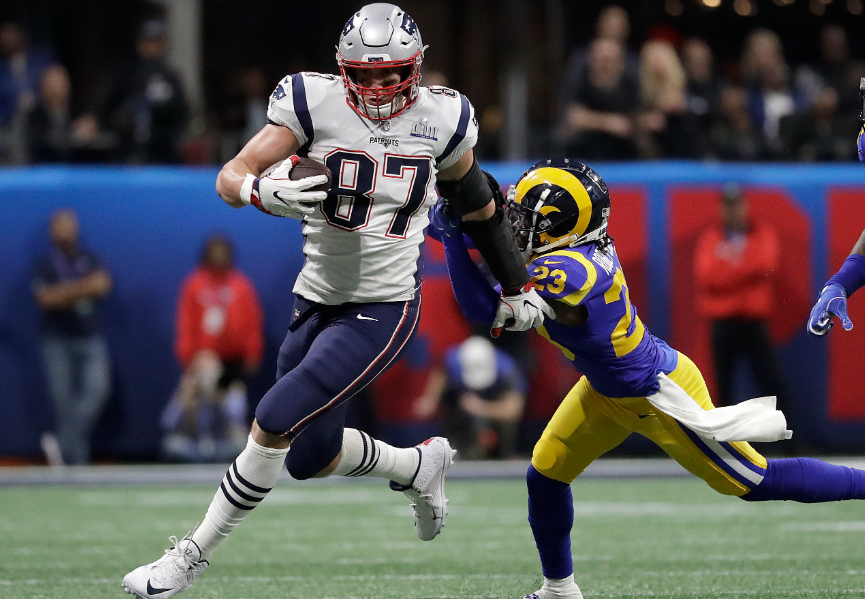 Source: @masslive.com
Early Life of Rob Gronkowski
Rob Gronkowski was born on 14th May 1989. His birth name/real name is Robert James Gronkowski. His birthplace/hometown is in Amherst, New York in the United States. He was born to a father, Gordon Gronkowski, and a mother, Diane Walters. He has four siblings, Glenn, Chris, Gordie, and Dan. All four of his brothers played professional sports such as football and basketball. As of 2019, he celebrated his 30th birthday. He holds an American nationality and his ethnicity is White. His zodiac sign is Taurus. He is of Polish ancestry. He is Christian by religion. As per his education, he attended Williamsville North High School where he played basketball, baseball and football. He recorded 36 receptions for 648 yards and 7 touchdowns on offense, and 73 tackles and 6 sacks on defense as a junior at Williamsville North High School. Moreover, he was named an All-Western New York first-team and All-State second-team player. He was academically in the National Honor Society. Later, he moved to Suburban Pittsburgh where he attended Woodland Hills High School in Churchill as the senior. He was initially ruled ineligible by the Western Pennsylvania Interscholastic Athletic Leauge because of his transfer. Later, his ineligibility was overturned, he recorded 8 receptions for 152 yards and 4 touchdowns. He was also named a SuperPrep All-American, PrepStar All-American, Associated Press Class 4-A all-state, Pittsburgh Post-Gazette "Fabulous 22", Pittsburgh Post-Gazette first-team all-conference, The Patriot-News (Harrisburg, Pennsylvania) "Platinum 33", and a Pittsburgh Tribune-Review "Terrific 25" player. He received offers from various colleges including Kentucky, Arizona, Clemson, Louisville, Maryland, Ohio State, and Syracuse.
College Career of Rob Gronkowski
After graduating from high school, he enrolled at the University of Arizona and there he committed to play for the Arizona Wildcats football team and he started playing under the head coach Mike Stoops.
As a freshman in 2007, he recorded 28 receptions for 525 yards and 6 touchdowns.
His 18.8 yards per reception average was the best on the team and his receiving yards were a school record for a tight end.
In addition to this, he was named The Sporting News freshman All-American, Rivals.com freshman All-American, The Sporting News freshman Pac - 10, and All-Pac-10 honorable mention player.
In his sophomore year, he missed the first three games and in the end, he recorded 47 receptions for 672 yards and a team-best 10 touchdowns.
He then set the school records for a tight end for single-game, single-season, and career receptions, yards, and touchdowns.
In fact, he was also named an Associated Press third-team All-American and All-Pack-10 first-team tight end.
He was later placed on the watchlist for the Lombardi Award prior to the 2009 season.
He missed his junior season in 2009 due to back surgery, which caused his draft stock to fall.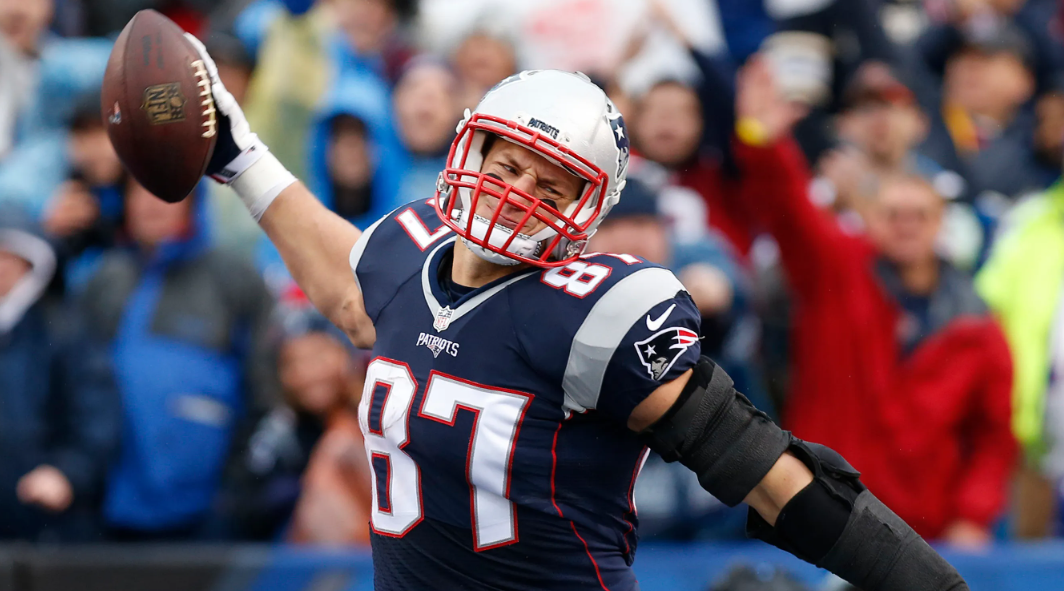 Source: @usatoday.com
Professional Career of Rob Gronkowski
After his college career, the New England Patriots selected him in the 2nd round with 42nd overall pick in the 2010 NFL draft.
On 25th July 2010, he signed a four-year contract worth $4.4 million with a $1.76 million signing bonus.
He was one of the three NFL players to score 4 touchdowns during the 2010 preseason.
He made his NFL debut against the Cincinnati Bengals.
He also became the first rookie in Patriots history, and the youngest rookie in NFL history to post three touchdown passes.
He was nominated three times for Pepsi NFL Rookie of the Week and won it twice.
He ended the 2011 season with 1,327 receiving yards, 18 touchdowns, 17 receiving touchdowns.
He then became the first tight end in NFL history to post 17 receiving touchdowns in a single season.
He was voted the starting tight end for the AFC at the 2012 Pro Bowl.
He was voted the tight end for the AP All-Pro first team.
He suffered a high ankle sprain in a 23-20 win over Baltimore Ravens in AFC Championship in the Patriots' playoff game.
On 8th June 2012, he signed a 6-year contract extension with the Patriots worth $54 million with an $8 million signing bonus which was the largest ever deal as a tight end.
He became the third tight end in NFL history to achieve three seasons with at least 10 touchdown receptions and the first ever to do it in consecutive seasons.
He broke his left forearm in the Patriots' Week 11 59-24 win over the Indianapolis Colts.
He re-injured his left arm in the Patriots' first playoff game against Houston Texans.
He posted 790 receiving yards and 11 touchdowns in 11 games in the 2012 season.
He underwent a third surgery on his forearm in February 2013 after he was diagnosed with an infection and he underwent fourth surgery to his forearm to replace the hardware implanted in the second procedure and perform tissue biopsies.
He was cleared to play in October 2013 but suffered a right knee injury in a game against the Cleveland Browns in December 2013.
He tore his ACL and MCL ending his 2013 season.
In his 2013 season, he posted 592 receiving yards and 4 receiving touchdowns in 6 starts.
He then became the first tight end in NFL history to catch at least 10 touchdowns in four separate seasons when he posted over 10 touchdowns in his 2014 season.
The Patriots then won the AFC East and Super Bowl XLIX.
In 2014 season, he was fined for "unnecessary roughness" against the Indianapolis Colts safety Sergio Brown and later fined for "striking an opponent" at the Super Bowl XLIX against the Seattle Seahawks.
In November 2015, Rob suffered a right knee injury in the Patriots' first loss of the season against the Denver Broncos in November 2015 and posted 1,018 yards and 10 touchdowns in the 2015 season.
He missed the first two games of the 2016 season due to the hamstring injury.
He broke both the Patriots franchise records set by Stanley Morgan when he scored the 69th regular-season touchdown, also hist 68th receiving touchdown of his career.
He was ruled out of the 2016 season after he suffered a back injury against the New York Jets in Week 12 of the 2016 season.
He posted 25 receptions on 38 targets for 540 yards and 3 touchdowns in the 2016 season.
He was suspended for one game when he drew a personal foul penalty while jumping elbow-first onto Tre'Davious White of the Buffalo Bills during Week 13 game in 2017.
He became the 3rd NFL tight end with four 1,000-yard seasons.
He finished the 2017 season with 69 receptions for 1,084 yards and 8 touchdowns.
He was also named to the Associated Press' All-Pro First Team earning him a $2.5 million incentive.
He announced that he would return for the 2018 season.
He finished his 2018 season with 47 receptions for 682 receiving yards and 3 receiving touchdowns.
He posted 87 receiving yards for the Patriots when they won Super Bowl LIII against the Los Angeles Rams.
The Patriots agreed to trade Gronkowski to the Tampa Bay Buccaneers along with a seventh-round pick in exchange for a compensatory fourth-round pick in the 2020 NFL Draft on 21st April 2020.
Moreover,
Rob has also co-written a memoir, It's Good to be Gronk in July 2015 with Jason Rosenhaus which became a New York Times Bestseller.
ESPN listed him in the "World Fame 100" list of most famous athletes in the world in 2019.
He was featured on the covers of GQ, ESPN The Magazine, ESPN The Body Issue, Sports Illustrated, and Muscle & Fitness, among others.
He was the cover of video sports game Madden NFL 17 in the year 2016.
He also appeared as fictionalized versions of himself in the 2015 film, Entourage and in an episode of Family Guy in 2017.
He appeared in the American crime-drama thriller film, American Violence and You Can't Have It, both in 2017.
He is a wrestling fan and has appeared at WWE's WrestleMania 33 where he helped his real-life friend Mojo Rawley win the Andre The Giant Memorial Battle Royal.
He was the co-host of Crashletes from 2016 to 2017 on Nickelodeon.
He has competed against the actress Gina Rodriguez in the second episode of TBS's Drop the Mic in 2017.
He then joined Discovery Channel's Shark Week in July 2018. He helped tagged endangered tiger sharks in the Bahamas.
He hosted the Verizon's Go90 original show, MVP in 2017.
Retirement of Rob Gronkowski
Rob Gronkowski announced his retirement via Instagram on 24th March 2019. He wrote on his Instagram, "It all started at 20 years old on stage at the NFL draft when my dream came true, and now here I am about to turn 30 in a few months with a decision I feel is the biggest of my life so far. I will be retiring from the game of football today. I am so grateful for the opportunity that Mr. Kraft and Coach Belichick gave to me when drafting my silliness in 2010. My life experiences over the last 9 years have been amazing both on and off the field. The people I have meet, the relationships I have built, the championships I have been apart of, I just want to thank the whole New England Patriots organization for every opportunity I have been giving and learning the great values of life that I can apply to mine. Thank you to all of Pats Nation around the world for the incredible support since I have been apart of this 1st class organization. Thank you for everyone accepting who I am and the dedication I have put into my work to be the best player I could be. But now its time to move forward and move forward with a big smile knowing that the New England Patriots Organization, Pats Nation, and all my fans will be truly a big part of my heart for rest of my life. It was truly an incredible honor to play for such a great established organization and able to come in to continue and contribute to keep building success. To all my current and past teammates, thank you for making each team every year special to be apart of. I will truly miss you guys. Cheers to all who have been part of this journey, cheers to the past for the incredible memories, and a HUGE cheers to the uncertain of whats next". He also elaborated "I was not in a good place. Football was bringing me down, and I didn't like it. I was losing that joy in life... I could play right now if I wanted to play. I'm feeling good. Physically, I could do it. Mentally-wise, desire-wise, it's not there... I am very satisfied with where I am in life right now. I truly believe going through those tough times, nine years, off the field, on the field, has brought me to this point. I believe I'm on the right path in my life."
Awards of Rob Gronkowski
He also won the Comeback Player of the Year award at the 2015 ESPY Awards for his 2014 season. He has won 3-times Super Bowl champion (XLIX, LI, LIII), 5-times Pro Bowl (2011, 2012, 2014, 2015, 2017), 4-times First-team All-Pro (2011, 2014, 2015, 2017). He is named 2014 NFL Comeback Player of the Year, 2011 NFL receiving touchdowns leader, 2008 Third-team All-American, 2008 First-team All-Pac-10.
NFL records
Most receptions by a tight end in Super Bowl history: 23
Most receiving yards by a tight end in Super Bowl history: 297
Only tight end to lead the league in receiving touchdowns (2011)
The only tight end with 1,000+ career postseason receiving yards
Most career postseason receiving yards by a tight end: 1,163
Most touchdown receptions by a tight end, season: 17 (2011)
Most touchdowns by a tight end, season: 18 (2011)
The most single-season record for receiving yards by a tight end (1,327): 2011-2018
Most career postseason receiving touchdowns by a tight end: 12
Most seasons with 10+ touchdowns by a tight end: 5 (2010-12, 2014-2015)
Most offensive touchdowns in first two seasons: 28 (tied with Randy Moss)
Only tight end to have 3 seasons with 10+ touchdowns and 1,000+ receiving yards (2011, 2014-2015)
Most seasons of 1,000+ yards receiving by a tight end: 4 (tied with Tony Gonzalez and Jason Witten)
Consecutive seasons with 10+ touchdowns by a tight end: 3 (2010-2012)
Youngest player with 3 touchdown receptions in a game: 21 years, 184 days (2010, vs. Pittsburgh Steelers)
Youngest player with 3 touchdown receptions in a game, playoffs: 22 years, 275 days (2011 playoffs, vs. Denver Broncos)
Patriots franchise records
Most games with 100+ receiving yards by a tight end: 26
Highest receiving yards per game average for a tight end (season): 82.9 (2011)
Youngest Patriot with 3 touchdown receptions in a game: 21 years, 214 days (2010, vs. Pittsburgh Steelers)
Youngest Patriot with 3 touchdown receptions in a playoff game: 22 years, 275 days (2011 playoffs, vs. Denver Broncos)
Most career touchdown receptions: 79
Most games with multiple touchdowns: 16
Personal Life of Rob Gronkowski
Source: @cheatsheet.com
Rob Gronkowski is an unmarried person. At present, he is in a relationship with the host and model Camille Kostek. The couple started dating in the year 2015. He also shares her pictures on his Instagram. They live together in Foxborough, Massachusetts. No other information about his personal life is available at present as he is a very secretive person as well. He is straight by sexual orientation.
Net Worth of Rob Gronkowski
The net worth of this famous former American footballer is estimated to have $40 Million as of 2020. He signed a four-year deal worth $4.4 million with a $1.76 million signing bonus in July 2010 when he was drafted by the New England Patriot and extended his contract with the Patriots in June 2012, signing a 6-year deal worth $54 million with $8 million signing bonus. He also earned $8 million via several endorsements deals in 2018 by appearing in numerous print, television, and online advertisements. Moreover, he has appeared for the popular brands such as Nike, Dunkin' Donuts, Visa, T-Mobile, Tide, Lyft, Zynga, Cheerios, Oberto, SixStar Pro, Bodyarmor SuperDrink, DraftKings, Kids Footlocker, and video games Mobile Strike and Halo. PLB Sports started manufacturing a frosted cornflakes breakfast cereal named "Gronk Flakes" in the year 2012. PLB Sports released "Gronk's Hot Sauce" in 2015. As of now, his exact salary is not available at the moment. His source of wealth is from football career as well as from endorsements.
Body Measurements of Rob Gronkowski
Rob Gronkowski is a very handsome person with an athletic body build. He stands at a height of 1.98 m or 6 feet and 6 inches. He has a bodyweight of 268 lbs or 122 kg. He has a chest size of 49 inches, a biceps size of 17 inches, and a waist size of 36 inches. He has dark brown eyes and his hair color is light brown. His shoe size, dress size, and other details is unknown yet.