Robert Anthony De Niro Jr. shortly named as Robert De Niro is a famous American actor, producer, and director who has received numerous accolades, including two Academy Awards, a Golden Globe Award, the Cecil B. DeMille Award, the Golden Lion, the AFI Life Achievement Award, Presidential Medal of Freedom, and has been nominated for six BAFTA Awards, four Primetime Emmy Awards, and four Screen Actors Guild Awards. He was cast as the young Vito Corleone in the 1974 film The Godfather Part II for which he won the Academy Award for Best Supporting Actor. Recently, he made his role is The Irishman in 2019. He targeted President Donald Trump while accepting his lifetime award at the SAG-AFTRA Awards in Los Angeles on Sunday. But the vehement anti-Trump star was in a relatively moderate mood, not ceasing to call the president by name. "There is good and evil, and common sense and abuse of power," said Robert De Niro in his politically charged speech.
What is the Birthplace of Robert De Niro?
On 17th August 1943, Robert De Niro was born in New York City, the USA. As of 2019, he celebrated his 76th birthday. His real name is Robert Anthony De Niro Jr. His nationality is American-Italian and his ethnicity is Mixed. He received an Italian passport in 2006. His Italian citizenship was granted by the Italian government despite strong opposition by the Sons of Italy, who believe that De Niro damaged the public image of Italians by portraying criminals. He is the only child of painters Virginia Admiral and Robert De Niro Sr. His parents, who had met at the painting classes of Hans Hofmann in Provincetown, Massachusetts, divorced when he was two years old after his father announced that he was gay. He attended PS 41, a public elementary school in Manhattan, through the sixth grade. He went to Elisabeth Irwin High School, the private upper school of the Little Red School House, for the seventh and eighth grades. He was accepted into the High School of Music and Art for the ninth grade, but attended for only a short time before transferring to a public junior high school, IS 71, Charles Evans Hughes Junior High School. Later, he began high school at the private McBurney School and attended the private Rhodes Preparatory School. His stage debut was at age 10 when he played the Cowardly Lion in a school production of The Wizard of Oz. He studied acting at HB Studio, the Stella Adler Conservatory, as well as Lee Strasberg's Actors Studio. He is Christian by religion.
How was the Career of Robert De Niro?
At the age of 20, his first film role came by appearing in Brian De Palma's 1963 film The Wedding Party and later appeared in Bloody Mama, Greetings, Hi, Mom!, Born to Win, Bang the Drum Slowly, Mean Streets, The Godfather Part II, The Godfather.
After that, he made his role in many films such as Taxi Driver (1976), New York, New York (1977), Raging Bull (1980), The King of Comedy (1982), Goodfellas (1990), Cape Fear (1991), Casino (1995) and The Irishman (2019). They also acted together in Guilty by Suspicion (1991), and he also provided their voices for the animated feature Shark Tale (2004).
He also appeared in 1900, Bernardo Bertolucci's biographical exploration of life in Italy before World War II.
He also starred in The Last Tycoon, The Deer Hunter, Brazil (1985), Midnight Run (1988), Analyze This (1999), Meet the Parents (2000), Meet the Fockers (2004), True Confessions (1981), Falling in Love (1984), Once Upon a Time in America (1984), The Mission (1986), Angel Heart (1987), The Untouchables (1987), Goodfellas (1990), Awakenings (1990), Mary Shelley's Frankenstein (1994), Heat (1995), The Fan (1996), Sleepers (1996), Wag the Dog (1997), Jackie Brown (1997), Ronin (1998) and Flawless (1999).
He appeared in This Boy's Life, In the Line of Fire, A Bronx Tale, Dirty Harry, Magnum Force, Righteous Kill, Cop Land, Heat, Men of Honor.
He also hosted 9/11 (2002), a documentary about the 9/11 attacks.
He then starred in the action-comedy Showtime, Meet the Fockers (2004) and was featured in Stardust (2007), The Good Shepherd, Raging Bull, Goodfellas, A Bronx Tale, Once Upon a Time in America, Casino, Machete, Stone, Little Fockers, Limitless, New Year's Eve, Silver Linings Playbook, Freelancers, Red Lights, and Being Flynn.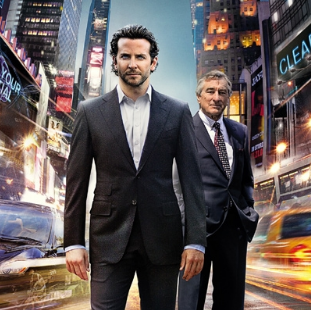 Source: @thespotlightreport.wordpress.com
He received a nomination for an Academy Award for Best Supporting Actor for his role in Silver Linings Playbook.
He appeared as a late-night talk show host, Murray Franklin, in Todd Phillips' film Joker in 2019.
He reunited with Martin Scorsese for the Netflix film The Irishman, based on the 2004 book I Heard You Paint Houses by Charles Brandt.
In August 2019, De Niro's film production company Canal Productions filed a $6 million lawsuit against a former employee for breaching her fiduciary duties and violating New York's faithless servant doctrine by embezzling money and binge-watching Netflix at work, including watching 55 episodes of Friends in four days.
Everything To Know About Bradley Cooper
Who is the Wife of Robert De Niro?
Talking about Robert De Niro's marital status, he is a married woman. He married his first wife, Diahnne Abbott, in 1976. They have a son, Raphael, a former actor who works in New York real estate. He also adopted Abbott's daughter Drena De Niro from a previous relationship. They divorced in 1988. De Niro has twin sons, Julian and Aaron, conceived by in vitro fertilization and delivered by a surrogate mother in 1995, from a long relationship with former model Toukie Smith. She then married his second wife, actress Grace Hightower in 1997. Their son, Elliot, was born in 1998 and the couple split in 1999. The divorce was never finalized and in 2004 they renewed their vows. In December 2011, their daughter was born via surrogate. In addition to his six children, he also has four grandchildren; his daughter, Drena, has one child, and his son, Raphael, has three. In November 2018, it was reported De Niro and Hightower had separated after 20 years of marriage. He announced on March 25, 2016, that his son, Elliot, has autism and explained his interest in its causes and treatment. In October 2003, his spokesman announced that De Niro had been diagnosed with prostate cancer. He underwent surgery at the Memorial Sloan-Kettering Cancer Center in December 2003.
What is the Net Worth of Robert De Niro?
As of 2020, the net worth of this famous actor is believed to have $300 Million. But his exact salary is still to get revealed yet but it will be added once we get information about it. There is no doubt in the mind of his followers that he is earning a considerable amount of salary from his present work. His source of earning is from his acting career and he is satisfied with his earnings.
How tall is Robert De Niro?
Robert De Niro is a very handsome person with a charming and attractive personality attracting a lot of people towards him. He has a tall height of 175 cm or five feet nine inches with a balanced bodyweight of 75 Kg. His hair color is Salt and Pepper whereas his eye color is dark brown. His chest size is 43 in, waist size is 32 in whereas his biceps size is 15 in. Overall, he has got a healthy body.