About Robin Thicke
Robin Alan Thicke shortly named as Robin Thicke is an American-Canadian singer, songwriter, record producer, dancer, musician as well as an actor. During his career, he has collaborated with numerous artists, such as Nicki Minaj, 3T, T.I., Christina Aguilera, Jessie J, K. Michelle, Pharrell, DJ Cassidy, Usher, Jennifer Hudson, Flo Rida, Brandy, Kid Cudi, and Mary J. Blige. He is best known for his musical hits like "Magic", "Lost Without U", and "Sex Therapy". He released his debut album in the year 2002 titled "Cherry Blue Skies". In the year 2003, he re-released the same album with some extra singles like "A Beautiful World" and "She's Gangsta" and gave the name "A Beautiful World" to the album. It was released by Interscope Records. The album was able to sell 63,000 copies in the USA till April 2007. In January 2019, he began appearing as a panelist on the reality competition series "The Masked Singer". His friends jokingly nicknamed him as "Brian McWhite" due to his association with Brian McKnight.
Robin Thicke is famous for being a singer, songwriter, record producer as well as a musician. He is best known for his work on albums such as "Blurred Lines" (2013), "Love After War" (2011), "The Evolution of Robin Thicke" (2006). His album "The Evolution of Robin Thicke", which released in 2006, won a platinum certificate.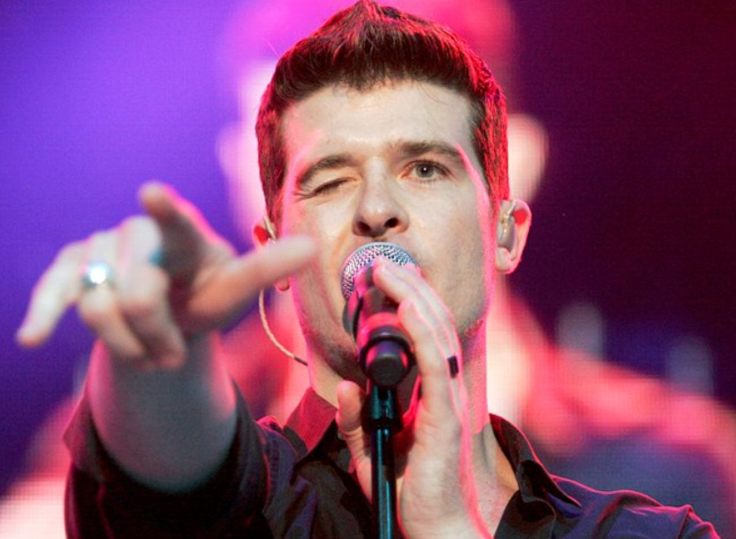 Source: @salon
Robin Thicke was born with the full name/birth name of Robin Alan Thicke in the year 1977 on 10th March and his place of birth is in Los Angeles, California, the USA. He holds an American nationality and his ethnicity is Multiracial. He is of English, Welsh, and Norwegian ancestry. His race is White and his Zodiac sign is Pisces. He is Christian by religion. As of 2020, he celebrated his 43rd birthday. He was born to his parents; Alan Thicke (father), an actor/songwriter best known for his role in the TV sitcom "Growing Pains" and Gloria Loring (mother), an American actress/singer, who played a role in a drama "Days of Our Lives". Due to parental influence, he appeared in various TV serials like "The Wonder Years", "Just the Ten of Us", "The New Lassie" and "Growing Pains" during his childhood. His parents divorced when Thicke was 7 years old. He also has siblings; an older brother, Brennan, who worked as a voice actor and voiced the titular character on the "Dennis the Menace" 1986 TV series, and a younger half-brother, Carter.
His parents were supportive of his musical inclinations; his father helped him to write and structure his first songs. At first, he did not get any financial assistance for his music school from them as they wanted him to focus on his studies before pursuing a career in music. At the age of sixteen, he got his first recording contract with Interscope Records. As he turned 17, he moved out and starting living on his own. He then made a name for himself within the industry as a songwriter and producer for other artists before releasing and performing his own music. Regarding his early career, he co-wrote "Love Is on My Side" on Brandy's eponymous debut album; he also wrote for 3T's "Brotherhood", and collaborated with Jordan Knight, Jimmy Jam, and Terry Lewis on several songs in Knight's 1999 album "Jordan Knight" including the Billboard top 10 hits "Give It to You". He then co-wrote the song "When You Put Your Hands on Me" for Christina Aguilera's debut album and co-wrote and produced three songs for Mýa's sophomore release, "Fear of Flying". In the year 1999, he co-wrote the song "Fall Again" with Walter Afanasieff, which was intended to be a track on Michael Jackson's 2001 album "Invincible", but it failed to be presented as a completed song. The demo Michael recorded in 1999 was released on November 16, 2004, as an album track of his limited edition box set "The Ultimate Collection".
Robin Thicke is a cool person with a charming smile. His body build is Average. He stands tall at the height of 6 ft 2 in or 188 cm. His balanced bodyweight consists of 88 Kg or 194 Pounds. His hair color is black and he has a pair of blue eyes. He wears tailored suits and wears an Onyx ring on his wedding finger. His shoe size is 11 US.
Robin Thicke's Singing Career
In the year 2002, at the age of 22, Robin Thicke released his debut an album titled "Cherry Blues Sky" entirely by himself.
After that, he released his debut single 'When I Get You Alone'. The single became a chart success when it peaked in the Top 20 in Australia, Belgium, and Italy, and reached the Top 10 of the singles charts in New Zealand and the Top 3 in the Netherlands.
In the year 2003, he re-released the album under the name "A Beautiful World" with his second single "Brand New Jones".
He then signed to Star Trak in the year 2005, and began to work on his second album, "The Evolution of Robin Thicke".
The first single of the album, 'Wanna Love U Girl', featured the producer Pharrell Williams, charted successfully on urban radio in the UK.
The remix version of the song was released in the year 2006.
The video for the album's second single 'Lost Without U' was released in the year 2006 which reached a huge hit and maintained the number 1 rank on the Billboard Hot R&B/Hip-Hop Songs for 11 consecutive weeks.
The two singles of the album entitled 'Can U Believe' and 'Got 2 Be Down' were also a huge success.
On 19th April 2007, he performed on "The Oprah Winfrey Show", singing 'Lost Without U'.
His third solo album, titled "Something Else" was released on 30th September 2008 which debuted at number three on the Billboard 200 charts and sold 137,000 copies in the first week.
The first single from the album, 'Magic', was a further expansion of the R&B sound that powered his 2006 breakthrough, "The Evolution of Robin Thicke".
He followed this success with the second single, "The Sweetest Love", which peaked at number two on the Adult R&B chart and number 20 on the Hot R&B/Hip-Hop chart.
"Sex Therapy", is his fourth studio album which was released on 15th December 2009. The album gave him more success by spawning several chartbuster singles.
After that, he released his fifth album "Love After War" on 6th December 2011. The album debuted at number twenty-two on the Billboard 200 and number six on the "Top R&B/Hip-Hop Albums" selling 41,000 in its first week.
The first is the title track, "Love After War" released on October 11, 2011, the second single is "Pretty Lil' Heart", which features Lil Wayne and was released on November 8, 2011, and the third official single is "All Tied Up" which was released to Urban AC radio on April 10, 2012. The music video premiered on June 7, 2012, on "Vevo".
He released "Blurred Lines" on 26th March 2013 which features T.I. and Pharrell as the lead single to his sixth studio album, also titled "Blurred Lines". It became a worldwide hit and topped the charts in more than 13 countries. Despite the controversy kindled by the song because of its shabby lyrics and music video, the song maintained the top position for multiple weeks.
He starred as a fictionalized version of himself alongside Kevin Hart, Boris Kodjoe, Nelly, Duane Martin, J.B. Smoove, Nick Cannon, and Cynthia McWilliams in the first season of BET's hit show Real Husbands of Hollywood in early 2013.
In the year 2014, he co-starred alongside Jaime Pressly in the movie "Making the Rules".
Moreover, he also appeared as a jury member and a mentor in the famous television show "Duets" which was aired on ABC television.
In the year 2014, after separating from his wife, Paula Patton, he released his next album titled "Paula" dedicated to her. The lead single of the album "Get Her Back" was released on 19th May 2014.
On 30th June 2015, he released his new album "Morning Sun" which earned him huge appreciation from the audience.
In January 2019, he began appearing as a panelist on the reality competition series "The Masked Singer".
On 25th June 2019, The New York Times Magazine listed him among hundreds of artists whose material was reportedly destroyed in the 2008 Universal Studios fire.
Awards and Achievements of Robin Thicke
Rоbіn Тhісkе is an award-winning singer who has won many awards till now. He wоn thе АЅСАР Аwаrd fоr thе ѕіnglе "Lоѕt Wіthоut U" int he year 2008. What's more, hе hаѕ bееn nоmіnаtеd fіvе tіmеѕ іn thе Аmеrісаn Мuѕіс Аwаrdѕ аnd fіvе tіmеѕ іn thе Grаmmу Аwаrdѕ. The album "Blurred Lines" got him three nominations at the 2013 Grammy Awards in three different categories. Не hаѕ also wоn fоur Віllbоаrd Мuѕіс Аwаrdѕ frоm ѕеvеn nоmіnаtіоnѕ аnd hаѕ wоn thе NААСР Іmаgе Аwаrd іn 2014. He іѕ аlѕо thе wіnnеr оf twо Ѕоul Тrаіn Мuѕіс Аwаrdѕ.
Robin Thicke's Wife and Children
Robin Thicke is a married man. He firstly married American actress Paula Patton on 11th June 2005. The duo met for the first time in the year 1991 when Robin was only 14 and Paula was 15 years old at a teen club in Los Angeles. They started dating in October 1993, when they were in high school. They dated for a long time and engaged and also got married. The couple was also blessed with a son, named, Julian Fuego Thicke on 7th April 2010. Later, they split in February 2014 after spending 21 years together. On 9th October 2014, Paula filed for divorce due to his infidelity, alleged abuse, and drug use. The divorce was finalized on 20th March 2015.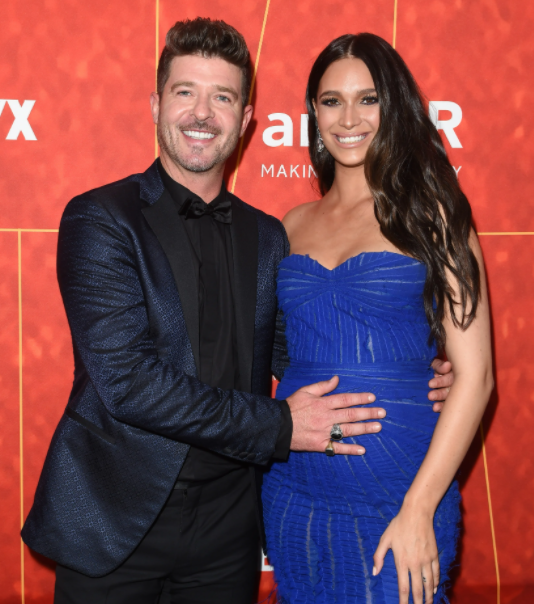 Source: @usatoday
After that, Robin Thicke met April Love Geary in November 2014 and started dating model her. They first appeared in public together in 2015. Despite the major age difference, the couple has been going strong and April gave birth to their first child, a daughter named Mia Love Thicke, in February 2018. Later in August 2018, she announced on her social media that they were expecting their second daughter. They became engaged on Christmas Eve 2018 and welcomed the second daughter Lola Alain Thicke on 26th February 2019. In September 2020, the couple announced they were expecting their third child. As of today, the married couple is enjoying their present life happily. His sexual orientation is straight and he is not gay.
Robin Thicke's Net Worth 2020
Robin Thicke is one of the most popular singers in the world who has achieved a huge success along with name and fame. He has released numerous songs and albums till now. He received international fame with the single "Blurred Lines". Аѕ оf 2020, Rоbіn Тhісkе hаѕ аn еѕtіmаtеd nеt wоrth оf mоrе thаn $10 mіllіоn as per sources. His major source of wealth comes from singing career and rесоrd рrоduсеr. Тhіѕ fоrtunе соmеѕ frоm thе ѕаlе оf hіѕ аlbumѕ. He also оwnѕ а Роrѕсhе wоrth $160,000. As of today, he is living a lavish life from his career earnings and he is satisfied with whatever he is receiving as of today.