Roger Jason Stone Jr., famed as Roger Stone is an American political consultant, author lobbyist, author as well as a strategist who is known for his use of opposition research, usually for candidates of the Republican Party. In November 2019, subsequent to the Mueller Report and Special Counsel investigation, he was convicted on seven counts, including witness tampering and lying to investigators. On 20th February 2020, he was sentenced to 40 months in federal prison. On 25th January 2019, he was arrested at his Fort Lauderdale, Florida, home in connection with Robert Mueller's Special Counsel investigation and charged in an indictment with witness tampering, obstructing an official proceeding, and five counts of making false statements.
Roger Stone asks to disqualify a judge from his case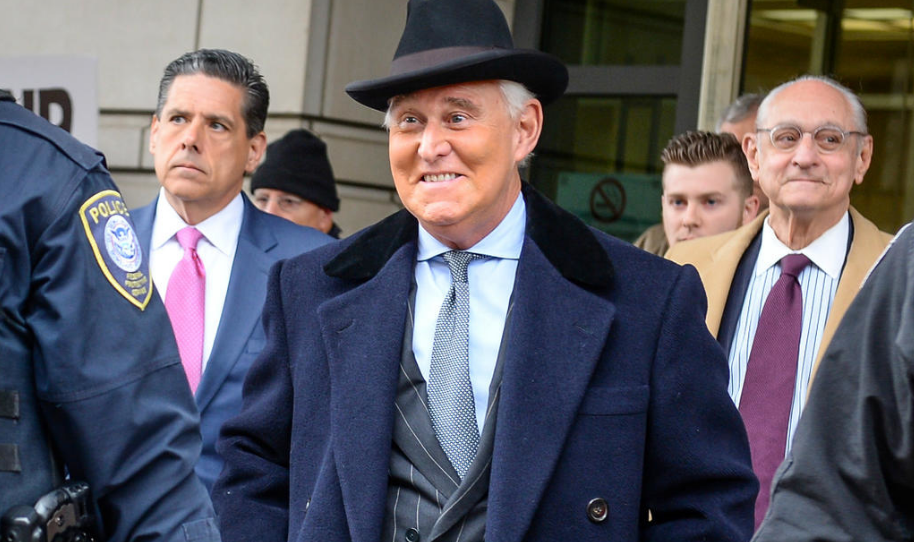 Source: @france24.com
Roger Stone is asking to disqualify Judge Amy Berman Jackson from his case, taking issue with her praise for the jurors at his sentencing Thursday. She is still weighing his request for a new trial after Stone alleged juror misconduct. Stone claims that Jackson's statement at his two-and-a-half-hour sentencing Thursday -- she said jurors "served with integrity" on his case -- should force her to recuse herself from his case now. "The court's ardent conclusion of 'integrity' indicates an inability to reserve judgment on an issue which has yet been heard," Stone's lawyers wrote Friday night. Stone's sentencing was the culmination of an intense week that provoked Twitter fury from Trump and a reckoning within the Justice Department, leading a prosecutor to declare Thursday: "This prosecution is righteous." It's also the near-end of a case that's had several shocking moments that exposed Trump's interest in WikiLeaks during the campaign.
What is the birthplace of Roger Stone?
Roger Stone was born on 27th August 1952 as Roger Jason Stone Jr. to a father, Roger J. Stone, and a mother, Gloria Rose Stone in Norwalk, Connecticut, in the United States. He grew up in Lewisboro, New York in a middle-class family. He is of Hungarian and Italian descent. He holds an American nationality. His zodiac sign is Virgo. He attended high school in northern Westchester County, where he was a junior and vice president of the student government. After graduating from high school, he enrolled at George Washington University. However, he dropped out of college without graduating. As of 2019, he celebrated his 67th birthday.
How was the Career of Roger Stone?
In the year 1972, Roger Stone began his political career conducting several activities on the Nixon campaign.
After Nixon won the 1972 presidential election, he worked for the administration in the Office of Economic Opportunity.
Nixon resigned, and he started working for Bob Dole but was fired after columnist Jack Anderson publicly identified Stone as a Nixon 'dirty trickster'.
In the year 1975, he helped found the National Conservative Political Action Committee.
The organization helped to pioneer independent expenditure political advertising.
In the year 1976, he worked for Ronald Reagan's presidential campaign.
He also became the president of the Young Republicans in the year 1977.
He then served as chief strategist for Thomas Kean's campaign for governor of New Jersey in 1981, as well as Kean's re-election campaign in 1985.
He coordinated the Northeast in Ronald Reagan's 1980 presidential campaign.
He and Paul Manafort partnered with Charlie Black established a political consulting and lobbying firm, Black, Manafort & Stone (BMS), becoming one of Washington D.C.'s first mega-lobbying firms.
He also served as a senior adviser to Jack Kemp's presidential campaign in 1987.
Time alleged him in April 1992 that he was involved with the controversial Willie Horton advertisements to aid George H.W. Bush's 1988 presidential campaign but he denied the accusation.
He and Manafort sold their business in the 1990s.
He was the president of Republican Senator Arien Specter's Republican presidential campaign in 1995.
With less than 2% support, Specter withdrew from the campaign.
He also worked as a lobbyist for Donald Trump on his casino business.
He was assigned a consultant post to the 1996 presidential campaign for Senator Bob Dole.
But he resigned following ads and racy swingers publications controversies.
He was the campaign manager of Donald Trump's campaign for President in the Reform Party in 2000 where Trump aborted the campaign.
His roles in the Brooks Brothers riot during the Florida recount still remains controversial.
Democrat Al Sharpton denied Stone's influence during the 2004 presidential campaign.
During the 2004 general election, then-DNC Chairman Terry McAuliffe accused Stone of forging the Killian memos but he denied the accusations.
He was also a top adviser at the time to Joseph Bruno forced his top adviser at the time, Stone to resign following the allegations that Stone had threatened to prosecute Bernard Spitzer, father of Democratic gubernatorial candidate Eliot Spitzer but he denied the accusations.
He founded Citizens United Not Timid in January 2008 which was an anti-Hillary Clinton 527 group with an intentionally obscene acronym.
Kristin Davis, a woman linked with the Eliot Spitzer prostitution scandal, run for the Libertarian Party nomination for governor of New York in 2010 where he was her campaign manager.
He was also supporting Republican gubernatorial candidate Carl Paladino at the time.
He also admitted providing support and advice to both campaigns.
He was an unpaid advisor to comedian Steve Berke for his 2011 campaign for mayor of Miami Beach, Florida.
He then changed his party affiliation from the Republican Party to the Libertarian Party in 2012.
He also considered running as a Libertarian candidate for governor of Florida in 2014.
He later announced in a statement that he would not run.
He was an advisor to Donald Trump's 2016 presidential campaign.
He then left the campaign on 8 August 2015 following the controversy.
He claimed he quit, whereas Trump claimed he fired Stone.
He remained an informal advisor to and media surrogate for Trump throughout the campaign.
He was also banned from appearing on CNN and MSNBC during the course of the 2016 presidential campaign.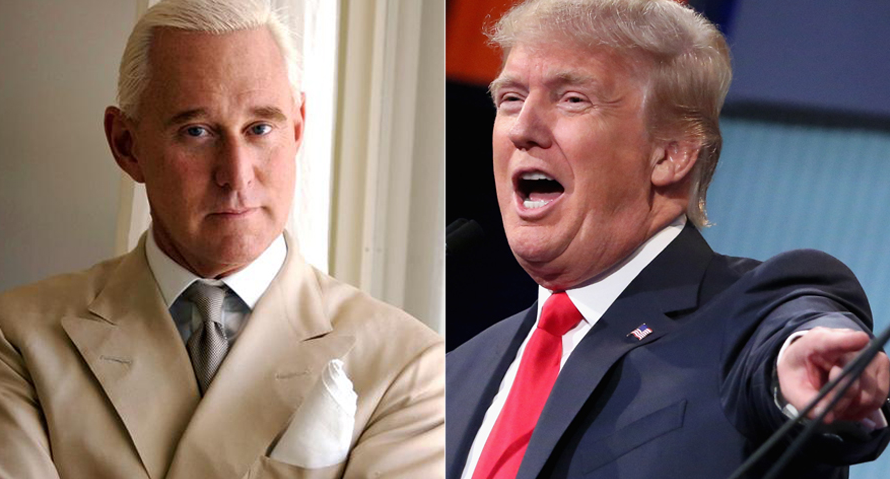 Source: @indienyc.com
He was banned for making a series of offensive Twitter posts disparaging television personalities.
He was referred to a CNN commentator as an "entitled diva bitch" and imagined her "killing herself", and called another CNN personality a "stupid negro" and a "fat negro".
Twitter later suspended his Twitter account.
He referred to Ted Cruz, Trump's Republican primary rival as a liar after Cruz criticized Stones of being Tump's henchman and dirty trickster for over 50 years.
He defended Trump's criticism of Khizr Khan, a Pakistani American whose son received a posthumous Bronze Star Medal and Purple Heart in Operation Iraqi Freedom in 2004.
He was the subject of a Netflix documentary film, Get Me Roger Stone in the year 2017.
The documentary focuses on his past and on his role in the 2016 presidential campaign.
He also promoted conspiracy theories during the 2016 presidential claiming that Clinton aide Huma Abedin was connected to the Muslim Brotherhood.
He accused John Podesta, campaign chairman of Hillary Clinton of having prior knowledge of publishing by WikiLeaks of Podesta's private emails obtained by a hacker.
He is accused of establishing a back-channel with WikiLeaks founder Julian Assange to obtain information on Hillary Clinton, which he has repeatedly acknowledged.
FBI investigated the Trump campaign about Stone's contact with Russian operatives which was reported by The New York Times in February 2017.
A January 2019 indictment claimed Stone communicated with additional contacts knowledgeable about WikiLeaks plans.
Stone's sentencing was initially set for February 6, 2020, after the judge rejected a prosecution request that he be immediately jailed.
On 9th December 2019, his lawyers requested sentencing be delayed until sometime after March 9.
On 10th February 2020, prosecutors from the U.S. Attorney's office for the District of Columbia requested that Stone be sentenced to seven to nine years in prison for his crimes after securing convictions on all seven charges.
On 20th February 2020, he was sentenced to 40 months in federal prison and a $20,000 fine for his crimes by the US District Court for the District of Columbia Justice Jackson.
Who is the wife of Roger Stone?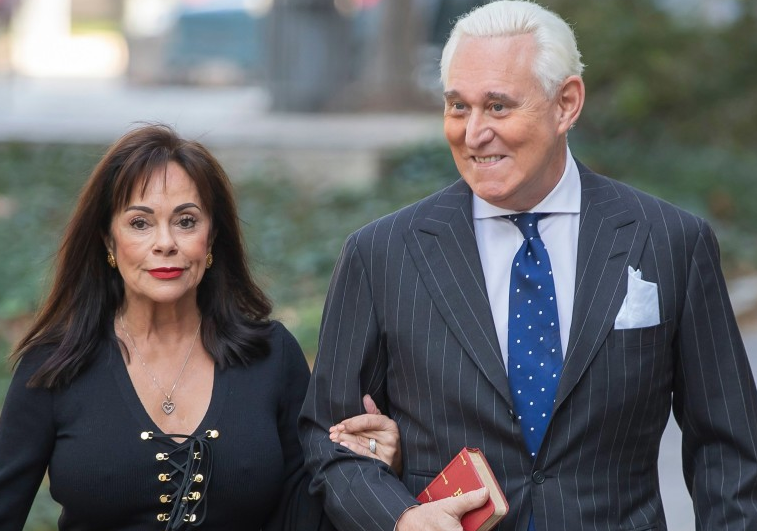 Source: @bbc.com
Roger Stone is a married man. He is currently married to Nydia Bertran. They got married in 1992 in Las Vegas. Previously, he was married to Anne Elizabeth Wesche. They got married in 1974. They together founded the group Republican for Choice in 1989. They ended their marriage in 1990. He has a son named Scott Stone. He is living a happy life as of today.
How tall is Roger Stone?
Roger Stone is a very handsome person at this age as well. He stands at a height of 1.78 m i.e. 5 feet and 10 inches. His other body measurements are unknown. He has average body build. He has blue eyes and his hair color is grey.
What is the Net Worth of Roger Stone?
The famous politician's net worth is estimated to have $20 million as of 2020 and his reported salary is $450,000 as of now. He is living a luxurious lifestyle from his earnings.