Rudy Gobert-Bourgarel famed as Rudy Gobert is a French professional basketball player who plays for the Utah Jazz of the National Basketball Association (NBA) and also represents French national basketball team. He plays at the center position. He was named an All-NBA Team member 2016-17. In the year 2010, he began his professional basketball career from French basketball club, Cholet. He was the 2017 NBA Block leader and NBA Defensive Player of the Year 2018 and was also included in NBA All-Defensive First Team twice in the year 2017 and 2018. He is a very talented player. He plays by wearing shirt number of 27. On March 11, 2020, a game between the Utah Jazz and the Oklahoma City Thunder was postponed right before tipoff after it was discovered that two players placed on the injury list due to illness Rudy Gobert and teammate Emmanuel Mudiay may have contracted SARS-CoV-2, the virus responsible for the 2019-2020 coronavirus pandemic.

Rudy Gobert reportedly tests positive for coronavirus

The growing concerns surrounding the coronavirus reached a tipping point in the NBA. The league announced it has suspended the season after Wednesday night's matchup between the Oklahoma City Thunder and Utah Jazz was postponed as a result of Jazz center Rudy Gobert testing positive for coronavirus, according to ESPN's Adrian Wojnarowski and The Athletic's Shams Charania. Players from Thunder were not tested and allowed to leave the building, but the Jazz is currently being quarantined inside of the Chesapeake Energy Arena. A group of people recently arrived to presumably test the players, per Royce Young of ESPN, and the Jazz is expected to stay at the arena while the tests are processed.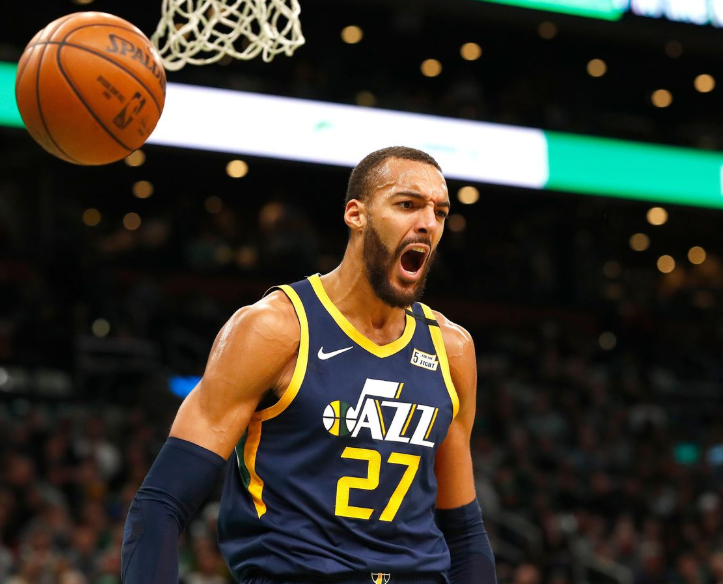 Source: @forbes.com
Tearful Rudy Gobert misses out on million-dollar bonus with All-Star snub
Utah Jazz center and reigning NBA defensive player of the year Rudy Gobert was moved to tears Friday when discussing his disappointment about not being selected for the All-Star Game, saying his omission suggests that excelling on defense isn't valued. Gobert is fourth in the NBA in blocks per game, and fifth in the league in rebounds per game. He's also shooting a league-high 65% from two-point range this season. Gobert was not selected by the league's coaches as an All-Star reserve; those picks were unveiled Thursday, though the vote totals were not disclosed. He also finished 17th in the weighted rankings for the three Western Conference frontcourt starting spots, which were announced last week. Gobert turned off his television and admitted he felt disrespected and frustrated by the All-Star snub. Gobert has not yet made an All-Star team in his six-year NBA career. "I think it's disrespectful. I feel disrespected," Gobert said. "It's disrespectful not only toward me but toward the team, the organization and toward the game.
Why is Rudy Gobert Famous For?
Rudy is famous for being the NBA Blocks leader in 2017 and for being the best paid French athlete ever.
Early Life, Family, Birthday, Education, Siblings, Nationality, Ethnicity, Wikipedia, Bio of
Rudy Gobert was born on 26th June 1992 with the birth name of Rudy Gobert-Bourgarel. He was born to Rudy Bourgarel and Corrine Gobert in Saint-Quentin. His father was also a professional basketball player from Guadeloupe who played for the French national team in the 1980s. He was born in Aisne, France. He holds French nationality. He grew up in Saint-Quentin. His religion is Christian. His ethnicity is White. His current age is 26 and he will be 27 on his upcoming birthday in June as of 2019. His other early life background such as siblings details, childhood and more will be updated soon.
Regarding his education, he attended Marist College in New York.
Height, Weight and Other Body Measurement
Rudy Gobert is a very handsome basketball player with athletic body build. He stands at a height of 2.16 m i.e. 7 feet and 1 inch. He is comparatively taller basketball player. He has a body weight of 245 lbs i.e. 111 kg. With his charming smile, he attracts a lot of people towards him. His other body measurement such as dress size, shoe size and more will be updated soon.
How Rudy Gobert Began His Career In Basketball?
In the year 2007, Rudy Gobert began his career by joining Cholet training center.
He started playing for the Cholet Basketball junior team.
At Cholet, he mostly played for the club junior team. He played few games for Cholet senior team.
Later, he declared for the 2013 NBA draft where Denver Nuggets selected Gobert with the 27th overall pick and traded him to the Utah Jazz.
In December 2013, he was assigned to the Bakersfield Jam of the NBA Development League.
He finished 2014-15 season as the third in the NBA Most Improved Player.
Due to MCL injury, he later missed 18 games in the 2015-16 season.
After his recovery, he signed a four-year deal for $102 million with Jazz in October 2016.
He also became the best paid French athlete ever in terms of salary per year.
He became the fifth NBA players to have a 30-game streak of at least 10-rebounds in January 2017.
He moved to the 9th position on the all-time block list with 499 blocked shots in February 2017.
He was named in the All-NBA Second Team for the first time in his career.
He also earned NBA All-Defensive First Team honors at the end of 2016-17 season.
Once again, he was named in the NBA All-Defensive First Team at the end of 2017-18 season.
He was named the NBA Defensive Player of the Year 2018.
He recorded a season-high seven blocks in a 117-96 win over the Portland Trail Blazers on 25th December 2018.
He had a career-high eight assists in a 110-102 win over the Chicago Bulls on 12th January 2019.
He also had 23 points and 22 rebounds in a 129-109 win over the Los Angeles Clippers on 16th January 2019.
How was the International Career of Rudy Gobert?
He represented French junior national team in the FIBA Europe Under-18 Championship.
He finished as the team's best scorer and rebounder in the competition.
He also won a bronze medal at the 2011 FIBA Europa U20 Championship and the silver medal at the 2012 FIBA Europe U20 Championship.
He was named to the All-Tournament team in the 2012 FIBA Europe U20 Championship.
He helped France to win a bronze medal at the 2014 FIBA Basketball World Cup and 2015 European Championships.
He also represented France at the 2016 Olympic Game in Rio.
Marital Status, Affairs, Children's, Sexual Orientation
Rudy Gobert is a very secretive person as he has not mentioned his love life to the media. He is not married yet and he is still to get married. No other information regarding his relationship affairs has come to the public but it will be updated soon. He has managed to maintain his personal life private. He is reportedly single. At present, he is living a happy life without any disturbances. His sexual orientation is straight.
Net Worth, Salary and Source of Income
The net worth of Rudy is surely in millions. Utah Jazz extended his contract in October 2016 signing a four-year deal for $102 million. His annual salary is $22.4 million as of 2019. He was the best paid French athlete ever, in terms of salary. As of 2018, he has an estimated net worth of $1.5 million as of 2019. His major source of earning is from his basketball career.