Sage Steele is an American television anchor who is famous for being the former co-host of ESPN's 12pm (ET) SportsCenter. Her hosting roles extended to SportsCenter on the Road, covering major events like the Super Bowl and The Masters, as well as a four-season stint on NBA Countdown on ESPN and ABC until 2017. Prior to her NBA role, she spent five years as a full-time SportsCenter host, contributing to shows like ESPN First Take, Mike & Mike in the Morning, and SportsNation. Steele's contributions included hosting SportsCenter's daytime coverage of the NBA Finals in 2012 and 2013, and she covered every NBA Finals from 2012 to 2020.
Sage Steele Biography - Where is she from?
Born on November 28, 1972, Sage Steele is from Panama Canal Zone, USA. Her birth name is Sage Marie Steele. She holds American nationality and comes from an African-American background, identifying as black race. Her parents are Gary Steele (African-American) and Mona Steele (of Irish-Italian descent), and she has two brothers, including Chad Steele, who holds a position at the NFL's Baltimore Ravens. She marked her 50th birthday in 2022.
She attended schools in Colorado Springs and Carmel, Indiana, and graduated from Indiana University Bloomington in 1995 with a Bachelor of Science degree in sports communication.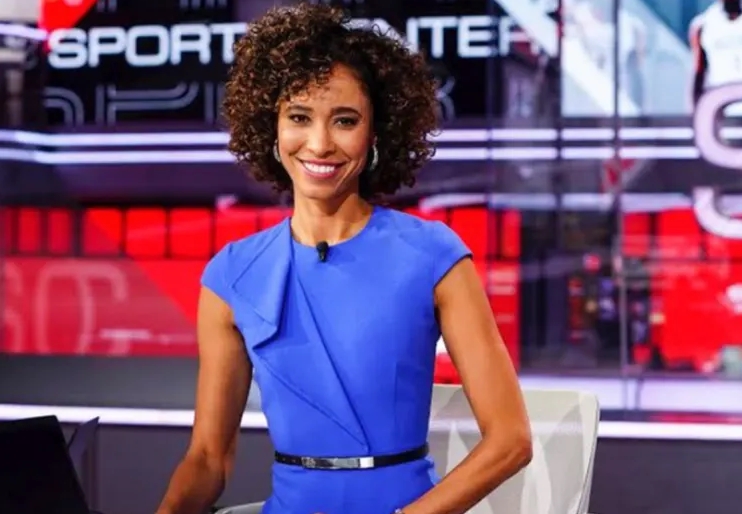 Sage Steele Career - Television Anchor
Sage Steele's TV sports career began at WSBT-TV in Indiana (1995-1997) as a news producer/reporter.
She then moved to WISH-TV (1997-1998) in Indianapolis as a weekend sports anchor, covering teams like Colts and Pacers.
Later, at WFTS (1998-2001) in Tampa, she reported with Jay Crawford and Scott Hanson, and Fox Sports Florida, covering Bucs, Magic, Lightning, and USF Bulls.
Steele's journey led her to Comcast SportsNet Mid-Atlantic as anchor/reporter for SportsNite (2001-2007).
She then joined ESPN in 2007, co-anchoring SportsCenter and later hosting NBA Countdown (2013-2017).
Steele also co-hosted Miss America 2017 & 2018, hosted Scripps National Spelling Bee (2010-2013), and guest-hosted The View in 2014.
Sage Steele became the noon co-anchor alongside Matt Barrie in February 2021.
She was previously the anchor for the 6 p.m. edition and SportsCenter:AM.
However, in October 2021, she was suspended with pay by ESPN due to remarks made on a podcast.
Following an apology, she filed a lawsuit against ESPN in 2022 but the dispute was settled in August 2023, leading to her departure from the network.
Sage Steele Husband & Children
Sage Steele was married to her husband, Jonathan Bailey on October 30, 1999, and they had three kids: Quinn, Evan, and Nicholas. They got divorced in 2019. Right now, Sage is single, not in a serious relationship, and might find someone new soon. She is straight by sexual orientation.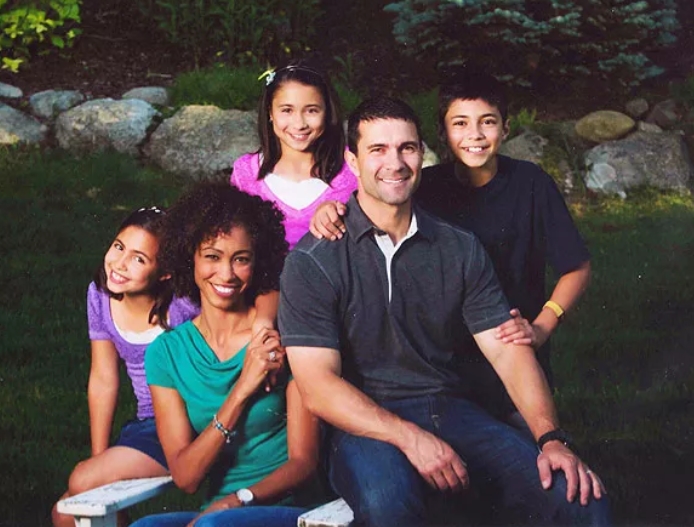 Sage Steele Salary & Net Worth
Sage Steele, a renowned TV anchor, boasts a net worth of $1.5 million in 2023, a testament to her over two decades of dedicated work in the field. Widely recognized as one of the most successful anchors in the USA, she began her journey as a reporter in 1995 and rose to prominence as a celebrated TV host and anchor. Notably, she held court over every NBA finals from 2012 to 2020, amassing both fame and fortune. With astute financial acumen, she invested in properties worth millions over her illustrious career, resulting in a substantial bank account.
With an annual income of around $800K primarily sourced from the entertainment industry, Sage leads a lavish lifestyle, residing in an opulent home and indulging in luxury cars, reflecting her well-deserved success. In March 2021, Steele put her home in Avon, Connecticut on the market for $1.6 million, after doing extensive renovations. She was on the board of the Pat Tillman Foundation. She was named to the board of the V Foundation for cancer research in 2019.
Sage Steele Hair, Height & Weight
Sage Steele is a TV personality with a great sense of humor, standing at 5 feet 10 inches tall (178 cm) and weighing 132 pounds (60 kg). Her charming appearance includes curly dark brown hair, captivating eyes, and a slim body type with measurements of 32-24-34 inches, which all contribute to her appeal on screen. She has revealed that her hair is 100% gray and she visits the salon every 3 weeks to dye them dark brown. She wears a shoe size of 11 US.