About Silvio Berlusconi
Silvio Berlusconi was an influential figure in Italy, serving as Prime Minister in four governments and holding various political positions throughout his career. He was a media tycoon, billionaire, and owner of AC Milan. His net worth was estimated at $6.8 billion at the time of his death in June 2023. He was known for his dominant role in Italian politics, leading the centre-right party Forza Italia and its successor The People of Freedom. Berlusconi served as Prime Minister for a total of nine years, making him the longest-serving post-war Prime Minister in Italy's history. He faced legal challenges, including a conviction for tax fraud, but continued to lead his party and returned to the political scene after his ban. Berlusconi's leadership style and actions were controversial, drawing both admiration and criticism for his populist approach and alleged conflicts of interest. He was nicknamed "Il Cavaliere" or "The Knight", because in 1977 he became the youngest member of the Ordine Cavalleresco al Merito del Lavoro, an Italian order of knighthood reserved to entrepreneurs. At the age of 86, Berlusconi passed away on the morning of 12 June 2023 at San Raffaele Hospital in Milan, after being hospitalized once again on 9 June 2023.
Silvio Berlusconi Early Life & Family
Silvio Berlusconi took birth on September 29, 1936 in Milan, Italy. He held Italian nationality and his ethnicity was Italian-White. He hailed from a middle-class family, with his father Luigi Berlusconi working as a bank employee and his mother Rosa Bossi as a housewife. Berlusconi was the eldest among three siblings, having a sister named Maria Francesca Antonietta and a brother named Paolo. In 2022, he celebrated his 86th birthday. With a zodiac sign of Libra, Berlusconi followed the Christian religion.
Silvio Berlusconi pursued his higher education at the Universita Statale in Milan, graduating with honors in Law in 1961. During his time at the university, he developed a talent for playing bass and began performing as a cruise ship crooner.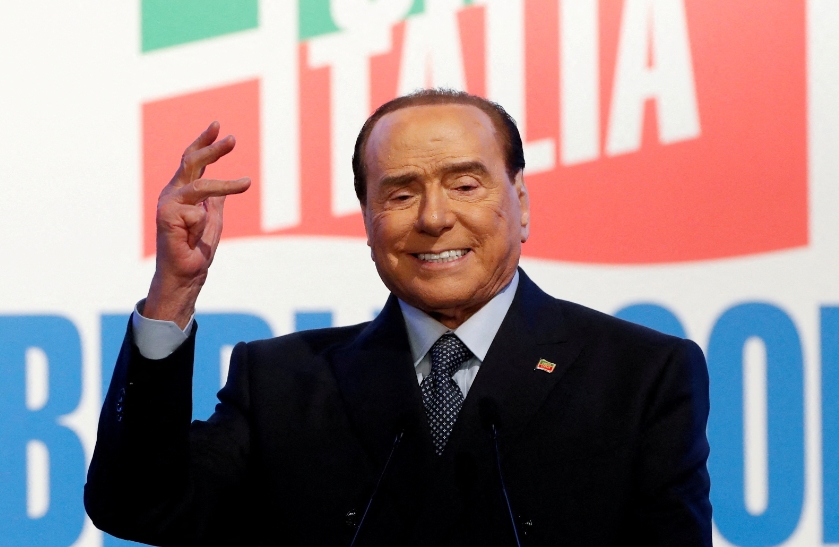 Silvio Berlusconi Career
Silvio Berlusconi began his career in the construction industry, where he gained recognition for overseeing the construction of a large residential apartment building project in Milan during the late 1960s.
Expanding into the media realm, he established a cable television company called Telemilano in 1973. Setting his channel apart from others, Berlusconi introduced foreign shows to Italian audiences. His success in the media industry led him to acquire more channels and relocate his station to the center of Milan.
In 1978, he founded Fininvest, his first media group, which owned multiple local TV stations across the country.
Berlusconi further expanded his media empire by establishing Italy's first private national network, Canale 5, in 1980, and subsequently acquiring Italia 1 in 1982 and Rete 4 in 1984. However, his channels faced restrictions on broadcasting news and political commentary following legal complications in 1985. This was resolved in 1990 with the Mammi Law, which granted the channels full national TV status.
Concurrently, Berlusconi entered politics and formed the political party Forza Italy in 1993.
He was elected to the Chamber of Deputies in the following year and went on to win the position of Prime Minister in the 1994 parliamentary elections.
Despite a brief tenure, his government faced internal conflicts within the coalition, leading to its downfall.
Berlusconi remained active in politics, regaining prominence as the leader of the right-wing coalition in the 2001 parliamentary elections.
During his campaign, he made promises to simplify the tax system, improve employment rates, invest in public works, enhance pensions, and reduce crime rates.
In the 2001 parliamentary elections, Silvio Berlusconi's party achieved a remarkable victory, receiving 45.4% of the votes and defeating the center-left candidate Francesco Rutelli to become the Prime Minister. However, his tenure as Prime Minister was marked by controversy and criticism.
While Berlusconi asserted that he fulfilled most of his electoral promises, his opponents argued that he had failed to deliver. The media also played a role in criticizing his government.
In the subsequent 2006 parliamentary elections, he narrowly lost to Romano Prodi, the leader of the center-left opposition party.
Prodi served as Prime Minister for two years before his cabinet collapsed, leading to a political crisis.
In the 2008 parliamentary elections, he formed a coalition with Lega Nord and the Sicilian Movement for Autonomy, known as The People of Freedom, and was sworn in as Prime Minister for the third time.
He pledged to improve Italy's economy by combating tax evasion, reforming the justice system, and reducing public debt. However, his tenure was marred by the country's escalating fiscal problems and declining parliamentary majority.
Consequently, he resigned from the premiership on November 16, 2011, and was succeeded by Mario Monti.
In the 2013 parliamentary elections, Berlusconi led a coalition without aiming to become Prime Minister, as per an agreement with Lega Nord, and received 29% of the votes.
In June 2013, he announced the foundation of his party Forza Italia (FI), and its opposition to the grand coalition government led by Enrico Letta. This caused dissent within the movement, leading to the split of the governmental wing of Forza Italia, which formed a new party called the New Centre-Right.
On 1 August 2013, he was convicted of tax fraud and received a prison sentence, although he was exempted from direct imprisonment due to his age.
He served his sentence through unpaid community work and faced a ban from public office for six years.
Despite this, he remained the leader of Forza Italia. In March 2017, he expressed his intention to run for the premiership once again in the 2018 Italian general election, although his party placed behind Lega per Salvini Premier and no coalition won a majority.
In January 2019, he announced his candidacy for the 2019 European Parliament election in Italy. However, his party Forza Italia received its worst result in history, securing only 8.8% of the votes.
Despite this, Berlusconi was elected as a member of the European Parliament, becoming the oldest member of the assembly.
He was also considered a potential nominee in the 2022 Italian presidential election, but Sergio Mattarella ultimately won the election.
From 2019 to 2022, he had the lowest attendance rate among MEPs, largely due to dealing with symptoms after contracting COVID-19 in September 2020.
Throughout his political career, Berlusconi has faced numerous accusations, including embezzlement, tax fraud, false accounting, bribery, and involvement in sex scandals.
Silvio Berlusconi Awards and Achievements
Italy: Knight of the Order of Merit for Labour (1977-2014); Berlusconi resigned from this order voluntarily on 18 March 2014.
Austria: Grand Decoration in Gold with Sash of the Decoration of Honour for Services to the Republic of Austria (2002).
Holy See: Knight Grand Cross of the Order of Pius IX (2005).
Portugal: Grand Cross of the Order of Prince Henry (31 January 2005).
Poland: Grand Cross of the Order of Merit of the Republic of Poland (2002).
Latvia: Grand Officer of the Order of the Three Stars (2005).
Libya: Recipient of the Al-Fateh Medal (2009).
Bulgaria: Grand Cross of the Order of the Balkan Mountains (15 October 2009).
Malta: Honorary Companion of Honour of the National Order of Merit (2004).
Norway: Grand Cross of the Royal Norwegian Order of Merit (2001).
Romania: Grand Cross of the Order of the Star of Romania (2002).
Saudi Arabia: Member 1st Class of the Order of Abdulaziz al Saud (22 November 2009).
House of Bourbon-Two Sicilies: Knight Grand Cross of the Sacred Military Constantinian Order of Saint George
Silvio Berlusconi Net Worth
Silvio Berlusconi, a prominent figure in Italian politics, served as a Senator in Italy. He amassed significant wealth throughout his life, with a net worth of US$6.8 billion as of June 2023, making him the third-wealthiest person in Italy at the time of his death. He shared his fortune with his five children. Forbes reported in 2012 that he was Italy's sixth-richest man with a net worth of $5.9 billion. He earned an annual income of over $1 billion. He held significant assets in television, newspapers, publishing, cinema, finance, banking, insurance, and sports. He was renowned for his accomplishments as the longest-serving prime minister of Italy since the Second World War. His early successes were in the property industry during the 1960s, followed by the establishment of Italy's first private TV network, which later became Mediaset, the nation's largest private broadcaster. He also ventured into publishing, acquiring Mondadori, the country's main publisher, in 1990, as well as investing in cinema with the production company Medusa. Berlusconi further diversified his investments, including ownership of AC Milan, one of Italy's top football clubs, for 31 years before selling his stake to Chinese investors in 2017. He subsequently became the owner of Serie A side Monza in 2018. All of Berlusconi's investments were consolidated under the umbrella group, Fininvest.
Silvio Berlusconi Wife & Children
Silvio Berlusconi experienced two marriages throughout his life. His first marriage was to Carla Elvira Dall'Oglio in 1965, and together they had two children named Marina (born 1966) and Pier Silvio (born 1969). However, their marriage ended in divorce in 1985. In 1990, he entered into his second marriage with actress Veronica Lario (born Miriam Bartolini), with whom he had three children: Barbara (born 1984), Eleonora (born 1986), and Luigi (born 1988). Their wedding was a notable social event, with notable figures such as Bettino Craxi, a former prime minister, serving as one of the best men. However, the couple's relationship faced challenges, and in May 2009, Lario announced her intention to file for divorce. Eventually, on Christmas Day in 2012, he was ordered to pay Lario $48 million per year in a divorce settlement, while retaining ownership of their $100 million home where they lived with their children. At the time of his death, Berlusconi was single.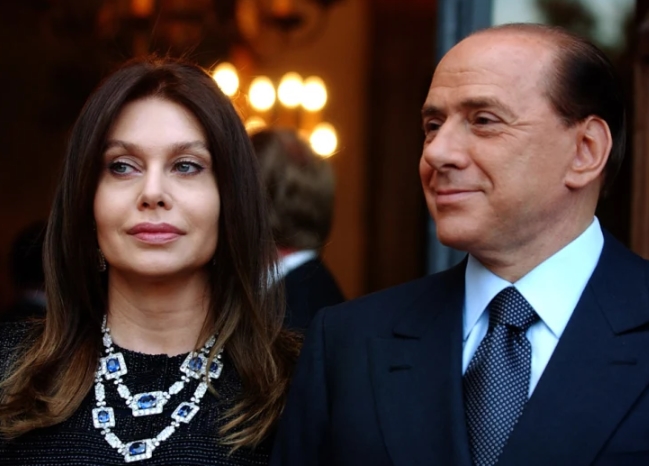 Silvio Berlusconi Death Cause
On 27 March 2023, Berlusconi was admitted to San Raffaele Hospital due to pains and stayed for three days. In April, he was hospitalized again at the same hospital, where he received intensive care for breathing problems caused by severe pneumonia related to leukemia. Berlusconi began chemotherapy on 6 April. In May, a video message from him was played at a Forza Italia party convention, where he expressed his readiness to return to work after a month-long hospitalization, emphasizing his continuous dedication even while in the hospital. On the morning of 12 June 2023, at the age of 86, Berlusconi passed away at San Raffaele Hospital in Milan, after being hospitalized once again on 9 June 2023.
On December 13, 2009, Silvio Berlusconi was attacked during a rally in Milan when a man threw an alabaster statuette at him, causing facial injuries. The attacker was identified as Massimo Tartaglia, a mentally ill individual with no criminal record. Berlusconi was subsequently hospitalized and received widespread condemnation for the attack. In the following days, another individual with a history of mental illness was apprehended while attempting to access Berlusconi's hospital room. Berlusconi was discharged from the hospital on December 17, 2009.
On June 7, 2016, Silvio Berlusconi was hospitalized for heart problems and underwent a heart surgery to replace a defective aortic valve. In September 2020, amid the COVID-19 pandemic, he tested positive for COVID-19 and was admitted to the hospital with bilateral pneumonia. He was discharged but later hospitalized again in May 2021 due to long-term consequences of COVID-19. In January 2022, Berlusconi was hospitalized for 8 days due to a severe urinary infection, which prevented his participation in the presidential elections.
Silvio Berlusconi Height & Weight
Silvio Berlusconi was a handsome man with an average body type. He stood at a height of 1.65m (5' 5") and weighed approximately 70 kg (154 lbs). He had brown hair and light brown eyes, which added to his attractive appearance. He had a leadership quality leading him to politician and businessman.