Suga Biography
A famous South Korean rapper, songwriter, and record producer is named Suga whose birth name/real name goes by 'Min Yoon-gi'. He is best recognized for being a member of the South Korean pop idol group BTS since the year 2013. He released his very first solo mixtape "August D" in 2016 which reached number three on Billboard's World Albums Chart through reissuing. After that, he released his next mixtape "D-2" in the year 2020 which peaked at number 11 on the US Billboard 200, number seven on the UK Albums Chart, and number two on Australia's ARIA Album Chart. His stage name Suga (슈가) is derived from the first syllables of the term shooting guard (슈팅 가드), the position he played in basketball as a student. He adopted the alias Agust D in 2016 for his mixtape, which is derived from the initials DT, short for his birthplace, Daegu Town, and "Suga" spelled backward. More than 70 registered songs are credited to him by the Korea Music Copyright Association. Additionally, he is also a pianist and produces hip-hop and R&B music. Moreover, he was ranked the 13th most preferred idol of the year for 2017. In the 2018 and 2019 surveys, he ranked 7th and 9th, respectively. Scroll down to get more information regarding his Full Biography, Facts, Untold Story, Personal Life Details & more.
Suga is famous for being a rapper, songwriter, and record producer. He is also best known for his lyrics which involve themes that are "full of dreams and hope," conceived with the intent of his music becoming "many people's strength" and being a member of the South Korean Pop Idol group BTS since 2013.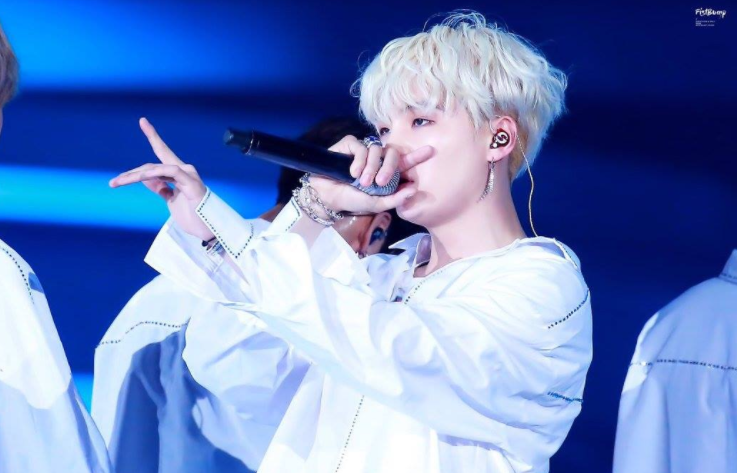 Source: @kpop.asiachan.com
On 9th March 1993, Suga was born with the birth name/full name/real name of Min Yoon-gi. His place of birth is Daegu, South Korea. He holds South Korean nationality and his ethnic background is Asian. His race is White. Pisces is his Zodiac sign. Talking about his siblings, he has an older brother named Min Geum-jae. His parents/family details and religion is still unclear yet. As of 2020, he celebrated his 27th birthday. On his 25th birthday, he donated beef to 39 orphanages as "ARMY", the name of BTS' fanbase. For his 26th birthday in 2019, he donated KR ₩100,000,000 or US$88,000, to the Korea Pediatric Cancer Foundation alongside 329 BT21 Shooky dolls. Concerning his educational background, he went to the Taejeon Elementary School. After that, he got enrolled at the Gwaneum Middle School. He has also studied at the Apgujeong High School. Plus, he has also enrolled in a course provided by Global Cyber University. He showed his interest in rap after hearing "Reggae Muffin" by Stony Skunk, stating that it was different from anything he had ever heard before. After hearing Epik High, he decided to become a rapper.
Suga is a handsome rapper, songwriter, as well as a record producer whose body build, is slim. He has a tall height of 5 ft 9 in or 176 cm. His balanced weight consists of 65 Kg or 143 lbs. He has black hair color which is natural. Whereas he has dyed his hair with different hair colors. Similarly, his eye color is also black. He has got a very good look attracting a lot of people towards him. Whereas his other body measurements such as chest size, biceps size, waist size, and more are still to get revealed yet. Overall, he has got a healthy body. He was diagnosed with appendicitis, underwent surgery at Severance Hospital in Sinchon on the 9th, and was discharged on the 17th of December 2013. He was later hospitalized again on the 26th due to inflammation in the surgical site. He suffered an ear injury when he tripped over a door threshold in December 2016. He underwent surgery to repair a torn labrum (reverse Bankart tear) in his left shoulder, announcing that he would take a subsequent break in order to fully recover in November 2020.
Suga Career Timeline
When Min Yoon-gi was at the age of thirteen, he started writing music lyrics and he also learned MIDI. After on, he worked a part-time job at a recording studio by the age of 17.
Later on, he started composing and arranging music, rapping as well as performing.
In 2010, he produced "518-062", a song commemorating the Gwangju Uprising being the part of hip hop crew D-Town.
Joining the company as the music producer, he trained under Big Hit Entertainment for three years alongside J-Hope and RM.
After then, he made his debut as a member of BTS on Mnet's "M Countdown" with the track "No More Dream" from their debut single album "2 Cool 4 Skool".
He also released the solo intro entitled "Intro: The Most Beautiful Moment in Life" for BTS's EP "The Most Beautiful Moment in Life, Pt. 1" which was released on 17th April 2015.
Pt. 1's follow-up EP, "The Most Beautiful Moment in Life, Pt. 2", featured another intro performed by Suga, called "Intro: Never Mind" which was released on 15th November 2015.
He also served as the intro for BTS' 2016 compilation album "The Most Beautiful Moment in Life: Young Forever".
What's more, he released "Interlude: Shadow" as part of the album rollout for "Map of the Soul: 7". The song "O!RUL8,2?" was released on 10th January.
Later, he released two solo tracks; the first entitled "First Love" which appeared on BTS' 2016 studio album Wings, and released the next song "Trivia: Seasaw" on the 2018 compilation album "Love Yourself: Answer".
On 15th August 2016, he released a free self-titled mixtape via SoundCloud. He then composed the song "Wine" for singer Suran, whom he had previously worked with for a single on his mixtape in 2017. The record peaked at #2 on the Gaon Digital Chart and won best Soul/R&B track of the year at the Melon Music Awards on 2nd December 2017.
He then re-released his mixtape for digital purchase and streaming in February 2018 which reached #3 on Billboard's World Albums Chart, #5 on the Heatseekers Albums chart, and #74 on the Top Album Sales chart.
He then gave a rap feature on Lee So-ra's single "Song Request". After that, he produced a track for Epik High's "Sleepless" in EP titled "Eternal Sunshine" in February. He also co-wrote and produced the digital single, "We Don't Talk Together", for singer Heize, which she released on 7th July.
Famous American singer, Halsey released the son "Suga's Interlude" in December for her third studio album "Manic".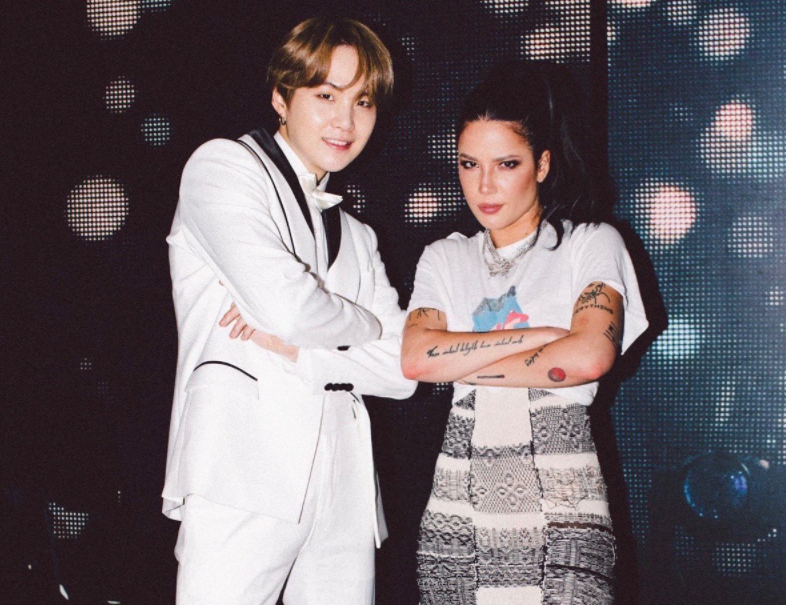 Source: @kissasian.is
IU released the digital single "Eight" produced by Suga on 6th May 2020 which debuted at number one on both the Gaon Digital Chart and Billboard World Digital Songs chart.
Then, he released his second mixtape, "D-2" along with the music video for its lead single "Daechwita" on 22nd May peaking at #76 on the US Billboard Hot 100 chart. Whereas, the mixtape debuted at number 11 on the Billboard 200 becoming the highest-charting album by a Korean soloist in the US and reaching the top 20 in the UK.
Awards and Achievements of Suga
Suga was awarded the fifth-class Hwagwan Order of Cultural Merit as a member of BTS by the President of South Korea along with other members of the group. For his work on the track "Wine", he received the "Hot Trend Award" in 2017. He also won the Mnet Asian Awards under the category of Best Collaboration for "Song Request" in 2019 and the award for "Eight" in 2020.
Suga Personal Life and Family
Reflecting the marital status of Suga, he is not married yet and he is still to get married yet. But this handsome rapper's name has been linked with singer Suran on numerous occasions. Also, the duo was spotted wearing a couple of items. He has produced her single Wine, which was released in April 2017 and it was claimed that they had grown close while working on the song. Suran had posted Shine word on her Instagram, which many felt referred to Suga's birth date. She also posted a lengthy post on her Instagram account insisting that she wasn't dating Suga. As of today, he is assumed to be single as there are no rumors about him dating anyone as of today. He is enjoying his present life happily without any disturbances. His sexual orientation is straight and he is not gay.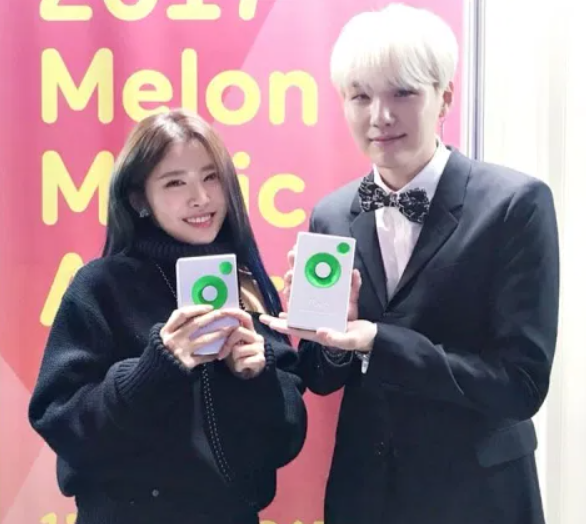 Source: @metro.co.uk
How much is Suga (Min Yoongi) worth?
Suga is a famous rapper, songwriter, and record producer whose net worth is estimated to have around $20 million as of 2020. Aside from working on BTS's music, he has also composed songs for artists including Suran and Lee So-ra. His writing and producing credits can be found on more than 70 songs. In May 2020, he released the mixtape D-2 under the name Agust D. On 27th February 2020, Suga donated KR ₩100,000,000 to Hope Bridge National Disaster Relief Association for preventing COVID-19 and helping the difficulties from his hometown Daegu. It was reported that the BTS group made $170 Million through the tour. "Thanks largely to these touring revenues, between June 2019 and June 2020, the BTS members earned a combined $50 million, roughly $7 million per member." His major source of wealth comes from the music industry and he is satisfied with his earnings. Whereas his exact salary is still to get disclosed yet but there is no doubt in the mind of his followers that he is making a good amount of money from his career. Suga purchased a US$3 million luxury apartment in 2018 which is located in South Kore. As of 2019, he was seen living in Hannam-dong, Seoul, South Korea.