Tippi Hedren is an American actress, animal rights activist, and former fashion model. She is the recipient of the Golden Globe Award for New Star of the Year in 1964. She is one of the well-recognized living Legacy actress of Hollywood. Her Instagram account is tippihedrenofficial and has 25K followers and twitter account is Tippi Hedren and has 10.5K followers. Scroll down to get more information regarding her full biography, net worth, birthday, wiki, husband, family details, career, and many more.
Famous For
For her appearance in the films "The Birds" (1963) and "Marnie" (1964).
For her own nonprofit organization, the Roar Foundation established in 1983 which supports the Shambala Preserve, an 80-acre (32 ha) wildlife habitat that enables her to continue her work in the care and preservation of lions and tigers.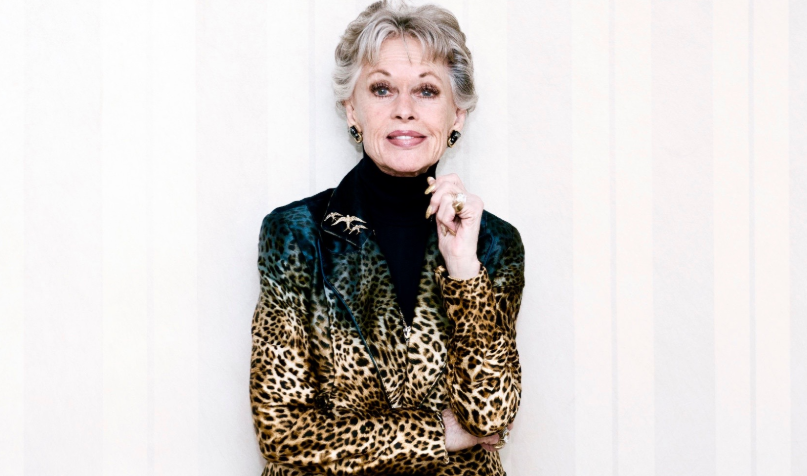 Source: @filmmakermagazine.com
Early Life of Tippi Hedren
Tippi Hedren was born on January 19, 1930 in New Ulm, Minnesota, U.S.A. Her birth name is Nathalie Kay Hedren. Her Zodiac sign is Capricorn. She holds an American nationality and belongs to the mixed ethnicity of Swedish, German, and Norwegian Descent. Her father's name was Bernard Carl Hedren and his mother was Dorothea Henrietta Hedren. She has an older sister named Patricia Hedren. She moved to Minneapolis City from her birthplace with her parents and sister when she was just four years old and attended West High School there.
Career of Tippi Hedren
Tippi Hedren began her career as Modelling at the age of 20. In 1950 When she was 20 she went to New York City to pursue her Modelling career and immediately joined the Eileen Ford Agency. The same year she also got a chance to play in the film and made her unofficial film debut in the musical comedy film "The Petty Girl".
She had a highly successful modeling career during the 1950s and early 1960s, appearing on the covers of Life, The Saturday Evening Post, McCall's, and Glamour, among others.
Many film directors and makers were interested in Hedren's due to her fame in modeling and offered her
acting role in several films but Hedren refuse to take the offers as she was more interested in modeling rather than acting.
It was film director Alfred Hitchcock who provided Hedren with film offer as Alfred was very much interested in one of Hedren's commercial acts and Hedren too accepted his offer and sign a contract with him.
Then She made her screen debut in Hitchcock's movie "The Birds" in 1963 playing as a leading role.
The following year she also portrayed in Hitchcock's next film "Marnie" and it was the last film project between Hitchcock and Tippi as their relationship became to get cold due to several controversies that arose between them.
Hedren's first feature film appearance after Marnie was in "A Countess from Hong Kong" in 1967 directed by Charlie Chaplin.
From 1970 to 1971, she guest-starred twice on The Courtship of Eddie's Father.
In 1973, Hedren played a teacher of an experimental sex school in The Harrad Experiment.
From 1974 to 1981 she along with her husband Noel Marshall worked in the film project "Roar" and it was finally released in 1981. In 1982, she co-starred with Leslie Nielsen in Foxfire Light.
In 1994, Hedren appeared in the "The Birds II: Land's End".
From 1994 to 1996, Hedren had a guest-starring role in Dream On.
After appearing in a number of little-exposed films between 1999 and 2003, Hedren played her role in the 2004 comedy film "I Heart Huckabees".
In 2012, she appeared in "Free Samples" an indie film.
In 2013, she made an appearance as herself in the fourth-season finale of Cougar Town.
Hedren published her autobiography, Tippi: A Memoir in 2016.
In 2018, at age 88, Hedren became the new face of Gucci's timepieces and jewelry and starred as a mysterious fortune teller in the brand's commercial ad, The Fortune Teller.
As of 2020, Herden maintains more than a dozen lions and tigers in her private wild animal reserve area
"Shambala Preserve" which was established in 1983 as a nonprofit "The Roar Foundation" and her granddaughter Dakota Johnson is involved in their care.
Achievement and Awards
Hedren's first achievement in her Acting career was the Golden Globe Award for New Star of the Year in 1964. Since then she had won numerous accolades until present:-
1994: Life Achievement Award in France at The Beauvais Film Festival Cinemalia
1999: Woman of Vision Award from Women of Film and Video in Washington, D.C
2002: Best Actress Award for the short film Tea with Grandma from the New York International Independent Film Festival
2003: Received a star on the Hollywood Walk of Fame
2004: Best Actress Award for the short film Rose's Garden from the Los Angeles TV Short Film Festival
2005: Living Legacy Award
2011: "The Women Together Award" from the United Nations
2014:The Women's International Film & Television Showcase Foundation International Visionary Award
2018: "Friend for Life Award" from The Palm Springs Animal Shelter
Personal Life of Tippi Hedren
Tippi Hedren is a Married woman. In 1952, Hedren met and married 18-year-old future advertising executive Peter Griffith. Their daughter, actress Melanie Griffith, was born on August 9, 1957. They were divorced in 1961. On September 22, 1964, Hedren married her then-agent Noel Marshall, who later produced three of her films; they divorced in 1982. In 1985, she married steel manufacturer Luis Barrenechea, but they divorced in 1995. Hedren was engaged to veterinarian Martin Dinnes from 2002 until their breakup in mid-2008. In September 2008, Hedren told "The Sunday Times". She is still waiting for someone who will give support and love and always stands by her side.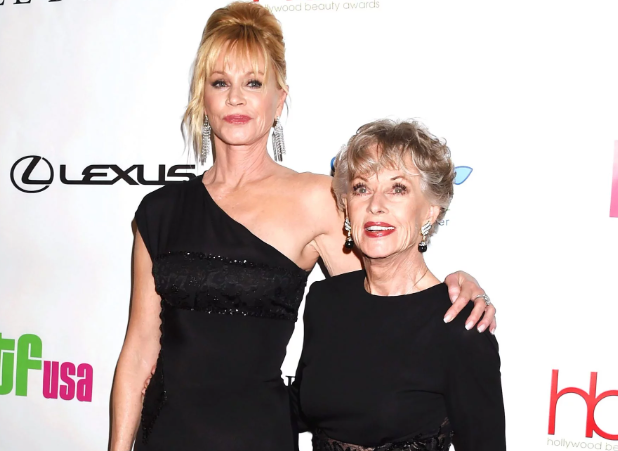 Source: @ew.com
Net worth of Tippi Hedren
As of 2020, The net worth of Tippi Hedren is estimated to be the US $20 million and earns an income of $3.37 Million per year. Her primary income sources include her acting career in film projects and TV series. She also earns additional income through her endorsement deal with Italian luxury fashion brand "Gucci". She owns a mansion in Los Angeles, California.
Body Measurement of Tippi Hedren
Tippi Hedren is a beautiful looking woman with well-maintained body physique. Despite her old age, she still looks attractive and stylish and fashionable. She stands 5 ft 5 inches tall and weighs 58 Kg. Her body measurement is 33-24-32 inches. Her bra size is 34C. Her eye color is Hazel and her hair color is Blonde. She has a straight sexual orientation.
Facts of Tippi Hedren
Hedren was a big fan of cats and would own several housecats over the course of her life
Speaking of Sean Connery, Hedren would later admit that Connery had been her first celebrity crush
Hedren is one of only two performers in the history of Hollywood to have worked with both Alfred Hitchcock and Charlie Chaplin
Her father, Bernard, was a store owner by trade, while her mother, Dorathea, worked as a school teacher.
Aside from Dakota Johnson, Hedren has two other grandchildren, both children of well-known actors. One is Alexander Bauer (son of Steven Bauer) and Stella Banderas (daughter of Antonio Banderas).