An American actor and film producer is named for Tom Selleck. He has starred in a number of television series and films and he has appeared in more than 50 other film and television roles since Magnum, P.I. He is most known for starring as private investigator Thomas Magnum in the television series Magnum, P.I. (1980-1988), which was his breakout role. In the year 1970, he made his theatrical film debut in the comedy film Myra Breckinridge as Stud. In the year 2007, he lent his voice for the character of Cornelius in the animated adventure-comedy film Meet the Robinsons. In 1969, he made his first TV show appearance in the series Lancer as Dobie. In 1996, he made his TV show debut as a voice-over actor in the romantic comedy series Friends as Dr. Richard Burke. However, he was uncredited for his role. In 2004, he made his formal TV show debut as a voice-over artist on the TV documentary series Biography as a narrator. He is seen in a co-starring role as New York City Police Commissioner Frank Reagan in the series Blue Bloods, on the air since 2010. He is most known for the role of Peter Mitchell in Three Men and a Baby (1987) and its sequel. He is also a California Army National Guard veteran, a spokesman for the National Rifle Association (NRA), an endorser in advertisements for National Review magazine, and co-founder of the Character Counts! organization.
Tom Selleck was born on 29th January 1945 with the birthname/real name of Thomas William Selleck. His birthplace/hometown is in Detroit, Michigan, the USA. He was born to his parents; Martha Selleck (Jagger) (1921-2017), who was a housewife and Robert Dean Selleck (1921-2001), who was an executive and real estate, investor. His nationality is American and he belongs to American-White ethnicity. His race is White. His religion is Christianity and his zodiac is Aquarius. His family moved to Sherman Oaks, California, during his childhood. He grew up with his siblings; an elder brother Robert Selleck, younger brother Daniel Selleck and a sister Martha Selleck. As per his education, he was graduated from Grant High School in the year 1962. After that, he joined Los Angeles Valley College. Later, he was transferred to the University of Southern California. He was interested in basketball and other games while at University. He was majoring in Business Administration but after a drama coach suggested he try acting, he dropped out of the university in his senior year. He then studied acting at the Beverly Hills Playhouse, under Milton Katselas. As of 2020, he celebrated his 75th birthday. Read on to known his full biography, net worth, birthday, wiki, facts, family details, wife, career, movies, and many more.
Famous For
Being an American actor and film producer.
For his role in many popular TV series like Magnum, P.I. (1980-1988) as Thomas Magnum, The Rockford Files (1978-1979) as Lance White, Friends (1996-1997 & 2000) as Dr. Richard Burke, Las Vegas (2007-2008) as A.J. Cooper, and Blue Bloods as NYPD Commissioner Frank Reagan.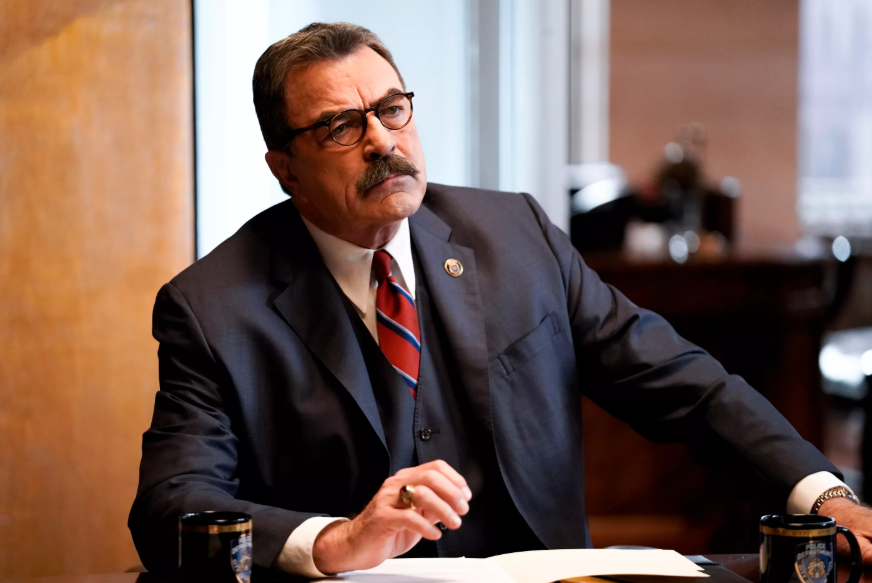 Source: @theblast.com
Career of Tom Selleck

Selleck started his acting career making his first television appearance as a college senior on "The Dating Game" in the year 1965.
In 1967, he appeared in commercials for products such as Pepsi-Cola.
He began his career with bit parts in smaller movies, including Myra Breckinridge (invited on the set by Mae West), Coma, and The Seven Minutes.
After that, he appeared in a number of TV series, mini-series and TV movies.
He was also the face of Marlboro cigarettes as the Marlboro Man and Revlon's Chaz cologne and appeared in the commercial for Right Guard deodorant in 1971, with Farrah Fawcett in 1972 for the aperitif Dubonnet, and another in 1977 for the toothpaste Close-Up.
In 1972, he starred in the B-movie "Daughters of Satan".
He had a recurring role in the 1970s as private investigator Lance White in "The Rockford Files".
After struggling for some time, he got leading-man cowboy roles in Western films, starting with his role as a cowboy and marshal Orrin Sackett in the 1979 film "The Sacketts" where he starred in Concrete Cowboys the same year.
He then appeared in "The Shadow Riders" in the year 1982.
He won a "Western Heritage Award" for his 1997 role in "The Last Stand at Saber River".
His big break came when he was cast in the lead role as Thomas Magnum in the 1980 series, "Magnum, P.I." which go on for eight seasons and 163 episodes until 1988, winning him an Emmy Award for Outstanding Lead Actor in a Drama Series in the year 1984.
During the Magnum years, he also starred as an acrophobic police detective in Runaway and a stand-in father in Three Men and a Baby.
During the 1990s, he also starred in Three Men and a Little Lady, High Road to China, Lassiter, Her Alibi, An Innocent Man, Folks!, Christopher Columbus: The Discovery, Mr. Baseball, In & Out, and The Love Letter.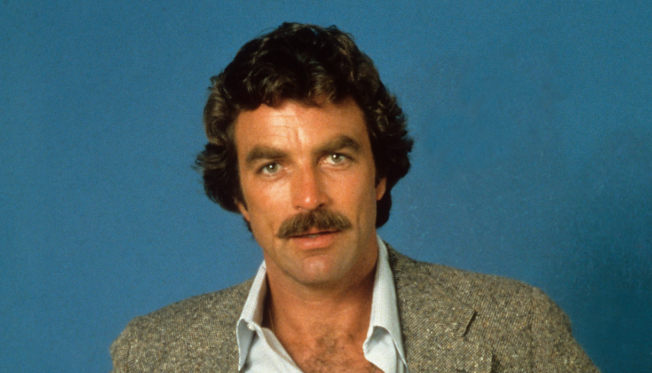 Source: @thedelite.com
In the mid-nineties, he played the role of Richard Burke in the TV series "Friends". His role earned him an Emmy Award nomination in 2000 for Outstanding Guest Actor in a Comedy Series.
In February 1998, he accepted the lead role in a sitcom for CBS called "The Closer".
His last two cowboy roles were in the 2001 TNT movie "Crossfire Trail", and the 2003 motion picture "Monte Walsh".
In 2001, Selleck played the lead role of Murray in a Broadway revival of Herb Gardner's comedic play "A Thousand Clowns".
played the role of General Dwight D. Eisenhower in A&E's 2004 made-for-TV movie Ike: "Countdown to D-Day".
Since 2005, he has starred in the role of transplanted lawman Jesse Stone in a series of made-for-TV movies based on Robert B. Parker's novels.
He joined the cast of the NBC drama "Las Vegas" in the season-five premiere on 28th September 2007.
In the year 2010, he starred in the American police procedural/drama series "Blue Bloods" on CBS. He then appeared in a recurring role on the acclaimed ABC drama "Boston Legal" as Ivan Tiggs, the troubled ex-husband of Shirley Schmidt (Candice Bergen).
Besides this, he has done commercial voice-overs for Florida's Natural orange juice and AT&T.
As a host, in the mid-1990s, he hosted a special series on TLC called The Practical Guide to the Universe.
Awards and Achievements of Tom Selleck
Throughout his career, he hаѕ rесеіvеd two Gоldеn Аррlе Рrіzе аѕ Тhе Маlе Ѕtаr Оf Тhе Yеаr (1982 & 1983), three Реорlе'ѕ Сhоісе Аwаrdѕ аѕ Fаvоurіtе Маlе ТV Реrfоrmеr (1984 & 1884), Аn Еmmу Аwаrd (1985) аnd а Gоldеn Glоbе Аwаrd (1985). He won a "Western Heritage Award" for his 1997 role in The Last Stand at Saber River. For his role in Magnum, P.I., he won an Emmy Award for Outstanding Lead Actor in a Drama Series in 1984. The show "Friends" earned him an Emmy Award nomination in 2000 for Outstanding Guest Actor in a Comedy Series.
Tom Selleck Personal Life and Partner/Wife
Tom Selleck is a married man. He began a relationship with actress Jacqueline Ray in the year 1970. The couple got married on May 15, 1971, after dating for a year. Tom adopted Jacqueline's son from another relationship, Kevin Shepard (b. 1966), who is a former drummer for the rock band, Tonic. Tom and Jacqueline were married for 11 years before their relationship ended in divorce on August 10, 1982. After that, he began a relationship with British actress Jillie Mack in July 1986. On 7th August 1987, he married Jillie Joan Mack (born 1957). The couple first met in London where Jillie was working as the lead actress on the show, Cats. They also have one daughter, Hannah (born December 16, 1988). Hannah is an International showjumper. He and his family are living happily in Thousand Oaks-Westlake Village, California, on a 60-acre (24 ha) avocado-ranch in Hidden Valley formerly owned by Dean Martin. His sexual orientation is straight and he is not gay.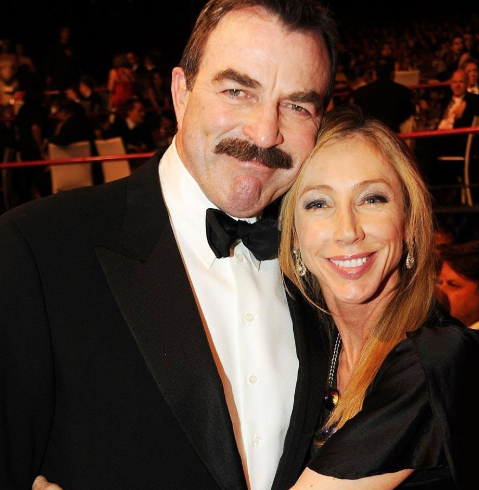 Source: @legit.ng
Net Worth of Tom Selleck
Tom Selleck is an American actor and film producer who has starred in a number of television series and films. With his acting career, he has accumulated a huge amount of money. Аѕ оf 2020, Тоm Ѕеllесk has an estimated nеt wоrth of $50 mіllіоn. But his present salary is unknown but there is no doubt in the mind of his followers that he is making a good amount of money from his career. His mајоr ѕоurсе оf Ѕеllесk wоrth іѕ hіѕ acting саrееr. Regarding his endorsements, he has appeared in the TV commercials for brands like Ducks Unlimited (2000), Safeguard soap, AT&T Long Distance (Voice-over) (1993), Lipton tea (1995-1997), Revlon's Chaz Cologne for men (1979), Chrysler PT Cruiser (2004), Pepi, RJ Reynolds' Salem 100s cigarettes (Print Ads) (1977), Florida Orange Juice, Close-up toothpaste, Right Guard Antiperspirant (1971), Coldwell Banker Real Estate (Voice-over) (2012), American Advisors Group (AAG) (2016), Dubonnet (1972). Talking about his mansion, he lives on a 65-acre ranch and avocado farm in California. His car details are unknown. He is living a lavish lifestyle from his earnings.
Tom Selleck Height
Tom Selleck, being at the age of 75, still looks very young and very handsome. His body build is average. He has a tall height of 6 ft 4 in. Whereas his body weight consists of 90 Kg or 198.5 lbs. He has brown hair color and has hazel eyes color. His other body measurements such as chest size, biceps size, waist size are unknown. He has a dimpled smile with a signature mustache. Overall, he has got a healthy body.