Tucker Carlson Biography
Tucker Swanson McNear Carlson famed as Tucker Carlson is an American conservative television presenter as well as a political commentator. He has also hosted the nightly political talk show "Tucker Carlson Tonight" on Fox News since 2016. The show became the most-watched cable news show in the USA as of 2020. His controversial statements on race, immigration, and women have led to advertiser boycotts against the show. Back then, he was a print journalist in the 1990s, writing for "The Weekly Standard". From the year 2000 to 2005, he was a CNN commentator. Also, he was the co-host of the network's prime-time news debate program "Crossfire" from 2001 to 2005. In the year 2010, he co-founded and served as the initial editor-in-chief of the conservative news and opinion website "The Daily Caller", until selling his ownership stake and leaving in 2020. He has been described by Politico as "perhaps the highest-profile proponent of 'Trumpism' and willing to criticize Trump if he strayed from it". Being an author, he has written two books: a memoir titled Politicians, Partisans, and Parasites: My Adventures in Cable News (2003); and Ship of Fools: How a Selfish Ruling Class is Bringing America to the Brink of Revolution (2018). Scroll down to know more about Tucker Carlson's Full Biography, Untold Story, Interesting Facts, Personal Life & more.
Recently in the news, Fox News host Tucker Carlson on Thursday admitted that President Trump "recklessly encouraged," the pro-Trump mob that overtook the Capitol on Wednesday, characterizing the incident as a "political protest" that "got out of hand." During commentary on his show, "Tucker Carlson Tonight," the conservative host who has traditionally aligned himself with the sitting president said that Trump bore responsibility for the riots, but continued to aim criticism at Democrats and news outlets for labeling the events as "insurrection" and "domestic terrorism."
Tucker Carlson is famous for being a conservative television presenter and political commentator. He is best known for his work as a CNN commentator from 2000 to 2005, and being the co-host of the network's prime-time news debate program Crossfire from 2001 to 2005.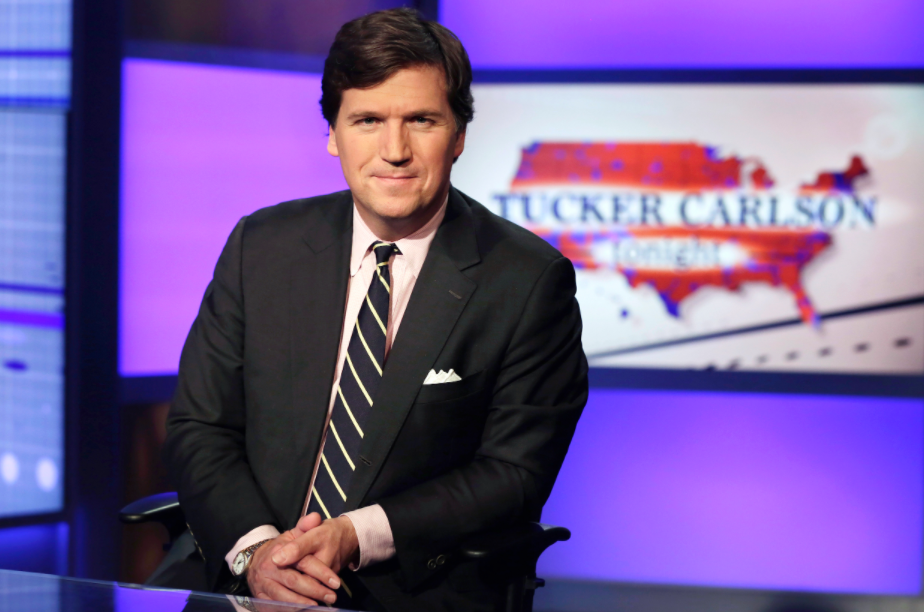 Source: @poynter.org
Tucker Carlson was born on 16th May 1969. His birth name/full name is Tucker Swanson McNear Carlson. His birthplace is in San Francisco, California, the USA. He holds an American nationality and his ethnicity is Mixed of English, German, Scottish, Swiss-Italian, possibly Swedish descent. Talking about his family, he was born to his parents; Lisa McNear (mother) and Richard Warner Carlson (father). His mother was an artist and his father was a wool broker. His paternal grandparents were Richard Boynton and Dorothy Anderson, teenagers who placed his father in an orphanage where he was adopted when he was two years old by the Carlsons. He also has siblings; a brother, Buckley Peck Carlson (later, Buckley Swanson Peck Carlson), who is nearly two years younger. His parents divorced after the nine-year marriage reportedly "turned sour" in the year 1976. His father was granted custody of Tucker and his brother. Carlson's mother left the family when he was six, wanting to pursue a "bohemian" lifestyle. Later, his father married divorcée Patricia Caroline Swanson, an heiress to Swanson Enterprises in the year 1979. As of 2020, he celebrated his 51st birthday (age). Taurus is his Zodiac sign and his religion is Christian.
Talking about his Education, he went to attend La Jolla Country Day School. He was briefly enrolled at Collège du Léman. He attained his secondary education at St. George's School, a boarding school in Middletown, Rhode Island. He then went to Trinity College in Hartford, Connecticut, where he graduated in 1991 with a BA in history.
At the age of 51, Carlson still looks very handsome with a charming smile and glowing face attracting a lot of people towards him. His body build is average. He stands tall at the height of 6 feet 1 inch or 1.85 m. He has a pair of blue eyes and his hair color is light brown. His other body information is still to get disclosed yet. Overall, he has got a healthy body.
Tucker Carlson Career
Tucker Carlson career began his journalism career as a fact-checker for 'Policy Review'.
After that, he worked as a reporter at the Arkansas Democrat-Gazette newspaper in Little Rock, Arkansas, before joining The Weekly Standard news magazine in the year 1995. He has been a columnist for New York and Reader's Digest. He also wrote for Esquire, The Weekly Standard, The New Republic, The New York Times Magazine, and The Daily Beast.
Then, he co-hosted the short-lived show The Spin Room on CNN in 2000.
He was appointed co-host of Crossfire in 2001. He also hosted a weekly public affairs program on PBS, Tucker Carlson: Unfiltered.
His early evening show, Tucker was premiered on 13th June 2005, on MSNBC. He then hosted MSNBC Special Report: Mideast Crisis.
He was a contestant on season 3 of the reality show Dancing with the Stars which aired in the year 2006. He paired with the dancer Elena Grinenko.
He also had a cameo appearance in the Season 1 episode "Hard Ball" of 30 Rock and in a Season 9 episode of The King of Queens, both playing himself.
It was announced by Fox News in May 2009 stating that he was being hired as a Fox News contributor.
He also replaced Dave Briggs as a co-host of Fox & Friends Weekend in April 2013.
He began hosting Tucker Carlson Tonight on Fox News on 14th November 2016 which then became the third-highest-rated cable news show as of March 2018. By the end of 2018, the show had begun to be boycotted by at least 20 advertisers after Carlson said U.S. immigration makes the country "poorer, dirtier and more divided".
In July 2020, Carlson's head writer, Blake Neff, resigned after CNN Business.
By October 2020, Tucker Carlson Tonight averaged 5.3 million viewers. In 2020, Tucker Carlson Tonight and The Sean Hannity Show became the first cable news programs to finish a full year with viewership in excess of 4 million.
He along with Neil Patel launched a political news website titled The Daily Caller on 11th 2010 and was then replaced by Vince Coglianese as editor-in-chief in 2016 after he began hosting Tucker Carlson Tonight on Fox News.
He sold his one-third stake in The Daily Caller to Patel in June 2020.
As an author, he has published the memoir Politicians, Partisans and Parasites: My Adventures in Cable News (Warner Books, 2003).
His first book in the series, Ship of Fools: How a Selfish Ruling Class is Bringing America to the Brink of Revolution, was released in October 2018 and debuted at No. 1 on The New York Times Best Seller list.
Regarding his political views, he has been described in the media as a conservative or paleoconservative. He supported Ron Paul's 1988 presidential candidacy, when Paul ran as the candidate for the Libertarian Party, along with his 2008 presidential candidacy, when Paul ran as a Republican.
In 2019, in his monologue on Tucker Carlson Tonight, Carlson said America's "ruling class" are, in effect, the "mercenaries" behind the decline of the American middle class: [A]ny economic system that weakens and destroys families is not worth having. A system like that is the enemy of a healthy society.
He has also praised Democratic presidential candidate Elizabeth Warren's economic plan and her book The Two Income Trap as "one of the best books I've ever read on economics."
Before the year 2020, he was a registered member of the Democratic Party in Washington, D.C. He registered as a Republican in his new residency in Florida in the year 2020.
He has criticized government officials and other media for not taking the COVID-19 pandemic in the United States seriously enough while blaming China for causing the pandemic.
After Joe Biden won the 2020 election, he raised questions about fraud in the 2020 election.
On 6th November 2020, Steve Schmidt of the Lincoln Project speculated that Tucker Carlson "is the frontrunner for the Republican nomination in 2024".
Tucker Carlson Wife, Susan Andrews
Tucker Carlson is a married man. He tied a knot with his beautiful wife, Susan Andrews in the year 1991. The duo met each other during their high school at St. George's Scool. The couple is blessed with four kids/children named Lillie Carlson, Dorothy Carlson, Hopie Carlson, and Buckley Carlson. The married duo is enjoying their present life happily without any disturbances. His sexual orientation is straight and he is not gay.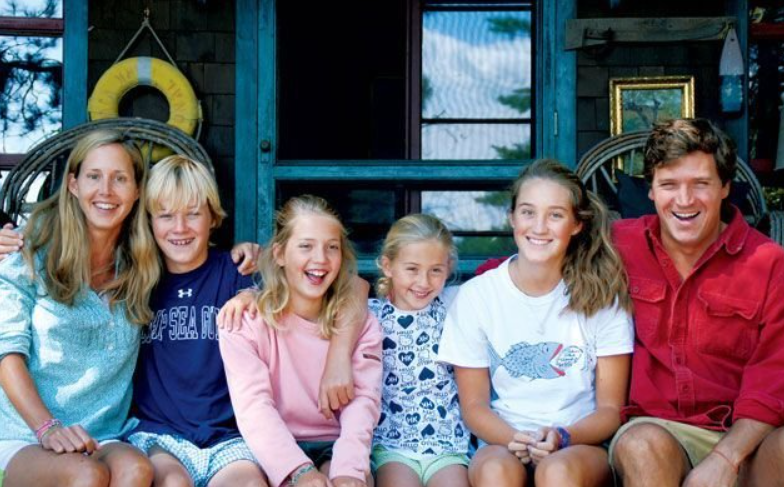 Source: @heraldweekly
Tucker Carlson Salary & Net Worth
Tucker Carlson is a conservative television presenter and political commentator who has made a huge amount of money throughout his career. As of 2021, the net worth of Tucker is estimated to have $30 Million. He is making a cool amount of salary of $6 Million as of today. His major source of wealth comes from his TV Career whereas his other source of wealth comes from politics and book careers. He is satisfied with his earnings currently.