An American professional mixed martial artist, actor, broadcast analyst, rapper, as well as a former UFC Welterweight Champion is named for Tyron Woodley. He is professional since 2009 and has also fought in Strikeforce. He fought his first professional fight on 7th February 2009, against Steve Schnider which was held by Headhunter Productions at the Holiday Inn Select Executive Center in Columbia, Missouri. He made his Strikeforce debut against Sal Woods in St. Louis, Missouri on 6th June 2009. His coach is Din Thomas. His reach is 85.0' (216 cm) in Heavyweight Class. He is #14 in the UFC men's pound-for-pound rankings and #1 in the UFC welterweight rankings as of 24th May 2020. Tyron Woodley has more than 1 Million followers in his Instagram account under the name of @twooodley. Scroll down to get more information about his full biography, birthday, wiki, family details, rank, records, net worth, salary, and many more.
Famous For
Being an American professional mixed martial artist, actor, broadcast analyst, rapper, as well as a former UFC Welterweight Champion.
For defending his UFC Welterweight Championship till the date since winning the title in July 2016.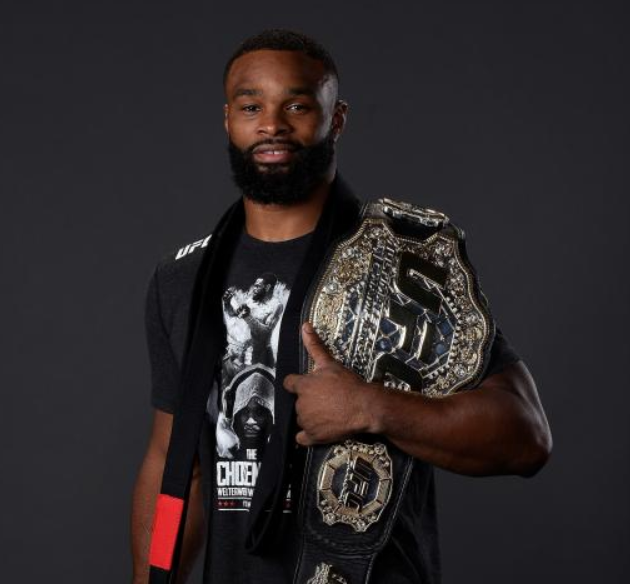 Source: @ufcespanol.com
Where is Tyron Woodley From?
On 7th April 1982, Tyron Woodley was born. He was born in Ferguson, Missouri, the USA; his birthplace/hometown. As of 2020, his age is 38 and he celebrated his birthday on 7th April of every year. His nationality is American and his ethnicity is Mixed. His race is Black. He was born to his parents; Sylvester Woodley (father) and Deborah Woodley (mother). He had a big family and he has twelve brothers and a sister; his siblings. He is the eleventh child in his family. He was mostly raised in Ferguson, Missouri by his mother Deborah after his father left the family at an early age. As per his education, he attended McCluer High School and graduated in 2000. He used to play American football and also amateur wrestling during his high school time. Woodley attended the University of Missouri. He joined the wrestling program at the university. In 2003 and in 2005, Woodley became a two-time All-American. He graduated from the University of Missouri with a major in Agricultural Economics in 2005. His horoscope sign is Aries and his religion is Christian.
When did Tyron Woodley start fighting?
Mixed Martial Arts (MMA) Career
On 7th February 2009, he fought his first MMA fight against Steve Schnider at the Holiday Inn Select Executive Center in Columbia, Missouri where he defeated Steve via submission in the first round.
After that, he fought his second professional fight on 30th April 2009, against Jeff Carstens where Tyron defeated Jeff via submission in the first round.
Strikeforce Career
He made his Strikeforce debut on 6th June 2009, at Strikeforce: Lawler vs. Shields against Sal Woods in his hometown of St. Louis, Missouri where he won the fight via submission in the first round. Following the win, Woodley was signed by Strikeforce to a six-fight deal.
After that, he fought his second Strikeforce fight against Zach Light at Strikeforce Challengers: Kennedy vs. Cummings car. Woodley won via submission in the second round.
He also defeated Rudy Bears via arm-triangle submission at Strikeforce Challenger: Woodley vs. Bears card defeated Nathan Coy via split decision at Strikeforce Challengers: Lindland vs. Casey, defeated Andre Galvao via knockout midway at Strikeforce: San Jose and defeated Tarec Saffiedine via unanimous decision at Strikeforce Challengers: Woodley vs. Saffiedine.
The win over Saffiedine earned Woodley a contract extension with Strikeforce in early 2011.
He defeated Paul Daley via unanimous decision and Jordan Mein via split decision.
He was scheduled to fight Nate Marquardt on 4th July 2012, at Strikeforce: Rockhold vs. Kennedy for the vacant Strikeforce Welterweight Championship but he lost the Championship to Nate via KO in the fourth round.
Ultimate Fighting Championship (UFC) Career

He made his Ultimate Fighting Championship debut on 2nd February 2013, at UFC 156 against Jay Hieron where he replaced injured Erick Silva to fight Jay which took only 36 seconds of the opening round to knock out Jay and he won the fight via KO in the first round.
He lost a UFC bout on 15th June 2013, at UFC 161 against Jake Shields via split decision.
After that, he defeated Josh Koscheck in November 2013 at UFC 167 via knockout in the first round, earning him his first Knockout of the Night bonus award.
He then defeated former Interim Welterweight Champion Carlos Condit at UFC 171 via TKO where Condit suffered a knee injury in the second round.
Woodley signed a new eight-fight contract with UFC on 8th April 2014, alongside his bout against Rory MacDonald at UFC 174 where he lost the fight to Rory via unanimous decision.
He earned his first Performance of the Night bonus award on 23rd August 2014, defeating Dong Hyun Kim via TKO in the first round at UFC Fight Night 48.
He also won the UFC Welterweight Championship on 30th July 2016, defeating Welterweight champion of that time, Robbie Lawler.
He won the championship via knockout halfway through the first round in the main event at UFC 201.
He also defended his Welterweight championship defeating Stephen Thompson twice at UFC 205 and at UFC 209.
He again succeeded in defending his welterweight championship against Demian Maia at UFC 214 in July 2017 and he received his Brazilian jiu-jitsu black belt in the cage from Din Thomas following his victory defending Welterweight championship against Darren Till on 8th September 2018, at UFC 228.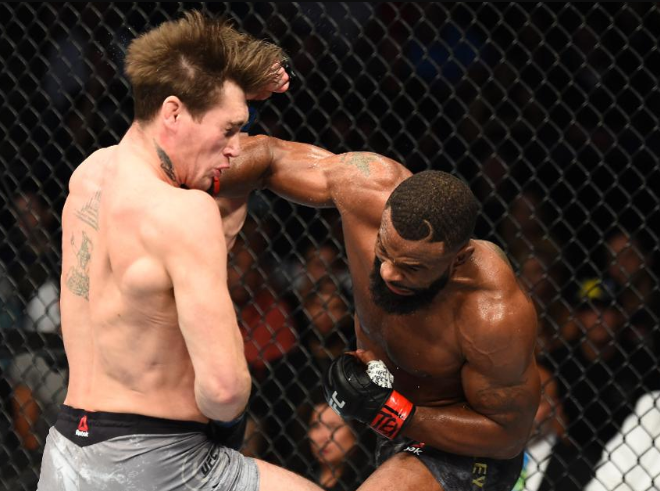 Source: @forbes.com
He also earned Performance of the Night award.
He suffered a hand injury that will require surgery and force him to miss between eight and 12 weeks of action.
"I dislocated my thumb in the (Till) fight and by doing that I tore three ligaments," he told Helwani. "They are doing a shoestring surgery to provide more stability for my hand and minimize potential arthritis". He said the procedure is scheduled for mid-October, 2018.
In the fifth defense of his welterweight title, he faced Kamaru Usman on 2nd March 2019, in the co-main event at UFC 235 where he lost the fight by unanimous decision, ending his nearly three-year reign as welterweight champion.
He pulled from the fight against Robbie Lawler which was to be held on 29th June 2019 at UFC on ESPN 3 due to hand injury.
He was scheduled to face Leon Edwards on 21st March 2020 at UFC Fight Night 171.
The restrictions related to COVID-19 forced Edwards to withdraw as the event was meant to be moved from London to the United States, and the event was subsequently postponed indefinitely.
He faced Gilbert Burns on 30th May 2020 at UFC on ESPN: Woodley vs. Burns.
Woodley was dominated from start to finish.
Burns pounced early in the first round and didn't give an inch to the former champion through the final bell as the UFC returned to their home base of Las Vegas, with the fights going down from the UFC APEX.
Burns scored with a pair of right hands early in the first round, rocking Woodley and opening him up to a massive flurry. Burns managed to maintain control on the ground, despite Woodley being able to survive the early danger, he was left with a massive gash over his left eye and seemed to have had the fight beaten out of him in those opening moments.
By the end of the fight, Burns had compiled an advantage of 76-to-29 in significant strikes, scored the only two takedowns of the fight and had positional control on the ground for nearly five minutes to just two seconds for Woodley.
Moreover,
Apart from being a wrestler, he is also an actor and has acted in several movies.
He pursued his acting career during his spare time besides fighting.
He has played few roles in Straight Outta Compton and Kickboxer: Vengeance.
He has also appeared in Escape Plan 2: Hades in several fight scenes.
He also hosts a podcast called "Morning Wood with Deez Nutz" as well as a weekly internet web show on TMZ called "The Hollywood Beatdown".
He is also a comedian and rapper, as he has recorded a single with Wiz Khalifa called I'll beat yo'ass which is available in i-tunes and does some comedy shows every now and then.
Tyron Woodley UFC and MMA Record (Awards and Achievements)
Mixed Martial Arts
Ultimate Fighting Championship
UFC Welterweight Championship (One time; current Four successful title defenses)
Knockout of the Night (One time) vs. Josh Koscheck
Performance of the Night (Three times) vs. Dong Hyun Kim, Robbie Lawler, and Darren Till
Fight of the Night (One time) vs. Stephen Thompson
2010 Rising Star of the Year
2009 Prospect of the Year
Best takedown defense percentage in UFC history (97.6%)
Strikeforce
2010 Rising Star of the Year
ULTMMA
2009 Prospect of the Year
Wrestling
Missouri State High School Activities Association
MSHSAA All-State (1999, 2000)
National Collegiate Athletic Association
NCAA Division I All-American (2003, 2005)
Big 12 Conference Champion (2003)
National High School Coaches Association
NHSCA Senior All-American (2000)
RPW 84 kg Northern Regional Championship (2006)
United States University Freestyle National Championship Runner-up (2006)
MMA Records
In his professional career, he has played 24 fights where he won 19 matches and lost 4 matches. He won 7 fights by knock out and lost 1 by knockout. Similarly, he won 5 matches by submission and lost won 7 matches by decision but lost 3 matches by decision. Whereas 1 match is drawn.
Who is Tyron Woodley's Wife?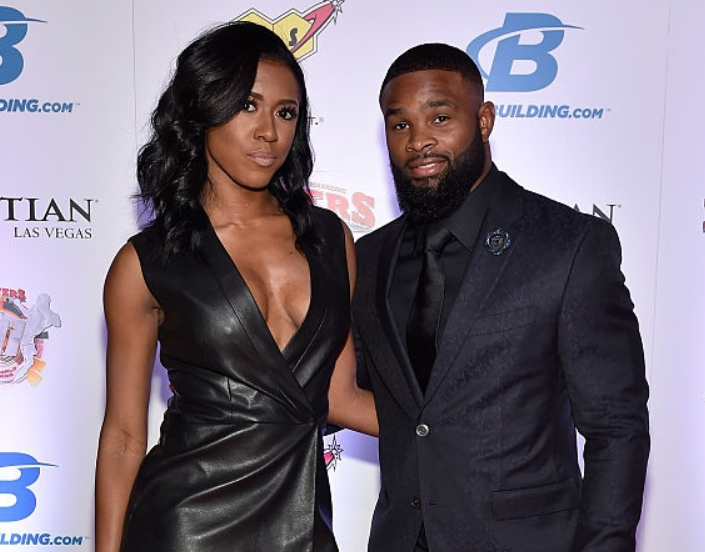 Source: @gettyimages.com
Talkin about his personal life, Tyron Woodley is a married man. He was married to his beautiful wife, Averi Woodley. Averi Woodley is a fitness guru. The couple first met while in high school and later reconnected at Southern Illinois University Edwardsville. Woodley together with his wife is blessed with four children: Gabby, Dylan, Darron, and Tyron Jr. He publicly condemned the violent protests and looting that took place during civil unrest happening in his hometown of Ferguson, Missouri. Missouri engaged in civil unrest following the shooting of Michael Brown in Missouri. At the recent time, he was caught cheating on his wife. The paparazzi snapped some pictures of him cup caking with a woman who was not his spouse. Besides this, there are no rumors of Woodley being involved in any kind of affair with other women. His sexual orientation is straight and he is not gay.
How much is Tyron Woodley's Net Worth?
Tyron Woodley is an American professional mixed martial artist, actor, broadcast analyst, rapper, and former UFC Welterweight Champion. He ha earns a fortune amount of salary from his MMA career as he a former welterweight champion as well. As of 2020, his net worth is estimated to be $5 million. He is one of the highest-earning UFC fighters with the UFC career disclosed earning of about $4,174,000. He earned $500,000 excluding PPV money despite his Championship loss to Kamaru Usman at UFC 235. He was paid $590,000 ($500,000 to show, $50,000 Performance of the Night bonus, $40,000 fight week incentive pay) for his win against Darren Till at UFC 228 which is his highest paycheck till date. He has earned millions through contracts, bonus awards, and sponsorships. He also earns from his acting career. He has also achieved a milestone in his wrestling career. Three is no information about his assets; cars and house. As of now, he is living a luxurious lifestyle from his earnings.
How tall is Tyron Woodley?
Tyron Woodley is a very handsome wrestler with stong and bodybuilder body build. He has a perfect persona and he has attractive eyes and blonde hair. He has got a perfect height of 5 feet and 9 inches and his total body weight is 170 lbs. Whereas his other body measurements such as biceps size, dress size, shoe size, chest size, and more is unknown. The center of his back contains a tattoo that reads, 'Spiritual Warrior' along with two doves griped above the words. The upper back of his back has a tattoo of a Celtic cross comprised of a pair of wings attached to the top of it. The outer side of his left bicep has a tattoo of his portrait along with writing that reads, 'To Wood' inked on it. The upper side of Tyron Woodley's right arm shoulder has a tattoo of America's map along with writing that reads, 'USA wrestling' inked on it.