About Usain Bolt; Former Sprinter
Usain St Leo Bolt shortly named Usain Bolt is a former sprinter from Jamaica. He is famous for being the fastest running man ever. He is a world record holder in the 100 meters, 200 meters, and 4 × 100 meters relay. He is an eight-time Olympic gold medallist, and he only sprinter to win Olympic 100 m and 200 m titles at three consecutive Olympics (2008, 2012 and 2016). He also won two 4 × 100 relay gold medals. He rose to fame after he made double sprint victory in world record times at the 2008 Beijing Olympics, which made him the first person to hold both records since fully automatic time became mandatory. Additionally, he is an eleven-time World Champion, he won consecutive World Championship 100 m, 200 m, and 4 × 100 meters relay gold medals from 2009 to 2015, with the exception of a 100 m false start in the year 2011. His achievements as a sprinter have earned him the media nickname "Lightning Bolt", and his awards include the IAAF World Athlete of the Year, Track & Field Athlete of the Year, BBC Overseas Sports Personality of the Year (three times) and Laureus World Sportsman of the Year (four times). He has not appeared in a feature film yet but was seen in certain TV movies and documentaries such as Usain Bolt Documentary (2016), Usain Bolt: The Fastest Man Alive (2012), etc. In 2005, Bolt appeared in a single episode of television series Infinite Challenge as himself. A biographical film based on the athletic life of Bolt to win three Olympic gold medals, titled "I Am Bolt", was released on 28th November 2016 in the United Kingdom. The film was directed by Benjamin Turner and Gabe Turner. He also made his debut as a dancehall music producer with the release of the "Olympe Rose" riddim that featured 5 tracks from Jamaican dancehall artistes: Dexta Daps "Big Moves", Munga Honorable "Weekend", Christopher Martin "Dweet", Ding Dong "Top A Di Top" and football player tuned artist Ricardo "Bibi" Gardner "Mount A Gyal" in July 2019. On 21st August 1986, Usain Bolt was born with the birth name/real name of Usain St Leo Bolt. His birthplace/hometown is in Sherwood Content, Trelawny, Jamaica. He was born to her parents; Wellesley Bolt (father) and Jennifer Bolt (mother). His parents used to run a local grocery store in a rural area. Regarding his siblings, he has two namely Sadiki (brother) and Sherina (sister). His nationality is Jamaican and his ethnicity is Jamaican-Black. His race is Black. His birth sign is Leo and his religion is Christian. He went to Waldensian Primary. He then studied at William Knibb Memorial High School. He is graduated from the University Of Technology. As of 2019, he celebrated his 33rd birthday. At present, he is residing in Kingston, Jamaica. Recently, he has given his newborn daughter a name worthy of a future champion. The retired eight-time Olympic gold medalist took to social media on Tuesday to introduce his first child to the world, revealing that she is called "Olympia Lightning Bolt". He shared a series of pictures of his baby girl as he celebrated his longtime girlfriend Kasi Bennett's birthday, saying they have "started a new chapter together." "I want to wish my gf @kasi_b a happy birthday. I get to spend ur special day with u. I want nothing but happiness for u & will continue to do my best keeping a smile on ur face," he wrote. The baby's middle name, Lightning, is also fitting for a child whose father is hailed as the world's fastest person and has been nicknamed "Lightning Bolt." Scroll down to get full information about his biography, career, net worth, children, girlfriend, family details, age, wiki, facts, height, awards, and more.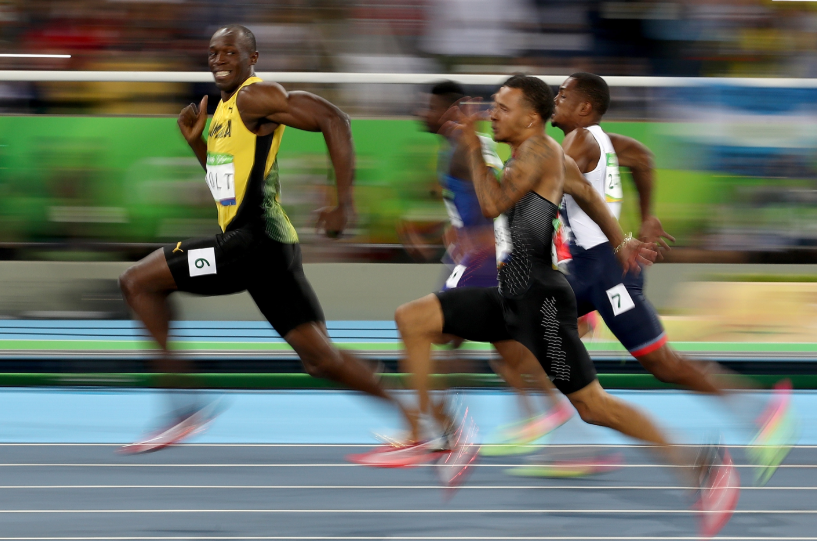 Source: @time.com
Usain Bolt's Athletics Career
Usain Bolt made his early competition by performing in his first Caribbean regional event.
At there, he clocked a personal best time of 48.28 s in the 400 meters in the 2001 CARIFTA Games, winning a silver medal.
After that, he made his first appearance on the world stage at the 2001 IAAF World Youth Championships in Debrecen, Hungary. There, he failed to emerge victorious in the 200m qualifier event, he managed to finish the event in 21.73 seconds, which was his personal best at the time.
He is one of only nine athletes to win world championships at the youth, junior, and senior-level of an athletic event.
He rose to fame after he participated in the 2002 World Junior Championships which was held in front of a home crowd in Kingston, Jamaica where he won the 200 m in a time of 20.61 second, which was 0.03 s slower than his personal best of 20.58 s, which he set in the 1st round.
He also received the IAAF Rising Star Award for 2002.
He was awarded the IAAF Rising Star Award for the 2003 season on the strength of his junior record-equalling run.
He turned professional in 2004 beginning with the CARIFTA Games in Bermuda where he became the first junior sprinter to run the 200 m in under twenty seconds, taking the world junior record outright with a time of 19.93 seconds.
The year 2005 signaled a fresh start for Bolt in the form of a new coach, Glen Mills, and a new attitude toward athletics.
Later, he was involved in a car accident in November, and although he suffered only minor facial lacerations, his training schedule was further upset.
He suffered another hamstring injury in March 2006, forcing him to withdraw from the 2006 Commonwealth Games in Melbourne, and he did not return to track events until May.
He built on this achievement at the 2007 World Championships in Osaka, Japan, winning a silver medal.
On 31st May 2008, he set a new 100m world record at the Reebok Grand Prix in the Icahn Stadium in New York City.
At the end of the 2008 athletics season, he competed in the AF Golden League.
At the 2009 "Berlin World Championships", he created world records in both 100m and 200m events where he won the 100m race in 9.58 seconds and the 200m race in just 19.19 seconds.
He also won a gold medal in the 4x100m relay race, but his team failed to better its own record.
He went undefeated over 100 m and 200 m in the 2011 season.
He then began the 2012 season with a leading 100 m time of 9.82 seconds in May.
He ended his season with wins on the 2012 IAAF Diamond League.
In 2013, he took 100 m wins on the 2013 IAAF Diamond League.
An injury to his hamstring in March 2014 caused him to miss nine weeks of training.
In August 2014, he set the indoor 100 m world record in Warsaw with a time of 9.98 seconds.
At the starting of the year 2015, Bolt announced that he intended to make the 2017 World Championships in Athletics his last major competition before retirement.
Due to his injuries at the start of the 2015 season, he did not compete after the World Championships, skipping the 2015 IAAF Diamond League final.
At the 2016 Rio Olympics, he won the 100 meters gold medal with a time of 9.81 seconds.
At the 2017 World Athletics Championships, he won his heat uncomfortably after a slow start in 10.07, in his semi-final he improved to 9.98 but was beaten by Christian Coleman by 0.01 and won 100m race.
He also participated as the anchor runner for Jamaica's 4×100-metre relay team in both the heats and the final. Jamaica won their heat comfortably in 37.95 seconds.
He pulled up in agony with 50 meters to go and collapsed to the track after what was later confirmed to be another hamstring injury.
He refused a wheelchair and crossed the finish line one last time with the assistance of his teammates Omar McLeod, Julian Forte, and Yohan Blake.
Usain Bolt's Football career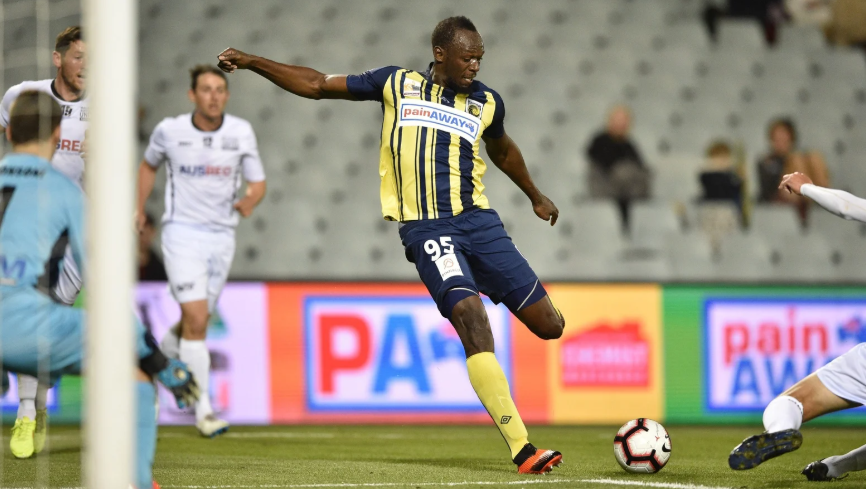 Source: @rte.ie
In the year 2018, after training with Norwegian side Stromsgodset, he played for the club as a forward in a friendly match against the Norway national under-19 team where he wore the number "9.58" in allusion to his 100 m world record. He wore the same number whilst captaining the World XI during Soccer Aid 2018 at Old Trafford.
He then started training with Australian club Central Coast Mariners of the A-League on 21st August 2018.
He made his friendly club debut as a substitute on 31st August 2018 against a Central Coast Select team, made up of players playing in the local area.
Moreover, he was offered a two-year contract from Maltese club Valletta, which he turned down on 18th October 2018.
After three days, he was offered a contract by the Mariners
He later left the Mariners in early November 2018 after 8 weeks with the club
In January 2019, Bolt decided not to pursue a career in football, saying his "sports life is over."
Awards and Achievements of Usain Bolt
Usain Bolt iѕ a ѕеvеn gоld Оlуmріс mеdаlѕ, bееn rесоgnіzеd аѕ ІАFF Wоrld Аthlеtе оf thе Yеаr іn 2016/13/12/11/09, аnd 08, Lаurеuѕ Wоrld Ѕроrtѕmаn оf thе Yеаr 2017/13/10/09, Јаmаіса Ѕроrtѕmаn оf thе Yеаr 2013/12/11/09/08, Оrdеr оf Јаmаіса, 3 Wоrld rесоrdѕ, аmоng оthеrѕ. He received his very first honor in the form of a silver medal in 2001, during one of the championships held in school. He won another silver medal at the "CARIFTA Games". He then won the gold medal in the 2002 "World Junior Championships". He also received four medals in the "CARIFTA" games held in 2003. At the 2008 "Beijing Olympics", he won gold medals in the 100m, 200m, and 4x100m relay, finishing the races in 9.69 seconds, 19.30 seconds, and 37.10 seconds. At the 2012 "London Olympics", he once again won three gold medals. He won the 100m event in 9.63 seconds, 200m in 19.32 seconds, and 4x100m relay in 36.84 seconds. At the 2016 "Rio Olympics", he won gold medals in all three track events and achieved the "triple-triple". He won the 100m event in 9.81 seconds, 200m in 19.78 seconds, and 4x100m relay in 37.27 seconds. Overall, he is a very talented person.
Usain Bolt is DATING Kasi Bennett
Usain Bolt is not married yet and he is still to get married. At present, he is dating Kasi Bennett. Kasi Bennett is a fashionista and social star. She hails from Old Harbour, Jamaica. She and Bolt welcomed a daughter on 17th June 2020 named Olympia Lightning. At present, the duo is enjoying life a lot without any disturbances. His sexual orientation is straight and he is not gay.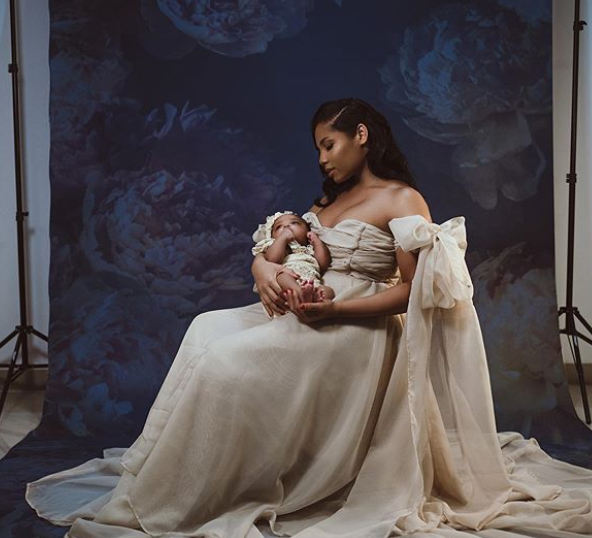 Source: @instagram.com/usainbolt
While talking about his past relationship, he first met Mizicann Evans (aka Mitzy) when she was 14 and Usain was 16 during a track meet. But, they didn't start dating at that time. In 2003, Usain relocated to Kingston, Jamaica at Mitzy's hometown and they soon started dating in 2004. Mitzy and Usain remained an item for 7 long years until 2011. In the year 2010, he was briefly romantically linked with Jamaican TV personality, Taneish Simpson. In the year 2013, he dated Miss Jamaica Universe 2008, April Jackson for 4 months. They had also met for the first time in the London Olympics in 2012.
Net Worth of Usain Bolt (2020)
Usain Bolt is a former sprinter and widely considered to be the greatest sprinter of all time. He is a world record holder in the 100 meters, 200 meters, and 4 × 100 meters relay. With his career, he has made a huge amount of money until now. As of 2020, the net worth of this famous sprinter is estimated to have $90 Million. In 2016 alone, he is said to have taken home $2.5 million in race winnings. Whereas in 2017, he is said to have made in earning £26.21 million. Besides his earning from racing, his earnings are also added up from endorsements. He has appeared in TV commercials for SportsCenter (2012). In the same year, he was also seen in print ads and commercials for Soul Electronics SL 300 series headphones. He signed an endorsement deal with Puma in 2002. He also endorsed Optus (Australian Telecommunication Company) in 2016. Bolt has also endorsed watchmaker Hublot and Digicel. He has been sponsored by Gatorade (energy drink). Hе іѕ mаkіng frоm thе dеаlѕ. Рumа - £7,750,000 а уеаr Gаtоrаdе - £2-3,000,000 а уеаr (рluѕ а bоnuѕ еvеrу tіmе hе'ѕ рісturеd drіnkіng іt), Vіѕа - £500,000+, Vіrgіn Меdіа - £2,000,000, Dіgісеl - £100,000, Ѕоul Еlесtrоnісѕ - £100,000. Нublоt. It is said that he had made over $150 million in all his career. As of now, he is satisfied with his earnings and he is living a luxurious lifestyle from his earnings.