About Vijay Sethupathi
The multi-talented Vijay Sethupathi is an Indian film actor, producer, screenwriter, lyricist, and playback singer who is famous for his works predominantly in Tamil as well as Telugu, Malayalam, & Hindi such as "Pizza", "Naan Mahaan Alla", "Lee", "Master", "Kutty Story", "'96", "Seethakaathi", "Sye Raa Narasimha Reddy", "Dharma Durai", "Traffic Ramasamy", "Jinga", "Kavan", "Purampokku Engira Podhuvudamai", "Sethupathi", "Rummy", "Jigarthanda" and much more. He is well-known for television series such as "Penn" (2006), and "Namma Ooru Hero" (2019).
Source: @cinemaexpress
Vijay Sethupathi began his career in 1996 by playing small uncredited roles in the film "Gokulathil Seethai". He worked as a salesman at a retail store, a phone booth operator, a cashier at a fast-food joint, and also worked as an account assistant at a wholesale cement business. He joined a marketing company that dealt with readymade kitchens. Then, he saw Kottupattarai's poster before stepping into the film industry. He landed his first lead role in Ramasamy's drama film "Thenmerku Paruvakaatru" (2011) portraying his role as a Shepherd. For the film, he won three Awards "National Film Awards" for the best Tamil Feature Film of that year. He was first seen in a negative role in "Sundarapandian", thriller film "Pizza", crime comedy "Soodhu Kavvum". His first movie as a producer was "Orange Mittai" (2015) directed by Biji Viswanath and also he can be seen in the rom-com "Naanum Rowdy Dhan" directed by Vignesh Shiva which became his highest-grossing movies to date. In 2019, Film Companion ranked his performance in Aandavan Kattalai and super Deluxe among the 100 Greatest performances of the decade. His upcoming movies are "Tughlaq Durbar", "Kadaisi Vivasayi", "Maamanithan", "Laabam" and more. In October 2020, it was announced that he would play the role of Sri Lankan Cricketer Muthiah Muralitharan in the biopic titled "800". Recently, he appeared in the Telugu film "Uppena" (2021) as well as he is starring in underproduction Vetri Maaran's Tamil film "Viduthalai". Actor Vijay Sethupathi will be taking on a new avatar soon; that of a cooking show host when the latest version of the popular MasterChef series "MasterChef Tamil" will air soon on Sun TV.

Early Life and Family
Vijay Sethupathi was conceived on 16 January 1978. He was born in Rajapalayam, Tamil Nadu, India which is his birthplace. Later, he moved to Chennai, Tamil Nadu, India. He came from Indian-Asian ethnicity and holding the nationality of Indian. He is an atheist and has often shared his views in his speeches but he came from a Hindu religion family. His race is Asian. Thus, he is 43 years old at present. His zodiac sign is Capricorn.
Vijay Sethupathi's father, Kalimathu was a civil engineer whereas his mother's name is Saraswathi. He has two brothers named Anna and Thambi and his sister named Thangachi.
Concerning Vijay Sethupathi's education, he did his schooling until class 5 in Rajapalayam, Tamil Nadu. Later, he shifted to Chennai where he attended MGR Higher Secondary School in Kodambakkam and Little Angels Matric Higher Secondary School. He graduated with a Bachelor of Commerce degree from the Dhanraj Baid Jain College (an affiliate of the University of Madras) in Thoraipakam.

Vijay Sethupathi Married Life
Vijay Sethupathi is married to Jessie Sethupathi. Their relationship started online when he was in Dubai. They dated for 2 years and got married in 2003. The couple has two children: a son Surya, named in remembrance of his friend who died during his school days, and a daughter baned Shreeja. He is straight by sexuality.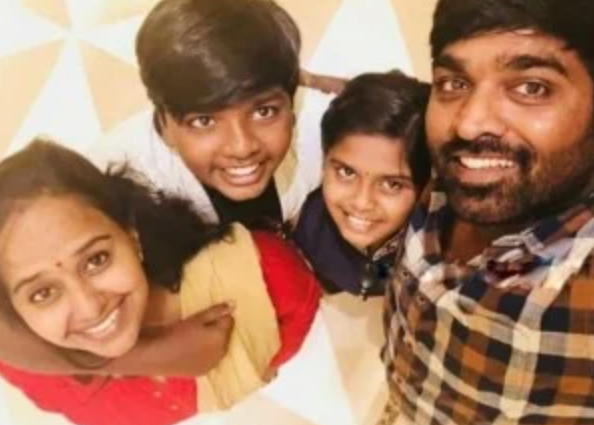 Source: @familyscopes.blogspot.com
Vijay Sethupathi Net Worth and Salary
Vijay Sethupathi has an estimated net worth of around INR 800 million as of 2021 whereas his major sources of income come from her acting, singing, songwriting, producer, and more. He has a car "60's model Benz". He charged INR 2-4 crores per movie and she is making around INR 55 crores as salary income from her work. He has promoted as the brand ambassador "Anil Foods", "Indian Por Kabbadi League- for the team 'Tamil Thalaivas'" and "Mndee Online App".
In addition to social work, he participated in a rally (On 3 August 2014) to raise awareness on Muscular Dystrophy at Marina Beach organized by the Chennai Mayopatthy Institute of Muscular Dystrophy & Research Center.

How tall is Vijay Sethupathi?
Vijay Sethupathi has a tall and perfect height of 1.77m and his balanced weight consists of 76 Kg or 168 lbs. He has an average body build. He has a pair of dark brown eyes color with black hair color. He has a chest of 39 inches, a waist of 33 inches, and biceps of 12 inches.

Awards and Nominations
2012- Tamil Nadu State Film Awards for "Sundarapandian"
2012- Norway Tamil Film Festival Awards, Edison Award, & 7th Vijay Awards for "Naduvula Konjam Pakkatha Kaanom"
2012- SIIMA Awards, Big FM Tamil Entertainment Awards, & 60th Filmfare Awards South for "Pizza"
2012- Chennai Times Film Awards 2012 for "Pizza" & "Naduvula Konjam Pakkatha Kaanom"
2013- Behindwood Gold Medal for "Soodhu Kavvum", "Idharkuthane Aasaipattai", & "Balakumara"
2013- 8th Vijay Awards for "Soodhu Kavvum"
2014- SIIMA Awards for "Pannaiyarum Padminiyum"
2015- SIIMA Awards for "Orange Mittai"
2016- Norway Tamil Film Festival Awards, & Asiavision Awards for "Dharma Durai"
2017- Ananda Vikatan Cinema Awards, Filmfare Award, & Vijay Award for "Vikram Vedhu"
2019- "Indian Film Festival of Melbourne, "67th National Film Awards for "Super Deluxe"
2019- 8th South Indian International Movie Awards, & Filmfare Awards South for "'96"
Filmography
As an Actor
1996- "Gokulathil Seethai"
2004- "M. Kumaran Son of Mahalakshmi"
2006- "Pudhupettai"
2007- "Lee"
2009- "Vennila Kabadi Kuzhu"
2010- "Naan Mahaan Alla", "Bale Pandiya", "Thenmerku Paruvakaatru"
2011- "Vernam"
2012- "Sundarapandian", "Pizza", "Naduvula Konjam Pakkatha Kaanom"
2013- "Sodhu Kavvum", "Idharkuthane Aasaipatti Balakumara"
2014- "Rummy", "Pannaiyarum Padminiyum", "Jigarthanda", "Kathai Thiraikathai Vasanam lyakkam", "Thirudan Police", "Vanmam"
2015- "Bench Talkies", "Purampokku Engira Podhuvudamai", "Orange Mittai"
2016- "Sethupathi", "Kadhalum Kadandhu Pogum", "Iraivi", "Dharma Durai", "Aandavan Kattalai", "Rekka"
2017- "Kavan", "Vikram Vedha", "Puriyatha Puthir", "Katha Nayagan", "Karuppan"
2018- "Oru Nalla Naal Paathu Solren", "Traffic Ramasamy", "Junga", "Imaikkaa Nodigal", "Chekka Chivantha Vaanam", "'96", "Seethakaathi"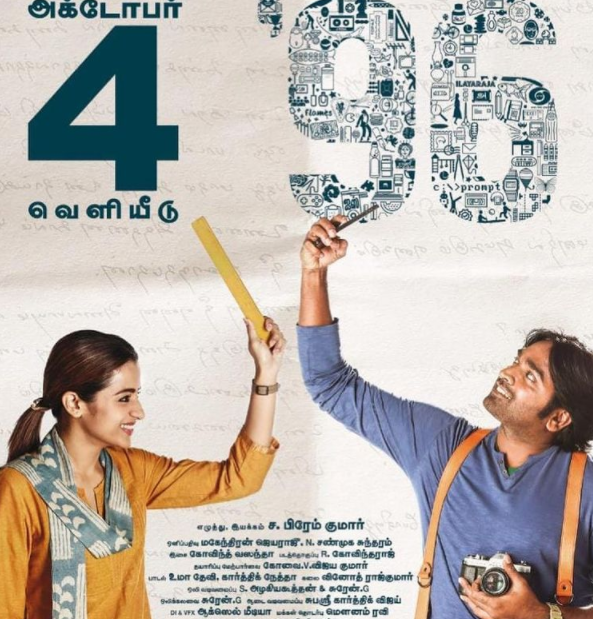 Source: @instagram.com/actorvijaysethupathi
2019- "Petta", "Super Deluxe", "Sindhubaadh", "Maarconi Mattaai", "Sye Raa Narasimha Reddy", "Sangathamizhan"
2020- "Oh My Kadavule", "Ka Pae Ranasingam"
2021- "Master", "Kutty Story", "Uppena"

Other Crew Positions
2011- "Marudhavelu"
2015- "Orange Mittai"
2016- "Hello Naan Pei Pesuren", "Vaaimai", "Atti"
2017- "Kattappava Kanom", "Ippadai Vellum", "Thiruttu Payale 2"
2018- "Junga", "Merku Thodarchi Malai"
2019- "Ispade Rajavum Idhaya Raniyum", "Dear Comrade", "Devarttam", "Avengers: Endgame", "Chennai Palani Mars", "Action"
2021- "Andava Kaanom"

Web Series
2021- "Navarasa", "Untitled next with Raj and D.K."

Television Shows
2006- "Penn"
2019- "Namma Ooru Hero"

Music Video Appearances
2015- "Tea Podu"
2016- "Spirit of Chennai"
2017- "Ain't No Sunshine", "Maatrangal Ondre Dhaan"
2020- "Machan Machan"