Wayne Barnes is a retired English international rugby union referee. He is also a barrister by job. He is best known for his regular appearances as a referee in the English Premiership. He has also officiated games in prestigious tournaments like the Heineken Cup and the European Challenge Cup. At the international level, Barnes' expertise extended to refereeing matches in the Rugby World Cup, the Six Nations, the Rugby Championship, and the Pacific Nations Cup competitions. Notably, he maintained a dual career as a criminal barrister and partner at Squire Patton Boggs. Wayne Barnes recently made headlines with his retirement announcement after officiating his final match in the World Cup final between South Africa and New Zealand, culminating a remarkable career that spanned 111 Test matches. Reflecting on this decision, he emphasized, 'This is clearly the right time for me and my family.'
Early Life and Childhood
Wayne Barnes, born on April 20, 1979, hails from Bream, Gloucestershire, England. He holds British nationality and belongs to British-White ethnicity. His present age is 44, celebrating his birthday on 20th April 2023. His educational journey took him through Whitecross School and the University of East Anglia, where he graduated with a law degree in 2000. His affinity for rugby was evident from an early age as he commenced playing the sport at the age of eight. His family were very supportive of him. He always had a passion for rugby from childhood.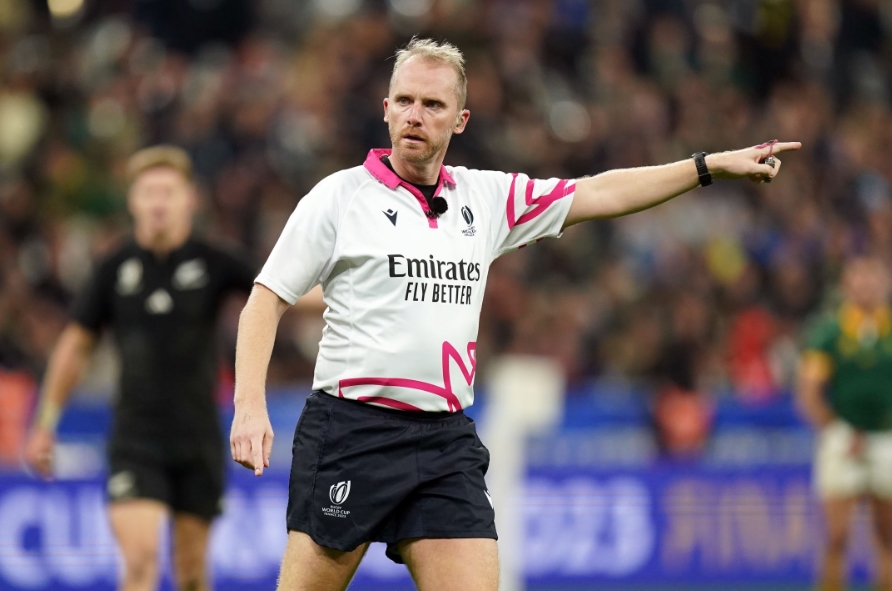 Referee Career, Job, & Retirement
Wayne Barnes embarked on his rugby journey at the age of 8. At the age of 15, he transitioned into refereeing with the Gloucester & District Referees.
His journey continued as he moved to the Norfolk Referees Society during his university years and then to the London Society of RFU Referees.
In 2001, at the remarkable age of 21, Barnes made history by becoming the youngest referee ever appointed to the Panel of National Referees, ultimately turning professional in April 2005.
His career as a referee was marked by numerous significant milestones, including officiating in international events like the 2003 U19 World Cup, the 2005 Under 21 Rugby World Championship, and the Sevens circuit.
He also made his Test debut as a referee in 2006 during the Pacific Five Nations.
Despite facing criticism and abuse during the 2007 Rugby World Cup, he continued to excel, being selected to officiate in high-stakes matches such as the Six Nations Championship and Heineken Cup Finals.
With a remarkable record, he was chosen to referee at multiple Rugby World Cups, including the 2019 edition.
In November 2022, he reached a historic milestone as he officiated the match between Wales and New Zealand during the 2022 Autumn Nations Series, marking his 100th international match as a referee, a record-equaling that of Wales' Nigel Owens.
A year later, in October 2023, he was appointed to referee the prestigious 2023 Rugby World Cup final between New Zealand and South Africa, making it his 111th test match and his 27th Rugby World Cup match.
"Throwing the Book," the autobiography co-authored by Barnes and Ben Dirs, featuring an audiobook edition narrated by Rich Keeble, is scheduled for release by Hachette on November 9, 2023.
Additionally, on November 2, 2023, he announced his retirement from refereeing, concluding a career that encompassed 111 Test matches, including participation in five Rugby World Cups and overseeing 26 Six Nations matches.
Salary and Net Worth
Wayne Barnes, a former international rugby union referee, has a reported net worth of $4 million as of 2023. As a highly respected figure in the world of rugby officiating, Wayne recently confirmed his retirement from the sport. Throughout his career, Barnes was widely acknowledged as one of the highest-paid rugby referees, earning a substantial annual salary of thousands of dollars. His primary source of wealth derived from his illustrious refereeing career, enabling him to maintain a comfortable and satisfying lifestyle through his earnings.
Wife and Children
Wayne Barnes is happily married to his wife, Polly Barnes. Professionally, Polly is the Co-Founder and Director of the Women's Rugby Association, having received her education from the University of Valencia and the University of Surrey. Her career path includes a role as an Account Manager at 3Sixty Design, and later, a decade-long tenure as a business director at Iris, a marketing agency. The couple is blessed with two children, Juno and Beau, who often accompany their parents to rugby games. Together, they lead a joyous and content family life.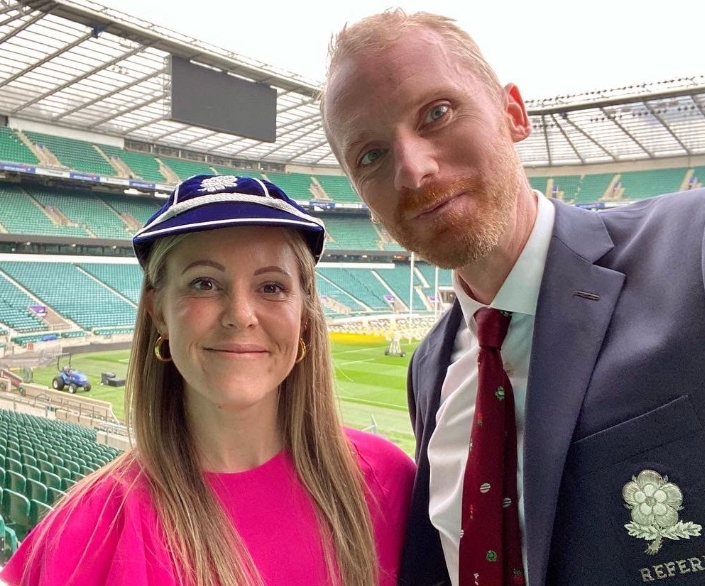 Body Measurements
Wayne Barnes is a handsome man with a standing height of 6 feet or 1.83 m. His body weight consists of 76 KG (167 lbs). His brown hair and piercing blue eyes add to his handsome features, making him a distinguished figure both on and off the rugby field. He has a slim body build with an attractive appearance.