About William Shatner
Canadian actor, author, producer, director, screenwriter, & singer, William Shatner rose to fame when he starred in the "Star Trek" Franchise as Captian Kirk of the USS Enterprise and also took other leading roles in his TV shows & films such as "Boston Legal", "Haven", "Star Trek", "3rd Rock from the Sun", "The Twilight Zone, "The Butler's Night Off", The Outrange", "Alexander the Great", "Big Bad Mama", "The Devil's Rain" & much more. He has written several Star Trek novels "The Ashes of Eden", "The Return", "Avenger".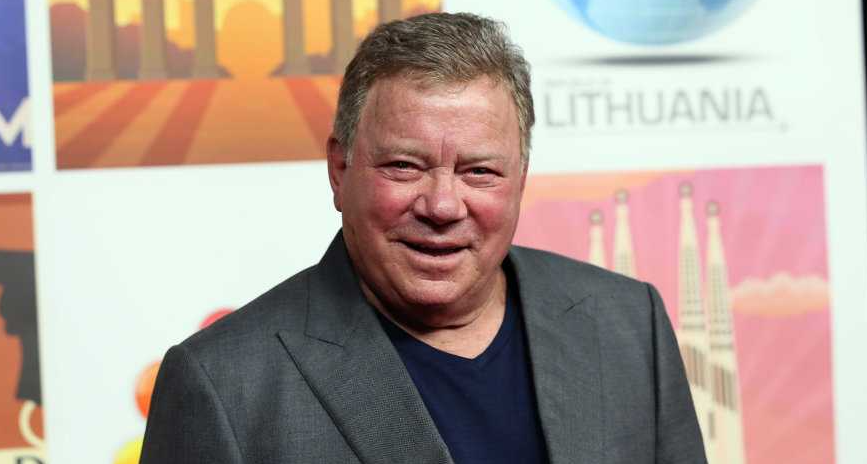 Source: @moviefone
William Shatner has been in over 60 movies, & over 60 television shows and he made his first movie appearance as a crook in the 1951 Canadian film "Butler's Night Off". In 2005, he was awarded both the Golden Globe and the Emmy award for the best supporting actor and the University also awarded him an honorary Doctorate of Letters (In 2011). He started acting at the age of six at super camp.

Early Life and Family
William Shatner came to this world from his parents in the year 1931 in the Notre-Dame-de-Grace, Canada. He celebrated his birthday on 22 March, which makes his Aries by the birth sign. He belongs to the Jewish ethnicity. Moreover, he holds Canadian nationality and his race is white. He was raised in a fairly religious family in conservative Judaism.
Concerning his family details, his father Joseph Shatner was a clothing manufacturer, and his mother, Anne Garmaise worked as an elocutionist. In addition, William has two sisters, named Farla Shatner, & Joy Shatner.
William Shatner is a well-educated man who has earned a degree as well. He enrolled at McGill University and graduated in 1952 with a bachelor's degree in commerce. He went to two schools, West Hill High and Willingdon Elementary school.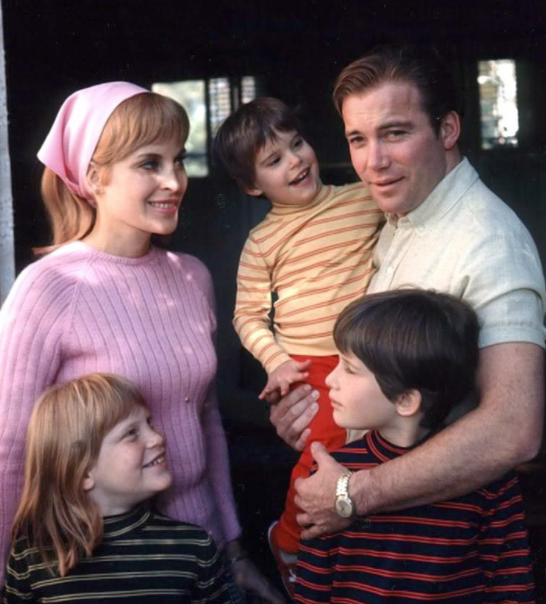 Source: @seniorvoicealaska
William Shatner Married Life
Canadian actor, William Shatner is a married and divorced man. Currently, he is single. Previously, he has been married four times. Firstly, he married to Canadian actress Gloria Rand in 1956 and they are blessed with three children: Melanie Shatner, Lisabeth Shatner, & Leslie Carol Shatner. The couple got divorced in 1969. He then married his second wife Marcy Lafferty in 1973, whom he met while working for Star Trek, and the couple divorced in 1996. William Shatner was also married to Nerine Kidd Shatner in 1997 but unfortunately, she died in an accident on 9 August 1999. In 2001, Shatner married a horse trainer Elizabeth Anderson Marth and the couple got divorced in 2020. Concerning his sexual orientation, he is straight.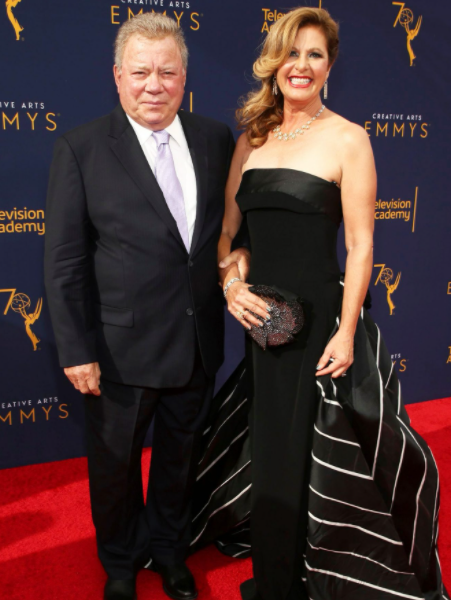 Source: @people
Net Worth and Salary
As of April 2021, William Shatner has a net worth of $150 million, which makes him one of the highest-paid actors. William Shatner earns a big amount through his thriving acting, writing, producing, & directing career. He earns a salary of $ 150000 USD for an episode. His other source of income is from his commercials ads. William is living a luxurious lifestyle from his earning.

Body Measurements - Height and Weight
William Shatner's height 5 feet 9 inches or 1.77m whereas his body weight around 85 Kg (187 Ibs) with an average body build. He has pair a of brown or hazel eyes color and his hair color is light brown.
Shatner suffers from tinnitus (ringing in the ears), along with Star Trek: The Original Series 1996 co-star Leonard Nimoy and his left ear are affected. Shatner also revealed in 2020 that he suffers from swollen joints and various-age related "aches and pains". His treatment for this condition involved wearing a small electronic device and also use CBD oil to treat his pain.

Filmography
1951- "The Butler's Night Off"
1957- "Oedipus the King"
1958- "The Brothers Karamazov"
1961- "The Explosive Generation", "Judgment at Nuremberg"
1962- "The Intruder"
1963- "Alexander the Great"
1964- "The Outrange"
1965- "Incubus"
1968- "White Comanche"
1971- "Vanished"
1973- "Pioneer Woman"
1974- "Impulse", "Big Bad Mama"
1975- "The Devil's Rain"
1976- "A Whale of a Tale"
1977- "Kingdom of the Spiders"
1978- "Land of No Return", "The Third Walker"
1979- "Star Trek: The Motion"
1980- "The Kidnapping of the President"
1982- "Visiting Hours", "Star Trek II: The Wrath of Khan", "Airplane II: The Sequel"
1984- "Star Trek III: The Search for Spock"
1986- "Star Trek IV: The Voyage Home"
1989- "Star Trek V: The Final Frontier"
1991- "Star Trek VI: The Undiscovered Country"
1993- "Loaded Weapon 1"
1994- "Star Trek Generations"
1995- "Trinity and Beyond"
1998- "Land of the Free", "Free Enterprise"
2000- "Miss Congeniality", "falcon Down"
2001- "Osmosis Jones", "Mind Meld: Secrets Behind the Voyage of a Lifetime"
2002- "Shoot or Be Shot", "Showtime", "American Psycho 2", "Groom Lake"
2004- "DodgeBall: A True Underdog Story"
2005- "Lil's Pimp", "Miss Congeniality 2: Armed and Fabulous"
2006- "The Wild", "Over the Hedge", "Stalking Santa"
2008- "Gotta Catch Santa Claus"
2009- "Fanboys", "The True History of Puss 'N Boots", "William Shatner's Gonzo Ballet"
2010- "Quantum Quest: A Cassini Space Odyssey", "Horrorween"
2011- "The Captains"
2013- "Escape from Planet Earth"
2015- "A Christmas Horror Story", "A Sunday Horse", "When Elephants Were Young"
2016- "Range 15"
2017- "Batman vs. Two-Face", "The Truth is in the Stars"
2018- "Aliens Ate My Homework"
2019- "To Your Last Death", "Devil's Revenge"
2020- "Creators: The Past"
2021- "Senior Moment"

Television Shows / Series
1954- "The Canadian Howdy Doody Show"
1955- "Encounter"
1957- "Studio One"
1957-1960- "Alfred Hitchcock Presents"
1959- "Nero Wolfe"
1960- "One Steps Beyond"
1960-1963- "The Twilight Zone"
1961- "Thriller"
1961-1965- "The Defenders"
1962- "Naked City"
1963- "Route 66"
1964- "The Outer Limits", "The Man from U.N.C.L.E"
1965- "The Fugitive", "For the People", "Twelve O'Clock High"
1965-1969- "The Virginian"
1966- "The Big Valley", "Gunsmoke", "Dr. Kildare"
1966-1969- "Star Trek: The Original Series"
1970- "Sole Survivor", "The Andersonville Trial"
1970-1974- "Ironside"
1971-1972- "Owen Marshall: Counselor at Law", "Mission: Impossible"
1972- "The Hound of the Baskervilles", "The People", "Hawaii Five-O", "The Sixth Sense"
1973-1974- "Star Trek: The Animated Series"
1973- "Incident On a Dark Street", "The Horror at 37000 Feet", "Barnaby Jones", "Mannix", "Go Ask Alice"
1974- "The Six Million Dollar Man", "Flick Flack", "Kung Fu", "Pray for the Wildcats", "Indict and Convict"
1975-1976- "Barbary Coast"
1976- "The Tenth Level"
1976, 1994- "Columbo"
1977- "The Oregon Trail", "Testimony of Two Men", "Mysteries of the Gods"
1978- "How the West Was Won", "Little Women", "The Bastard", "Crash"
1979- "Riel", "Disaster on the Coastliner"
1980- "The Babysitter"
1982- "Police Squad!", "The Vegetarian World"
1982-1986- "T.J.Hooker"
1984- "Secrets of a Married Man"
1985- "The Ray Bradbury Theater"
1988- "Broken Angel"
1989-1996- "Rescue 911"
1992- "The Larry Sanders Show"
1993- "Family of Strangers", "SeaQuest DSV"
1994-1996- "TekWar"
1995, 2010- "WWE Raw"
1996- "Star Trek: Deep Space Nine", "Prisoner of Zenda, Inc.", "Dead Man's Island", "The Fresh Prince of Bel-Air"
1998- "A Twist in the Tale", "Hercules"
1999-2000- "3rd Rock from the Sun"
2002- "Futurama"
2003- "A Carol Christmas", "Space Ghost Coast to Coast"
2004- "The Practice"
2004-2008- "Boston Legal"
2005- "Atomic Betty", "Comedy Central Roast of William Shatner", "Star Trek: Enterprise", "How William Shatner Changed the World"
2006- "Show Me the Money"
2007- "Everest '82", "Fire Serpent", "WWE Hall of Fame"
2008-2011- "Shatner's Raw Nerve"
2010-2011- "$h*! My Dad Says", "Aftermath With William Shatner"
2010-2012- "Weird or What?"
2011-2012- "Psych"
2011- "Comedy Central Roast of Charlie Sheen"
2012- "Rookie Blue", "Have I Got News for You"
2013- "Hot in Cleveland", "85th Academy Awards", "Kelly Clarkson's Cautionary Christmas Music Tale"
2014- "The Shatner Project", "Chaos on the Bridge"
2015- "WWE Breaking Ground", "Murdoch Mysteries", "Haven", "Cleaners"
2016- "Cutthroat Kitchen", "Better Late Than Never"
2017- "My Little Pony: Friendship Is Magic", "Private Eyes", "The Indian Detective"
2019- "The UnXplained", "The Big Bang Theory", "Private Eyes", "Star Trek: Short Treks"

Video Games
1992- "Star Trek: 25th Anniversary"
1993- "Star Trek: Judgment Rites"
1995- "Star Trek: Starfleet Academy", "William Shatner's Tekwar"
1997- "Star Trek Generations"
2006- "Star Trek: Legacy", "Star Trek: Encounters", "Star Trek: Tactical Assault"

Books List

Shatner Rules: Your Guide to Understanding the Shatnerverse and the World at Large (2011)
Up Till Now (2008)

Leonard: My Fifty-Year Friendship with a Remarkable Man, Zero-G: Book 1: A Novel William Shatner, Quest for Tomorrow #1 (2016)
Live Long And...What I Learned Along the Way, The TekWar Series Books 4-6: Tek Vengeance, Tek Secret, and Tek Power, The TekWar Series Book 7-9:
Tek Money, Tek Kill, and Tek Net (2018)
The Return, Tek Kill, Man O' War (1996)
Star Trek Movie Memories, Tek Vengeance, Tek Secret (1993)
The Ashes of Eden, Tek money (1995)
Avenger, Delta Search, Tek net, In alien hands (1997)
Spectre, The law of war, Star Trek Odyssey (1998)
Preserver, Beyond the stars (2000)
Dark Victory, Get a Life, Step into chaos (1999)
Believe: A Novel (1992)
Captain's Glory (2006)
Captain's Blood, Captain's Peril, Shadow planet, I'm Working on That: A Trek From Science Fiction to Science Fact (2002)
Gollision Course (2007)
Tek Lords, TekLab (1991)
I'm Working That (2001)
Tek Power (1994)
Zero-G: Green Space William Shatner, Spirit of the Horse: A Celebration in Fact and Fable, The TekWar Series Books 1-3: TekWar, TekLords, and
TekLab (2017)
TekWar (1989)
Star Trek Captains: Interviews by William Shatner, Catch Me Up: The Future Is Bright (2015)
William Shatner & Leonard Nimoy: Aka Captain Kirk & Spock! (2020)

Awards & Nominations
Theatre World Award (1958)
Golden Raspberry Award
Saturn Award (1978, 1980, 1983, 1985, 1987)
Meritorious Service Award (1985)
Golden Raspberry Awards (1989, 1995, 2000)
Breeders Hall of Fame Award (1996)
Emmy Award (1999, 2004, 2005, 2006, 2007, 2008, 2009)
Teen Choice Awards (2000)
Canadian Comedy Awards, Annie Awards (2001)
Golden Globe Award (2005, 2008)
Satellite Awards (2005)
Screen Actors Guild Awards (2006, 2007, 2008, 2009)
Marbella International Film Festival Award, Prism Award, Nathanael Greene Humanitarian Award, Streamy Award (2009)
C.J. Cronan Sportsmanship Award, Governor General's Award, Revolver Golden Gods Award (2011)
Television Critics Association Award (2011, 2012, 2013)
Audie Awards (2012)
Legancy Award (2013)
Canadian Screen Awards (2015, 2017)
NASA Award (2014)
TASTE Awards (2015, 2016)
Voice Arts Awards (2015)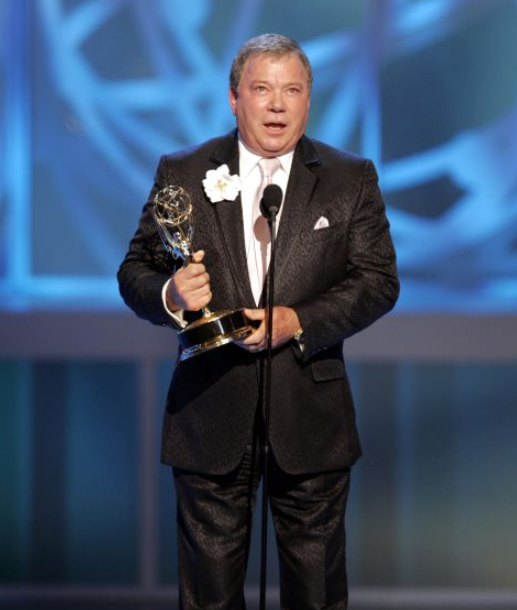 Source: @edition.cnn.com