Willie Jess Robertson shortly named Willie Robertson is a famous American TV personality, businessman, and author. He is famous for his appearances on the reality TV series Duck Dynasty on A&E and is the current CEO of the company Duck Commander. He is almost always seen wearing a bandana in the pattern of the American flag on his head, and he often wears a white suit jacket to look more professional, though the jacket has drawn comparisons to The Dukes of Hazzard character Boss Hogg (Willie's Twitter handle is "williebosshog"). Robertson, like many of his family members featured on the Duck Dynasty, is known for his ZZ Top-style beard. He is also active on social media sites with his Instagram account: @realwilliebosshog with the follower of more than 400k followers and Twitter account: @williebosshog with the follower of more than 2 Million. Scroll down to get full information about Will Robertson's biography, net worth, birthday, wiki, facts, family details, career, wife, children, awards, hair cut, and more.
Famous For
Being an American TV personality, businessman, and author.
Being the CEO of a multi-millionaire company, "Duck Commander".
For his appearances on the reality TV series "Duck Dynasty" on A&E.
Source: @cbn.com
Willie Robertson's Early Life (Childhood, Family Details, Education)
Willie Robertson was born on 22nd April 1972. His birthplace/hometown is in Bernice, Louisiana, the USA. His birth name/real name is Willie Jess Robertson. His nationality is American and he belongs to American-White ethnicity. His race is White. Taurus is his zodiac sign and he is Christian by religion. As of 2020, he celebrated his 48th birthday. He was born as the third son of a well-to-do family born to Phil Alexander Robertson (father) and Marsha Kay Robertson (mother). His father, Phil is a popular businessman, reality star, and professional hunter, and his mother, Marsha is also a television personality. He grew up along with his 2 elder brothers; Alan and Jase, and one younger brother, Jep. He and his brothers were always interested in their family business, "Duck Commander" which was founded by their father, Phil. Since his childhood, he was interested in hunting and the outdoors, and he also used spent considerable time around Duck Commander. As per his education, he studied at Harvard University, and later, he completed his studies graduating from NE Louisiana University in Monroe, Louisiana, earning a bachelor's degree in Health and Human Performance with Business. He also handled various tasks at the company, including building duck calls and handling business calls.

Willie Robertson's Career (Duck Commander)
After his graduation, he began to work in his father's company, "Duck Commander" where his degree quite helped as he developed his family business to a multi-millionaire empire.
Duck Commander is the company that generated a great portion of the wealth that he has acquired and also generated the interest to start the TV show "Duck Dynasty".
In the year 2006, he started another pursuit, the company Buck Commander.
This company has also created the Buckman series of DVDs and the television show Buck Commander Protected by Under Armour on the Outdoor Channel.
Along with Si, he appeared on an episode of "Last Man Standing", and made a cameo in the Christian film, "God's Not Dead", with his wife.
On 1st July 2010, another series was introduced titled "Buck Commander: Protected by Under Armour". He remained the executive producer of both of the series.
He also appeared in the American reality TV series on A&E, "Billy the Exterminator".
Willi and his family got their breakthrough career after they began to appear in reality TV series, "Duck Dynasty" on 21st March 2012, which is about their personal lives.
His family also appeared in another TV show, "Duck Commander: Before the Dynasty".
On 29th October 2013, the first full-length Christmas album of the family titled "Duck the Halls: A Robertson Family Christmas" was released through UMG Nashville which emerged as second best selling Christmas album of the year. The album debuted at #4 on Billboard 200 and #1 on Billboard Top Country Albums chart which he even received Platinum certification from the Recording Industry Association of America(RIAA) and gold certification from Music Canada.
"Duck Dynasty" emerged among the most popular shows breaking many A&E rating records. The show ran for almost 5 years compromising 11 seasons till 29th March 2017.
He was also the guest of United States Representative Vance McAllister at the 2014 State of the Union Address by President Barack Obama.
In the year 2015, he was featured in the American improvisational comedy show "Whose Line Is It Anyway?".
At present, he serves as the CEO of the company, which specializes in the manufacture of duck hunting products, "Duck Commander".
Films Played by Willie Robertson
Billy the Exterminator (2010)
Duck Dynasty (2012-2017)
Last Man Standing (2013)
God's Not Dead (2014) - Cameo appearance
Whose Line Is It Anyway? (2015)
Buck Commander (2010-2019)
Duck Commander (2009-2011)
Awards of Willie Robertson
Louisiana Governor Bobby Jindal presented him with the inaugural Governor's Award for Entrepreneurial Excellence in March 2014, at the Duck Commander warehouse in West Monroe.
Willie Robertson's Wife, Korie Howard (Six Children)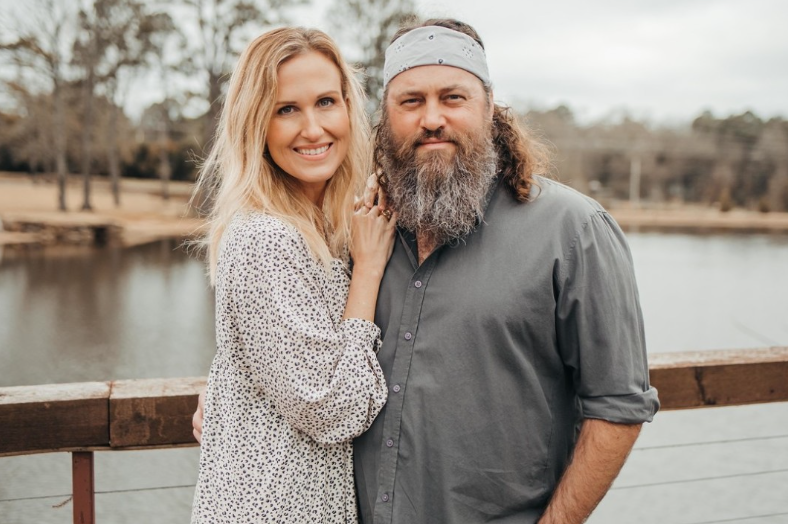 Source: @unitedtalent.com
Willie Robertson is a married man. He was married to his long-term girlfriend, Korie Howard. The duo married on 6th July 1992. The duo met each other when they were studying at Harvard University. Moreover, they were jointly awarded as the Outstanding Young Alumni. They are the proud parents of 6 children: Sadie Robertson, John Luke Robertson, Rebecca Robertson, Bella Robertson, Willie Alexander Robertson, and Rowdy Robertson. Willie and Rebecca are their foster children. Willi and his family used to reside in the West Monroe estate of the big Robertson family until April 2020, when they encountered a drive-by shooting at the mansion, fortunately, none of the family members was harmed. Willie went on to say that he and his family were "pretty shook up" after one of the bullets that fired at the residence went through the bedroom window of the home where his son John lives with his wife, Mary Kate, and their infant son. Additionally, a restraining order has been issued against King for John, Mary Kate, and their son. Currently, the duo lives in West Monroe, Louisiana on a gated property. His sexual orientation is straight.
Willie Robertson's Net Worth And Salary
Willie Robertson is an American TV personality, businessman, and author. With his multi-career, Willier has accumulated a huge amount of money. Working in his father's business for over a decade, he managed to establish the company as a multi-millionaire company and even started his own business, due to which he has managed to amass a million worth fortune. As of 2020, the net worth of Willie Robertson is estimated to have $40 million. He earns the majority of his funds from his Duck Commander business. Up until earlier this year, he also made money from starring in the popular A&E reality series, Duck Dynasty. The hit reality show, "Duck Dynasty" earned more than $80 million in 2013, and later the Robertson family introduced a merchandise line thus raising the revenue of over $400 million. At present, his exact salary is unknown. As of now, he is satisfied with his earnings without any disturbances. Willie and Korie Robertson live in West Monroe, Louisiana on a gated property. Information about his cars is unknown.
How tall is Willie Robertson?
Willie Robertson is a handsome hunk with a well maintained balanced body. He has got a perfect height matching with his body weight. He stands at the tall height of 5 ft. 9 in. and his body weight is around 85 Kg. He has a fair complexion with light brown long hair. He has a pair of green eyes. At the present time, his body measurements such as chest size, waist size, hip size, dress size, shoe size are unknown at present. He is almost always seen wearing a bandana in the pattern of the American flag on his head. Once recognized for his signature long hair and beard, the 48-year-old unveiled his "major after-quarantine haircut" on social media Tuesday night. The video shows the haircut itself, along with the shock it caused his family and friends when they first saw it.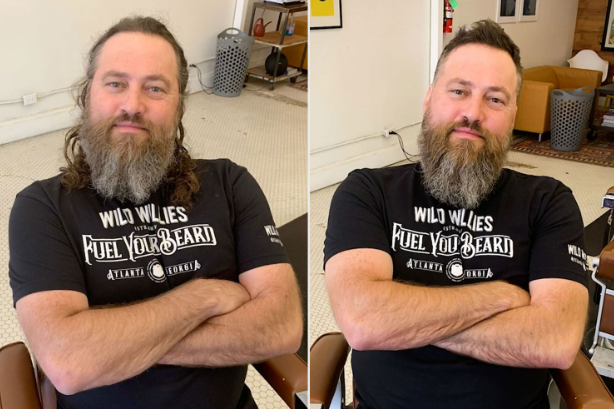 Source: @people.com