A Senegalese-American singer, songwriter, record producer, entrepreneur, philanthropist, and actor is named for Aliaume Damala Badara Akon Thiam aka Akon. His debut album was "Trouble". It was released on June 29, 2004. It contains 11 tracks and the total length of the album is 49 min and 57 sec. This album includes the hits Locked Up and Lonely. With his debut album, he rose to fame. He first appeared in the movie "Black November" (2012), playing the role of Opuwei. He appeared in the TV series "Love, Kills xx" in 2010 which is his first TV Show. He also founded two successful record labels, Konvict Muzik and KonLive Distribution which served as a stepping stone for many soon-to-be successful acts, such as Lady Gaga, T-Pain, R. City, Kardinal Offishall, and Red Cafe. His second album, Konvicted (2006) received three nominations for the Grammy Awards, Best Contemporary R&B Album, and Best Rap/Sung Collaboration for "Smack That" and "I Wanna Love You". He has sung songs in other languages including Hindi and Spanish. He was listed by the Guinness Book of World Records as the #1 selling artist for master ringtones in the world. Forbes ranked Akon 80th (Power Rank) in Forbes Celebrity 100 in 2010 and 5th in 40 Most Powerful Celebrities in Africa list, in 2011. Recently, Tekashi 6ix9ine and Akon team up for 'Locked Up' sequel. 6ix9ine, real name Daniel Hernandez, shared a clip of himself and Akon listening back to the record on Instagram. "LOCKED UP PART 2 IM ON ALBUM MODE," he captioned the clip. "THIS ALBUM GOING CRAZYYYYYYY." Scroll down to get full information about his biography, facts, family, awards, songs, albums, net worth, birthday, wiki, wife, now, and more.
Famous For
Being a famous singer, songwriter, record producer, entrepreneur, philanthropist, and actor.
For his music hits Lonely, Smack That, I Wanna Love You and Locked Up.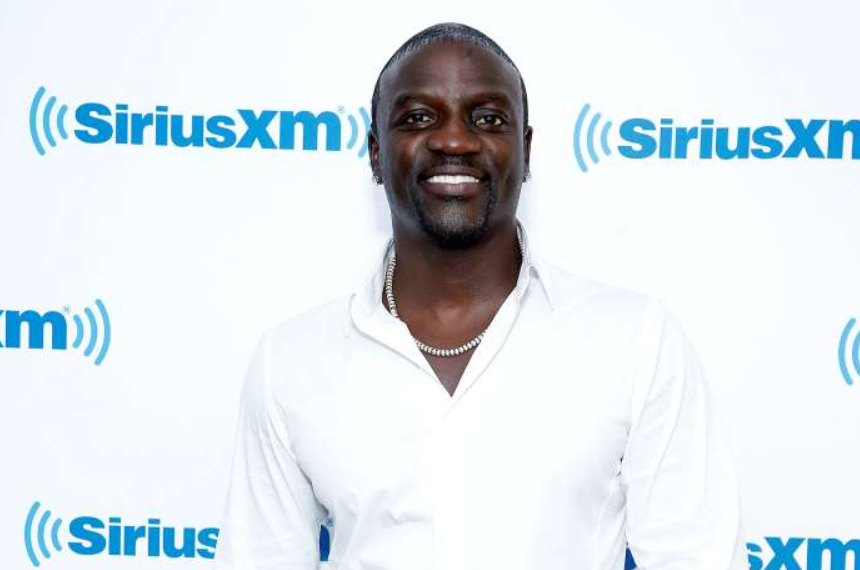 Source: @msn.com
Akon's Early Life (Childhood, Family Details, Siblings)
Akon was born on 16th April 1973. His real name/birth name is Aliaume Damala Badara Akon Thiam. His birthplace/hometown is in St. Louis, Missouri, the USA. His nationality is American and his ethnicity is Senegalese-African-American. His race is Black. As of 2020, he celebrated his 47th birthday. He was born to an African family/parents. His father, Mor Thiam, was a traditional jazz musician, and mother, Kine Thiam, was a dancer. His parents moved to their hometown Dakar, Senegal, West Africa soon after Akon was born and lived there for 7 years. The couple along with their family moved back to the United and settled in Jersey City. Talking about his siblings, he has a brother named Bu Thiam and Khady Thiam, sister. As he reached the teenage and attended high school, his parents left him with his elder brother in Jersey City and moved to Atlanta, Georgia with the rest of the family. He developed a great passion and love in music from an early age. He learned to play five musical instruments during his childhood including guitar, drums, and djembe. His Zodiac sign is Aries and his religion is Islam. As per his educational background, he attended William L. Dickinson High School in Jersey City. After leaving the University, he shifted his complete focus on the music business.
How Akon became famous? (Career, Songs, Albums)
The songs, he recorded with Stephens were brought to the attention of Universal's imprint SRC Records.
His solo debut album, "Trouble" was released on 29th June 2004 which includes the singles "Locked Up", "Lonely", "Belly Dancer (Bananza)", "Pot of Gold" and "Ghetto".
"Locked Up" reached the number 8 position in the U.S. and number 5 in the UK and "Ghetto" became a radio hit when it was remixed by DJ Green Lantern to include verses from rappers 2Pac and The Notorious B.I.G.
With the release of the album, his life turned around and he instantly got international stardom.
In 2005, he released the single "Lonely" (which samples Bobby Vinton's "Mr. Lonely") which reached the top five on the Billboard Hot 100 and topped the charts in Australia, the UK, and Germany.
He was then featured on two other singles, P-Money's "Keep on Callin'" off the album Magic City, and the other with New Zealand rapper Savage with the single "Moonshine".
He made his first critically acclaimed guest appearance on Young Jeezy's debut album, Let's Get It: Thug Motivation 101, with the song "Soul Survivor" in the year 2005.
He started his own labels, named Kon Live Distribution and Konvict Muzic, and released his second album, "Konvicted", in November 2006 from his own label which gave him even more success by giving several chartbuster singles.
The album included collaborations with Eminem, Snoop Dogg, and Styles P. The first single "Smack That" (featuring Eminem) was released in August 2006 and peaked at number two on the Billboard Hot 100 for five consecutive weeks.
He broke a record on the Hot 100, as he achieved the largest climb in the chart's 48-year-history with "Smack That" jumping from number 95 to 7 on 5th October 2006.
The record has since been broken several times. "Smack That" was nominated for Best Rap/Sung Collaboration at the 49th Annual Grammy Awards but lost to Justin Timberlake and T.I.'s "My Love".
"I Wanna Love You", (featuring Snoop Dogg) was the second single released in September, it would go on to earn Akon his first number-one single on the Billboard Hot 100, and Snoop's second. "I Wanna Love You" topped the U.S. charts for two consecutive weeks.
In January 2007, a third single "Don't Matter" which earned him his first solo number one and second consecutive Hot 100 chart-topper was released.
"Mama Africa" was released as a European single in July 2007, making it the fourth overall single from the album.
In February 2007, Akon launched his clothing line, Konvict Clothing which features urban streetwear including denim jeans, hoodies, T-shirts, and hats.
He produced and featured on Gwen Stefani's "The Sweet Escape" which has reached No. 2 on the Billboard Hot 100 and also performed at the American leg of Live Earth.
He then recorded a remix of "Wanna Be Startin' Somethin'" by Michael Jackson for the 25th-anniversary rerelease of Jackson's "Thriller".
He also worked with bachata group Aventura and Reggaeton duo Wisin & Yandel on All Up 2 You and the song received two nominations at the Premios Lo Nuestro 2010 for "Urban Song of the Year" and "Video Collaboration of the Year".
After that, he signed Jayko, a Hispanic R&B, and Reggaeton artist, to his label.
His third album, "Freedom", came out in 2008 which spawned four singles: "Right Now -Na Na Na", "I'm So Paid", "Beautiful" and "We Don't Care". The album was certified platinum in the United States.
He was also the executive producer of Kardinal Offishall's fourth solo album "Not 4 Sale".
The first single "Dangerous", which featured Akon peaked at No. 5 on the Billboard Hot 100.
He co-wrote Kon Live artist Lady Gaga's hit "Just Dance", and which earned a Grammy nomination for Best Dance Recording at the 51st Grammy Awards.
He released a tribute song called "Cry Out Of Joy" after the unexpected death of Michael Jackson.
In July 2008, a song called "Hold My Hand", an R&B duet/collaboration between Michael Jackson and Akon, circulated the internet.
He finished work on the song for Jackson's posthumous album, "Michael" on 25th June 2009 and it was released as a single in November 2010.
He co-wrote and recorded "Put It on My Tab" with New Kids on the Block for their 2008 reunion album "The Block".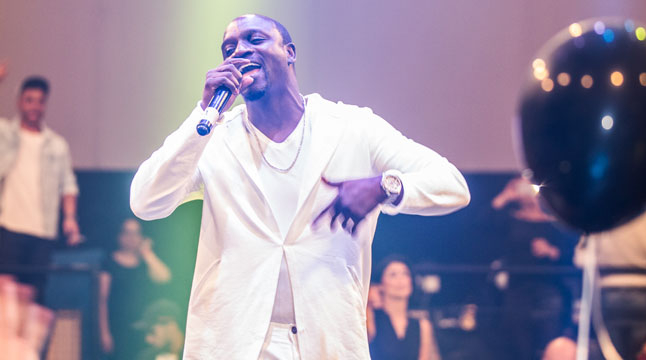 Source: @timeoutabudhabi.com
He later worked with Whitney Houston for her 2009 comeback album I Look to You, appearing on the track "Like I Never Left".
He collaborated with Pitbull on the single "Shut It Down" from the album "Rebelution" and worked with Matisyahu to remix his single "One Day" on his album Light.
He also co-produced singer Natalia Kills' debut single, "Mirrors", from her debut album, "Perfectionist".
Besides this, he also worked with a famous house music icon, David Guetta, in his song "Sexy Bitch".
He has also sung the song "Chammak Challo" for the Hindi movie 'Ra.On'' featuring Shahrukh Khan and Kareena Kapoor. He sang the song in collaborated with the famous Indian music director duo, Vishal-Shekhar, in 2011.
On November 11, 2013, he released a standalone single titled "So Blue".
On 1st January 2015, he released five singles from "Stadium".
In November 2015, he announced via his official website that he was planning to release his fourth album Stadium in four versions: Stadium- Island, Stadium- Urban, Stadium- World, and Stadium- House.
In late 2015 and early 2016, he released the singles "Want Some", "Hypnotized" and "Good Girls Lie", upon striking a new record deal with Atlantic Records.
In late 2017, he released a collaborative mixtape with Konvict signees entitled "Konvict Kartel Vol. 2".
In May 2019, he released his first Latin single "Get Money", featuring Puerto Rican rapper Anuel AA.
His fourth album "El Negreeto" was released on 4th October 2019.
He released "Cómo No" featuring Mexican-American singer Becky G, as the lead single from El Negreeto on 6th September.
After that album, "Akonda" was released on 25th October 2019, serving as his fifth album and contain Afrobeats music.
The album's singles are "Low Key" and "Wakonda". Furthermore, Konnect will be released sometime in 2020, which will serve as his sixth album and will contain Hip hop and R&B music like his previous albums.
The album's singles are "Benjamin" and "Can't Say No".
On 22nd March 2020, Akon released a song called "Girls Like U (The Akon Self-Isolation Remix)", which is a remix version of the Maroon 5 song "Girls Like You", during the COVID-19 pandemic.
Moreover,
He also started a project, Akon Lighting Africa, in 2014 which provides electricity in 15 countries of Africa.
He then launched his own charity for underprivileged children in Africa called Konfidence Foundation.
In the year 2018, he announced he was working with the Senegalese government to build a tourist-city with a cryptocurrency-based economy named Akon City.
On 13th January 2020, he shared on Twitter that the agreements for his city in Senegal have been finalized and the project is underway.
He also appeared on an edition of November 17, 2008, of WWE Raw, with Santino Marella citing him in his speech.
He entered the Big Brother house in Pinoy Big Brother Celebrity Edition 2 as a guest on 30th November 2007.
He made his acting debut appearing alongside an ensemble cast in the 2012 Nigerian-American film "Black November".
In 2014, he starred alongside Hayden Christensen and Adrien Brody in the action movie, "American Heist", directed by Sarik Andreasyan.
He appeared on the ITV2 show The Hot Desk. He stated on the show that he is a fan of the English Premier League club Chelsea F.C.
In October 2018, he received some media coverage for his "serious consideration" in running for President of the United States in the U.S. 2020 Election.
Awards and Achievements of Akon
Akon is an award-winning singer. He won the 'Favourite Soul/R&B Male Artist' award at American Music Awards and the 'Artist of the Year' award at Billboard Music Awards in 2007. In the same year, he also won Teen Choice Award for the category 'Breakout Artist - Male'. In 2008, he won BET Hip Hop Award in the category 'Producer of the Year' and he won Ozone for the category 'Artist of the Year' (USA & UK)' in 2009. He won ASCAP Awards in different categories in 2007, 2008, 2009, 2010, and 2011.
Who is Akon married to?
Akon is a married man. Back in the days, Akon was married to Rosina Bruck. The time when they actually married and divorced is not known. After that, he dated the German porn star Michael Schaffrath. After Michaela, he dated Rachel Ritfeld for a brief period. On 29th January 2010, he started dating the Brazilian model Nicole Bahls. Despite the rumors which said that the couple separated, Akon and Nicole are still seeing each other. Akon is legally married to Tomeka Thiam, with whom he has two children/kids. He is living a happy life at present with her. He has always kept his family far away from the eyes of the media. He claims that he has six children with three women in an interview with Blender, all of whom he has great relationships with. His name has been in a number of controversies and has also faced numerous legal difficulties. He is believed to have served three years in prison from 1999 to 2002 for the car-theft ring. His sexual orientation is straight.
How much is Akon's Net Worth?
The mesmerizing voice behind many songs, Aliaume Damala Badara Akon Thiam aka Akon never thought that he would be such a big name of the music industry. He has a lot of talents that have taken him to the epitome of success. AS of 2020, the net worth of Akon is estimated to have $90 Million. According to Forbes, he grossed $13 million in 2011, $21 million in 2010, $20 million in 2009 and $12 million in 2008. His рrіmаrу ѕоurсе оf іnсоmе іѕ hіѕ muѕіс саrееr. Ѕо fаr, hе hаѕ fоur аlbumѕ. Не hаѕ mаdе mоnеу frоm thе ѕаlеѕ оf thеіr соріеѕ. Не hаѕ аlѕо еаrnеd bу арреаrіng іn fіlmѕ. Іn аddіtіоn tо thаt, hе іѕ а rесоrd рrоduсеr аnd а ѕоngwrіtеr. Не іѕ а buѕіnеѕѕmаn whо оwnѕ а dіаmоnd mіnе. He has appeared in a commercial for Pepsi (2010), along with the football stars Messi, KAKA, Drogba, Lampard, and Henry. He also appeared in a TV commercial for Vodka (2014). Whereas his exact salary is unknown. He is living a luxurious lifestyle from his earnings. Details about his cars and house are unknown.
How tall is Akon? (Body Measurements)
With an athletic body build, Akon stands at an average height of 5 ft 10 in or 180 cm. He maintained his body a lot. His weight consists of 78 Kg or 171 lbs. His hair color is black and his eye color is dark brown. His shoe size is 11 US. His other body measurements such as chest size, waist size, biceps size are unknown. Overall, he has got a healthy body with a charming smile and a glowing face attracting a lot of people towards him.