Anna Kournikova Biography
A Russian-American former professional tennis player and television personality is known for Anna Kournikova. She retired from her tennis career at the age of 21 due to serious back and spinal problems, including a herniated disk. She achieved greater success playing doubles, where she was at times the world No. 1 player. With Martina Hingis as her partner, she won Grand Slam titles in Australia in 1999 and 2002, and the WTA Championships in 1999 and 2000. They referred to themselves as the "Spice Girls of Tennis". She played in occasional exhibitions and in doubles for the St. Louis Aces of World Team Tennis before the team folded in 2011. As a TV personality, she was a new trainer for season 12 of the television show "The Biggest Loser". She was cast by the Farrelly brothers for a minor role in the 2000 film "Me, Myself & Irene" starring Jim Carrey and Renee Zellweger which was her debut film. In a 1997 episode, she was seen on the talk show "The Tonight Show with Jay Leno". In May 2002, FHM Australia and FHM America declared her the sexiest woman in the world after conducting a poll. In 1998, People magazine included her on the list of "50 Most Beautiful People". In the year 2008, Google announced that she was the most searched athlete on the Internet. She plays right-handed with a two-handed backhand. She is nicknamed Murzik. Scroll more to know about Anna Kournikova's Full Biography, Facts, Wiki, Age, Childhood Life, Career Stats, Birthday, Family Life & more.

Happy Birthday, Mary!! Recently their third and youngest kid Mary turned 1 on Saturday, and her tennis pro mom marked the occasion with an adorable photo on Instagram. In the snapshot, Mary is propping herself up on her hands, dressed in a cream-colored dress and a matching bow atop her blonde curls. Kournikova, 39, simply captioned the photo, "1! ❤️."
Anna Kournikova is famous for being one of the most glamorous and popular female tennis players of her generation. She is best known for her success as a professional tennis player, especially in the doubles category, in which she managed to reach the top of the rankings. She has also been compared to doubles specialists; Pam Shriver and Peter Fleming.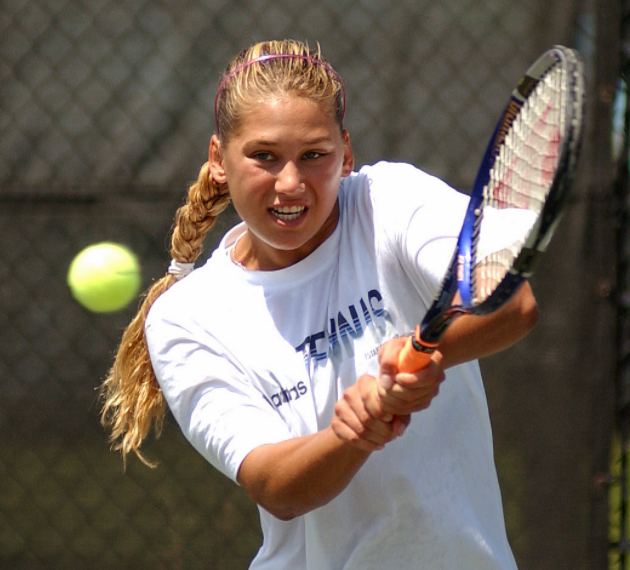 Source: @sco.wikipedia.org
On 7th June 1981, Anna Kournikova was born in Moscow, Russian SFSR, Soviet Union (now Russia). Her birth name/real name is Anna Sergeyevna Kournikova. She is Russian by nationality and her ethnic background is Russian-White. Her race is White. She was born to her parents; Sergei Kournikovac (father), and Alla (mother), a 400-meter runner. Her father was a former Greco-Roman wrestling champion, eventually earned a Ph.D. and was a professor at the University of Physical Culture and Sport in Moscow. As of 2001, her father was still a part-time martial arts instructor there. Talking about her family members, she also has a sibling; a younger half-brother named Allan who is a youth golf world champion who was featured in the 2013 film 'The Short Game'. She stated that "We were young and we liked the clean, physical life, so Anna was in a good environment for sport from the beginning". Anna celebrated her 39th birthday as of 2020 and she will next be celebrating her 40th birthday as of 2021 on 7th June. Gemini is her Zodiac sign and her religion is Russian Orthodox. Her parents had no intention of making her a professional tennis player at the start. Anna was an energetic child and they figured tennis would be a better outlet for extra energy. Concerning her education, she graduated from the Russian High School in 1997. She then got enrolled at the Russian University of Physical Culture.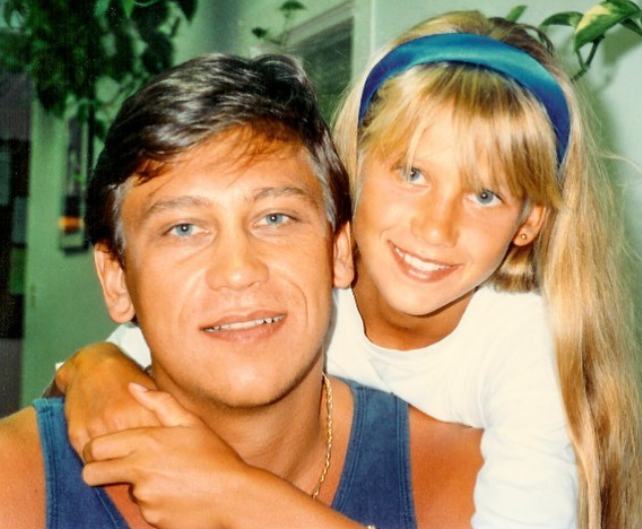 Source: @instagram.com/annakournikova
Anna Kournikova is a beautiful lady with a glowing face and a charming smile. She stands tall at the perfect height of 1.73 m or 5 ft 8 in. Her body build is athletic. She has a balanced bodyweight of 61 KG or 134.5 lbs. She has a pair of blue eye color ad her hair color is blonde. Her body measurement is 36-25-36 in or 91.5-63.5-91.5 cm. Her dress size is 8 US or 40 EU and her bra size is 34B. She wears a shoe size of 9.5 US or 40 EU. In the year 2003, she debuted a tattoo of a sun on her lower back at the Australian Open. In a bizarre interview, she denied it was a tattoo and claimed it was a heat patch used for back pain.
Anna Kournikova Career and Retirement
At the age of five, Anna got her first tennis racquet as a New Year gift in 1986. Then, she became a member of the Spartak Tennis Club where she was coached by Larissa Preobrazhenskaya.
At the age of eight, she started appearing in junior tournaments, and then she signed a management deal at age ten and went to Bradenton, Florida, to train at Nick Bollettieri's celebrated tennis academy.
She won the European Championships and the Italian Open Junior tournament at the age of fourteen then becoming the youngest player to win the 18-and-under division of the Junior Orange Bowl tennis tournament as of December 1995.
She was also crowned the ITF Junior World Champion U-18 and Junior European Champion U-18 at the end of the year 1995.
She debuted in the WTA Tour earlier in September 1995 receiving a wildcard at the WTA tournament in Moscow where she lost to Sabine Appelmans.
At 1995 Wimbledon girls' champion, she partnered singles and doubles with Aleksandra Olsza where she lost the title match to Meredith McGrath and Larisa Savchenko-Neiland.
Between February and March of the year 1996, she became successful to win two ITF titles, in Midland, Michigan, and Rockford, Illinois.
She then debuted at the Fed Cup for Russia in April 1996. In the same year, she began playing under a new coach, Ed Nagel.
She made her Grand Slam debut at the age of fifteen reaching the fourth round of the 1996 US Open. During the time, her ranking jumped from No. 144 to debut in the Top 100 at No. 69.
Additionally, she was also a member of the Russia delegation to the 1996 Olympic Games and was named WTA Newcomer of the Year 1996 where she was ranked No. 57 at the end of the season.
She entered the 1997 Australian Open as world No. 67 losing to Amanda Coetzer. She again lost to her at the Italian Open.
She made it to the third round before losing to world No. 1, Martina Hingis at the French Open.
She lost in the second round to the eleventh seed Irina Spirlea at the US Open. Her rank was No. 32 in singles and No. 41 in doubles at the end of the season.
At the Australian Open, she lost in the third round to world No. 1 player, Martina Hingis. She reached her first WTA Tour singles final, before losing to Venus Williams in the final at the Miami Open.
After then, she achieved her first WTA doubles title in Tokyo after defeating Mary Joe Fernandez and Arantxa Sanchez Vicario in the final.
She was ranked No. 10 in doubles at the end of the season 1998.
In the 1999 season, she won her first doubles Grand Slam title, partnering with Martina Hingis. She reached her second WTA Tour final but lost to Martina Hingis at the Tier I Family Circle Cup. She then ended the season as World No. 12.
She opened her 2000 season winning the Gold Coast Open doubles tournament partnering with Julie Halard.
She reached the fourth round in singles and the semi-finals in doubles at the Australian Open. She reached eight semi-finals (Sydney, Scottsdale, Stanford, San Diego, Luxembourg, Leipzig, and Tour Championships), seven quarterfinals (Gold Coast, Tokyo, Amelia Island, Hamburg, Eastbourne, Zurich, and Philadelphia), and one final.
She was ranked No. 4 in doubles at the end of the 2000 season. In the same season, she won six doubles titles-Gold Coast (with Julie Halard), Hamburg (with Natasha Zvereva), Filderstadt, Zurich, Philadelphia, and the Tour Championships (with Martina Hingis).
In the 2001 season, she faced a lot of injuries which made her withdraw from 12 tournaments including the Franch Open and Wimbledon. What's more, she also underwent surgery in April.
During the season, she reached her second career grand slam quarterfinals at the Australian Open but she withdrew from many games due to the injury.
Partnering with Barbara Schett, she became successful to win the doubles title in Sydney but lost in the finals in Tokyo partnering with Iroda Tulyaganova. She also lost at San Diego partnering with Martina Hingis.
Later, Hingis and Kournikova also won the Kremlin Cup. She was ranked No. 74 in singles and No. 26 in doubles at the end of the 2001 season.
She reached the semi-finals of Auckland, Tokyo, Acapulco, and San Diego, and the final of the China Open in the 2000 season but lost to Anna Smashnova.
Partnering with Janet Lee, she won the Shanghai title. At the end of the 2002 season, she was ranked No. 35 in singles and No. 11 in doubles.
She got her first Grand Slam match victory in two years at the Australian Open in the 2003 season. She defeated Henrieta Nagyová in the first round and then lost to Justine Henin-Hardenne in the 2nd round.
On 9th April, she dropped out in the first round of the Family Circle Cup in Charleston, due to a left adductor strain which became the final WTA match of her career. Her singles world ranking was 67.
At the end of the 2003 season and her professional career, she was ranked No. 305 in singles and No. 176 in doubles.
She still plays exhibition matches for charitable causes. She also participated in three events organized by Elton John and by fellow tennis players Serena Williams and Andy Roddick in late 2004.
She played in a doubles charity event for the Indian Ocean tsunami with John McEnroe, Andy Roddick, and Chris Evert in January 2005.
Not only this but also she is a member of the St. Louis Aces in the World Team Tennis (WTT), playing doubles only.
She showed up for the 2008 Nautica Malibu Triathlon held at Zuma Beach in Malibu, California in September 2008.
She even played one exhibition match for the annual charity event, hosted by Billie Jean King and Elton John, and raised more than $400,000 for the Elton John AIDS Foundation and Atlanta AIDS Partnership Fund on 12th October 2008.
She was named a spokesperson for K-Swiss in the year 2008.
She reunited with her doubles partner Martina Hingis to participate in competitive tennis for the first time in seven years in the Invitational Ladies Doubles event at Wimbledon in June 2010.
On 29th June 2010, they defeated the British pair Samantha Smith and Anne Hobbs.
Who is Anna Kournikova married to?
Anna Kournikova is not a married lady and she is still to get married. Thus, she does not have a husband. As of today, she is dating her handsome boyfriend, Enrique Iglesias, a Spanish pop star since the year 2001. They had grown close while shooting for his music video, Escape. In 2003, it was rumored that they had tied the knot in a secret wedding ceremony. About two years later, the same reports surfaced again. However, they refused to comment on it. The duo is also blessed with twins, Nicholas and Lucy born on 16th December 2017. On 30th January 2020, she gave birth to the couple's third child, daughter Mary. The couple has invested in a $20 million home built on a private island in Miami where they are currently residing. Her sexual orientation is straight.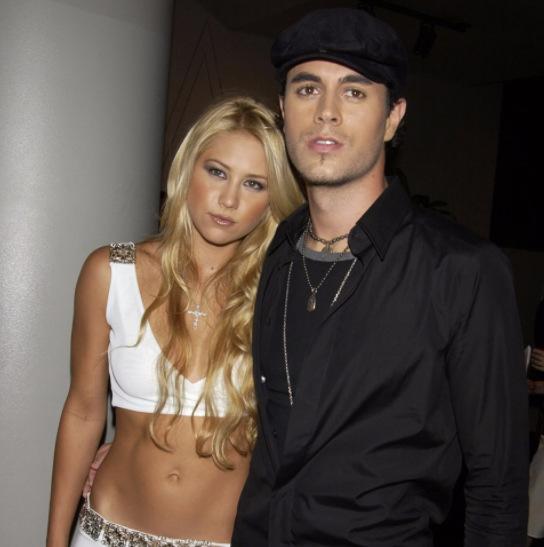 Source: @popsugar
Back then, she was in a relationship with Pablo Montero, a singer from Mexico. But their relationship does not last long and they split. After then, she met former ice hockey star, Sergei Fedorov in Moscow at the age of 15. Then, she started having on and off affairs with Sergei. In a 2001 interview, Fedorov alleged that they had got married at a Moscow register office in a wedding ceremony which was attended by their parents and Fedorov's brother. These claims were refuted by her representative and her family. Fedorov also claimed that she was with him when she fell in love with another ice hockey star, Pavel Bure. She firstly met Pavel in the year 1999. There was also a rumor about their engagement after a reporter had spotted Bure proposing to her in the Florida restaurant. But they denied the news about engagement. Kournikova, 10 years younger than Bure, was 18 years old at the time. In the year 2001, it was reported that they got married in Moscow. Bure would later confirm that they did get married in 2001 before divorcing in 2003. Anna and her representative again proved false about the reports of them having got married.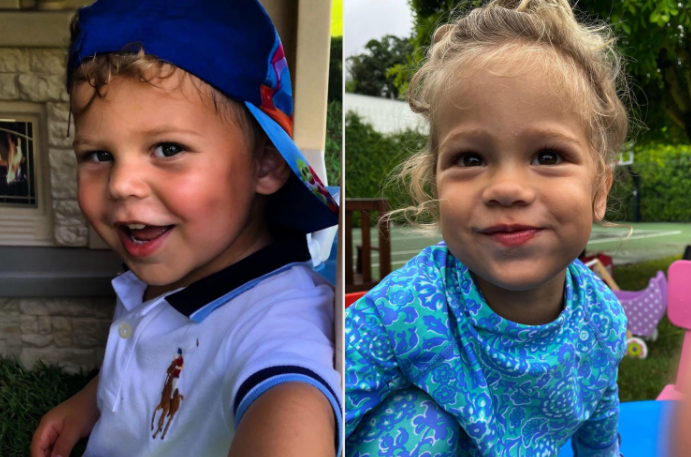 Source: @people
To mark her twins' turning 3 years old on Wednesday, Anna Kournikova made two separate Instagram posts in honor of son Nicholas and daughter Lucy. The retired Russian tennis star, 39, captioned the posts, both close-ups of the smiling toddlers, "3! ❤️." In the comment section of both posts, Kournikova's longtime partner Enrique Iglesias showed love for his two older children by leaving a red heart emoji. The pair also share daughter Mary, 10 months. In September, Kournikova posted a sweet snapshot of then-7-month-old Mary in a tennis outfit.

Anna Kournikova Net Worth
A former professional tennis player and television personality, Anna Kournikova has made a huge amount of money throughout her career mostly from her tennis career. She is one of the greatest popular female tennis players all over the world. After her retirement from her tennis career due to severe back pain and spinal issues, she started a modeling career and has even appeared in ads and films. As of 2021, the net worth of Anna Kournikova is estimated to have $50 Million. Whereas her exact salary is still to get unfold yet but there is no doubt in the mind of her followers that she is making a good amount of money from her work as of today. Her major source of wealth comes from her Tennis career and as of today, she is living a luxurious lifestyle from her work. She had a lucrative endorsement deal with sportswear giant, Adidas. As part of the deal, she appeared in a series of commercials for the brand. The other brands she has done promotional work for include; Lycos search engine (TV commercial as well as a print advert), K-Swiss athletic shoes and apparel (Print advert), Charles Schwab (TV commercial), Berlei's sports bra, BMW, and more. She is also identified as a Global Ambassador for Population Services International's Five & Alive program. Іt іѕ rеvеаlеd thаt hеr оvеrаll саrееr рrіzе mоnеу еаrnіngѕ іѕ асtuаllу $3,584,662. Ѕhе hаѕ аrrіvеd аt thе реаk оf hеr саrееr рlауіng dоublеѕ, whеrеіn ѕhе hаd ѕtауеd аѕ Wоrld Nо. 1 рlауеr.