Liam Neeson Biography
Liam John Neeson famed as Liam Neeson is a famous actor from Ireland who rose to fame after his role as Oskar Schindler in "Schindler's List" in 1993. His other successful movies include Nell (1994), the historical biopic Michael Collins (1996), the 1998 film adaptation of Victor Hugo's Les Misérables, the epic space opera Star Wars: Episode I - The Phantom Menace (1999), the biographical drama Kinsey (2004), the superhero film Batman Begins (2005), the action thriller series Taken (2008-2014), the survival film The Grey (2011), and the historical drama Silence (2016). He also provided the voices of Aslan in The Chronicles of Narnia trilogy (2005-2010) and the titular monster in A Monster Calls (2016). In 2020, he was listed at number 7 on The Irish Times list of Ireland's greatest film actors. What's more, he has also appeared in the action film "Taken" in 2008 along with its sequel. He made his film debut in 1978 in the movie called Pilgrim's Progress playing one of the major roles as Jesus Christ. His first appearance in a TV show was in 1978 when he played the role of Dermont in the TV series Play for Today in the episode Dinner at the Sporting Club. He voiced the lion Aslan in the movie Chronicles of Narnia Prince Caspian in 2008. He has been nominated for several awards, including an Academy Award for Best Actor, a BAFTA Award for Best Actor in a Leading Role, and three Golden Globe Awards for Best Actor in a Motion Picture Drama. He is one of the highest-grossing actors of all time. In October 2020, he revealed that he had auditioned for the role of Fezzik in the 1987 movie The Princess Bride. But, he failed the audition and the role was ultimately awarded to Andre the Giant. Scroll more to know more about his Full Biography, Interesting Facts, Untold Story, Affairs & Personal Life.
Recently in the news, Liam Neeson film Blacklight to feature a car chase scene shot in Canberra. Liam Neeson is starring in the new Mark Williams-directed film, Blacklight, filmed in Melbourne and Canberra. "It's going to be shot in the middle of the city, which is going to be interesting!" Screen Canberra chief executive Monica Penders said. As with so many things in 2020, COVID changed Blacklight's production schedule and made filming far more complicated. Neeson, who plays a "troubled off-the-books fixer for the FBI", had to quarantine in Sydney in late October before flying to Melbourne to begin shooting under strict conditions.

Liam Neeson is famous for his role as Oscar Shindler in Steven Spielberg's movie Schindler's List in 1993. He is also best known for his roles in the movies Star Wars Episode I: The Phantom Menace, Taken 1, Taken 2, Taken 3, Batman Begins, Clash of the Titans, Les Miserables, and others.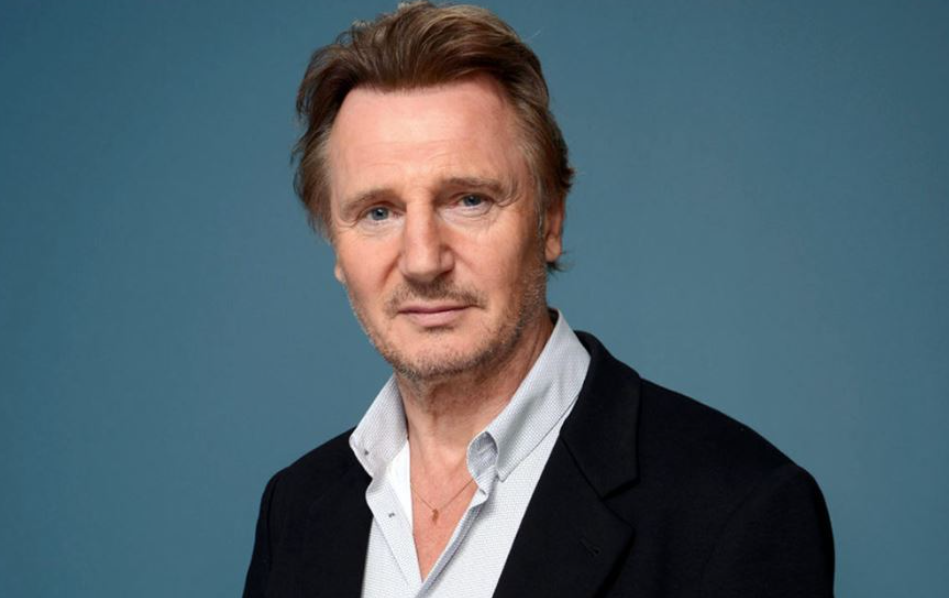 Source: @aqwebs
Liam Neeson was born with the birth name/full name of Liam John Neeson in Ballymena, County Antrim, Northern Ireland (hometown/birthplace) on 7th June 1952. His nationality is Irish and his ethnic background is Irish-White. His race is White. He was named Liam after the local priest. As of 2020, he celebrated his 68th birthday (age). His Zodiac sign is Gemini. Talking about his family, he was born to his parents; Katherine "Kitty" Neeson (née Brown) (mother) and Bernard "Barney" Neeson (father). His father was a caretaker at the Ballymena Boys All Saints Primary School whereas his mother was a cook. His mother Kitty died in June 2020, but because of travel restrictions due to COVID-19, he was unable to travel to Ballymena for the funeral. His religion is Roman Catholic. He was born as the third of four siblings. Thus, he has three sisters: Elizabeth, Bernadette, and Rosaleen. At the small age of nine, he began boxing lessons at the All Saints Youth Club, going on to win a number of regional titles before discontinuing at age 17. He acted in school productions during his teens. In the year 1971, he was enrolled as a physics and computer science student at Queen's University Belfast, before leaving to work for the Guinness Brewery. He then attended St. Mary's Teaching College, Belfast, Northern Ireland for two years. He graduated from the Gaiety School of Drama in Dublin, Ireland.
A very charming personality actor, Liam Neeson's body build is athletic. He stands tall at the height of 6 ft 4 in or 193 cm. His balanced weight consists of 225 lbs or 102 KG. His hair color is light brown and his eye color is blue. He has an Irish accent with a gravelly voice. His shoe size is 12 US or 11.5 UK or 45 EU. At this age also, he maintained his body a lot. His other body measurements such as chest size, waist size, biceps size, and more are still to get unfold yet. Overall, he has got a healthy body as of today.
Liam Neeson Career
Initially, he began working in a variety of casual jobs, from a forklift operator at Guinness to a truck driver.
He then joined the Lyric Players' Theatre in Belfast, where he performed for two years.
He appeared in the 1978 movie called Pilgrim's Progress playing one of the major roles as Jesus Christ.
He was then offered a part in Ron Hutchinson's "Says I, Says He", a drama about The Troubles, at the Project Arts Centre.
He then made his appearance alongside Stephen Rea, Ray McAnally, and Mick Lally, playing Doalty in Brian Friel's play "Translations" in the year 1980.
British filmmaker, John Boorman saw him on stage as Lennie Small in Of Mice and Men in 1980. Later, he offered Liam the role of Sir Gawain in the Arthurian film "Excalibur".
For the next five years (1982-1987), he acted in five films which include The Bounty, The Mission.
He starred alongside Clint Eastwood in the fifth Dirty Harry film, "The Dead Pool" in 1988. He followed this with a starring role in Sam Raimi's "Darkman" in 1990.
Similarly, he joined Ellis Island co-star and future wife Natasha Richardson in the Broadway play Anna Christie in 1993. They also worked together in "Nell" releasing in 1994.
Steven Spielberg then offered him the role of Oskar Schindler in his holocaust film, "Schindler's List".
After that, he starred in Rob Roy (1995) and Michael Collins (1996). This followed with a 1998 adaptation of Victor Hugo's Les Misérables and in The Haunting (1999) as Dr. David Marrow.
He then rose to fame after his role as Jedi Master Qui-Gon Jinn in Star Wars: Episode I - The Phantom Menace. A stock recording of his voice from The Phantom Menace can be heard during a scene in Star Wars: Episode II - Attack of the Clones (2002).
He was then reported to be appearing in Star Wars: Episode III - Revenge of the Sith (2005) but he did not.
He reprised the role of Qui-Gon by voicing the character in the animated television series Star Wars: The Clone Wars (2008-2014).
Recently, he made a voice cameo as Qui-Gon in Star Wars: The Rise of Skywalker (2019), among other veteran Star Wars actors.
He also narrated the 2001 documentary Journey into Amazing Caves. After a year, he appeared in the 2002 thriller K-19: The Windowmaker.
He was also on the cast of Martin Scorsese's Gangs of New York with Leonardo DiCaprio, Brendan Gleeson, Cameron Diaz, and Daniel Day-Lewis.
He then played in Richard Curtis's ensemble comedy "Love Actually" (2003).
He hosted an episode of the NBC sketch show Saturday Night Live in 2004. He played Godfrey of Ibelin in Ridley Scott's epic adventure Kingdom of Heaven in 2005.
He gave his voice to the lion Aslan in the blockbuster fantasy film The Chronicles of Narnia: The Lion, the Witch, and the Wardrobe.
He also starred in the American Civil War epic Seraphim Falls in the year 2007.
He then voiced the main character's father, James, in the video game Fallout 3. Likewise, he appeared as Alistair Little in the BBC Northern Ireland/Big Fish Films television drama Five Minutes of Heaven.
He starred in the action film "Taken" in the year 2008 which became was a worldwide box-office hit, grossing $223.9 million worldwide, making almost $200 million more than its production budget.
After that, he lent his voice to Aslan in The Chronicles of Narnia: Prince Caspian (2008).
He then voiced for Hayao Miyazaki's anime film Ponyo on the Cliff by the Sea in August 2009.
He then appeared in the remake of the 1981 film "Clash of the Titans" in 2010 grossing $475 Million worldwide.
Later, he was seen in the thriller "Chloe" in 2010. In the same year, he played John "Hannibal" Smith in the spin-off movie from the television series "The A-Team". He again lent his voice, Aslan, in the sequel The Chronicles of Narnia: The Voyage of the Dawn Treader (2010).
After a year, he starred in the film "Unknown" which is followed by Non-Stop (2014), Run All Night (2015), and The Commuter (2018).
He played himself in BBC2's series Life's Too Short in the year 2011. He also starred in Joe Carnahan's The Grey in the year 2012.
He then appeared in "Taken 2" and then played Ra's al Ghul in The Dark Knight Rises, the third and final film in Christopher Nolan's The Dark Knight Trilogy.
He had a supporting role as the henchman Bad Cop/Good Cop in the animated film "The Lego Movie" and then appeared, uncredited, as God in the BBC2 series "Rev.".
In the year 2014, he starred in "A Walk Among the Tombstones".
In the year 2016, he narrated the RTÉ One three-part documentary on the Easter Rising, "1916". He also voiced the Monster in the Spanish film "A Monster Calls" in the same year.
Regarding his political career, he protested against the anti-carriage horse campaign of New York City Mayor Bill de Blasio in 2014, who said he would outlaw horse-drawn carriages in Central Park once he took office.
In January 2018, he raised concerns over the Me Too movement on Ireland's The Late Late Show, describing the movement as a "witch hunt", and citing Garrison Keillor's dismissal from Minnesota Public Radio.
Liam Neeson Awards and Achievements
Liam Nesson is an award-winning actor. Іn the year 1993, he wоn thе Сhісаgо Fіlm Сrіtісѕ Аѕѕосіаtіоn Аwаrd fоr Веѕt Асtоr. Іn thе ѕаmе уеаr, hе hаѕ rесеіvеd аn Асаdеmу Аwаrd аnd а ВАFТА Аwаrd nоmіnаtіоn. Не hаѕ аlѕо bееn nоmіnаtеd thrее tіmеѕ fоr thе Gоldеn Glоbе Аwаrdѕ. Оthеr аwаrdѕ wоn bу hіm іnсludе Іrіѕh Fіlm & Теlеvіѕіоn Асаdеmу Аwаrd, Lоѕ Аngеlеѕ Fіlm Сrіtісѕ Аѕѕосіаtіоn, аnd Еvеnіng Ѕtаndаrd Вrіtіѕh Fіlm Аwаrdѕ. He was appointed Officer of the Order of the British Empire (OBE) by Queen Elizabeth II in her 2000 New Year Honours. In January 2018, he was awarded the Distinguished Service for the Irish Abroad Award by Irish President Michael D. Higgins, who described it as an award "for Irish people abroad who are making a contribution to humanity".
Liam Neeson Affairs and Wife
Liam Neeson was a married man. He was married to his wife, Natasha Richardson. the duo met each other on the set of the movie "Nell" in January 1993. In a short period of time, they hooked up and began a relationship. They then got married on 3rd July 1994. In October 1998, they won £50,000 ($85,370) in libel damages after the Daily Mirror wrongly claimed that their marriage was suffering. In August 2004, they purchased an estate in Millbrook, New York. They donated the money to victims of the August 1998 Omagh bombing. They were together until 2009 when Natasha died after having a serious skiing accident at the Mont Tremblant Resort. He donated her organs following her death. The couple was also blessed with two kids/children; Michael Neeson (born on June 22, 1995) and Daniel Jack Neeson (born on August 27, 1996). After then, he aged 30-year-old blonde Freya St. Johnston back in August 2010. The duo was also seen together in NYC and London holding each other's hands. Later due to some issues, they separated in October 2012. His sexual orientation is straight and he is not gay. As of today, he is assumed to be single. He is enjoying his present life happily without any disturbances,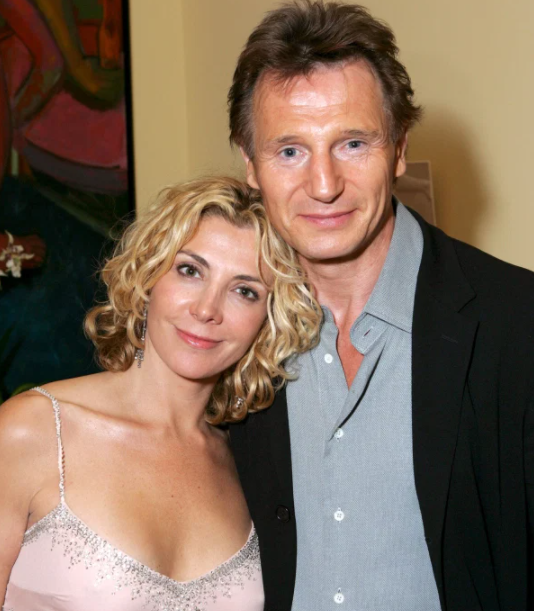 Source: @usmagazine
Talking about his other relationship, he began his first relationship with Helen Mirren in the year 1980 when they were on the set, filming the movie "The Excalibur". Their relationship lasted for four years and then they got separated. After that, he began dating Janice Dickinson for a short period of time. Then, he dated Julia Roberts in 1988. At the same time, they were living together in a house in Venice, California. Their relationship got to the stage where they got engaged, but only for a short amount of time before they broke up in the year 1990. After breaks up with Julia, he began his affairs with Barbra Streisand for a short period of time in 1991. He also dated American actress Brooke Shields in December 1991 which lasted for about three months.
Liam Neeson Net Worth
Liam Neeson is a successful actor who has made a huge amount of money from his career. As of 2021, the net worth of Liam Neeson is estimated to have more than $150 Million. He made all this fortune through his acting career by appearing in movies and TV Shows. He is an Irish Goodwill Ambassador of UNICEF. He also appeared in 2015 in Clash of Clans Super Bowl commercial. At present, his exact salary is still to get unfold yet but there is no doubt in the mind of his followers that he is making a good amount of money from his career. The "Taken" trilogy has been very lucrative for him as he reportedly made $5 million for "Taken," $15 million for 2012's "Taken 2," and $20 million for 2014's "Taken 3." That brings his total TAKE (get it??) before taxes, for the Taken franchise to $40 million. His major source of wealth comes from his acting career and he is satisfied with his earnings. He is living a luxurious lifestyle from his earnings.