Bill Kaulitz Biography
The founding member of the pop-rock band Tokio Hotel as well as a lead singer, voice artist, model, designer from Germany is named Bill Kaulitz. He performs alongside his guitarist brother Tom, bassist Georg Listing and drummer Gustav Schafer. Being the lead singer, he is also a songwriter. The group has released four studio albums, five video albums, one EP, one compilation album, two live albums, seventeen singles, and 21 music videos to date. He is also known mononymously as Billy (stylized as BILLY) for his solo act. He began performing at the age of ten, beginning with small shows. He also auditioned for a reality TV talent show called Star Search. He voiced the part of Arthur in the German version of the film Arthur and the Invisibles. As a designer, he designs many of his own stage costumes, and despite poor drawing skills, the designs are constructed by his tailor. He reports he has hundreds of jackets in his closet-though he has said that none of his jackets are real leather as he is opposed to using animal pelts/feathers for clothing. Scroll more to know about his full biography, twins brother, personal life, untold story, wiki, interesting facts, age, sexuality, & more.
In his autobiography "Career Suicide: Meine Ersten dreißig Jahre" ("My first thirty years"), Bill Kaulitz explain his early love for Nena. "Her crystal clear, youthful and naive voice thundered rebellious texts and heartbreak through our room," writes Kaulitz, who grew up with his twin brother Tom in Loitsche near Magdeburg. That meant: "600 uninspired souls, absolute sadness" - there wasn't much else going on. In the USA, Tom Kaulitz also found love in Heidi Klum. His brother Bill says in his book: "I think we both plundered our love luck accounts for this fateful encounter, otherwise Heidi and Tom might never have met in February 2018. In any case, it was worth every pain so far." Sometimes he is asked, says Kaulitz: "And, Bill ... when is your turn? When do we celebrate your wedding?" Bill Kaulitz had experience with both sexes. Kaulitz becomes more specific: "I had exciting experiences with girls," reports the musician who lives in Los Angeles. "But I also had a love triangle with my best friend and his girlfriend because suddenly I was in love with him and he with me." Today he is proud to have become a role model for the LGBTQI movement.

Bill Kaulitz is a famous singer and songwriter. He is also best known for his energetic style and harmonizing with the fans (he would frequently let the audience sing verses instead of him).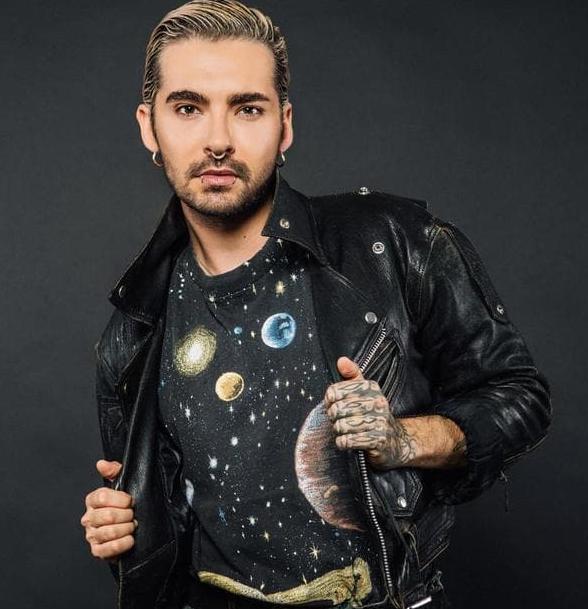 Source: @losfuerlesbos
On 1st September 1989, Bill Kaulitz was born in Leipzig, East Germany, Germany. His birth name is Bill Kaulitz-Trumper. He holds German nationality and his ethnic background is German-White. His race is White. He celebrated his 31st birthday as of 2020 and he will next be celebrating his 32nd birthday as of 1st September 2021. Thus, his present age is 31. Virgo is his Zodiac sign/horoscope/birth sign and Agnostic is his religion. Talking about his family, he was born to Jorg W. (father) and Simone Kaulitz (mother). His parents split when he was only seven. Then, his mother married Gordon Trumper who is the guitarist from the German rock band Fatun on 1st August 2009 after dating for twelve years. About his siblings, he has an identical twin brother named Tom who is older by ten minutes. Since his early years, he was interested in singing like his brother, Tom played guitar. Then their stepfather helped the twins to begin their own band. As per his education, he attended Elector Joachim Friedrich High School.
Source: @vaaju
A very handsome singer, Bill Kaulitz's body build is slim. He stands tall at the height of 6 ft 1 in or 185.5 cm. His balanced bodyweight consists of 75 KG or 165 Pounds. His hair color is multi-colored with a pair of light brown eyes. He has long fingernails with a perfect nose and has inked a lot of tattoos on his body. His skeleton hand tattoo is particularly noted among his fans. In 2018 he got a tattoo of his late dog Pumba on his right arm by German tattoo artist Daniel Meyer. He has also pierced on the ear, nose, lips, right eyebrows. His chest size is 37 in, his arms size is 14 in and his waist size is 31 in. His shoe size is 11 US.
Bill Kaulitz Career
The twin's brother started to perform live in Magdeburg at the age of ten.
Later, they met Georg Listing and Gustav Schafer to complete the band named "Devilish".
Singing to Interscope Records and Tokio Hotel, they released their debut LP Schrei ("Scream") and their single from Schrei was "Durch den Monsun" ("Through the Monsoon"), which reached #1 in Germany within a month of its release.
Then, Tokio Hotel launched its debut tour in Germany to promote 'Schrei' and its singles.
He then voiced the role of Arthur in the first part of the German version of the film "Arthur and the Invisibles" in the year 2006.
Later, Tokio Hotel started working on their second album entitled "Zimmer 483" (Room 483) which was released in February 2007 which consist of three singes; "Übers Ende der Welt" ("Over the End of the World" released as "Ready, Set, Go!"), "Spring Nicht" ("Don't Jump"), and "An deiner Seite (Ich bin da)" ("By Your Side (I am there)" released as "By Your Side"). The album's fourth single "Heilig" was released in the year 2008.
A continental tour of Europe began to promote the release of their second album.
With the rise of the audience, Kaulitz and the band decided to re-record the selected songs from both of the albums; Schrei and Zimmer 483 in the English version.
Scream spawned four singles, including "Scream", "Monsoon" (the translated version of "Durch den Monsun" however the title was not 100% literally translated), "Don't Jump" (the translated version of "Spring Nicht"), and "Ready, Set, Go!" (the translated version of "Übers Ende der Welt", again not a literal translation of the title). The album succeeds moderately.
Tokio Hotel then left Europe and flew to the USA setting foot in North America in February 2008 to play five shows starting in Canada and ending in New York. The tour then went successfully and return to Europe for their 1000 Hotels Tour beginning in Brussels from 3rd March 2008 ending on 9th April.
In the middle of the show in Marseille, France, Kaulitz began to experience voice problems. He let the audience sing more often and the band cut their set down from twenty-one to sixteen songs.
It was later revealed that Kaulitz was sick and then they return back to Germany to see a specialist. Due to his continuous shows without a break, he developed an untreated throat infection which caused a cyst to develop on the singer's vocal cords that had to be removed via larynx surgery on 30 March.
Due to this, he was unable to speak for ten days and had to undergo speech therapy for one month.
By May 2008, he recovered and then Tokio Hotel rescheduled the 1000 Hotels Tour dates. The tour then became a success despite the surgery.
The band's third album "Humanoid" (their second English album and third German album) which was released on 6th October 2009 with the two singles; "Automatic"/"Automatisch", released in September 2009, and "World Behind My Wall"/"Lass uns laufen" (meaning "Let Us Run"), to be released in January 2010.
He was then featured on the song "If I Die Tomorrow" by Far East Movement on their album Dirty Bass in May 2912.
In 2013, Tokio Hotel made the announcement of their fifth studio album entitled "Kings of Suburbia" which was released on 3rd October 2014.
He then announced his plans for a solo project under the moniker "Billy" (stylized as BILLY) in the year 2016.
On 20th May 2016, his very first EP "I'm Not OK" was released.
Tokio Hotel announced their sixth studio album "Dream Machine" in the year 2016 which was released on 3rd March 2017,
What's more, he was featured on the song "Vogel aus Gold" by Nisse on his album "Ciao" in October 2018.
In the year 2018, Tokio Hotel announced their upcoming album and their tour, "Melancholic Paradise". The singles from the albums; "Melancholic Paradise", "When It Rains It Pours" and "Chateau" was released on 1st February 2019, 5th April 2019, and 17th November 2019.
Due to the COVID-19 pandemic, the LATAM leg of the Melancholic Paradise tour was canceled on 12th March 2020.
He then announced in August 2020 that the singles "Durch den Monsun" and "Monsoon" would be re-recorded and released in early October 2020 to celebrate the single's 15th anniversary. "Durch den Monsun 2020" and Monsoon 2020 were respectively released on 2nd October 2020 and 16th October 2020.
He then wrote his first autobiography, "Career Suicide: Meine Ersten dreißig Jahre" ("My first thirty years") was due to release on 4th January 2021 but later it was pushed back to 1st February 2021.
He announced on 4th December 2020 via an Instagram story that Tokio Hotel will release their new single "Berlin" on 11th December 2020.
Tokio Hotel then made an announcement that their new tour for Autumn 2021 "Beyond the World" on 7th December 2020.
He also announced on 11th January 2021 via Tokio Hotel's official Facebook and Instagram accounts their new single "White Lies", which will feature a guest appearance from German EDM duo VIZE. This was released on 15th January 2021.
Additionally,
Kaulitz and Tokio Hotel teamed up with Kerli to record the song Strange for the film Alice In Wonderland and accompanying the Almost Alice soundtrack in the year 2010.
He also modeled with his brother Tom for a PETA.de photoshoot, protesting the use of animals as a source of entertainment.
At the beginning of the year 2010, he modeled for Dsquared making his debut as a model.
He also appeared as a jury member on the 10th season of Deutschland Sucht den Superstar.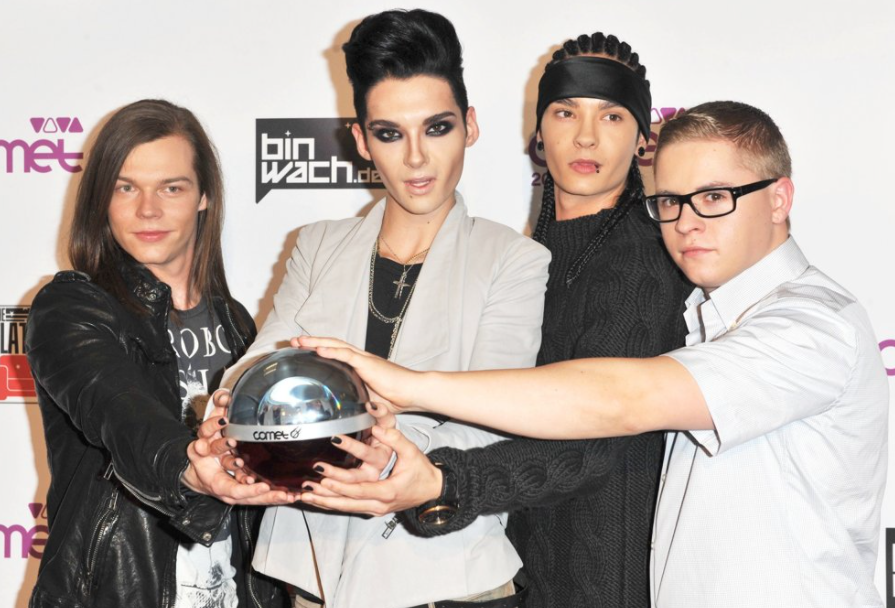 Source: @aceshowbiz
Bill Kaulitz Personal Life
Bill Kaulitz is not married yet and he is still to get married. Thus, he does not have a wife. Back then, he was rumored to be dating German model, Kim Paradise in the year 2008. After then, he was rumored to have affairs with Dutch vocalist; Rach L in October 2008. Later, the news came up with the relationship of Bill Kaulitz with Natalie Franz, a Ukrainian hair and makeup artist. The news then became a rumor as they both did not confirm their relationships. Recently in 2021, he revealed that he had had a polyamorous relationship with his best friend and his girlfriend. As of today, he is enjoying his present life a lot. As per his sexual orientation, he might be Pansexual. Fans of Bill also asked him if he is gay or not but he has said in various interviews that gender does not matter to him. He is currently living in Los Angeles but also has a home in Hamburg. Bill is vegetarian and has been involved in campaigning for PETA. He is a supporter of Angela Merkel and favored the CDU in the 2017 German federal election.
Bill Kaulitz Net Worth & Salary
Bill Kaulitz is a famous singer as well as a songwriter who has made a huge amount of money from the music industry which is his major source of wealth. As of 2021, the net worth of Bill Kaulitz is estimated to have $30 Million. Whereas his exact salary has not been revealed yet but there is no doubt in the mind of his followers that he is making a good amount of money from his present work. Being the lead singer of 'Tokio Hotel', he has released many songs and albums; along with his solo act. He is living a luxurious lifestyle from his earnings.