About Brett Rypien
Brett Rypien is a professional American football quarterback who is playing for the current team, Denver Broncos of the National Football League (NFL). Previously, he played college football at Boise State and signed with the Broncos as an undrafted free agent in 2019. He attended Shadle Park High School in Spokane, Washington where he played quarterback for all four years of high school. He was rated by both Rivals and Scout as a four-star recruit coming out of high school and then he committed to Boise State University in April 2014 and enrolled in January 2015.
In (1st October 2020) Thursday Night's 37-28 comeback win over the New York Jets, Brett Rypien not only led the Broncos to their first win of the season, but he also made some history in the process. He became the fifth quarterback in team history to lead a fourth-quarter comeback in his first career start. "You know you can tell guys really wanted that win tonight," Rypien said. "At the end of the day, it's not over until it's over, so that's something you have to learn playing quarterback. You have to have a short-term memory and thankfully I was able to get that last drive there to get the win." He took full advantage of his first career start against the Jets, going 19-31 for 242 yards, two touchdowns, and three interceptions. His performance caught the eye of Seattle Seahawks quarterback Russell Wilson. "It was great to get out there and get my first experience in an NFL game. I'm really proud of the guys for fighting through all of the adversity tonight to get the win," Rypien said.

Brett Rypien is famous for being an American professional football quarterback. He is best known for being the player for the Denver Broncos of the National Football League (NFL) for the same position. Additionally, he is also known for receiving Maxwell Award; the Davey O'Brien Award; the Wuerffel Trophy, and so on.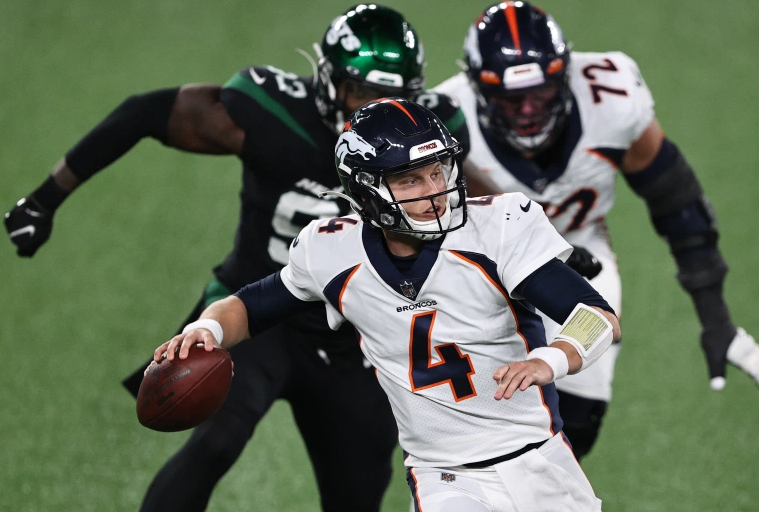 Source: @denver.cbslocal.com
On 9th July 1996, Brett Rypien was born to his parents; Tim (father) and Julie Rypien (mother) in Spokane, Washington, the USA, his place of birth. His father, Tim, is a native of Calgary, Alberta, and, in the spring of 2019, Brett was working to secure his Canadian citizenship on jus sanguinis grounds in advance of the 2019 CFL Draft. He is the nephew of former NFL quarterback Mark Rypien, the cousin of former LFL quarterback Angela Rypien, and a cousin-once-removed of the late Rick Rypien, an NHL enforcer. On his mother's side of the family, he is the nephew of Chris Tormey, an assistant to the Ottawa Redblacks of the CFL. He also has two siblings; sisters, Keara Rypien, and Brigid Rypien. He holds an American nationality and his ethnicity is American-White. His race is White. As of 2020, he celebrated his 24th birthday. Growing up, he was a multiple-sport athlete, playing football in addition to baseball, the sport his father had played at the minor league level. Cancer is his Zodiac sign and his religion is Christian.
Concerning his education, Brett Rypien attended Shadle Park High School. During his high school, he played as a quarterback for four years. He graduated early from Shadle Park as a 4.0GPA student, earning valedictorian honors. After that, he went to State Broncos University.
With an athletic body build, Brett stands tall at the height of 1.88 m (6 feet 1 inch) and his weight is around 92 kg or 202 lbs. His hair color is light brown and he has a pair of blue eye color. His chest size is 44 in, waist size is 34 in and biceps size is 16 in. He maintains his body a lot and he is very conscious of his health.
Brett Rypien's Football Career
Brett started his football career since his high school at Shadle Park where he played quarterback for all four years.
He set Washington state records for career passing yards (13,044); pass completions (1,006); single-season records for passing yards (4,552) and touchdowns (50).
After his high school, he
committed to Boise State University in April 2014 and enrolled in January 2015 and started taking classes.
There, he started as a quarterback and was left to redshirt for his freshman season.
He became the first true freshman quarterback to play in a game for Boise State since 1993.
Against the UNLV Rebels, he set the Boise State record for most passing yards in a game by a freshman, besting Kellen Moore's previous mark of 414 yards with 469 yards of his own.
He then topped his own record by passing for 506 yards against the New Mexico Lobos.
He was then named the first-team all-conference quarterback of the Mountain West Conference, becoming the first freshman to do so in the conference's 17-year history.
Additionally, he was awarded Freshman of the Year honors of the Mountain West.
He along with his team finished the season with a 9-4 record and concluded the season with a record-setting win in the Poinsettia Bowl against the Northern Illinois Huskies.
Later on, Alex Ogle announced his decision to transfer to Arizona Western College on 27th December 2015.
He was also named Davey O'Brien Award, Maxwell Awards, and Walter Camp Award.
On 27th December 2016, Rypien and Boise State matched up to play against Baylor in the Cactus Bowl in Phoenix, Arizona where Baylor won the game and the Boise State Broncos finished their season with a record of 10-3.
In his 2017 season, he was named to the watch lists for the Davey O'Brien Award, the Maxwell Award, the Walter Camp Award as well as the Wuerffel Trophy.
Rypien and the Broncos began the 2017 season with a win over the Troy Trojans where he shared time with dual-threat quarterback Montell Cozart, a graduate transfer from Kansas.
In the next game against Washington State, he suffered an injury on a sack which forced him to leave the game before the end of the first quarter due to which he missed the game against New Mexico.
In the 2018 season, he was named to six separate award watch lists for the Maxwell Award, the Davey O'Brien Award, the Wuerffel Trophy, the Walter Camp Award, the Johnny Unitas Golden Arm Award, and the Manning Award.
He was named as one of three team captains by his teammates for the 2018 season.
He started the year strongly by throwing for 12 touchdowns with zero interceptions through the first four games.
He then won Mountain West Offensive Player of the Week when he led the Broncos to a 62-7 victory against the University of Connecticut, going 21 of 28 passing for 362 yards and four touchdowns with zero interceptions while helping Boise State put up 818 total yards of offense and a 625 yardage gap between the two teams, the largest gap since 2000.
On 19th January 2019, he completed his college football career at the 2019 East-West Shrine Game where he went 10 of 14 passing for 134 yards and a touchdown on a shared rotation.
finished his collegiate career as the FBS leader in passing yards (13,581) among current players. He then finished as the all-time leader in passing yards (13,581), completions (1,036), and 300-yard passing performances (21) in the Mountain West Conference.
Moreover, he ranks second all-time at Boise State in passing yards (13,581), passing touchdowns (89), completions (1,036), attempts (1,618).
He was expected to be selected in the latter half of the 2019 NFL Draft after an impressive career at Boise State. But later, he tweeted on 27th April 2019 stating that he would "stay a Bronco" after signing with the Denver Broncos as an undrafted free agent for a guaranteed salary of $146,000 and with a signing bonus of $10,000.
The Broncos reported their signing of Rypien as an undrafted free agent on 2nd May 2019 and he was waived on 31st August 2019.
He was then promoted to the active roster on 1st November 2019 to be the backup quarterback to Brandon Allen after starter Joe Flacco suffered a neck injury.
The Broncos waived him after Drew Lock was activated off of the injured reserve on 30th November 2019 and was re-signed later to the practice squad.
He signed a reserve/future contract with the Broncos on 31st December 2019.
After then, he was waived by the Broncos on 5th September 2020 and was signed to the practice squad on 6th September.
He was promoted to the active roster on 25th September 2020.
He got his first in-game action on 27th September 2020 when he entered the game against the Tampa Bay Buccaneers in relief of starter Jeff Driskel where he completed his first 8 passes for 53 yards before throwing a game-ending interception during the 28-10 loss.
On 29th September 2020, he was named the starter for the Broncos week 4 matchup against the New York Jets.
He also led the Broncos to a 37-28 victory over the Jets throwing 2 touchdowns, 3 interceptions, and 242 yards in his very first NFL start.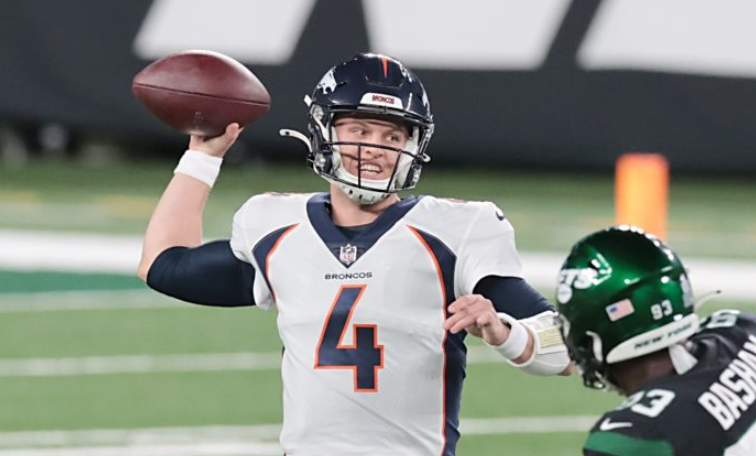 Source: @milehighsports
Awards and Achievements of Brett Rypien
MWC Offensive Player of the Year (2018)
MWC Freshman of the Year (2015)
3× First-team All-MWC (2015, 2016, 2018)
Second-team All-MWC (2017)
Davey O'Brien Award, Maxwell Award, Walter Camp Award, Wuerffel Trophy, Johnny Unitas Golden Arm Award, Manning Award, and so on.
High school Achievements
2014 Washington State Player of the Year
3× Washington 3A All-State
Washington state records
Career passing yards (13,044)

Career completions (1,006)
Single-season passing yards (4,552)
Single-season passing touchdowns (50)
Single-game passing yards (613)
Single-game completions (44)
Career Stats as of 2020
TD-INT: 2-4
Completion percentage: 67.5
Passing yards: 295
Passer rating: 66.1
Brett Rypien's Girlfriend, Laura Buck
Brett Rypien is an unmarried man but he is not single as well. As of today, he is in a romantic relationship with his beautiful girlfriend, Laura Buck. The duo has been dating since their high school days as per reports, but the actual information of their first dating is still a mystery as it has not been published yet neither the lovebirds have stated about. As of today, the couple is enjoying their life a lot and their bond is going stronger with the passage of time. The duo can be spotted in public places as well as in holiday spots. By profession, his girlfriend, Laura is a football player who plays as a forward. He often features his girlfriend on Instagram. His sexual orientation is straight and he is not gay.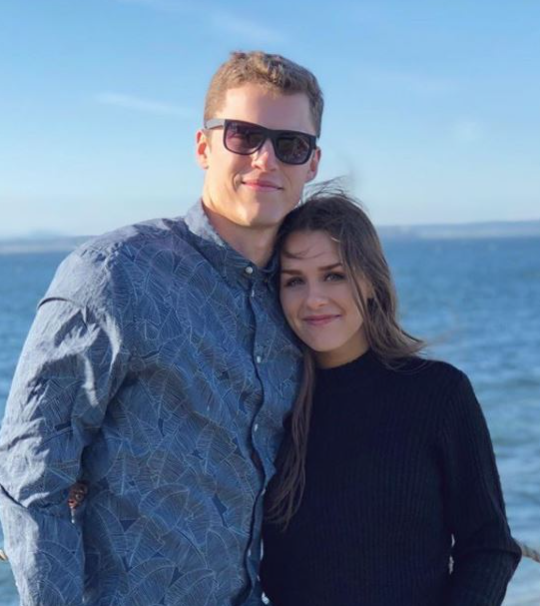 Source: @quickcelebfacts
Brett Rypien's Net Worth 2020
Brett Rypien is a professional American footballer by profession whose net worth is estimated to have between$100,000-$1 Million as of 2020. As per his last contract with Denver Broncos, he signed 3 yr(s) / $1,765,000 contract which included $10,000 as a signing bonus, $146,000 as a guaranteed amount. He is receiving an annual of $588,333 as average salary form Broncos. He is living a luxurious lifestyle as of today which is financed by his professional career. Talking about his cars, he is the owner of an expensive car in recent times. His major source of wealth comes from a football career and he is satisfied with his earnings.