Carson Wentz Biography
An American football quarterback for the Philadelphia Eagles of the National Football League (NFL), Carson Wentz played college football at North Dakota State University (NDSU) where he won five NCAA FCS national championships. He is known for being one of the most promising young quarterbacks in the NFL. He was selected second overall in the 2016 NFL Draft by the Philadelphia Eagles. He helped the Eagles earn the top seed in the 2017-18 NFC Playoffs, which led to the team capturing its first-ever Super Bowl title in Super Bowl LII. He began his career as both a quarterback and defensive back for Bismarck Century High School. He went on to play college football at North Dakota State University. He was also named NCAA Division I Championship Game Most Outstanding Player in 2015 and 2016. Wentz took a step back which ultimately led to his benching in Week 13 for rookie Jalen Hurts in 2020. As recent news, the Carson era is officially over in Philadelphia. The Eagles on Thursday traded their former franchise quarterback to the Indianapolis Colts for draft picks, according to multiple reports. Scroll down and know more about Wentz's Full Biography, Interesting Facts, Personal Life, Early Life, Net Worth, Wiki, Age, Birthday, Career Stats, Position & Current Team.
Famous For

Being an American football quarterback for the Philadelphia Eagles of the National Football League (NFL).
For being one of the most promising young quarterbacks in the NFL.
Source: @indystar
Carson Wentz Early Life

On 30th December 1992, Carson Wentz took birth with the real name or full name of Carson James Wentz in Raleigh, North Carolina, the U.S whereas he moved to North Dakota with his family at the age of three. He holds an American nationality and he belongs to American-white ethnicity. Likewise, his religion is Christian and his race is white. He celebrates his every birthday on the 30th December of every year and he has celebrated his 28th birthday as of 2020. Capricorn is his horoscope or star sign. He is the son of Doug Wentz (father) who was a linebacker at Northern State and Cathy Domres (mother). She has two siblings a brother Zach Wentz, and Luke Wentz. Talking about his education, Carson Wentz to Century High School in Bismarck and graduated in 2011. He was selected as the valedictorian of his class. He then got enrolled at the North Dakota State University on a scholarship and graduated from the university with a Health and Physical Education degree in 2016.
Carson Wentz Career
College Career

Carson Wentz commenced his football career playing quarterback and defensive back for the football team at Century High School in Bismarck, and also played basketball and baseball for the Patriots after which he attended North Dakota State, redshirting his first season with the Bison as they won their first FCS title under ninth-year head coach Craig Bohl.
2012 season

Wentz was the backup quarterback to Brock Jensen and played in his first collegiate game on 22nd September whereas he completed all eight of his passes for 93 yards and threw his first touchdown in relief of Jensen in a 66-7 blowout victory over the Prairie View A&M Panthers. He finished the season completing 12-of-16 pass attempts for 144 passing yards and two touchdowns.
2013 season
As Carson was the second-string quarterback in 2013, he appeared in 11 games and had his best game that season on 13th October against Delaware State, completing 10-of-13 attempted passes for 105 passing yards and a touchdown.
He ended his redshirt sophomore season completing 22-of-30 passes for 209 yards and a touchdown.
2014 season

Carson completed 18-of-28 pass attempts for 204 yards in a 34-14 victory on 30th August as well as he caught a 16-yard touchdown pass from running back John Crockett and helped lead the Bison to a 17-10 comeback victory during the game at Western Illinois on 10th October.
He led NDSU to a 15-1 record and started in his first national championship game against Illinois State and passed for 287 yards and a touchdown and rushed for 87 yards and scored a touchdown on a five-yard run to give North Dakota State the lead with 37 seconds left on 10th January 2015.
Also, he started all 16 games in 2014, completing 228 of 358 passes for 3,111 yards with 25 touchdowns and 10 interceptions. He was also the team's second-leading rusher, with 642 rushing yards and six rushing touchdowns.
2015 season

Wentz had one of the best games of his career on 10th October against Northern Iowa when he passed for a career-high 335 yards but badly he suffered a broken wrist in the first half but managed to complete the game with 16-of-28 completions, 195 passing yards, and two touchdown passes as the Bison lost 24-21.
He led the Bison to its fifth straight FCS title on 9th January 2016, running for two touchdowns and throwing for a third, and was named the NCAA Division I-AA Championship Game Most Outstanding Player for the second straight year.
He graduated from NDSU with a degree in health and physical education, finishing with a 4.0 GPA and twice earning recognition as Academic All-American of the Year by the College Sports Information Directors of America, first for Division I football and later for all Division I sports.
Professional Career

Wentz began to be regarded as a Top 10 prospect after his pro day and he played in the 2016 Reese's Senior Bowl and finished the game completing 6 of 10 pass attempts for 50 yards on 30th January 2016.
He showcased his athleticism as he was in the top three in the 40-yard dash, the broad jump at the NFL Scouting Combine, and the three-cone drill among all quarterbacks. Wentz also reportedly scored a 40/50 on his Wonderlic test.
Philadelphia Eagles

Carson was selected by the Philadelphia Eagles in the first round with the 2nd overall pick in the 2016 NFL Draft on 28th April 2016 whereas he is the first quarterback the Eagles selected in the first round of an NFL Draft since Donovan McNabb in 1999, who was also taken second overall.
As well, he is also the first FCS quarterback taken in the first round since Joe Flacco was taken with the 18th overall selection in 2008, and the highest FCS quarterback took in draft history, being drafted one slot before Steve McNair's in the 1995 NFL Draft.
On 12th May 2016, he signed a four-year deal worth $26.67 million, fully guaranteed, featuring a $17.6 million signing bonus, and was officially named the starter for the Eagles' 2016 season opener against the Cleveland Browns on 5th September.
He made his first regular-season start on 11th September against the Cleveland Browns, throwing for 278 passing yards and 2 touchdowns in the 29-10 victory as he also became the first rookie quarterback since 1970 to win his first two games of the season and not throw an interception.
Wentz also set a single-season franchise record with 607 pass attempts, the second-highest attempts by a rookie in league history (Andrew Luck had 627 in the 2012 season).
2017 season: Super Bowl champions

Wentz finished with 307 passing yards, two touchdowns, and an interception from a pass tipped at the line of scrimmage as the Eagles won by a score of 30-17 in Week 1 against the Washington Redskins whereas he threw for 333 yards, two touchdowns, and one interception. In addition, he rushed for 55 yards in the 27-20 loss in Week 2 against the Kansas City Chiefs.
He also was named the NFC Offensive Player of the Week for Week 7 after passing for 268 yards and a career-high-tying four touchdowns in a 34-24 win over the Redskins on "Monday Night Football".
Later, he left the game due to an apparent knee injury during Week 14 against the Los Angeles Rams and finished the year with 3,296 passing yards, 33 touchdowns, 7 interceptions, a 60.2 completion percentage, and a 101.9 quarterback rating in 13 starts.
As well, he was selected to his first Pro Bowl on 19th December but could not participate due to the aftermath of his recent knee surgery.
2018 season
Carson was ranked third overall in the NFL Top 100 Players of 2018 prior to the start of the new season on 25th June 2018 which is the highest Top 100 debut ranking in the history of the league.
He missed the first two games in an effort to continue recovery from his ACL injury and Nick Foles remained as the starter.
He would finish with 255 yards, one touchdown, and an interception in the Eagles' 20-16 win against the Indianapolis Colts in Week 3 in his 2018 debut.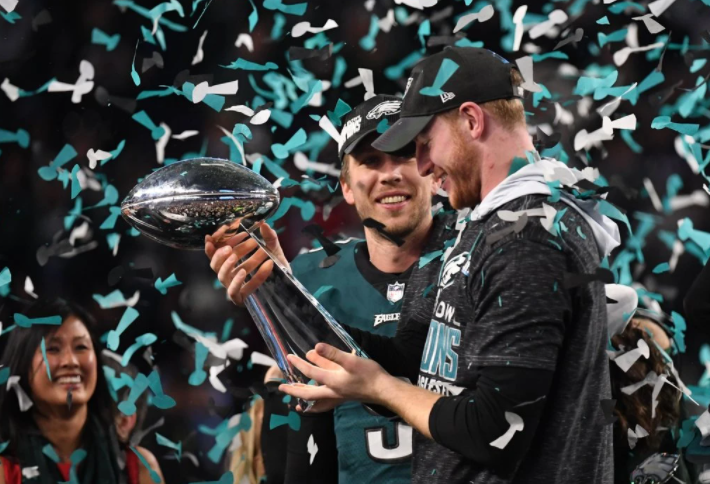 Source: @nytimes
2019 season

The Eagles exercised the fifth-year option on Wentz's contract on 29th April 2019 as the Eagles signed Wentz to a four-year on 6th June 2019, $128 million contract extension with $107 million guaranteed, keeping him under contract through the 2024 season.
In Week 1 against the Washington Redskins, he threw for 313 yards and three touchdowns as the Eagles won 32-27 and he helped lead the Eagles to a 34-27 victory with three passing touchdowns in Week 4, against the Green Bay Packers.
Similarly, he played against many clubs in 2019 as he finished the 2019 season with 4,039 passing yards, 27 touchdowns, and seven interceptions. He became the first quarterback in franchise history to pass for at least 4,000 yards and the first in the NFL to do so without any receiver catching at least 500 yards.
He left the game with a head injury in the first quarter after defensive end Jadeveon Clowney made a helmet-to-helmet hit on him in the NFC Wild Card game against the Seattle Seahawks.
He was ruled out of the game with a concussion after playing just nine snaps in his post-season debut. The Eagles lost the game 17-9.
2020 season

Carson made his return from injury in Week 1 against the Washington Football Team however he threw for 270 yards, two touchdowns, and two interceptions as the Eagles lost 27-17.
He then continued to struggle, throwing for 242 yards and two interceptions during the 37-19 loss in Week 2 against the Los Angeles Rams, and threw two more interceptions during the 23-23 tie game in Week 3 against the Cincinnati Bengals.
He had 359 passing yards, two passing touchdowns, one rushing touchdown, and one interception in the 22-21 win in Week 7, against the New York Giants on "Thursday Night Football" and he struggled, throwing for 123 yards and two touchdowns and two interceptions during a 23-9 win in Week 8 against the Dallas Cowboys
Wentz went 21 for 35 throwing against the Cleveland Browns for 235 yards, two touchdowns, and two interceptions, one being a pick-six in the 22-17 loss in week 11 as well as he threw for two touchdowns and one interception for 23-17 loss against the Seattle Seahawks in Week 12.
Analogously, in Week 13 against the Green Bay Packers, he was benched in the third quarter for Jalen Hurts after the Eagles were trailing 20-3. Without Wentz, the Eagles went on to lose 16-30.
Everything You Need To Know About Jalen Hurts
As well, he scored 21 total touchdowns (16 passing, 5 rushings) at the time of his benching whereas he led the league in interceptions thrown (15), total turnovers (19), and sacks took (50). He ended up leading the league in all of those categories at the end of the season despite only playing in 12 games.
Additionally, the Carson Wentz era is officially over in Philadelphia. The Eagles on Thursday traded their former franchise quarterback to the Indianapolis Colts for draft picks, according to multiple reports. Eagles will also receive a 2021 third-round pick and a conditional 2022 second-round pick that could turn into a first-round pick.
Carson Wentz Awards and Achievements

Super Bowl champion (LII)
Bert Bell Award (2017)
Pro Bowl - 2017
3× Pepsi NFL Rookie of the Week - Weeks 1, 3, and 5, 2016
2× NFC Offensive Player of the Week - Week 3, 2016 and Week 7, 2017
NFC Offensive Player of the Month - October 2017
NFL Offensive Rookie of the Month - September 2016
Carson Wentz Personal Life
Carson Wentz is a married guy. He announced that he and his girlfriend, Madison Oberg, were engaged on 6th February 2018. The pair married in Bucks County on 16th July 2018. The couple is also blessed with one child, a daughter named Hadley Jayne Wentz who was born in April 2020. Carson and Madison are living joyful life sharing a lot of love with each other. Concerning Wentz's sexual orientation, he is straight. At present, Wentz is living in Mullica Hill in southern New Jersey with his wife and daughter.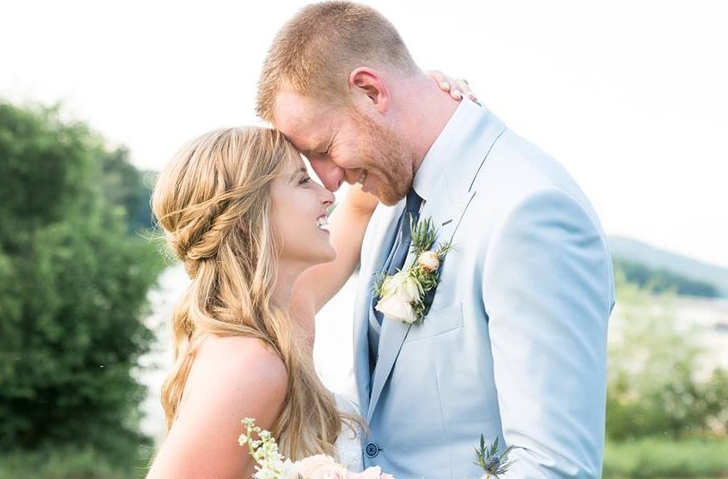 Source: @phillyvoice
Carson Wentz Net Worth

Carson Wentz is an American professional football player who has a net worth of $45 million as of 2021. He signed a four-year, $128 million deal with the Philadelphia Eagles in June of 2019, after he dragged an injury-plagued offense to the playoffs, completing 63.9% of his passes for 4,039 yards with 27 touchdowns, 7 interceptions, and a 93.1 passer rating. Moreover, Wentz launched the AO1 Foundation in 2017 and started a project in 2018 in conjunction with Mission of Hope Haiti to build a sports complex in the country. He held the first annual AO1 Foundation Charity Softball Game at Citizens Bank Park on 1st June 2018. It was announced that the game brought in over $850,000 when 25,000+ fans attended the event. In addition, his major source of income is from his football career. He is making an annual salary of $15,400,000 as of 2021 and he was receiving a salary of $1,383,000 in 2020. As of 2021, his cap hit is $25,400,000. He will be receiving $22,000,000 as of 2022, $20,000,000 as of 2023 and $21,000,000 as of 2024.
Carson Wentz Body Measurement

The height of handsome footballer Carson Wentz is around 6 ft 5 in (1.96 m) whereas his body weight is around 237 lb (108 kg). He has blue eyes and blonde hair as his body build type is athletic. Moreover, he enlisted the help of Adam Dedeaux, who is a motion mechanics instructor, to reduce the probability of injuries and improve the efficiency of his performances. He has also become smarter about his overall fitness regime as he is more aware of what his body needs. Plus, he has started focusing on a healthy and balanced diet to provide his massive muscles with the appropriate fuel. Her other body measurements have not been publicized yet.