Chad Wheeler Biography
Chad Wheeler is an American NFL footballer whose playing position is offensive tackle. At present, he is a free agent as he has been waived by his previous team, Seattle Seahawks of the National Football League (NFL) after being charged with three counts of felony domestic violence for beating his girlfriend. On 15th October 2019, he was signed to the Seattle Seahawks practice squad where he was promoted to the active roster on 8th January 2020. For the team, he played from 2019-2020. Back then, he played college football for the USC Trojans football team from the year 2012 to 2016. He was selected as a first-team All-Pac-12 player at the end of the 2016 season. In college, he suffered multiple concussions, a torn ACL, and about of plantar fasciitis. He was not drafted out of college due to injuries and off-the-field issues were signed by the New York Giants as an undrafted free agent and made his NFL debut in 2017. His jersey number/shirt number is 75 for Seattle Seahawks, 72 for USC Trojans Football, and 63 for New York Giants. Scroll more to know about his Full Biography, Personal Life, Career Stats, Childhood, Early Life, Wiki, Family, Interesting Facts, Present Age & Zodiac Sign.
NFL offensive lineman Chad Wheeler reportedly had to be detained by three Washington state police officers during his arrest for domestic violence against his girlfriend, Alleah at her apartment. The report said it took three officers to get Wheeler down. One officer said in the incident report that Wheeler was "not easy to move". Wheeler was finally arrested after the struggle. He was charged with first-degree domestic violence, domestic violence unlawful imprisonment, and resisting arrest. He pleaded not guilty to those charges this week. The woman involved told investigators Wheeler told her to stand up and bow to him, and when she refused to do that, he threw her on the bed, choked her, and tried to smother her, according to court documents. The woman said she tried to fight back but Wheeler twisted her arm and she lost consciousness. She told officials when she regained consciousness she saw Wheeler by the bed and he said: "Wow, you're alive?" She reportedly ran into the bathroom to call her family and 911.

Chad Wheeler is famous for being an NFL player. He is best known for being the player for Seattle Seahawks and New York Giants. He came to public attention after being charged with three counts of felony domestic violence for beating his girlfriend, Alleah.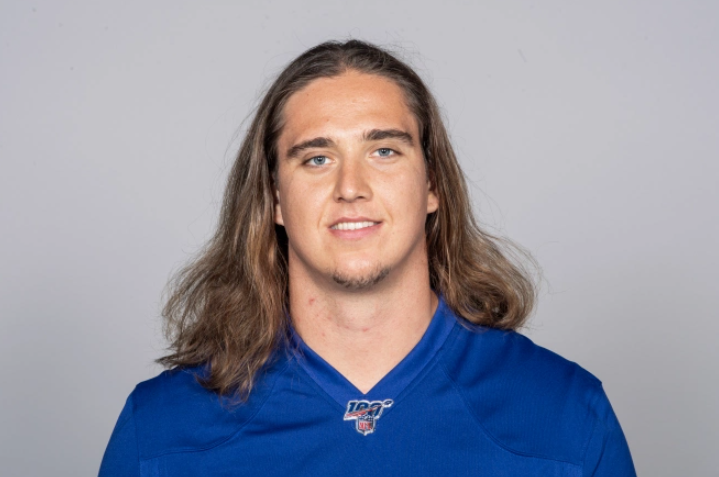 Source: @thesun.co.uk
Born on 19th January 1994, Chad Wheeler took birth in Santa Monica, California, the USA. As of 2021, he celebrated his 27th birthday and will be celebrating his 28th birthday as of 2021 on January 19. Thus, his present age is 27. He holds an American nationality and his ethnic background/ethnicity is American-White. His race is White. Capricorn is his Zodiac sign and his religion is Christian. Concerning his educational background, he went to attend Santa Monica High School and then attended the University of Southern California for further study. Details about her parents and siblings have not been publicized yet.
With an athletic body build, Chad Wheeler is a very handsome man. He stands tall at the height of 6 ft 7 in or 2.01 m. His balanced weight consists of 144 KG or 318 lb. His other body measurements/body size has not been revealed yet. Overall, he has got a healthy body with a charming personality attracting a lot of people towards him. He has a pair of blue eyes color and he has a long hair of black-brown color. He was reportedly on bipolar medication but stopped taking the pills.
Chad Wheeler Career
During his high school, Chad Wheeler played offensive tackle and defensive end. He was rated by Rivals.com as a three-star recruit and was ranked as the 114th offensive tackle in his class.
In the year 2011, he had shoulder surgery during his senior year. Joining the USC to play football, he suffered multiple concussions throughout his college career and also had a torn right ACL in the year 2014.
Moving towards his professional career, he received an invitation to the NFL combine and completed all of the required positional and combines drills. He opted to participate at USC's Pro Day on 22nd March 2017.
Then, he was ranked the 12th best offensive tackle prospect in the draft by NFLDraftScout.com.
Later, he was signed by the New York Giants on 30th April 2017 as an undrafted free agent receiving a three-year, $1.68 Million contracts which includes $30,000 guaranteed and a signing bonus of $20,000.
He has named the backup left tackle by the head coach Ben McAdoo. He then made his regular-season debut in the Giants on 1st October 2017 against Tampa Bay Buccaneers.
As a backup tackle, he entered the 2018 season and was named the starting right tackle in Week 3.
On 31st August 2019, he was waived/injured by the Giants during the final roster cuts but was reverted to the team's injured reserve list. Finally, he was also waived from the injured reserve on 9th September.
On 15th October 2019, he was signed by the Seattle Seahawks practice squad and was promoted to the active roster on 8th January 2020.
Then, he has elevated from the active roster to the active roster on 12th September and 5th December for the team's weeks 1 and 13 games against the Atlanta Falcons and New York Giants, and reverted to the practice squad after each game.
He was even promoted to the active roster on December 12 but was waived on 27th January 2021, after a domestic violence arrest.
At present, Chad Wheeler is a free agent.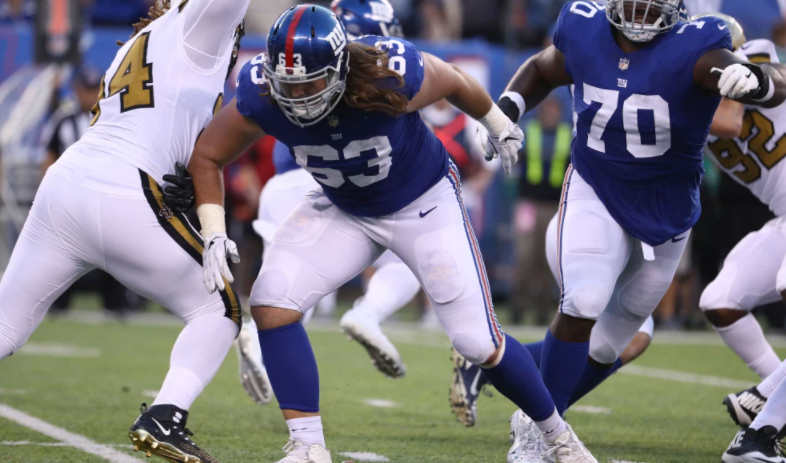 Source: @giantswire.usatoday.com
Chad Wheeler Awards & Achievements
First Team All-Pac-12 (2016)
Second Team All-Pac-12 (2015)
NFL Career Stats
Games played:

32
Games started:

19
Arrest and Domestic Violence
Chad Wheeler was arrested in Kent, Washington on 23rd January 2021 for domestic violence charges. He was also charged with three counts of felony domestic violence and was then released on $400,000 bail. He was also involved in an incident on the USC campus on 19th December 2015 due to which he was detained by the police but was not arrested. Due to this incident, he missed the Holiday Bowl. Later, he apologized for the incident.
Who is Chad Wheeler Girlfriend?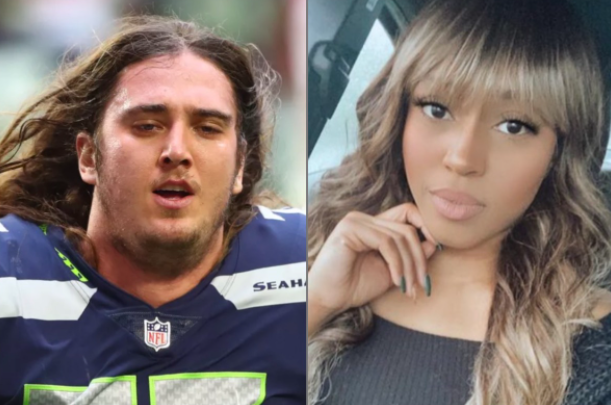 Source: @blacksportsonline
Chad Wheeler is not married yet and he is still to get married. By sexual orientation, he is straight. At present, he is in a relationship with his beautiful girlfriend whose first name goes by Alleah. He has been dating Alleah for a long time. Recently in the news, their relationship has been disputed as Chad Wheeler attacked his girlfriend. Wheeler and his girlfriend were reportedly involved in a domestic dispute, during which he allegedly asked her to bow down to him, according to a police report. It is unclear if she obliged, but the violent assault allegedly occurred shortly after his request. Alleah then allegedly sent text messages to someone detailing the assault, writing: "He thought I was dead on my bed and continued to eat dinner. Adding: "When I ran into the bathroom, he said, 'Wow, you're still alive' while sipping on a smoothie." The assault took place at an apartment in Kent, Washington. Police found her locked in the bathroom. She told authorities in a 911 call that she was being "killed" and had a dislocated arm, according to the police report. On 27th January (Wednesday), a day after the alleged assault, he apologized to his girlfriend and her family and expressed "remorse" for the pain and suffering he caused them. "Events [that] happened over the weekend that transpired from a manic episode. I am deeply sorry for the pain and suffering that I have caused to Alleah and her family," Wheeler tweeted, referring to his girlfriend on 27th January 2021. He finally added, in a third tweet: "It is time for me to walk away from football and get the help I need to never again pose a threat to another. I cannot express my sorrow or remorse enough. I am truly ashamed."
What is Chad Wheeler's Salary?
Chad Wheeler is a famous Footballer. As of 2021, the net worth of Chad Wheeler is estimated to have $1.5 Million. During his career, he made a total of $1,903,946 as career earnings until now. The New York Giants signed him as an undrafted free agent in April 2017. They signed him on a three-year contract valued at $1.68 million, which includes t30,000 guaranteed and a signing bonus of $20,000. As of 2020, he was making a salary of $192,529 from the team Seattle Seahawks. His major source of wealth comes from his football career. Back then, he was out on a bail of $400,000. He is living a cool lifestyle from his career earnings as of today.