About Chelsea Houska
An American reality TV star who rose to fame after her appearance as the main cast in the TV series "16 and Pregnant" of the second season on MTV is named for Chelsea Houska. Later, she was featured on "Teen Mom 2" from 2011 to 2019. Moreover, she is also a hairstylist. She is an esthetician at Body Sculpting Day Spa. She registered at a beauty school and worked in a part-time job at the salon all in a bid to become the beautician she has always dreamt of. She is also active in social media with the followers of more than 5.8 Million in the Instagram account and more than 1.8 Million in her Twitter account.
Recently, Chelsea Houska announced that she was pregnant with her fourth child on 5th August 2020. She is a mom who thought she knew what to expect when she was expecting. "I thought I was a pro," Chelsea shared. "I thought, Ok, I've had a boy and two girls. I know what this will be like' but this one has definitely been different. I'm definitely more sick. I have acne. I've never had that before during my pregnancy. This one is definitely throwing me for a loop." Her symptoms are a reminder to the beloved MTV star that having four kids will complete her family. She joked "I always say that since this one is likely going to be our last one, they are going to give us all the symptoms so we're okay with being done". While experiencing pregnancy in the middle of COVID-19, She says it's nice to be home where you "don't have to fake like you're feeling so great and have all of this energy." At the same time, the uncertainly at what's to come with the unpredictable pandemic "is a little scary" for the mom-to-be. As a new season of Teen Mom 2 kicks off, Chelsea is grateful to share her family with fans for a tenth season.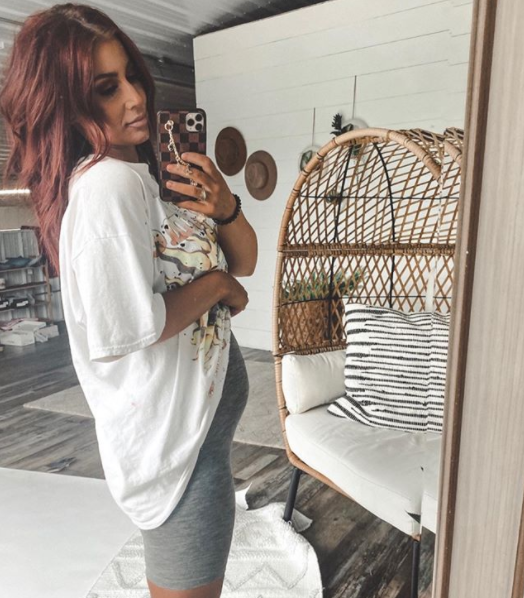 Source: @instagram.com/chelseahouska
Chelsea Houska is famous for being a reality television star. She is best known for appearing in '16 and Pregnant' and 'Teen Mom 2'. She is also better known as a hairstylist.
Born on 29th August 1991, Chelsea Houska's real name or birth name is Chelsea Anne Houska. She was born in Vermillion, South Dakota, United States but she is currently residing in Sioux Falls, South Dakota, United States. Virgo is his Zodiac sign and she holds the American nationality. Her ethnicity is American-White. Her race is White. Her parents are Randy Houska (father) and Mary Houska (mother). Her father is a dentist by profession and has supported her in every way. She also has three siblings; Angie Houska (sister), Emily Houska (sister), and Melissa Houska (sister). As per her education, she went to Stewart School. She dropped out of school in the past and later, she attained her General Educational Development certification after the birth of her daughter. Houska is a graduate of cosmetology from Black Hills Beauty College. As of 2020, she celebrated her 29th birthday.
With the well-maintained body build, Chelsea Houska's height is 5 ft 3 in or 160 cm. Her body build is slim with a weight of 55 Kg or 121 lbs. Her hair color is red and she has got a pair of hazel eyes. She has also a chiseled jawline. he is leading a healthy life by doing frequent exercise. Her body measurement is 34-26-35. Her bra size is 33B. After her second pregnancy, in May 2018, she shared about her weight loss journey. In the Instagram post, she stated that after her pregnancy she felt bad about herself and she needed to do something about her weight. With the help of her new weight loss program and one-on-one coaching, she started making healthier choices. She was able to lose 50 pounds with the program. In an Instagram post, she said, "My doctor has been so glad to hear that I've been following their plan and making it a priority to take care of myself".
Chelsea Houska's Career
Chelsea Houska's career started after her appearance as the main cast of reality TV Series 16 and Pregnant's second season on MTV. She appeared on the TV show alongside other teenage mother and they shared their story to serve as solace and inspiration to young girls all over the world with similar challenges.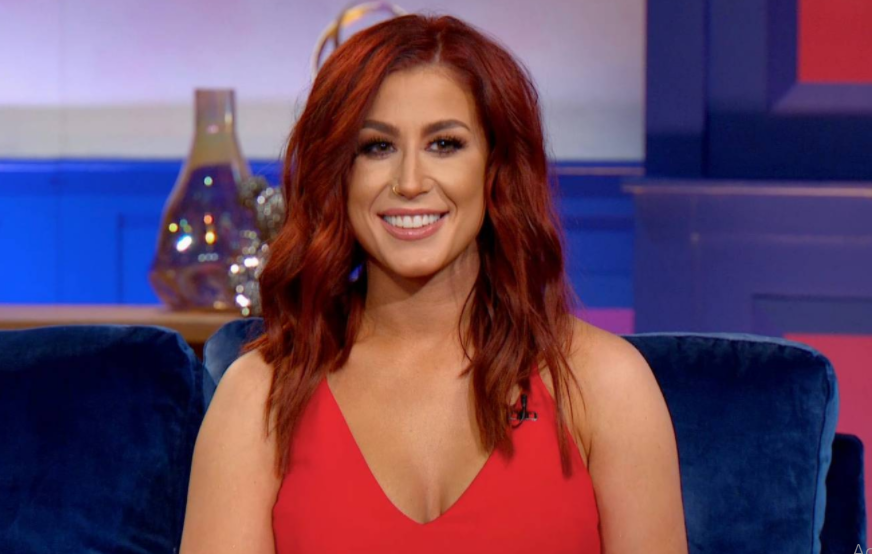 Source: @mtv.com
Prior to this, she had worked at a salon. And it was a dream of hers to become a hairstylist.
She was reportedly a widespread softball player but things soon turned sour after she took in for her boyfriend, Adam.
After 16 and Pregnant, she also featured in Teen Mom 2. She had to take a break after having suffered from an anxiety problem.
Due to the birth of her daughter with her ex-boyfriend, Adam Lind, she had to left her career.
Later, she got a part-time job in a salon, which eased some of the pressure on her shoulders.
She then completed her education and fulfilled her dream of becoming a hairstylist.
The couple (Chelsea and Cole) also formed a collection named "The Chelsea + Cole Collection" for Itzy Ritzy which is a designed shop for both mom & dad shopping. The final products are the ultimate "cool parent" collection.
Besides this, it was also reported that she started a lifestyle blog to write about motherhood, makeup, skincare, and other beauty-related topics.
Chelsea Houska's Husband, Cole DeBoer
Chelsea Houska is a married woman. She got married to her husband, Cole DeBoer on 1st October 2016. Since the year 2016, the duo is together. The married couple is also blessed with two children; a girl named Layne Ettie DeBoer (b. August 29, 2018) and a boy named Watson Cole DeBoer (b. January 25, 2017). In January 2020, Houska and her husband Cole started building their farmhouse. As of today, she is leading a happy life with her family. She is straight as per her sexual orientation.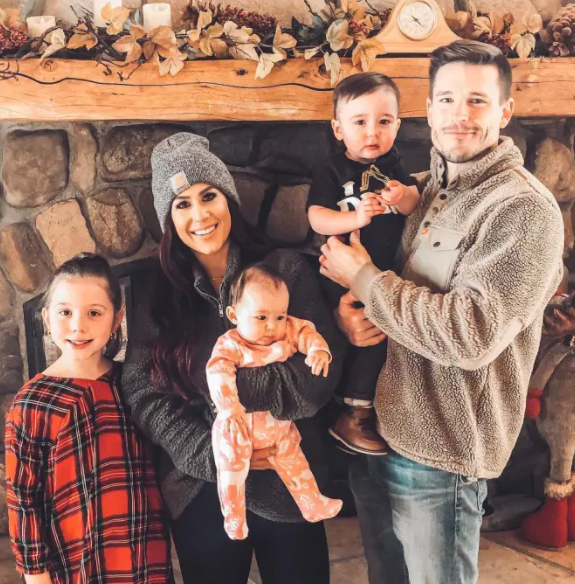 Source: @thesun.co.uk
Regarding the past affairs of Chelsea, she and Adam Lind dated each other since 2008. The couple had their first child, a girl named Aubree Lind-DeBoer who was born on 7th September 2009. She had to drop out of school after becoming pregnant. Her pregnancy was a difficult one since she had to go through Braxton Hick's contractions. Later, the couple separated in 2012 due to some issues. The controversy came up when Chelsea's ex-boyfriend Adam Lind posted a picture of their 6-year-old daughter in the bathtub without any clothes on. She became upset about the fact that Adam didn't spend quality time with their daughter Aubree.
Previously, Chelsea Houska's house was robbed. She has been living in her South Dakota home with her family since 2018. Chelsea and her husband Cole DeBoer have since been approved for a plot of land in Vermillion, South Dakota, and will move into the new home soon. She said items including jewelry, a pearl bracelet, and bags were stolen-but laptops at the home were left behind.
Chelsea Houska's Net Worth 2020
Chelsea Houska is a famous TV personality as well as a hairdresser. As of 2020, the net worth of Chelsea is estimated to have around $1 Million. Her fortune comes from her successful role in Series 16 and Pregnant second season. She has also endorsed or promoted various brands such as Itzy Ritzy, Profile By Sanford through her social media. She is earning a considerable amount of salary from her profession and she is satisfied with her earnings as of now.