Cory Anthony Booker famed as Cory Booker is a politician working from New Jersey since 2013 as the junior United States Senator. Also, he is recognized as the 36th Mayor of Newark previously from 2006 to 2013. On 1st February 2019, he officially announced his campaign to run for the Democratic nomination for President of the United States in the 2020 United States presidential election. He is a very skillful politician.

Cory Booker and Rosario Dawson are dating, Rosario confirms

Actress and activist Rosario Dawson confirmed Thursday rumors that the two are dating and telling that they are "very much" in a relationship. Booker had previously confirmed that he was dating someone, telling "The Breakfast Club" radio show in February, "I got a boo" and that it was "somebody really special." When asked how things with Booker were going, Dawson replied, "So far, so wonderful. He's a wonderful human being. It's good to spend some time together when we can. We're very busy." She co-founded the Hispanic voter outreach organization Voto Latino and appeared in several hit movies such as "Men in Black II" and "Rent." She and Booker have been seen together in New York and Washington, stoking rumors about their relationship. She also said Booker would make a great president, adding, "He's an amazing human being." She had previously supported Sen. Bernie Sanders of Vermont, serving as a surrogate for his campaign during the 2016 presidential election.
Rosario Dawson is "So Proud" after Cory Booker wins reelection in New Jersey
Rosario Dawson is congratulating her boyfriend, Cory Booker, on winning reelection to the Senate in New Jersey. Alongside a black and white photo of the two of them together, Dawson wrote, "So proud of and grateful for you my love. I got to vote for you here in New Jersey and am so glad that you overwhelmingly and rightfully won your seat again." She continued, "To know your leadership will continue to guide us with love, brilliance, patience, grace and effectiveness is the kind of representation and hope we need." At the end, she wrote, "We saw record turnout and need to keep building so that we can win both houses and make real change!" Booker also took to social media to thank his supporters. "New Jersey, I'm once again humbled by the faith you've placed in me. Thank you for standing with me and allowing me the honor of representing our great state in Washington. Our work is far from finished," the Senator wrote.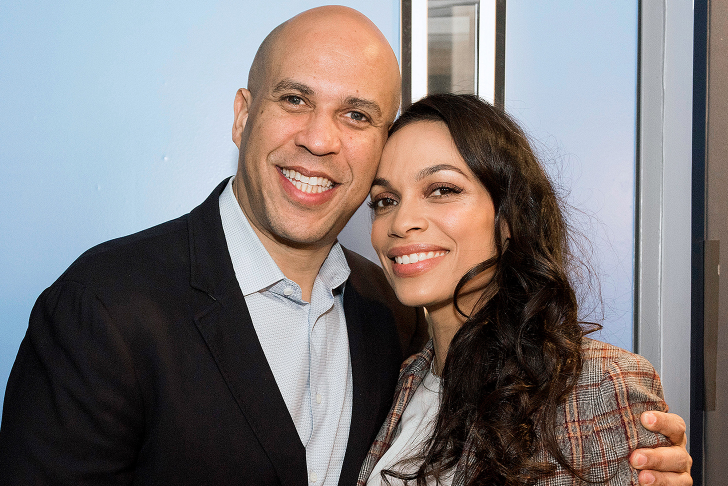 Source: @ew.com
Everything You Need To Know About Rosario Dawson
Cory Booker announces he is running for president

Cory Booker, a New Jersey Democrat who rose to prominence as Newark's charismatic and ambitious mayor, announced Friday (1st February 2019) that he is running for president. He chose the first day of Black History Month to launch his campaign, timing that nods to Booker's own heritage and suggests he will put it at the center of his pitch to voters. "The history of our nation is defined by collective action; by interwoven destinies of slaves and abolitionists; of those born here and those who chose America as home; of those who took up arms to defend our country, and those who linked arms to challenge and change it," Booker narrates in a video released on Friday morning, which features him walking through his Newark neighborhood. "I'm Cory Booker and I'm running for president of the United States of America," he says in the video. He joins a crowded and growing Democratic field that is already the most diverse in history -- with multiple women, one gay candidate, a Latino and, with Booker now in the mix, two black candidates. His announcement comes nearly a year to the day from the Iowa caucuses and the start of the primary calendar. Booker plans to head to Iowa February 8-9 and then to South Carolina on February 10. He also intends to visit New Hampshire over Presidents Day weekend. In his announcement video, Booker also notes that he is "the only senator who goes home to a low-income, inner-city community" in Newark, "the first community that took a chance on me."
Early Life, Family, Birthday, Education, Siblings, Nationality, Ethnicity, Wikipedia, Bio of Cory Booker
Cory Booker was born on 27th April 1969 with the birth name of Cory Anthony Booker. He was born to Cary Booker, his mother and Carolyn Booker, his father. His was born in Washington, District of Columbia, the USA. His nationality is American and his ethnicity is White. He was raised in Harrington Park. His birth sign is Taurus. His father Cary died in the year 2013, due to Parkinson's disease. Talking about his siblings, he has a brother named Cary Booker II but he does not have any sister. He has not mentioned his childhood to the media and the public. As of present, his age is 49 but his age will be 50 on his next birthday in April as of 2019. His religion is Christian. His other early life background will be updated soon.
Regarding his education, he did his schooling from Northern Valley Regional High School. Later, he joined Stanford University and earned a master's degree in 1992 while an undergraduate in 1991. He also studied abroad on a Rhodes Scholarship at the University of Oxford before joining Yale Law School.
Height, Weight and Other Body Measurement
Cory is a very good-looking and handsome person. His personality is very attractive with a charming smile on his glowing face. He attracts a lot of people from his charming smile. His exact height and weight are currently unknown but will be updated soon. He has brown hair, however, he is bald and green color eyes. His other body measurement such as dress size, shoe size and more will be updated soon.
How Cory Booker Began His Career?
In the year 1998, Cory won an upset victory on the Municipal Council of Newark for a seat.
He then briefly settled in a tent performing a 10-day hunger strike for drawing the attention in the city towards the urban development issues.
In the year 2002, he stood for the position of mayor but got lost against incumbent Sharpe James.
Later, he won the seat of deputy mayor after standing again against Ronald Rice in the year 2006.
After that, he doubled the amount of affordable housing under development and quadrupled the amount under pre-development, and reduced the city budget deficit from $180 million to $73 million.
He also established Let's Move! Newark as part of First Lady Michelle Obama's national Let's Move! initiative against childhood obesity on 10th October 2010.
In the year 2010, people re-elected him.
He saved a woman from a house fire, suffering smoke inhalation and second-degree burns on his hands in the process on 12th April 2012.
He also stood in the 2013 U.S. Senate special election against Steve Lonegan and consequently won reelection against Jeff Bell in the year 2014.
He had also voted and co-sponsored the Employment Non-Discrimination Act (2013), sponsored the Bipartisan Budget Act (2013), tougher sanctions against Iran, co-sponsored the Respect for Marriage Act (2014) and voted for the National Defense Authorization Act (2014) during his five years in office.
He was later able to be the first sitting senator to testify against another in 2017 during his confirmation hearing when he testified against Attorney General nominee Jeff Sessions.
He was named as part of the "Hell-No Caucus" by Politico in 2018.
Following the FBI raid on the hotel room and offices of Trump's personal attorney, Michael Cohen, Booker, together with Chris Coons, Lindsey Graham, and Thom Tillis, introduced new legislation to "limit President Trump's ability to fire special counsel Robert Mueller" in April 2018.
On the Supreme Court, he questioned Kavanaugh on a series of E-mails marked "committee confidential", dating back to Kavanaugh's time in the office of the White House Counsel during the presidency of George W. Bush on 5th September 2018.
He also played a leading role in the push to pass the First Step Act, a bipartisan criminal justice reform bill.
He has announced his candidacy for the Democratic nomination for president in the 2020 election on 1st February 2019.
Achievements and Awards
Cory has won the seat of deputy mayor in the year 2006. He also won re-election against Jeff Bell in the year 2014. The people and parliament reelected him in the year 2010.
Marital Status, Affairs, Children's, Sexual Orientation
Cory Booker is not married yet and he is still to get married. But he is in a relationship. As of today, he is dating Rosario Dawson. Booker had previously confirmed that he was dating someone, telling "The Breakfast Club" radio show in February, "I got a boo" and that it was "somebody really special." When asked how things with Booker were going, Dawson replied, "So far, so wonderful. He's a wonderful human being. It's good to spend some time together when we can. We're very busy." At present, the couple is living a happy life without any disturbances. They are enjoying their life a lot. His sexual orientation is straight.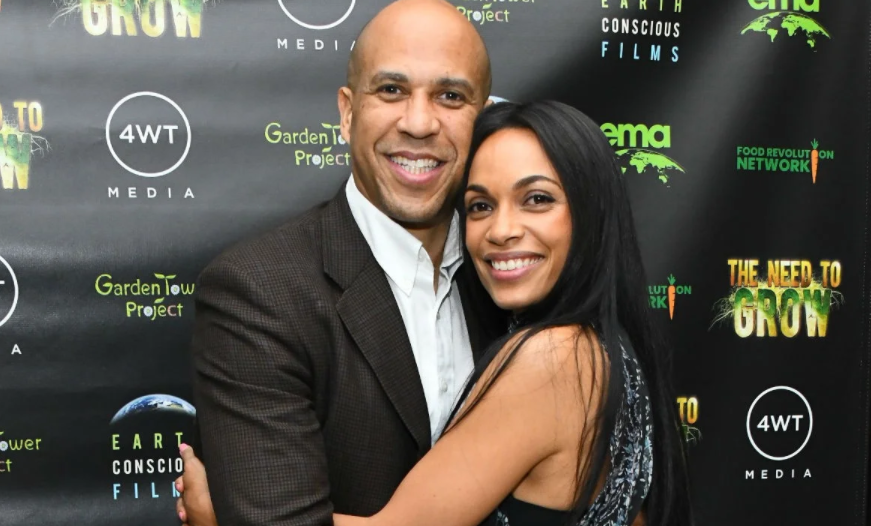 Source: @etonline
Net Worth, Salary and Source of Income
The net worth of this famous politician is surely in millions. He has an estimated net worth of $3 million dollars that he earns from his profession. His salary has not disclosed to the media yet but it will be updated soon. His major source of income is from his political career. He is satisfied with his earnings.
Social Media Platform
Cory is very active on Social media. His Twitter account has more than 4M followers, Instagram with more than 300K followers, and Facebook account with more than 1M followers. He is gaining a lot of people's attention to social media.
More Information About Cory Booker Can Also Be Obtained From Wiki.