About Daniel Levy
A Canadian actor, writer, director, and producer is named for Daniel Levy. He is the son of Canadian actor and comedian Eugene Levy most commonly recognized outside Canada for starring in all the 8 American Pie films. He began his career as a television host on "MTV Canada" in 2006. He made his theatrical film debut as James in the romantic comedy film, "Admission" in the year 2013 alongside Tina Fey and Paul Rudd. He rose to fame after starring as David Rose in the CBC sitcom "Schitt's Creek" (2015-2020), which he also co-created and co-starred in with his father and sister, Sarah. For producing, writing, directing, and acting in the final season of Schitt's Creek, he became the first person to win a Primetime Emmy Award in all four major disciplines in a single year. In September 2020, he starred alongside Bette Midler, Kaitlyn Dever, Sarah Paulson, and Issa Rae in the HBO television film "Coastal Elites".
Netflix releases the making-of Schitt's Creek documentary, creator Dan Levy announces on Twitter. Schitt's Creek documentary comes weeks after Season six went out with a bang, sweeping the comedy categories at the 2020 Emmy Awards. The series star and co-creator Dan Levy tweeted the news on 3rd October 2020. On Saturday morning, Schitt's Creek co-creator Dan Levy tweeted that the sixth and final season of the show and the documentary, Best Wishes, Warmest Regards: A Schitt's Creek Farewell, have dropped early and are now available on Netflix. "Surprise! Season 6 & the Best Wishes, Warmest Regards documentary just dropped early on @[email protected]_CA! Have a great weekend!," Levy wrote, before adding "*all things considered...," referencing his "have a great weekend" note. Season 6 was supposed to drop on Netflix on October 7, but it's as if the Netflix and Schitt's Creek team looked at the garbage-fire that is the news and realized that we, the people, need this. The Schitt's Creek team also just swept at the Emmy Awards and can do whatever they want.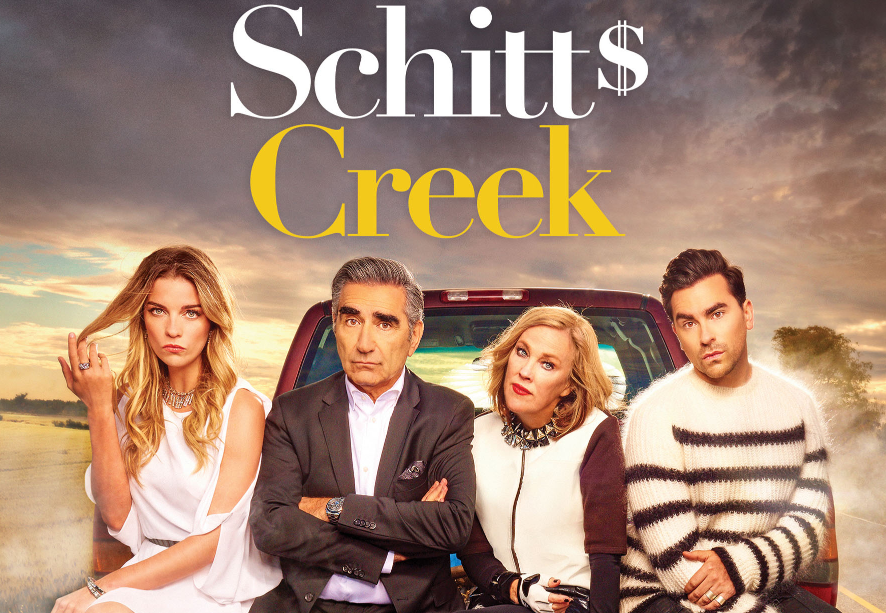 Source: @bestbuy
Daniel Levy is famous for being a Canadian actor, writer, producer, and television personality. He is best known for winning massive critical acclaim for scripting, producing, and starring in the Canadian sitcom "Schitt's Creek". The show won the "Best Comedy Series" award twice (2016 & 2019) at the Canadian Screen Awards.
On 9th August 1983, Daniel Levy was born in Toronto, Ontario, Canada with the birth name/real name of Daniel Joseph Levy. He holds Canadian nationality and his ethnicity is Multiracial. He has Scottish, Polish, Bulgarian, and Spanish ancestry on his paternal side. He was born to his parents; Eugene Levy (father), an Actor, Comedian, Producer, Director, and Writer, and Deborah Divine Levy (mother), a screenwriter. He also has a sibling, younger sister named Sarah Levy who is an actress by profession. His birth sign is Leo and his religion is Judaism. He had his bar mitzvah in his early teens. Dan's mother is a Protestant Christian, and he celebrates Christian traditions as much as Jewish traditions. He identified himself as a Halfie on Twitter. AS of 2020, he celebrated his 37th birthday.
Concerning his education, he attended high school at North Toronto Collegiate Institute and later pursued film production at York University and Ryerson University.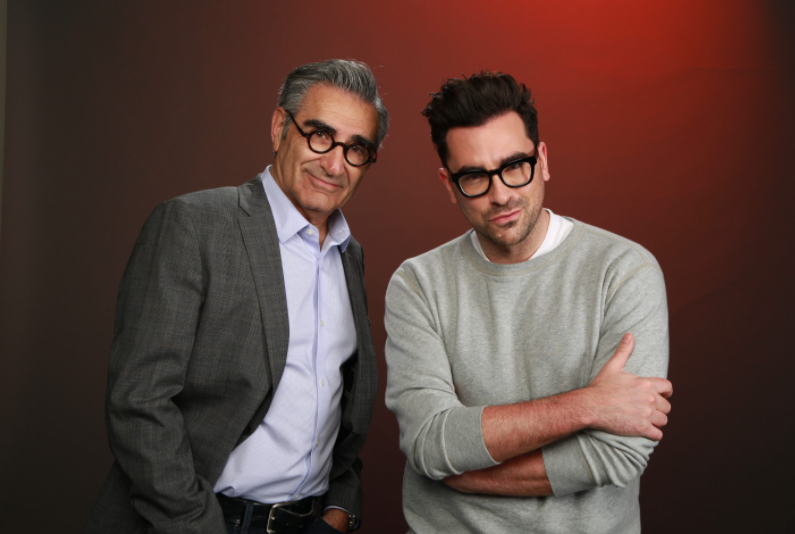 Source: @latimes
Dan Levy is a cool person with a glowing face. He stands tall at a height of 5 ft 11 in. His balanced weight consists of 71 Kg. He has a pair of brown eye color and his hair color is dark brown. He also wears a spectacle which made him so handsome. His other body details are still to get unfold yet. Overall, he has got a healthy body as of today as he maintains his body a lot. While living in Toronto, Levy used to work with a personal trainer at Totum Fitness on Yonge Street to maintain a lean and toned build. His body build is athletic. He prefers semi-formal clothing with a dash of bright color.
Dan Levy's Career Timeline
Daniel Levy started his career as one of the original seven co-hosts on the now-defunct MTV Canada flagship series "MTV Live".
He rose to fame being the co-host of MTV Canada's "The After Show" with Jessi Cruickshank and its various incarnations, such as "The Hills: The After Show" and "The City: Live After Show".
Later, he wrote, produced, and starred in his own Christmas Special for MTV, "Daniel Levy's Holi-Do's & Don'ts", and also he co-hosted the MTV Movie Awards Red Carpet, the X-Factor pre-show, and national coverage of the Vancouver Olympic Games for CTV.
In the year 2011, he left MTV Canada and then appeared in a four-episode story arc of the Canadian TV series "Degrassi: The Next Generation", which premiered as a TV movie called "Degrassi Goes Hollywood".
He has also appeared in the 2012 thriller "Cyberstalker" and the 2013 film "Admission".
After that, he formed Not a Real Company Productions with his father and principals Andrew Barnsley and Fred Levy. It was in the year 2013.
Their first project was a television pilot with CBC, which resulted in "Schitt's Creek" and also the stars in the TV show alongside his father, sister Sarah Levy, Catherine O'Hara, Annie Murphy, and Chris Elliott.
In March 2019, Levy announced that the series was renewed for a sixth and final season.
It was announced in July 2017 that Levy would host The Great Canadian Baking Show with Julia Taylor Ross.
In May 2019, he was the keynote speaker at The Infatuation's annual food festival, 'EEEEEATSCON'.
In September 2019, it was announced that he had signed a three-year deal with 'ABC Studios'.
In January 2020, he and his father were guest hosts of "The Ellen DeGeneres Show".
In September 2020, he starred alongside Bette Midler, Kaitlyn Dever, Sarah Paulson, and Issa Rae in the HBO television film "Coastal Elites". The project was shot remotely and focused on the lives of five individuals navigating the COVID-19 pandemic.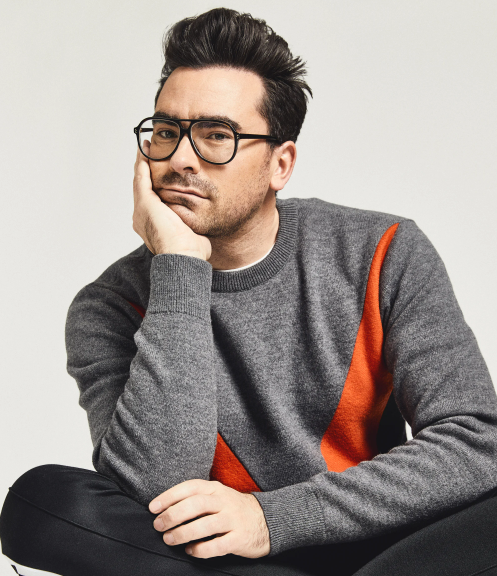 Source: @gq.com
Awards and Achievements of Daniel Levy
For his work on "Schitt's Creek", Levy has been nominated for numerous awards, including several Canadian Screen Awards for writing and acting, winning the awards for Best Comedy Series, Best Writing in a Comedy Program or Series in 2016, and Best Comedy Series in 2019. In July 2020, "Schitt's Creek" was nominated for 15 Primetime Emmy Awards for its final season, with Levy winning Outstanding Comedy Series, Outstanding Supporting Actor in a Comedy Series, Outstanding Writing for a Comedy Series, and Outstanding Directing for a Comedy Series.
Daniel Levy's Personal Life
Daniel Levy is not married yet and he is single as of today. His sexual orientation is Gay. In a 2020 interview with Andy Cohen, Levy confirmed he is gay and has been out since he was 18. Additionally, there are no records of his relationships and dating history with anyone until now. He was called 'a member of the queer community' during an interview with Flare in 2015. Queerty named him one of the Pride50 "trailblazing individuals who actively ensure society remains moving towards equality, acceptance, and dignity for all queer people" in 2019. Back in time, he used to avoid talking about his sexuality publicly. He is enjoying his present life a lot without any disturbances.
Daniel Levy's Net Worth and Salary
Dan Levy is a famous actor, writer, as well as a producer who has made a massive amount of money and salary from his profession through the entertainment industry. His main source of income is from his production house, his work as an actor and producer. As of 2020, his net worth is estimated to have $14 million whereas the details about his salary is still a mystery. There is no doubt in the mind of his followers that he is making a good amount of salary from his work. As of now, he is living a luxurious lifestyle.