Who is Gillian Anderson?
An award-winning and talented American actress, Gillian Ander is famous for playing the role of FBI agent 'Dana Scully' in the American science-fiction series "The X-Files" (1993-2002). Furthermore, she is well-known for appearing as ill-fated socialite Lily Bart in Terence Davies's film "The House of Mirth" (2000), DSU Stella Gibson in the BBC crime drama television series "The Fall", sex therapist Jean Milburn in the Netflix comedy-drama "Sex Education", and British Prime Minister Margaret Thatcher in the fourth season of Netflix drama series "The Crown".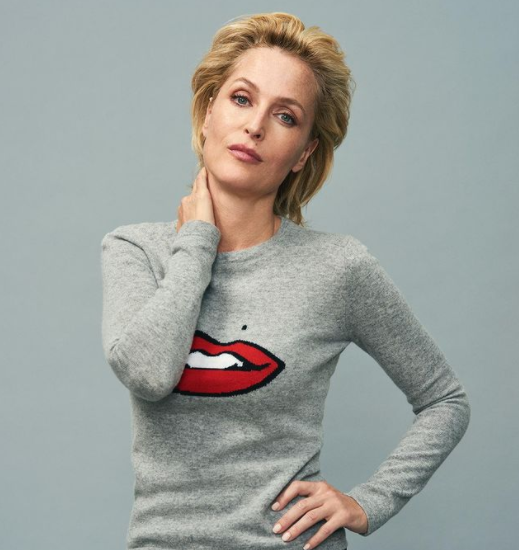 Source: @instagram.com/gilliana
Accomplished and Brilliant actress, Gillian made her film debut in the 1992 American drama, "The Turning". She made her debut TV show appearing in one episode as Rachel on Fox drama series Class of 96'. What's more, she is active in supporting numerous charity organizations, global and social causes, as well as she is running her own humanitarian ventures and she also supports The Trevor Project organization, focused on suicide prevention efforts among LGBTQ youth and attended three of The Trevor Project's "Cracked X-Mas" events to benefit the organization. Scroll more to know about her Full Biography, wiki, Family, & Personal Life Details.
Family and Early Life
Born with the birth name/full name of Gillian Leigh Anderson, her born date of 9th August 1968. Her place of birth is in Chicago, Illinois, the USA. Her hometown is in London and Grand Rapids, Michigan where she spent her childhood. She holds an American nationality and her ethnic background is American-White. Her race is White. Back in 2020, she celebrated her birthday which makes her the present age of 52 and she will next be celebrating her 53rd birthday as of 2021 on 9th August. Leo is her Zodiac sign and her religion is Buddhist.
Talking about family members, she was born to her parents; Homer Edward Anderson III aka Ed (Post-production Company Owner) (father), and Rosemary Alyce née Lane aka Posie (Computer Analyst) (mother). She also has two siblings; Aaron Anderson (Younger Brother) (DJ, Was in second-year Ph.D. program at Stanford University when he expired in 2011 due to a brain tumor), Zoe Anderson (Younger Sister) (Ceramicist, Artist).
Concerning her educational qualification, Gillian Anderson attended Coleridge Primary School and then went to Fountain Elementary followed by City High-Middle School. She developed an interest in theater and started participating in high school productions and community theater in her 9th grade. In the year 1996, she ended her school and then she auditioned to get into "The Theatre School" at DePaul University in Chicago where she was accepted and graduated with a Bachelor's Degree in Fine Arts (BFA) in the year 1990.
Personal Life - Married Life and Husband
Married and divorced woman two times, Gillian Anderson is currently single. She is not dating anyone at present. As of today, she is residing in London with her three kids. Talking about her children/kids, she has a daughter named Piper Maru with Clyde Klotz, & two kids with Mark Griffiths. She is straight as per her sexual orientation.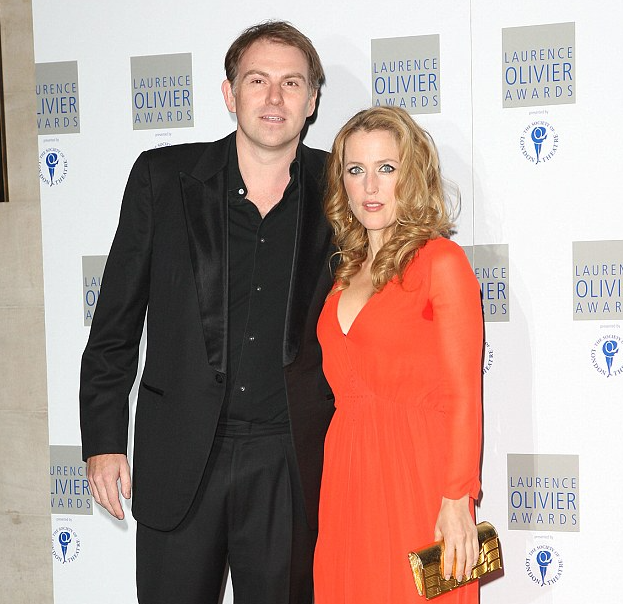 Source: @dailymail.co.uk
Regarding her past affairs and relationship, Gillian had dated Jodie Foster, Clyde Klotz (1994-1997) (Married & Divorce), Adrian G. Griffiths (1996-1997), Rodney Rowland (1997-1998), Julian Ozanne (2004-2007) (Married & Divorce) Mark Griffiths (2006-2012), Peter Morgan (2016-2020).
Filmography
1986 - "Three at Once"
1988 - "A Matter of Choice"
1992 - "The Turning"
1997 - "Chicago Cab"
1998 - "The X-Files", "The Mighty", "Playing by Heart"
1999 - "Princess Moninoke"
2000 - "The House of Mirth"
2005 - "The Mighty Celt" & "A Cock and Bull Story"
2006 - "The Last King of Scotland Straightheads"
2008 - "The X-Files: I Want to Believe" & "How to Lose Friends & Alienate People"
2009 - "Boogie Woogie"
2010 - "No Pressure"
2011 - "Johnny English Reborn
2012 - "Sister", "Shadow Dancer" & "Room on the Broom"
2013 - "Mr. Morgan's Last Love", "From Up on Poppy Hill", "I'll Follow You Down"
2014 - "Sold" & "Robot Overlords"
2015 - "The Departure"
2016 - "Viceroy's House", "The Artist's Garden: American Impressionism", "Crooked House"
2018 - "The Spy Who Dumped Me", "UFO", "This Changes Everything"
2019 - "The Sunlit Night"
TBA - "White Bird: A Wonder Story"
Television Shows
1993 - "Class of '96"
1993-2002; 2016-2018 - "The X-Files"
1995 - "Eek! the Cat"
1996 - "ReBoot", "Why Planes Go Down", "Spies Above", "Future Fantastic"
1996-2002 - "Hollywood Squares"
1997 - "The Simpsons"
1999 - "Frasier", "Harsh Realm"
2005 - "Bleak House"
2010 - "Any Human Heart"
2011 - "The Crimson Petal and the White", "Moby Dick" & "Great Expectations"
2013-2016 - "The Fall"
2013-2015 - "Hannibal"
2015 - "The Widowmaker"
2019-present - "Sex Education"
2020 - "The Crown"
TBA - "The First Lady"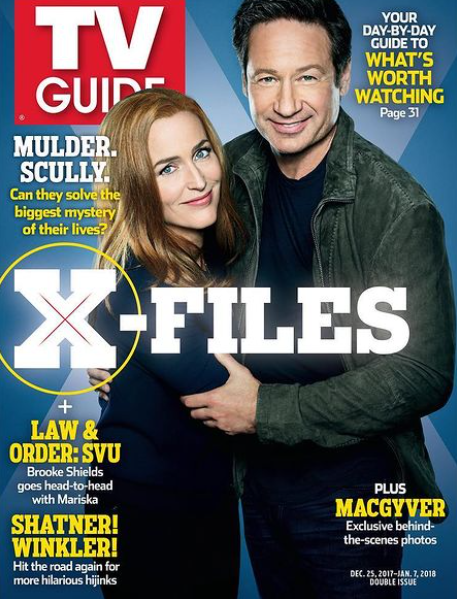 Source: @instagram.com/gilliana
Voice Work
The narrator of Anne Rice's novel Exit to Eden (1992)
The narrator of The X-Files: Ground Zero (1997)
The narrator of "The Guardian of the Pool: A Story from Nelson Mandela's Favorite African Folktales" (2009)
Narrated the story "Reversal" from David Eagleman's speculative fiction book Sum: Forty Tales from the Afterlives (2010)
Narrated Charlotte Bronte's lost story "L'Ingratitude" for London Review of Books' podcast (2012)
The narrator of Roald Dahl's short story "The Last Act", which is included in the Switch Bitch collection (2012)
Narrated the audiobooks of her novel trilogy The Earthend Saga: A Vision of Fire (2014), A Dream of Ice (2015), and The Sound of Seas (2016)
One of the narrators of BBC Radio 4's ongoing series A History of Ideas (2015)
Provided a voice recording of reading Virginia Woolf's suicide note for The Royal Ballet production Woolf Works (2015)
Narrated Wilkie Collins' short story "Mrs. Zant and the Ghost" for Audible UK's Christmas Car Selection (2015)
Co-narrator of the audiobook for her and Nadel's self-empowerment book WE: A Manifesto for Women Everywhere (2017)
Provided the voice of Dana Scully for The X-Files: Cold Cases and The X-Files: Stolen Lives audiobooks (2017)
Awards and Achievements
Blockbuster Entertainment Awards, Aftonbladet TV Prize, Bravo Otto, Golden Globe Awards, Primetime Emmy Awards, Saturn Awards, Sci-Fi Universe Awards, Screen Actors Guild Awards, SFX Awards, Viewers for Quality Television Awards For "The X-Files"
British Independent Film Awards, Chlotrudis Awards, Village Voice Film Poll Awards For "The House of Mirth"
Irish Film and Television Awards For "The Mighty Celt"
Broadcasting Press Guild Awards For "Bleak House"
Fangoria Chainsaw Awards for "Hannibal"
Roma Fiction Fest's Artistic Excellence Award for "Great Expectations"
Critics' Choice Television Awards For "The Crown"
Broadway World: UK Awards & Evening Standard Theatre Awards, Glamour Awards for "A Streetcar Named Desire"
Theatre World Awards for "Absent Friends"
WhatsonStage.com Awards for "What the Night is For"
Harper's Bazaar Women of the Year Awards & Webby Awards for "The Fall"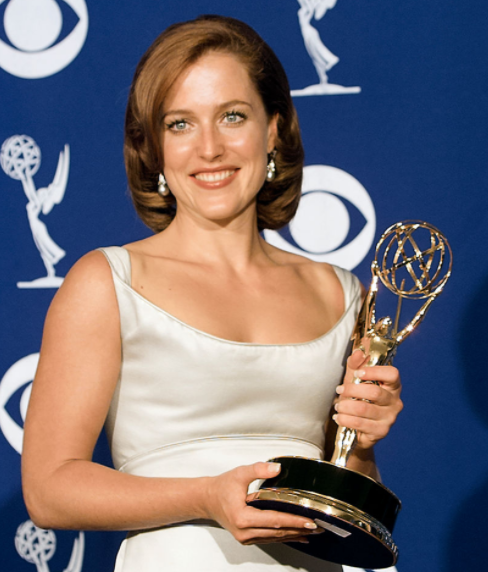 Source: @cheatsheet
Net Worth and Salary
Successful actress, Gillian Anderson has accumulated a net worth of $40 Million as of 2021 as per sources. Her major source of wealth comes from her acting career. She received the paycheck/salary of $4,000,000 for her role in "The X Files", $60,000 for her role in "Playing by Heart", £500,000 for "Bleak House". She has also done TV advertisements which include; an extended commercial for a dermatology clinic in 1987, Hardee's commercial in 1990, a Digital Satellite TV ad (1999), Ford Explorer Radio Ad (2002), and more. The total property value of her London house is around $2 Million. She is living a luxurious lifestyle from her career earnings.
Height and Weight
Beautiful Gillian Anderson, she has a slim body build with the perfect of 5 ft 3 in or 160 cm. Her balanced weight is 56.5 Kg or 124.5 lbs. She has a pair of grayish blue eye color with the blonde hair color which suits her very well. Her long face with a small sharp nose, a mole on the upper lip are her unique features. She has several tattoos; all of them, as she described, are in some way about "peace of mind, right mind, right action". She practices meditation daily.