An American singer, actress, as well as a record producer, is named for Diana Ross. She rose to fame as the lead singer of the vocal group "The Supremes", who during the 1960s became Motown's most successful act, and are the best-charting female group in US history. The Supremes is also known as one of the world's best-selling girl groups of all time and the group released a record-setting twelve number-one hit singles on the US Billboard Hot 100: "Where Did Our Love Go", "Baby Love", "Come See About Me", "Stop! In the Name of Love", "Back in My Arms Again", "I Hear a Symphony", "You Can't Hurry Love", "You Keep Me Hangin' On", "Love is Here and Now You're Gone", "The Happening", "Love Child", and "Someday We'll Be Together". In 1976, Ross was named the "Female Entertainer of the Century" by Billboard magazine. In the year 1993, the Guinness Book of World Records declared her the most successful female music artist in history, due to her success in the United States and the United Kingdom for having more hits than any female artist in the charts, with a career total of 70 hit singles with her work with the Supremes and as a solo artist. In 1965, Diana made her theatrical film debut in the musical comedy movie, Beach Ball. However, her appearance in the movie wasn't credited and made her first credited appearance in the lead role in the biographical drama movie, Lady Sings the Blues in 1972. Scroll down to get more information regarding her full biography, birthday, wiki, husband, children, family details, siblings, facts, net worth, songs, albums, and many more.
Famous For
Being a member of "The Supremes", which is best known for their tremendous success in the 60s.
For releasing multiple chart-topping singles and has sold millions of record albums all over the world.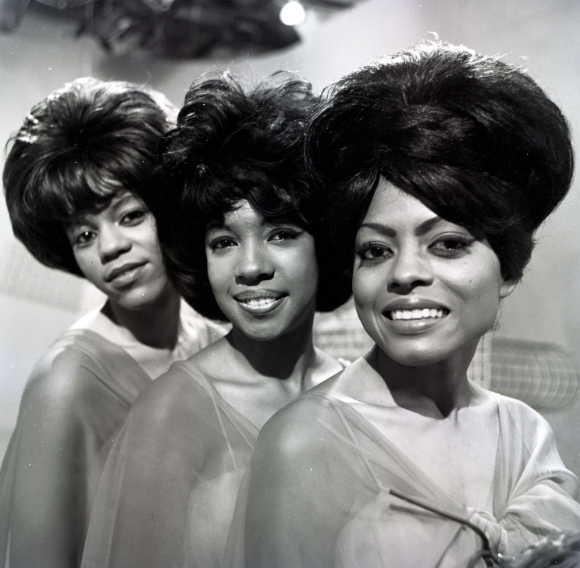 Source: @britannica.com
Early Life of Diana Ross
Diana Ross was born on 26th March 1944. Her birthplace/hometown is in Detroit, Michigan, the USA. Her nationality is American and her ethnicity is Mixed. Her face is black. She was born to her parents; father Fred Ross, Sr., a U.S. Army soldier and mother Ernestine, who was a school teacher. Her siblings include Barbara Ross-Lee (Older Sister) (Physician), Rita Ross (Younger Sister) (Schoolteacher), Fred Ross, Jr. (Younger Brother), Arthur "T-Boy" Ross (Younger Brother) (Songwriter and Composer), Wilbert "Chico" Ross (Younger Brother) (Dancer). Her elder sister is American physician Barbara Ross-Lee. Her grandfather John E. Ross, a native of Gloucester County, Virginia, was born to Washington Ross and Virginia Baytop. She lived with her family at Belmont Road, Detroit, and later in 1958 she, along with her family, moved to St. Antoine Street and lived at the Brewster-Douglass housing projects. She attended the Cass Technical High School, a four-year college preparatory magnet school in downtown Detroit and graduated in the year 1962. She also worked at the Hudson's Department Store. Her horoscope sign is Aries and her religion is baptist. As of 2020, she celebrated her 76th birthday.
Career of Diana Ross
At the age of fifteen, Diana Ross joined the Primettes, a sister group of a male vocal group called the Primes and later the Primettes later auditioned for Motown Records.
She was the hairstylist, seamstress, and costume designer for the group.
The group recorded two tracks for Lu Pine Records, with Ross singing lead on one of the tracks.
In late 1960, having replaced McGlown with Barbara Martin, the Primettes were allowed to record their own songs at Hitsville's studio, many written by "Smokey" Robinson, who, by then, was vice president of Motown ("Your Heart Belongs to Me" and "A Breathtaking Guy").
In the year 1963, she recorded their first song, "When the Lovelight Starts Shining Through His Eyes" where she gave the lead vocals for the song.
In the year 1964, she again delivered the lead vocals for "The Supremes", for their song, "Where Did Our Love Go" which was a hit and it peaked on the music charts.
The group appeared as a trio of singing nuns in a 1968 episode of the popular NBC TV series Tarzan.
Between their early 1968 single "Forever Came Today" and their final single with Ross, "Someday We'll Be Together".
During a 1967 performance in Boston, Massachusetts, she collapsed on stage and had to be hospitalized for exhaustion.
In 1968, she began to perform as a solo artist on television specials, including the Supremes' own specials such as TCB and G.I.T. on Broadway, The Dinah Shore Show, and a Bob Hope special, among others.
In May 1970, she released her debut solo album titled, "Diana Ross", which was released under the Motown label which featured her first solo single "Reach Out and Touch".
On 3rd November 1970, she came out with her second album, "Everything Is Everything" which featured the hit single, "I'm Still Waiting", which reached the number one position on the UK music charts.
In the year 1971, her third solo album, "Surrender" was released which critically acclaimed and commercially successful.
The album"s title song "Surrender" was a big hit in the United Kingdom.
In the year 1972, she played the role of jazz singer Billie Holiday in the Academy Award-nominated biographical drama film, "Lady Sings the Blues".
The film was showcased at the 1973 Cannes Film Festival.
In the year 1973, she came out with her alum, "Touch Me in the Morning", which was released under the Motown Records label and the title track of the album was a number one hit on the music charts.
In the year 1976, she released her second self-titled album, "Diana Ross", which became one of her bestselling albums which included the hit singles, "Love Hangover" and "Theme from Mahogany".
In the year 1977, she hosted the popular one-woman show, "An Evening with Diana Ross" that ran on Broadway which was made into an album later and it was an award-winning show.
In the year 1979, she came out with the album, "The Boss", which was produced by Nickolas Ashford & Valerie Simpson which sold in good numbers and certified platinum.
In the year 1981, her platinum-certified pop/contemporary "Why Do Fools Fall in Love" was released which was her first album after she left the Motown label.
She went on a successful world tour in order to promote this album.
On 13th September 1984, she released the album, "Swept Away", which produced a number of hit songs.
Some of the singles include, "Missing You", "Swept Away" and "Telephone".
In the year 1991, she came out with the album, "The Force Behind the Power", which was not a very successful album in the U.S.A but was relatively successful in other parts of the world.
In the year 1994, she starred in the television movie, "Out of Darkness", in which she played the role of a schizophrenic patient, "Paulie Cooper" which earned her a Golden Globe nomination for the category of "Best Actress".
In the year 1995, her studio album, "Take Me Higher" was released and the album was considered as one of her fine works by many of her fans.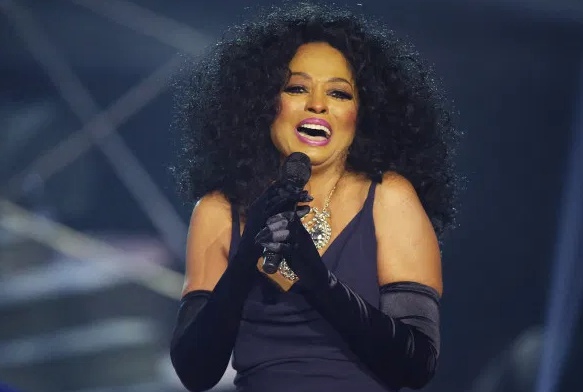 Source: @womenafrica.com
In the year 2000, she was one of the main headliners for the "VH1 Divas 2000: A Tribute To Diana Ross".
It was an honors concert held for "The VH1 Save The Music Foundation".
In the year 2006, she released the album, "I Love You" both in the United States and parts of Europe which featured the songs, "I Want You", "Crazy Little Thing Called Love" and "Remember".
In the year 2008, Ross was one of the performers at the Nobel Peace Prize concert and some of the songs she sang include, "Where Did Our Love Go" and "Ain't No Mountain High Enough", among others.
In the year 2012, she appeared in the TV show, "Christmas in Washington", which was an annual TV special program that featured different stars from the field of entertainment.
In 2013, she completed a tour in South America and a tour in the United States.
In the year 2015, she appeared in the video for the song "How to Live Alone" performed by her son Evan Ross.
She began the first of nine performances as a part of her mini-residency, The Essential Diana Ross: Some Memories Never Fade at The Venetian in Las Vegas, Nevada on 1st April 2015.
On 27th November 2015, Motown Records/Universal released the album Diana Ross Sings Songs from The Wiz, recorded in 1978.
In December 2016, Billboard magazine named her the 50th most successful dance artist of all time.
In December 2017, Ross appeared on the Home Shopping Network to promote her first fragrance, Diamond Diana where she made several hour-long appearances on the network, and also released a tie-in CD retrospective collection of her music entitled "Diamond Diana" which peaked at number six on the Billboard R&B Albums chart and number five on its Top Album Sales chart.
On 8th February 2018, she began a new mini-residency at The Wynn Las Vegas Hotel & Casino.
In 2019 her song "The Boss" was remixed by Eric Kupper as "The Boss 2019", and reached number one on Billboard's Top Dance Chart on April 13.
In December 2018, she consolidated her status as a dance diva by ranking #3 in the Billboard Dance Club Songs Artists year-end chart.
On 10th October 2019, it was announced that Diana Ross would play the Sunday legends slot on the Pyramid Stage at the Glastonbury Festival for the festival's 50th anniversary.
Awards and Achievements of Diana Ross
In April 1974, Ross became the first African-American woman to co-host the 46th Academy Awards, with John Huston, Burt Reynolds, and David Niven. Her 1987 follow-up to Eaten Alive, Red Hot Rhythm & Blues (No. 39 Billboard Top R&B Albums chart; No. 12 Sweden), found less success than the prior album. The accompanying acclaimed television special was nominated for three Emmy Awards, winning two (Outstanding Costume Design for a Variety or Music Program-Ray Aghayan and Ret Turner; Outstanding Lighting Direction (Electronic) for a Miniseries or a Special - Greg Brunton). In May 1996, she received the World Music Awards' Lifelong Contribution to the Music Industry Award. In January 2003, Ross was honored as Humanitarian of the Year by Nile Rodgers' We Are Family Foundation. Shortly thereafter, Ross was feted as an honored guest at the National Association of Black-Owned Broadcasters Awards. In 2007, Ross was honored with the BET Awards' Lifetime Achievement Award and, later, as one of the honorees at the Kennedy Center Honors. On 19th November 2017, she received the American Music Awards Lifetime Achievement Award. On 10th February 2019, the Recording Academy honored Ross at the 61st Annual Grammy Awards. On 16th November 2016, she was announced as one of the 21 recipients of the Presidential Medal of Freedom, the nation's highest civilian honor.
Personal Life of Diana Ross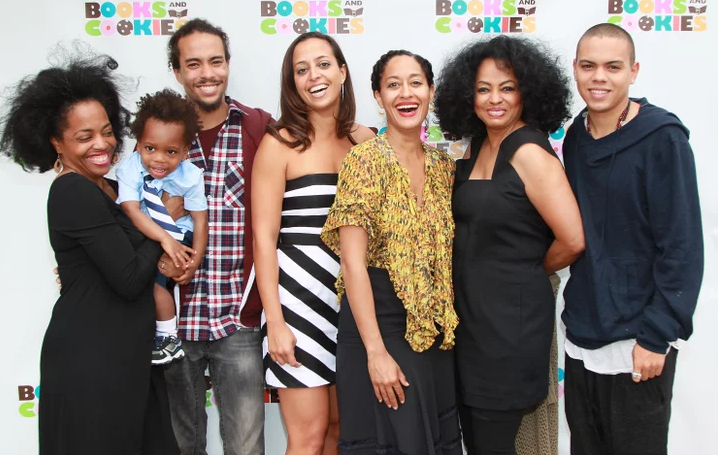 Source: @popsugar.com
Diana Ross is a married woman and she has been married twice and has five children/kids. In the year 1965, she became romantically involved with Motown CEO Berry Gordy. The relationship lasted several years, resulting in the birth of Ross's eldest child, Rhonda Suzanne Silberstein, in August 1971. Two months into her pregnancy with Rhonda, in January 1971, Ross married music executive Robert Ellis Silberstein, who raised Rhonda as his own daughter, despite knowing her true paternity. With him, she has two daughters with Silberstein, Tracee Joy, and Chudney Lane Silberstein, born in 1972 and 1975, respectively. Ross and Silberstein divorced in 1977. After that, she dated Gene Simmons, bass guitarist and singer for the band Kiss, from 1980 to 1983. After that, she met her second husband, Norwegian shipping magnate Arne Næss Jr., in 1985, and married him the following year. She became stepmother to his three elder children; Katinka, Christoffer, and folk singer Leona Naess. They have two sons together: Ross Arne (born in 1987) and Evan Olav (born in 1988). The duo later divorced in 2000, after press reports revealed that Naess had fathered a child with another woman in Norway. Arne fell to his death in a South African mountain climbing accident in 2004. She has six grandchildren: grandson Raif-Henok (born in 2009 to her daughter Rhonda); grandsons Leif (born on June 5, 2016) and Idingo (born 2017), born to her son Ross Næss; granddaughters Callaway Lane (born in 2012) and Everlee (born October 2019) born to Ross's daughter Chudney; and granddaughter Jagger Snow (born in 2015 to Ross's son Evan). As of now, she is living a happy life with her children. Her sexual orientation is straight.
Net Worth of Diana Ross
Diana Ross is an American singer, actress, and record producer. With her career as a singer, she has accumulated a huge amount of money. Her major source of wealth is from her singing career including her songs and albums sales, records, and more. As of 2020, the net worth of Diana Ross is estimated to have $250 Million as per source whereas her exact salary is unknown but there is no doubt in the mind of her followers that she is earning a considerable amount of money. She seems to be enjoying her earning because with her nine figures net worth, she lives own two houses. One goes for nothing less than $39 million while the other is worth her net worth. The former is a Middlefield house comprising of a sauna, parking lot, home office, and Jacuzzi. It is just paradise and nothing less! The latter on the other is earthed in Greenwich in Connecticut, United States. The most popular of Diana Ross car is the 300c model she drives manufactured by Chrysler worth some good cash. She is living a luxurious lifestyle as of now.
How tall is Diana Ross?
Diana Ross is a very beautiful woman an average body build. She has got a tall height of 5 ft 4.5 in or 164 cm and her weight consist of 56 Kg. Her hair color is black and her eye color is dark brown. She has got a curly hair. Her body measures 34-25-35 in (breast-waist-hip). Her shoe size is 9 US and the dress size is 6 US. Her bra cup size is 34C.