Geraldina "Dina: Asher-Smith, professionally known as Dina Asher-Smith is a British sprinter. She is famous for being the first female British sprinter to win over 100 m or 200m, an individual medal in the world championship since Kathy Cook in 1983 and also won the silver medal in the 100 m at the 2019 World Championships in a new British record of 10.83 seconds, finishing second behind Shelly-Ann Fraser-Pryce as well as she won the 100 m in time 10.85 and 200 m in time 21.89 titles at the 2018 European Championships and becoming the first woman in history to run below 22 seconds for 200 metres, and moving to 22nd on the 200 metres world all-time list (35th at 100 m). She won a third gold medal in the 4 x 100 metres relay and then she was named women's European Athlete of the year in 2018. She was a part of the Commonwealth Games where she won a bronze medal with a time of 22.29 seconds and won the gold medal in the 4 x 100 m relay final in a time of 42.46 seconds.
At the age of 13, Dina Asher-Smith is a member of Blackheath and Bromley Harriers Athletic Club and won the English Schools Championships 200m title as an under 15 (2010), U17 (2011), U20 (2013), and the 2013 event in a time of 23.63 seconds into a strong headwind. At the 2012 World Junior Championships, she finished 7th in the 200m with a time of 23.50 seconds. She received two gold medals at the European Junior Championship in 2013 and was shortlisted for the 2013 BBC young Sports Personality for the year as well as she won the 100 m (11.23 seconds) at the 2014 World Junior Championships. She is active on Instagram and Twitter. She has over 328K followers on Instagram and 87K followers on Twitter.
Moreover, Dina Asher-Smith qualified for the 200 m final at the 2014 European Athletics Championship but pulled up with a hamstring injury on the bend. She was a part of the Great Britain team for the 4x 100 m relay at the London Grand Prix meet and she won a bronze medal in the 4 x 100 m relay at Great Britain & Northern Ireland Squad for the 2013 World Championships. She took the silver medal at the 2015 European Athletics Indoor Championships for the 60 m, became the fastest ever teenager at 60 m. On 24 May 2015, She first broke the British 100 m record with 11.02 seconds, becoming the first British woman to run a legal time under 11 seconds pm 25 July 2015 at the London Anniversary Games. She also finished fifth in the 2015 IAAF World Athletic Championship with a time of 22.07. She finished fifth in the 200 m at the 2016 Summer Olympic in 22.31 seconds and won a bronze medal in the 4 x 100 metres relay in a British record of 41.77 secs. She won a silver medal at the 2017 IAAF World Athletics Championship.

On 31 July 2021, Dina Asher-Smith failed to make 100 m final, became the third place at the semi-final with a time of 11.05. She has withdrawn from the 200 m at the Tokyo Olympic Games due to a hamstring injury, but she will compete in the 4 x 100 m relay. Asha Philip, Imani-Lara Lansiquot and Daryll Neita completed the Great British team in the 2oo m. On 5 August 2021, after recovering from hamstring strain she became to help Great Britain broke their national record of 41.55 seconds and into a scorching woman's Olympic 4 x 100 m relay final heat as the fastest qualifiers as well as reach Fridays women's 4 x 100 relay final. On 6 August, she along with her partners Daryll Neita, Asha Philip and Imani-Lara Lansiquot have won bronze in the 4 x 100 metres relay in an Olympic record of 41.88, and Jamaica's team came out as a winner of the title with the second-fastest time in history with a new national record of 41.02 seconds. The United States of America won the silver medal with a new season's best of 41.45 seconds. In the 2021 edition, she has been listed in the power list as one of the UK's most influential people of African/African Caribbean descent. As of 5 July, the best season times in her signature event were 10.91 seconds and 22.06 seconds respectively.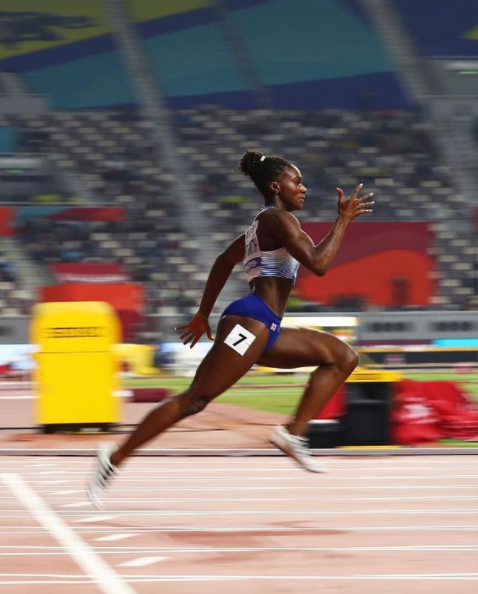 Early Life
With the real name of Geraldina Asher-Smith, she took birth on 4 December 1995 in Orpington, Greater London, the United Kingdom which is her birthplace and grew up too. She grabs British nationality and belongs to mixed ethnicity. By religion, she is Christian and her zodiac sign is Sagittarius as per her birth date. Black is her race and her present age is 25 which she celebrated back in 2020.
Dina Asher-Smith is the daughter of her father, Winton, and her mother, Julie.
Moving towards Dina Asher-Smith's education, she went to Perry Hall Primary School as a child. She attended Newstead Wood School from 2008 to 2014. Later, she graduated with a BA at King's College London in 2017.

Personal Life
Dina Asher-Smith is currently single and focusing on her career. There are no rumours about her dating anyone. Back then, she had dated British sprinter Zharnel Hughes and the pair split up in 2018 just before the Commonwealth Games on the Gold Coast but they are still friends. Talking about her sexual orientation, she is straight.

Net Worth
Dina Asher-Smith has an estimated net worth of around $8 million as of 2021 whereas she has earned a notable sum of wealth throughout her sports career. She has won multiple awards and Titles. Her exact salary income has not been disclosed yet but she earns almost a million dollars salary income from her every contract and prize money. She is living a luxurious lifestyle with her parents.
Body Measurement
Dina Asher-Smith is looking beautiful with an attractive personality, who stands at the height of 5 feet 5 inches (1.64 m) and has a perfect body weight of 58 Kg (128 Ibs). With a slim & athletic body builds, she has a pair of black eyes colour and her hair colour is black too.

Major Competitive Record
Personal Bests
On 29 September 2019, Doha, Qatar- 100 metres in 10.83
On 2 October 2019, Doha, Qatar- 200 metres in 21.88
On 19 August 2016, Rio de Janeiro, Brazil- 4 x 100 metres relay in 41.77
On 25 July 2015, London, United Kingdom- 100 metres U23 in 10.99
On 5 July 2014, Mannheim, Germany- 100 metres U20 in 11.14
On 28 August 2015, Beijing, China- 200 metres U23 in 22.07
On 8 March 2015, Prague, Czech Republic- 60 metres indoor U23 in 7.08
On 2 March 2014, Sheffield, United Kingdom- 200 metres indoor in 23.15

International Competition
2011- Commonwealth Youth Games in Douglas, Isle of Man- 200 metres in 24.30 with ranked #1st
2011- Commonwealth Youth Games in Douglas, Isle of Man- 4 x 100 metres in 46.19 with ranked #1st
2012- World Junior Championships in Barcelona, Spain- 200 metres in 23.50 with ranked #7th, & 4 x 100 metres
2013- European Junior Championships in Rieti, Italy- 200 metres in 23.29 with ranked #1st, & 4 x 100 metres in 43.81 with ranked #1st
2013- World Championships in Moscow, Russia- 4 x 100 metres in 42.87 with ranked #3rd
2014- World Junior Championships in Eugene, United States- 100 metres in 11.23 with ranked #1st
2014- European Championships in Zurich, Switzerland- 200 metres
2015- European Indoor Championships in Prague, Czech Republic- 60 metres in 7.08 with ranked #2nd
2015- World Championships in Beijing, China- 200 metres in 22.07 with ranked 5th, & 4 x 100 metres in 42.10 with ranked #4th
2016- World Indoor Championship in Portland, United States- 60 metres in 7.11 with ranked #6th
2016- European Championships in Amsterdam, Netherlands- 200 metres in 22.37 with ranked #1st, & 4 x 100 metres in 42.45 with ranked #2nd
2016- Olympic Games in Rio de Janeiro, Brazil- 200 metres in 22.31 with ranked #5th, & 4 x 100 metres in 41.77 with ranked #3rd
2017- World Championships in London, United Kingdom- 200 metres in 22.22 with ranked #4th, & 4 x 100 metres in 42.12 with ranked #2nd
2018- Commonwealth Games in Gold Coast, Australia- 200 metres in 22.29 with ranked #3rd, & 4 x 100 metres in 42.46 with ranked #1st
2018- European Championships in Berlin, Germany- 100 metres in 10.85 with ranked #1st, 200 metres in 21.89 with ranked #1st, & 4 x 100 metres in 41.88 with ranked #1st
2018- Continental Cup in Ostrava, Czech Republic- 100 metres in 11.16 with ranked #2nd, &4 x 100 metres in 42.55 with ranked #2nd
2019- World Championships in Doha, Qatar- 100 metres in 10.83 with ranked #2nd, 200 metres in 21.88 with ranked #1st, & 4 x 100 metres in 41.85 with ranked #2nd

Circuit Wins and Titles
2019- Diamond League Champion (100 m)
2016- Stockholm Bauhaus-Galan (200 m with #1)
2018- Stockholm Bauhaus- Galan (100 m with #1)
2019- Brussels Memorial Van Damme (100 m with #1)
2019- Doha Diamond League, Stockholm Bauhaus-Galan (200 m with #2)
2021- Gateshead British Grand Prix (100 m with #1)
2021- Rome Golden Gala in Florence (200 m with #1)

National Titles
2015, 2018, 2019, 2021- British Championships (100 m with #4)
2016- British Championships (200 m with #1)
2015- British Indoor Championships (60 m with #1)
2014- British Indoor Championships (200 m with #1)