Dylan Mulvaney is an American TikTok sensation and actress. She is best known for documenting her gender transition through daily TikTok videos starting in early 2022. Notably, in October 2022, she engaged in a conversation with U.S. President Joe Biden at the White House, discussing transgender rights. As of April 2023, her TikTok following has surpassed 10 million, and her video series "Days of Girlhood" has amassed over one billion views. Beginning her career in entertainment with a notable role as Elder White in the musical The Book of Mormon following her college graduation, she publicly came out as a transgender woman during the COVID-19 pandemic. She made headlines in December 2022 for confirming her facial feminization surgery on Instagram, sharing a post-surgery image on January 27. However, her partnership endorsements with Bud Light and Nike have recently made her a target for online backlash. On 27th August 2023, Transgender TikToker Dylan Mulvaney won the Breakout Creator award at the 2023 Streamy Awards. She called it the best moment of her year and a symbol of hope for the trans community. In her acceptance speech, she humorously expressed surprise at winning and acknowledged her journey from musical theater to the Streamys. She also mentioned the challenges of facing transphobia and hate in her community.
Dylan Mulvaney Family Details
Dylan Mulvaney, born on December 29, 1996, is a native of San Diego, California, in the USA. She holds American citizenship while boasting a mixed ethnic background. She celebrated her 26th birthday in 2022. About her family, she is the daughter of her father, James, an entrepreneur, and her mother, a homemaker. She shares a close bond with her grandmother, Ruth Mulvaney.
In terms of education, she graduated from the University of Cincinnati's College-Conservatory of Music in 2019 with a Bachelor of Fine Arts in musical theater, subsequently launching her career in entertainment.
Dylan Mulvaney Career Highlights
Dylan Mulvaney initially gained recognition for her role as Elder White in the musical "The Book of Mormon" after college, performing across the U.S., Mexico, and Canada.
She also appeared in various other productions like How The Grinch Stole Christmas!, 8: The Play, Next to Normal, Legally Blonde, Spring Awakening, Bye Bye Birdie, and High School Musical.
However, during the COVID-19 pandemic in 2020, she turned to TikTok, where her videos began gaining popularity.
In March 2022, she started documenting her gender transition in a series called "Days of Girlhood," which resonated with viewers.
This newfound online presence led to both positive and negative attention, including a podcast appearance with David Lopez for Ulta Beauty, where she discussed her journey and faced transphobic backlash.
Later, she interviewed President Joe Biden about legislation affecting transgender youth, drawing criticism from right-wing activists, including Senator Marsha Blackburn and Caitlyn Jenner.
In response, Mulvaney posted a TikTok addressing the misgendering and body comments, urging her followers not to engage in hate.
In December 2022, Mulvaney confirmed her facial feminization surgery on Instagram and shared a post-surgery photo on January 27, 2023.
She made her red carpet debut at the 65th Annual Grammy Awards on February 5, 2023, and received a Queerties Groundbreaker Award later that month.
On March 13, 2023, she hosted a live-streamed variety show in Manhattan to celebrate the first anniversary of her TikTok series "Days of Girlhood."
This appearance on The Drew Barrymore Show discussing online hate led to a backlash against Barrymore.
She also received congratulations from Vice President Kamala Harris on her transition anniversary.
However, her promotional work for Bud Light during March Madness in April 2023 sparked transphobic comments from right-wing media and calls for a boycott of the beer brand, including a protest video by Kid Rock and bomb threats to Budweiser factories.
Her endorsement of a Nike sports bra and Maybelline makeup products also triggered boycott calls.
Mulvaney addressed the situation in June, emphasizing the need for empathy and discussing her experiences with stalking and personal attacks, highlighting the broader challenges faced by transgender individuals.
Dylan Mulvaney Net Worth & Endorsements
Dylan Mulvaney, a prominent figure on TikTok and in the acting world, boasts a net worth of approximately $1.5 million as of 2023, primarily derived from her multifaceted career as a TikTok content creator and actress. Her substantial income is predominantly sourced from her involvement in the entertainment industry and her influential presence on social media platforms. Additionally, she augments her wealth through her YouTube endeavors and lucrative endorsement partnerships. Presently, she enjoys a luxurious lifestyle, residing in her own opulent mansion.
According to reports, Mulvaney has amassed over $1 million by endorsing various brands on social media, ranging from fashion and skincare to grocery shopping. Her roster of endorsed companies extends beyond Anheuser-Busch and Nike and includes well-known names like Aritzia, CeraVe, Crest, Haus Labs, Instacart, K18 Hair, Kate Spade, KIND Snacks, KitchenAid, Ole Henriksen, Rent the Runway, and Ulta Beauty.
Dylan Mulvaney Facial Surgery
Dylan Mulvaney is a beautiful lady with a height of 5 feet 8 inches (1.72 meters or 172 centimeters). She maintains a body weight of 55 kilograms (121 pounds). Her shoe size is 6 in the US sizing system, and she has a slim body type. She has captivating dark brown eyes and matching dark brown hair, contributing to her overall appealing appearance.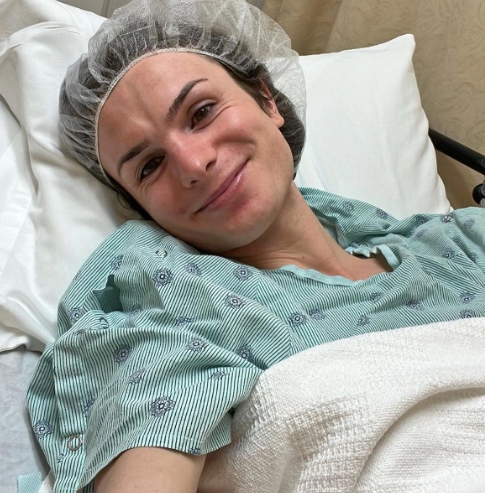 Mulvaney recently shared her new look after having facial surgery in December 2022. She talked about it on Instagram, getting over 2 million likes. She had several procedures to make her face look more feminine. She's really happy with the change, and her fans are surprised and praising her honesty. Some even think she looks like Natalie Portman in 2004. She's doing well after the surgery and has always been open about it. She became a trans woman during the COVID-19 pandemic and has had multiple surgeries.
Her recent face shaping got a lot of love from her fans. She was beautiful before, and she still is, but her surgery results have impressed her fans. Dylan has always been proud of herself and encourages other trans women to be confident. She knows not everyone needs surgery, but for those who do, it's a big step, and she asks for support for transgender people, which she got a lot of when she revealed her post-surgery face. She revealed her "new" face on January 27, 2023.