About Edgardo Del Villar
Very flamboyant and versatile, Edgardo Del Villar was a well-renowned journalist and a TV present who was famous for being the anchor of Telemundo 47 New York. Additionally, he was also an expert storyteller. What's more, he has been nominated for the "News & Documentary Emmy Award" for continuos three years i.e 2014, 2015, 2016. He passed away on 13th December 2020. His cause of death was cancer. In August 20919, he was diagnosed with brain cancer and underwent surgery. Due to this, he was off the air for several months. In November 2019, he returned to the anchor desk. Later, he again took another medical leave, and in a heartfelt farewell message that aired at the end of the station's 6 pm newscast on 24th August, he announced his departure to focus on his health. "You all know about my fight against cancer. It's the toughest fight I've ever faced in my life. But I feel lucky, blessed, and eternally optimistic," he told viewers in Spanish. He asked for prayer from fans as he was "undergoing surgery on my brain where they found 3 tumors that we must remove as soon as possible" in August 2019. His wife, journalist Carolina Novoa Arias, posted a photo of the couples' wedding day on her Instagram account with a "Rest In Peace" message.
Edgardo Del Villar was also active on the social media platform with more than 81K followers on his Instagram account under the name of @edgardodelvillart47.
Telemundo 47 anchor Edgardo del Villar has died after a battle with brain cancer.
Edgardo Del Villar died on 13th December 2020 Sunday due to complications of cancer. For a couple of years, he was battling brain cancer as per sources. He is survived by his mother and siblings, his wife, TV, and radio host Carolina Novoa and his daughter, Dana. "Edgardo del Villar was a talented journalist and gifted storyteller with a smile that lit up the screen. We stood in awe as he fought an incurable disease with remarkable resolve; pushing himself to the limits, returning to the air throughout his treatment, and remaining positive and upbeat through it all. He was our inspiration and we loved him," said Cristina Schwarz, president, and general manager of Telemundo 47.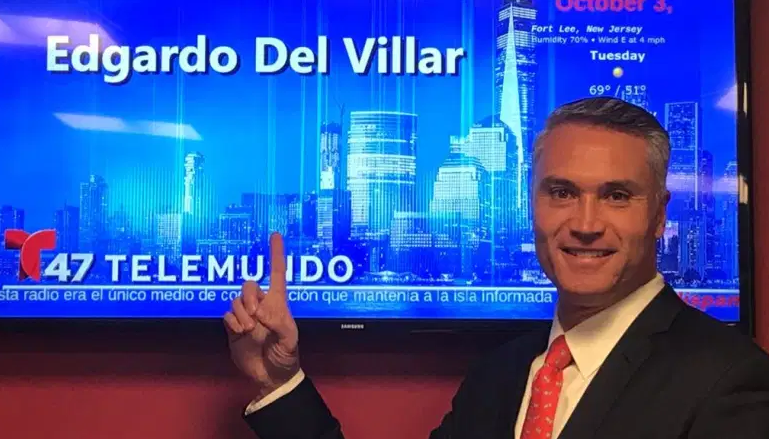 Source: @ahoramismo
Edgardo Del Villar was famous for being the anchor of Telemundo 47 New York. He was best recognized for being nominated for the "News & Documentary Emmy Award" for continuos three years (2014, 2015, 2016).

Born in the year 1973, Edgardo Del Villar's place of birth/birth nation was in Monterrey, Mexico (birthplace). He lastly celebrated his 47th birthday as of 2020. By nationality, he was Mexican-American and his ethnicity was American-White. His race was White. He was Christian by religion/faith. Moving towards his family details, he had a mother and siblings whose names and details have not been revealed yet. Information about his father is still a mystery. He attended Universidad Iberoamericana, The University of Chicago as per his education details.
Edgardo Del Villar's Wife, Carolina Novoa
Reflecting the marital status of Edgardo Del Villar, he was a married man. He married his beautiful and perfect wife, Carolina Novoa who is the founder of Novoa Nutricion. The couple was also blessed with a kid; a daughter; Dana (Born in 2005) who turned at the age of 15 this year, 2020. Further information about the couple's married date, wedding venue, and more has still kept hidden as they have not revealed anything about it. He had remained loyal to his wife and we are unaware of his previous divorce as well as his ex relationships. They both were extremely happy in their domestic life. She's supportive of him and the profession that he is in. There's much love between the two. Basically, her understanding and their strong love bond have helped them stay glue for this long until his death. His sexual orientation was straight and he was not gay. This past June, Del Villar celebrated his one-year anniversary with his wife. "Our first 31536000 seconds have passed as a married couple @carolinanovoaarias," he wrote, thanking Novoa "for your care and unconditional love in each of them. We go for thousands of seconds more. I love you beyond the heart." A month prior, he also paid tribute to his daughter on her 15th birthday. "Today my Beautiful Little Princess @ princesadana1 turns 15. What pride and privilege to be your Daddy .... a thousand congratulations I love you so much," he wrote.
Edgardo Del Villar's Net Worth 2020
The young TV personality, Edgardo Del Villar had established himself an identity. He was superbly ambitious and continues to work even harder to reach his set objectives. At the age of 47, he is one of the talked about and demanded journalist of the time. As of 2020, the exact net worth of Edgardo is still a mystery and his net worth was estimated to have between $1 Million-$5 Million. Additionally, his exact salary and career earnings are also still to get disclosed yet. He was enjoying his life a lot with his income and also he was satisfied with his earnings before his death. He was living a cool lifestyle from his earnings which comes from his TV career.
Edgardo Del Villar's Body Measurements
Charming TV personality with a glowing face, Edgardo Del Villar has a fair complexion with an average body build. He had a perfect height matching his body weight. He had light brown hair color with fair skin complexion. He had got an unconventional good look and raw appeal about him. Reasons for his amazing personality could be his roots. He had got a warming smile with a hot body. His hair color was blackish-white. Details about his body measurements such as chest size, waist size, biceps size, shoe size, dress size, and more are still to get unfold yet. He used to maintain his body a lot.