About Elizabeth Hurley; Actress, Model and Businesswoman
Elizabeth Jane Hurley nicknamed as Liz is a famous and well-known English businesswoman, actress, and model. She is famous for her appearance in films like "Austin Powers: International Man of Mystery" (1997) and in "Bedazzled" (2000). In the year 1987, she appeared in the anthology film "Aria" for her role as Marietta in the segment "Die tote Stadt". In the year 1988, she appeared in the detective drama series Inspector Morse for her role as Julia in an episode "Last Seen Wearing". In the 1990s, she became known as the girlfriend of Hugh Grant. In the year 1994, as Grant became the focus of international media attention due to the success of his film "Four Weddings and a Funeral", she accompanied him to the film's Los Angeles premiere in a plunging black Versace dress held together with gold safety pins, which gained her instant media attention. In the year 2015, she began starring in the E! original series "The Royals". Elizabeth Hurley was born on 10th June 1965 in Basingstoke, Hampshire, England, the United Kingdom. Her nationality is American and she belongs to mixed ethnicity. Her birth name/real name is Elizabeth Jane Hurley. She was born to her parents; Roy Leonard Hurley (father), an army major, and Angela Mary Hurley (mother), a school teacher at Kempshott Infant School. Talking about her siblings, she also has a sister, Kate Hurley, and a brother, Michael James Hurley. As of 2020, she celebrated her 55th birthday. Talking about her religion, she was raised lapsed Catholic and an Anglican. Her Zodiac sign is Gemini. She got attracted to punk fashion in her childhood when she started dying her hair pink and even got her nose pierced. As per her education, she learned to dance and theater from London Studio Centre. She went to Harriet Costello School in Basingstoke. Aspiring to be a dancer as a young girl, she enrolled in ballet classes. Hurley continued in the sixth form and took A-levels in English, Sociology, and Psychology in 1983 before spending three years studying dance and theatre at the London Studio Centre. She was expelled from the school in 1986 after going AWOL to a Greek island. Recently, Elizabeth Hurley's ex, Steve Bing died by suicide on 22nd June 2020, at the age of 55, by jumping from the 27th floor of an apartment building in the Century City neighborhood of Los Angeles, California. Scroll down to know about her full biography including her net worth, personal life, engaged, son, height, birthday, wiki, age, facts, family details, siblings, nickname, and more.
Everything To Know About Elizabeth Hurley's Son Damian Hurley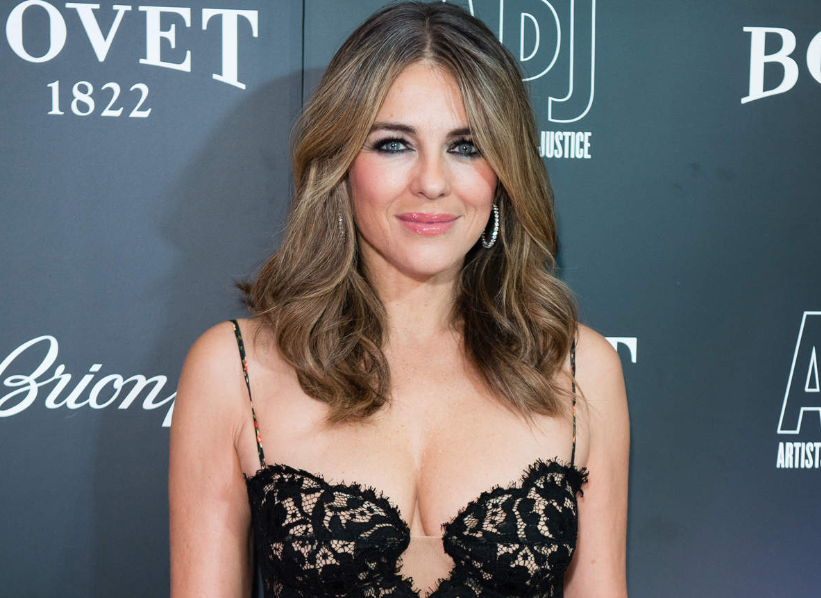 Source: @economictimes.indiatimes.com
Elizabeth Hurley's Career
Fashion Career
As a model, she has featured in ads for Lauder's 'Pleasures', 'Beautiful', 'Dazzling', 'Tuscany per Donna', and 'Sensuous' fragrances as well as participated in campaigns for the company's other cosmetics.
In 2005, she modeled for Saloni, Liverpool Department Stores of Mexico, and Lancel and she was also part of the seasonal advertising campaigns for Jordache, Shiatzy Chen, Got Milk?, Patrick Cox, MQ Clothiers of Sweden, and Lancel in 2006 and Monsoon in 2007.
She is signed to TESS Management in London.
Movie/Film Career

Her debut movie is Aria which was released in the year 1987.
Following Aria, she then appeared in movies Passenger 57, EDtv, Bedazzled, Serving Sara, and Dangerous Ground.
She received her first and only acting award, the ShoWest Supporting Actress of the Year, for her performance in the spy spoof "Austin Powers: International Man of Mystery" in 1997.
She was credited as one of the producers for the company's two Grant vehicles, Extreme Measures (1996) and Mickey Blue Eyes (1999).
Television Career

Regarding her television career, she appeared briefly in a speaking part as a schoolgirl in "Last Seen Wearing", an episode of the detective series Inspector Morse, which was partly filmed at a real school, Reading Blue Coat, Sonning, Berkshire.
In the late 1980s, Hurley portrayed the title character in a five-part television drama, "Christabel".
After appearing in John Cleese's "The Human Face" (2001), she hosted the inaugural series of the British reality show Project Catwalk on Sky 1 in the year 2001), she hosted the inaugural series of the British reality show Project Catwalk on Sky 1 in 2006.
In 2011, Hurley filmed a guest star role in the series pilot of NBC's "Wonder Woman" as the villain Veronica Cale.
In September 2013, she was cast in one of E!'s first two scripted pilots, "The Royals".
The drama series, revolving around a fictional British Royal Family and set in modern London, stars Hurley as the matriarch, Queen Helena.
She then played Marvel Comics villain Morgan le Fay in the final season of the Hulu show "Runaways", released in 2019.
Moreover,
Elizabeth Hurley has been active in Estee Lauder's Breast Cancer Awareness Campaign, as part of which the company created an "Elizabeth Pink" lipstick whose sales benefit the Breast Cancer Research Foundation. Her grandmother died of breast cancer, was the MC at "The Hot Pink Party" that marked the tenth anniversary of the Breast Cancer Research Foundation.
She has also helped raise funds for End Hunger Network, ARK children's charity, and the Shaukat Khanum Memorial Cancer Hospital & Research Centre.
She is an ambassador for the Hop Skip and Jump children's charity.
Elizabeth Hurley's PRESENT RELATIONSHIP with David Foster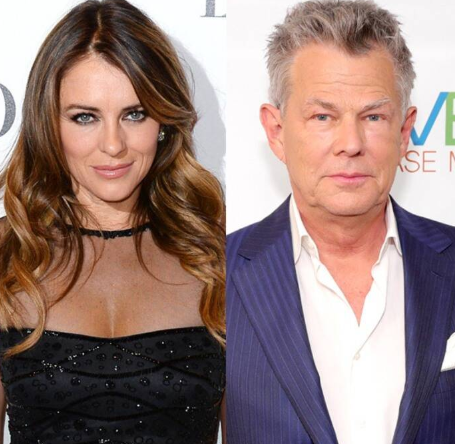 Source: @eonline.com
Elizabeth Hurley is a married woman. Initially, Hurley was in a romantic relationship with Hugh Grant. She met Hugh Grant in 1987 while working on a Spanish production called Remando Al Viento. While dating Hurley, Grant gained international notoriety for soliciting the services of a prostitute in 1995. Hugh Grant is a British actor. After 13 years together, Hurley and Grant announced an "amicable" split in May 2000. On 4th April 2002, she gave birth to a son, Damian Charles Hurley. The baby's father, American businessman Steve Bing, denied paternity by alleging that he and Hurley had a brief, non-exclusive relationship in the year 2001. A DNA test, however, established Bing as the child's father. Steve Bing died by suicide on 22nd June 2020, at the age of 55, by jumping from the 27th floor of an apartment building in the Century City neighborhood of Los Angeles, California.
Everything To Know About Elizabeth Hurley's Ex Steve Bing
In late 2002, she started dating Indian textile heir Arun Nayar, who has run a small software company since 1998. They married in 2007. She started living on a 400-acre (1.6 km2) organic farm in Barnsley, Gloucestershire, with her son and husband. In December 2010, she announced that she and her husband had separated several months earlier. She filed for divorce on 2nd April 2011, citing as the cause of Nayar's "unreasonable behavior", grounds for divorce under English law. The divorce was granted on 15th June 2011. In late 2011, three months after her divorce, Hurley and Shane Warne, a former Australian cricketer, were engaged. On 16th December 2013, Hello magazine reported that the couple had decided to split. In the year 2012, she bought the Grade II listed mansion Donnington Hall, near Ledbury, Herefordshire as her main home. It was reported that she was dating Canadian musician David Foster after the two were pictured together at an Italian airport. The duo was headed to a vacation in Sardinia. As of now, the duo is enjoying their life a lot without any disturbances. Her sexual orientation is straight.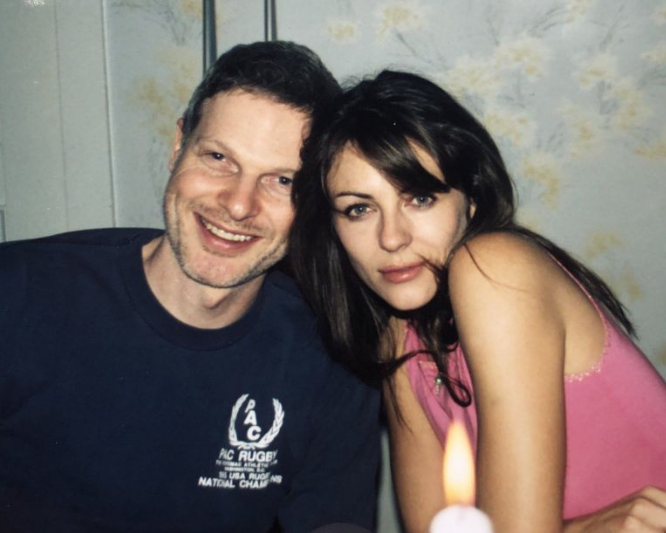 Source: @in.news.yahoo.com
Elizabeth Hurley's Net Worth 2020
Elizabeth Hurley is a successful and talented English businesswoman, actress, as well as a model. She is earning a cool amount of money from her multiple careers. Among which, acting career is her major source of earnings. As per sources, her net worth is believed to have $50 million as of 2020. She is enjoying her present life a lot with her earnings and she is living a luxurious lifestyle from her wealth. She has served as the spokesmodel for Estée Lauder and so has appeared in their lots of print ads and TV commercials. Apart from that, she has appeared in commercials for Schweppes tonic water "Two Dogs," National Westminster Bank "Disco," After Eight chocolates, Algida Magnum ice cream, to name a few. In 2006, Elizabeth appeared in the print ad for America's Milk Producers "got milk?" As a model, she has been seen in advertisements for brands like Elizabeth Arden, Elle, Estee Lauder several fragrances such as Beautiful, Dazzling, Pleasures, Tuscany per Donna, and Sensuous, Got Milk?, Jordache, Lancel, Mango, Monsoon, Patrick Cox, Rosato, Saloni, and The Producer.