About Steve Bing; Businessman, Philanthropist, and Film Producer
Born with the real name/birth name of Stephen Leo Bing, Steve Bing was an American businessman, philanthropist, and film producer. He was famous for being the founder of Shangri-La Entertainment, an organization with interests in property, construction, entertainment, and music. On 31st March 1965, Steve Bing was born in his birthplace, the USA. He lastly celebrated his 55th birthday. He was born to his parents; Peter Bing, a doctor in public health (father), and Helen, a nurse (mother), his parents. At the age of 18, Bing inherited an estimated $600 million from his grandfather, Leo S. Bing, a real estate developer who had made his fortune in New York in the 1920s. The Los Angeles Business Journal's January 2010 publication of "The Lists 2010" listed him in their "Wealthiest Angelenos" section of the magazine, which estimated his worth at $590 million, coming in at No. 46. After inheriting his fortune, he dropped out of Stanford University (education) in his junior year to pursue a career in Hollywood. He was nominated in the 2013 BAFTA Film Award for the Best Documentary film, "Marley". His nationality was American and his ethnicity was American-white. His race was White. His Zodiac sign was Aries and his religion was Christian. Scroll more to know about his full biography, net worth, birthday, wiki, facts, cause of death, career, relationship, famous for, children, and more.
Everything To Know About Steve Bing's Son Damian Hurley
Steve Bing's Cause of Death
Source: @people.com
Steve Bing died by suicide on 22nd June 2020, at the age of 55, by jumping from the 27th floor of an apartment building in the Century City neighborhood of Los Angeles, California. As per reports, Steve Bing was having mental issues. Authorities are investigating Bing's death after he was found at the bottom of a luxury apartment building in Century City, California. A Los Angeles County Coroner spokesperson told that a man was pronounced dead at the scene at 1:10 p.m. in a reported suicide, although a final determination for cause of death and identification of the deceased is pending. He committed suicide following a yearslong battle with depression and financial woes after blowing much of his $600 million fortune, friends said. One friend, who asked not to be named, said, "Steve was the most charming, caring, and generous guy you could ever meet. Yes, he liked beautiful women, but it never worked out. He has gone through a dark time for years. He talked about battling mental illness, bipolar disorder. His close friends are devastated about his death but, sadly, not surprised." The source added, "Steve did have a drug problem, but it was the mental issues that tormented him. He would often disappear for long periods of time. He didn't have a strong relationship with his kids, and he was sad about that".
Steve Bing's Entertainment Career
Steve Bing reportedly invested $80 million in "The Polar Express", an animated film featuring the voice of Tom Hanks, which earned $285 million globally and was one of the year's top box office successes.
Additionally, he was also the financier of Robert Zemeckis' "Beowulf" (2007).
He is also the producer/financier of "Shine A Light", a Rolling Stones concert film directed by Martin Scorsese.
He also financed and produced the independently released Jerry Lee Lewis album "Last Man Standing".
He also co-wrote both the screenplay and the story of "Kangaroo Jack" (2003).
Steve Bing's Political Career
He began his career in politics with a $500 contribution in 1993 to support Sen. Frank Lautenberg, D-N.J., in his bid for re-election, for which he contributed more than $10.7 million at the federal level to the Democratic Party and its candidates, according to the Center for Responsive Politics.
The biggest checks were written in 2002 when he gave a total of $8.2 million to the Democratic National Committee. B
Additionally, he also gave to specific candidates, including Al Gore, Hillary Clinton, John Kerry, Nancy Pelosi, and Dianne Feinstein.
He was reported to have given at least $49.5 million during the 2006 election cycle in support of Proposition 87, a California initiative that sought to raise $4 billion in oil production taxes to help develop alternative fuels.
Excluding Prop. 87 contributions, in California Bing, donated $7.8 million worth from 2000 on, according to the California secretary of state.
Moreover, he spent $4.25 million in 2005 in a successful effort to defeat Prop. 77, a redistricting initiative sponsored by Gov. Arnold Schwarzenegger.
The other beneficiaries of his political largesse included; the California Democratic Party ($640,172); Gov. Gray Davis ($675,000); and San Francisco Mayor Gavin Newsom, whose campaign received $750 in 2004.
He pledged to match donations made to the NO on Proposition 8 campaign from October 17-19 in October 2008.
On 18th December 2008, the William J. Clinton Foundation released a list of all contributors. It included Stephen L. Bing, who gave between US$10-25 million.
A 737 private aircraft owned by Stephen Bing and based out of hangar 25 at the Burbank airport in Southern California, was utilized in the return of American reporters Laura Ling and Euna Lee who had spent 5 months of a 12-year sentence in North Korea on 5th August 2009.
Steve Bing's RELATIONSHIP with Elizabeth Hurley, Lisa Bonder, and His Children
Steve Bing might be a married man or unmarried man. He was in a relationship with Elizabeth Hurley in the year 2001. She became pregnant and claimed Steve Bing was the father of her child. Steve Bing did not accept that he was the father of the child. He also claimed that they did not have any relationship. Later, a DNA test proved that he was the father of the child. On 4th April 2002, their child, Damian Hurley was born. In 2001, another DNA test proved that he was the father of Lisa Bonder's daughter, Kira Bonder.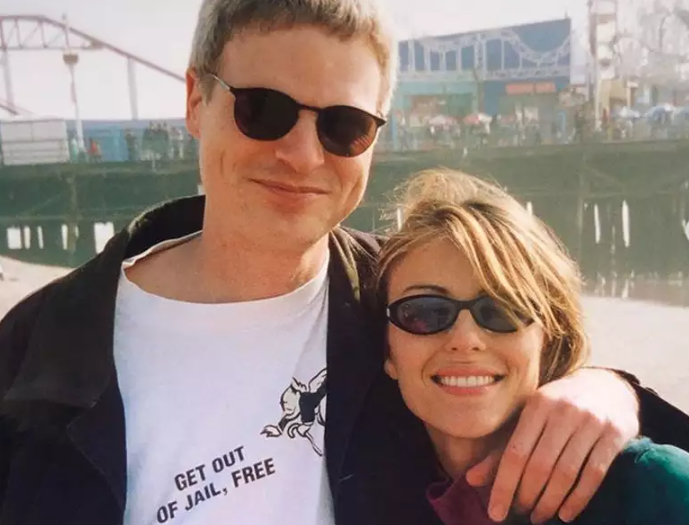 Source: @timesofindia.indiatimes.com
Besides this, he was also a relationship with Liv Tyler (2008), Nicole Kidman (2004-2005), Lisa Bonder (1998-1999), Farrah Fawcett (1977), Sharon Stone (1991), Tracy Richman (1986-1999), Naomi Campbell (2003) and more. There is no clue about his wife. His sexual orientation was straight and he was not gay. Prior to his death, he was enjoying his life a lot.
Everything To Know About Steve Bing's Partner Elizabeth Hurley
Steve Bing's Net Worth 2020
Steve Bing was an American businessman, philanthropist, and film producer. His career in film production began when he inherited $600 million from his real estate tycoon grandfather. At the time of his death, his net worth was estimated to be $600 million. His grandfather was a real estate mogul who built luxury apartments in New York City during the 1920s and divided his money equally among his sons. Aside from his inheritance, Mr. Bing had an Ivy League education but dropped out of Stanford in his first year and headed for Hollywood. He was also the founder of Shangri-La Entertainment, which focuses on property, construction, entertainment, and music. While continuing his family business, he also made his name as a writer and producer. The film that really made his name was The Polar Express, a 2004 animated Christmas hit that starred Tom Hanks. He made an $80million investment in the film, which took in $313.5million worldwide. He was living a luxurious lifestyle before his death.